Now in its 32nd year, the Scene's annual Boner Awards issue long ago transcended the gaffes of its namesake, scandal-ensconced former Nashville Mayor Bill Boner. Indeed, the Boners have taken on a life of their own — as much as we love our city, it never disappoints in the Blooper, Blunder and Bonehead departments. 
From bungled COVID-19 management at the state level to embarrassing behavior by Lower Broadway honky-tonk owners and slur-slinging country stars, Music City gave us plenty to work with this year. State and local politicians, media figures, landlords, transpotainment proprietors, blowhard pastors, the MyPillow guy — they all make appearances in the pages of this issue. 
Read on for a list of this year's biggest goofs and screw-ups, compiled by the Scene's editorial staff. See also: our petty-crime roundup, in which we highlight some of the ding-dongs and dopes arrested for Boner-worthy behavior in 2021.
---
HatJRKS
Eighth Avenue milliner Gigi Gaskins, owner of HatWRKS, could have just kept selling hats. This is a hat town. Selling hats in Nashville is as easy as selling crystals in Sedona. Because of our city's long history of cattle ranching, every tourist must have a cowboy hat! Selling hats is like printing money, baby. The last thing you'd want to do in such a noncontroversial, apolitical business is take a controversial, political stance and do so in the most idiotic way possible, right?
Not our Gigi! After months of flying various MAGA tripe from her stores walls, Gaskins upped the ante, posting on Instagram a picture of a woman wearing a sticker that said "Not Vaccinated" — sort of an adhesive "I'm With Stupid" T-shirt. That's dumb, but it's not patently offensive. It's not like it said "Not Vaccinated" on a gold Star of David, similar to the ones Nazis made Jewish people wear during the Holocaust. Oh, except yes, that's exactly what it was. At first, Gaskins defended herself, saying the outrage directed at her should instead be directed at a not-yet-implemented-or-seriously-proposed government plan to segregate the unvaccinated. Or something. Gaskins can see the tyranny coming, ladies and gentlemen, and she's just a cap-selling Cassandra trying to gear us up for it.
The backlash was swift and universal. Typically, that's the kind of thing a person like Gigi would be proud of — and she probably was until it started to hit her where it hurts. A little independent hatmaker by the name of Stetson said they'd stop distributing their wares through HatWRKs. Nearly everyone else in the industry followed, forcing Gaskins to do what those of her ilk loathe doing: apologize.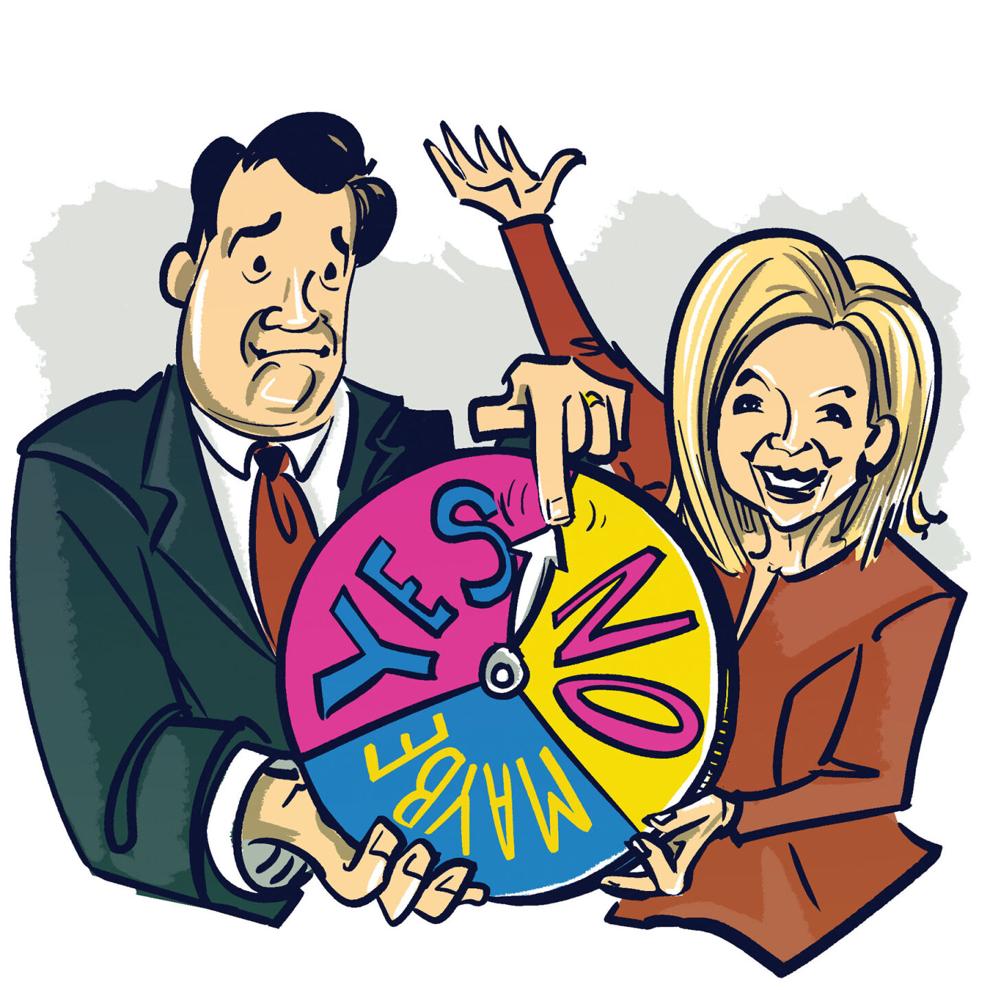 The Insurrectionists Next Door
The Jan. 6 insurrection was a bigger threat to democracy than the average Boner, and while we won't understate the seriousness or danger of the coup attempt, we can't overlook the level of idiocy present in the mob — especially with so many Tennessee connections. You all know Eric Munchel (aka Zip Tie Guy), who rocked a blue outline of Tennessee on his tactical gear (which also featured an American flag emblazoned with a Punisher logo). He was revealed to be a recently fired employee of Kid Rock's Nashville honky-tonk, which is perfectly fitting. A slew of folks with Tennessee connections were arrested, including a few who outed themselves on social media as storming the Capitol — and a guy named Christopher Cunningham, who during an unrelated incident inexplicably told a Metro police officer that he entered the Capitol on Jan. 6. Imagine attacking democracy and going to jail for Donald Trump, of all people. Of course, we can't overlook the spinelessness of Sens. Marsha Blackburn and Bill Hagerty. Eager to boost Trumpy talking points, the two legislators were planning to vote against ratifying the election results. But when the, shall we say,Q d'Etat ended (ultimately leaving five people dead), Tennessee's two senators changed their votes — though their rhetoric hasn't changed much since then. Gov. Bill Lee's pastor Steve Berger was there as well (more on him below) and later made myriad nonsensical claims about the riots. He eventually apologized for the falsehoods, and announced he was leaving the church. What's more, a little piece of the Jan. 6 riots landed in the Gaylord Opryland Resort & Convention Center in October with the extremely misnomered Truth About Cancer convention — an assembly of medical fraudsters, conspiracy theorists and … Eric Trump. Tyler and Charlene Bolinger of Sumner County organized the event, months after the couple helped put together the Stop the Steal rally in D.C. Rolling Stone asked the resort's managing company for a response, and those requests went unanswered.
Crap Berger
Well, it's been an interesting couple of years for Grace Chapel pastor Steve Berger. He attended the Jan. 6 insurrection at the U.S. Capitol and told his social media followers that the violence was not perpetrated by Trump supporters, but Antifa. He recanted that lie, but stepped down as the lead pastor at Grace Chapel, Gov. Bill Lee's home church. Berger and his family left the church this year after his wife stood up in the middle of a service and accused the church board of labeling the pastor as a "Christian extremist." The Bergers will begin their new lives running a nonprofit that seeks to influence elected officials with Christian doctrine. A Boner Award to our once and future theocrats.
Pillow Talk
Mike Lindell (aka the MyPillow guy) has made the rounds as a talking head on the conspiratorial right-wing circuit for some time now. But while he has enjoyed the company of Trump and similar ghouls, he may have overestimated his access to the GOP as a whole. When he showed up to the Republican Governors Association's conference here in Nashville in May, he was promptly thrown out. Lindell maintained that he was invited, but at any rate he was shown the door shortly after arriving at the JW Marriott. One RGA member told outlets that the bedding magnate tried to crash an event at Gov. Bill Lee's house. The scorned MyPillow guy left town almost immediately, possibly planning some spiteful and incompetent bid at office to get his own seat at the table. We suggest he sleep on it.
Fly Me to the Boondoggle
It's not always clear that Gov. Bill Lee is up to the challenge of being the executive of an entire state. And it's not always clear that he understands exactly how governing works. What's worse, now it's not even clear he knows how elections work, or who gets to vote for him. To wit: One of Gov. HVAC's bright ideas to goose the viral-loaded economy was to pay people to visit here. And not just a few people. Ten-thousand people! With his "Tennessee on Me" program, the governor offered $250 airplane vouchers to out-of-staters flying into Tennessee's four largest airports if they booked a two-night stay. Now, $250,000 is no small potatoes, but it's something a heating-and-cooling magnate could fund himself. "Tennessee on Me," he said in the commercials. It was, of course, not on him. It's on the taxpayers, who are actually paying for this. This managed to unite members of both parties in complaint. Republicans were mad because it only helped the big cities, what with their liberals. Democrats were mad because the program came on the heels of, among other things, the governor axing unemployment benefits. In short, Lee ticked off everyone and bribed the only people involved who can't actually vote for him. And we footed the bill.
Fluff Job
Gov. Bill Lee ran for office in part by touting his involvement with the prison ministry Men of Valor and pledging to support criminal justice reforms. Instead he has signed off on four executions (so far) and overseen very little reform. He's also signed laws that created harsher penalties and will contribute to mass incarceration. But this award isn't for him. He's just a weak-willed politician unable or uninterested in bringing about real change. That's not news. This Boner Award is for NewsChannel 5 and their reporter Kyle Horan, who laundered Lee's self-serving rhetoric about his passion for reform into a news story, achieving more than the governor's press team ever could on their own. We expect politicians to, er, pump up their own achievements. No need to do it for them. 
Missed Shot
It was bad enough that the Tennessee Department of Health fired its top vaccine official, Dr. Michelle Fiscus, in an apparent attempt to assuage anti-vax elements of the Republican base. That was dumb, especially as Tennessee's vaccination rates were lagging. What elevates this bit of bungling to another level, though, is the way the state allowed Fiscus to run media circles around them for nearly a week afterward. She'd been on CNN before the state or the department managed unconvincing responses to what was by then a national controversy. If you're gonna shoot your shot, so to speak, maybe think about how you plan to explain it afterward. For putting politics over public health, and sucking at it, we honor the health department's leadership here.  
A Clear Divide
Thousands of Tennesseans have died from COVID-19 since May of this year, despite Republican Tennessee lawmakers ceremoniously declaring victory over the pandemic then. Physical evidence pointed to the state legislators being grown adults — they were wearing suits, and some had gray hair, after all. But the glee with which our representatives tore down the clear barriers that separated their desks on the House floor of the Capitol building could only have been that of a misbehaved preteen aggressively celebrating the last day of school.   
Niceley Done
Getting indicted by the feds on campaign finance charges is often enough to secure yourself a Boner, but various related events make state Sen. Brian Kelsey's legal troubles even more worthy of inclusion here. First, Kelsey — a Shelby County Republican — blamed the indictment on the wrath of Democratic President Joe Biden (who, without a doubt, has no idea who Kelsey is), even though the investigation into Kelsey's campaign spending was largely conducted by officials in the Trump administration. Additionally, though Kelsey vehemently proclaimed his innocence, one of his colleagues, fellow Republican Frank Niceley, took to the Senate floor not to agree that his co-worker was innocent, but to say that violating the law in question is not even that big of a deal and shouldn't be illegal. Thanks for the support, Frank.
The Guy Who Came in From the Cold
Firebrand Republican Rep. Bruce Griffey is leaving the legislature next year, and it might have something to do with office politics. Though he shares the Trumpy, anti-immigrant leanings of many of his colleagues, something about the way Griffey conducts business really pisses them off, leaving him mostly empty-handed after three years in the state House. Earlier this year, he tried to use a procedural trick to bring one of his many failed bills back to life, and that royally irked House Speaker Cameron Sexton, a fellow Republican. Sexton yanked Griffey from his committees and (allegedly) turned off his elevator key card. It didn't take long before Griffey had sheepishly apologized and was back on his committees (and the elevator).
Textbook Case
Remember Laurie Cardoza-Moore? It's OK if you don't, given the fact that the average human brain can only reserve so much for the various 15-minutes-of-lame nutjobs who hog column inches every now and then. But as a quick refresher, she first rose to our attention in her (ultimately futile) attempt to stop construction of a mosque in Murfreesboro, because, she said, it was going to be used to train terrorists. She estimates — using sound scientific principles, no doubt — that fully 30 percent of Muslims are, in fact, terrorists, and she was worried the mosque in Murfreesboro would be a mustering center, given that Muslims are still fighting the Crusades and that Nashville, with its Sunday School publishing and hymnody industries, is seen as "the capital of the Crusaders." Obviously, this is a person with a firm grip on history, because we all remember when Saladin marched his army to the Baptist Sunday School Board headquarters. Anyway, the enlightened crackpots of the state legislature confirmed Cardoza-Moore's appointment to the State Textbook and Instructional Materials Quality Commission, because … um, well no one actually said why. But the good news is her term doesn't coincide with a review of the history or civics textbooks. Yay? 
Boner Backtrack

 
In February, when news broke that Tennessee State University President Glenda Glover would be joining the corporate board of private prison behemoth CoreCivic, the public response was utterly predictable! People were mad because CoreCivic profits from mass incarceration, including the disproportionate imprisonment of Black people, and Glover is the president of a historically Black university. She quickly announced that she had decided against taking the position, but this one still gets an award. 
Bush League
Around this time last year — just after the cutoff for our 2020 Boner Awards — District 6 school board representative Fran Bush was advocating to bring kids back to in-person learning and, in the process, picking fights with teachers on Facebook. Returning kids safely to school was indeed a conversation that needed to be had, but navigating the decision and weighing pros and cons didn't have to include social media posts targeting the former president of Nashville's teachers union. Then, right before kids returned to in-person learning for the 2021-22 school year, Bush was the only MNPS board member to vote against a mask mandate, citing "no data to support any of this right now" — despite a rise in Delta-driven COVID-19 cases and CDC and American Academy of Pediatrics recommendations to require masks.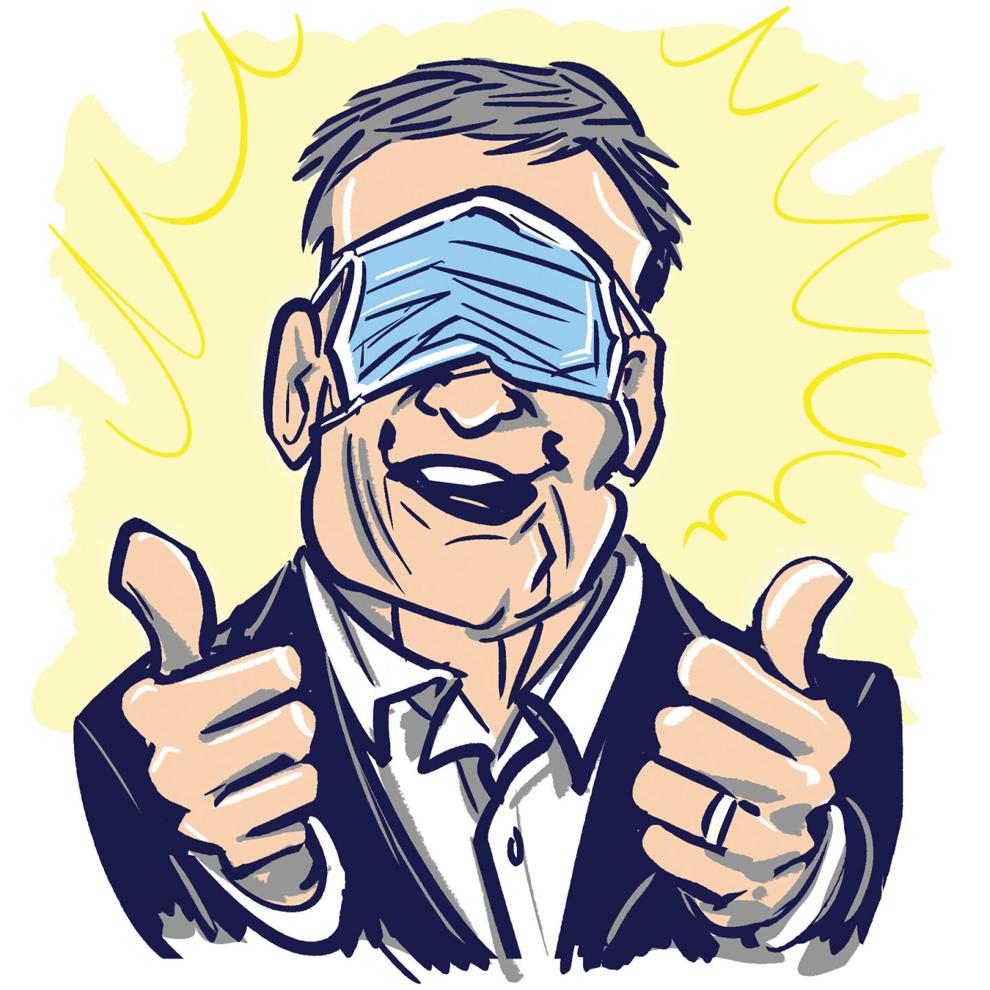 Lowered Expectations
On March 11, Gov. Bill Lee tweeted a video and a thread of photos from Lower Broadway in Nashville, encouraging tourists to make Nashville their next travel destination. OK, sure. The problem? He did it not only during a global pandemic, but while maskless in a city that had a mask mandate still in effect, at a time when Davidson County's new COVID-19 case average was roughly 150 a day. Lee's photos clearly show the state's top leader inches away from Lower Broad business owners and patrons, without a mask, shaking hands — all before, according to a spokesperson, the governor had received his COVID-19 vaccination. Naturally, experts and residents were disappointed to see Lee setting such a poor example for his constituents during such a crucial time. Surprised? Hardly. Next time, governor, maybe just stay home.
Masking for Trouble
Shortly after 3 p.m on May 13, the Metro Board of Health — after reviewing some newly released CDC guidance — announced that the county's mask mandate would remain in place.
Two hours later, the Metro Board of Health — after actually rereading some newly released CDC guidance — announced that, in fact, what they meant was the total opposite and that the mask mandate would disappear like so many baristas' dreams of country music stardom at 5 a.m. Of course, what went unsaid in the whiplashing statements was this: People who were wearing masks before kept wearing them, vaccinated or not, and the people who weren't still weren't. But thanks for the head-scratcher.
Half Life
Back in March, Mayor John Cooper set a citywide goal of getting 50 percent of Nashville residents vaccinated against COVID-19 by May, using the hashtag #50by5 to boost his campaign on social media. Seeing as how, in the mayor's words, "Nashville was the first of the 10 largest cities in the Southeast to vaccinate 25 percent of residents," it seemed an attainable goal. But then May came and went. And then June. And July. Finally, on Aug. 20, the Metro Public Health Department announced that 50 percent of Davidson County residents were fully vaccinated against the virus. But this Boner Award doesn't go to Cooper, per se. Rather, it goes to the Nashvillians who dragged their feet on protecting themselves and others against COVID, not because there was a lack of vaccine availability or supply (there wasn't!), but because … well, who the hell knows why. 
Tour de Farce
When Mayor John Cooper's administration lobbied for money to fund construction equipment and cameras for parks where homeless camps are located, Metro decided to defer on the request. Metro councilmembers cited concerns about the equipment being used to displace campers and cameras being used to surveil them. In response, the administration then invited councilmembers to tour the camps themselves — and Cooper and his staff really should have seen the backlash coming by a mile. It heightened accusations about displacement and surveillance, and mostly seemed voyeuristic and tasteless. One councilmember even called it "nutso."  As far as the Scene knows, only three councilmembers attended any of the tours. Supporters of the bill tried to control the spin — both about the purpose of the equipment and the fallout from the tour invites — and while the bill's fate hasn't been decided as of this writing, Cooper still came off as an out-of-touch rich guy.
Down to Brass Tax
In April, Mayor John Cooper took to a local morning show to make a bold promise: Nashvillians would soon see "the largest property tax rate reduction ever." Close observers of city government were flabbergasted. The mayor was referring to the regular, every-four-years property reassessment. State law prohibits cities from making more money based on a reassessment, so rates go down when property values go up, leaving taxpayers owing, on average, exactly the same total amount. "Nonsense," Cooper rival Bob Mendes said about the declaration.
The Thin Blue Boner
Maybe it was bad timing, or maybe it was something more calculated, but the Metro Nashville Police Department decided to drop a tone-deaf copumentary about Chief John Drake back in the spring in the wake of scrutiny about police shootings, concerns about how the police had handled an earlier warning about the Christmas Day bomber, and questions about how its public relations office chooses to release and withhold information. In the video, Drake says he wants people to see that "police officers are good people" — but issues with accountability and transparency don't help that argument much.
Cherry Choppin' Daddy
"We are the cherry trees," then-Councilmember John Cooper said, absurdly, in 2019 as he launched his successful bid for mayor. He was comparing Nashville's residents to some trees removed from the riverfront downtown to accommodate the NFL Draft. It's hard to imagine a scenario that would make that statement sound more ridiculous, but Cooper obliged us and facilitated one. Earlier this year, now-Mayor Cooper signed off on the removal of 17 or so trees — including, yes, some cherry trees — from the park area around Nissan Stadium, a stone's throw from the sacred site of the fallen 2019 trees. This time, the tree trimming was for the benefit of a car race. Cooper declined to offer any existential declarations about the meaning of their removal.
Who Will Speak for the Trees?
The Adventure Science Center wanted an arboretum. The Adventure Science Center doesn't have a lot of space. The Adventure Science Center also happens to sit next to (or maybe on?) the site of the Bass Street community, the first major Reconstruction-era Black neighborhood in the city. We're just now unearthing what all is at the Bass Street site, and archaeologists have already found plenty. But there could be plenty more. Maybe over here by the museum, where they want to put the arboretum. Maybe we should do a full archaeological survey before we plow it up and drop in a bunch of hardwoods. Or maybe, we just do what the museum did and plant the trees before the archaeologists can get their hands dirty. I'm sure it'll be OK.
Good 4 Nothin'
When 4 Good Government filed yet another petition to overturn the city's now 2-year-old increase in property taxes, they found willing partners in the Republicans on the county election commission. You see, instead of making Jim Roberts' group defend the petition in court, the GOP members voted to hire outside lawyers and have the commission take up the cause. The result? Instead of Roberts & Co., we the taxpayers are now stuck with hundreds of thousands of dollars in legal bills to defend a blatantly unconstitutional proposed change to the Metro Charter. A big fat Boner Award to DCEC chair Jim DeLanis and his two yes men for setting giant piles of money on fire in the name of serving taxpayers.
Fire in the Hole!
At the Fourth of July fireworks celebration downtown — Biggest in the Nation! — several police officers were stuck in the Bridge Building during the display while trying to make sure the building was empty of trespassers. A police helicopter was also not clear of the scene. As it turns out, according to the Metro Nashville Police Department, a Bridge Building employee and three companions were inside the building, and eight SWAT officers were dispatched to clear the structure. A representative from the Nashville Convention & Visitors Corp made it clear that the display began when "the fire marshal gave the go-ahead" — but there was clearly some sort of breakdown in communication, forcing the officers to shelter in place for the duration of the massive show. Nice work all around, folks! 
Donkey-Tonk Blues
This Boner requires little explanation. In an interview with the Scene in February, boneheaded honky-tonk owner Steve Smith — of Tootsies and Kid Rock's Big Ass Boner Factory, among other establishments — called Mayor John Cooper "Hitler John Cooper," urging a reporter to quote him, because of the mayor's support for COVID-related restrictions. When someone else on the call — a call that included Kid Rock and Kid Rock's dad, who is apparently known as Daddy Kid Rock — encouraged him to "retract the Hitler," Smith insisted: "I'm not gonna retract 'John Cooper's Hitler.' I'm not retracting that."  
Bob's Your Uncle
Kid Rock — the rap-rock performer, Nashville transplant and Kid Rock's Big Ass Honky Tonk & Rock N' Roll Steakhouse proprietor born Bob Ritchie in middle-class Michigan — probably deserves some sort of Mega Boner Award at this point, as much as he's shown up in the pages of this annual issue. What earned him his trophy this time? Using a homophobic slur. Twice. As reported by TMZ, Rock used the epithet onstage at FishLipz Bar & Grill in Smithville, Tenn., back in June. Then, a few days later on Twitter, he doubled down with a non-apology that reads as follows: "If Kid Rock using the word faggot offends you, good chance you are one. Either way, I know he has a lot of love for his gay friends and I will have a talk with him. Have a nice day. -Bob Ritchie." Cool, man. Good one. Totally normal way for a 50-year-old guy to speak.
Opening a Can of Boners

 
By the end of January, rising country star Morgan Wallen — the goober who blew his first chance to play SNL in 2020 but got a mulligan — had a chart-topping hit with his new record Dangerous: The Double Album. On Feb. 2, TMZ published footage from Wallen's neighbor's security camera in which the singer uses the N-word while whooping it up in the street after a night out. The sheepish apology was swift, and there were immediate consequences, such as his label Big Loud Records temporarily suspending his contract. Months later, the debacle continues and there are abundant Boner honorees in the mess. Among them are the folks who bought billboards protesting Wallen's disqualification from various awards ceremonies. Throw one to radio personality Bobby Bones, who suggested that people need to "move on" from the incident. (He later backpedaled.) Jason Aldean, Luke Bryan and Tyler Hubbard can share a Boner for giving Wallen a big public welcome-back moment onstage at Bridgestone Arena. 
There are some less Boner-tastic aspects of the saga: Rolling Stone reported there was scant evidence that Wallen actually donated the $500,000 he'd promised the Black Music Action Coalition that he would give to Black-led charities and anti-racist organizations. Big Loud, which appeared to have slow-walked a response to the magazine, gave a statement after the article was published about how contributions were made on the singer's behalf. Despite the hullabaloo, or perhaps because of it, Dangerous remains one of the year's biggest sellers. People with power seem hell-bent on helping Wallen avoid any action that could encourage real change in our culture, rather than helping him do it.
Jason Lives
Country star Jason Aldean is no stranger to the Boner arena; he dressed up as Lil Wayne for Halloween in 2015, in blackface. This year, Aldean has joined the chorus of outrage over COVID precautions, taking shots aimed at masking and a state mandate that children get a COVID vaccine in order to attend school — although that's happening in California … next year … provided it's upheld by that state's Supreme Court. However, Aldean's promise to "never apologize for [his] beliefs" didn't stop him from participating in events where proof of vaccination or a negative COVID test was required, such as an invite-only concert taping at his Lower Broadway bar in October and a November performance at Marathon Music Works. There's at least some evidence that he's aware of the life-saving and freedom-providing power of contemporary medicine when it's practiced on a global scale.
Family Style
We'll toss a bonus Boner to Jason Aldean's wife Brittany for posting photos of the couple's kids in "Hidin' From Biden"  anti-vax T-shirts. She also teamed up with Aldean's sister Kasi Wicks on a limited run of "patriotic" apparel bearing such stirring slogans as "This Is Our Fucking Country." On that particular design, the stars and bars cover the "uck" — y'know, for propriety's sake.
Get a Load of This Tritt
Speaking of country stars, the thing Travis Tritt has done this year that's attracted the most attention is blocking Twitter users who disagree with his stance that concert venues shouldn't require patrons to show proof of vaccination against COVID or a negative test. Freedom-fighter Tritt had a solo tour booked for the fall that he ultimately canceled. Most of the venues had enacted COVID protocols, and in a statement, that's where he put the blame: "Any show I have booked that discriminates against concertgoers by requiring proof of vaccination, a COVID test, or a mask is being canceled immediately. … This is a sacrifice that I'm willing to make to stand up for the freedoms that generations of Americans have enjoyed for their entire lifetimes." In a subsequent interview with the singer, Billboard's Taylor Mims pointed out that advance sales for those shows appeared soft, to which Tritt replied that "in no way, shape, form, or fashion do ticket sales play into this decision." In other news, there's some great oceanfront property in New Mexico selling cheap right now.
Capital Follies
AJ Capital Partners, a development firm whose portfolio includes The Graduate boutique hotel chain, has done a swift and thorough job of turning itself into a villain in Music City. The company bought the property home to legendary independent venue Exit/In after an equivalent offer from club proprietors and music-scene vets Chris and Telisha Cobb was passed over. When the property went under contract in April, the Cobbs responded by launching a GoFundMe that would raise money to sweeten a potential offer to the soon-to-be new owner. AJ's first public communication about the project (which, we note with a grumble, came at 6 p.m. on a Friday) included an opportunity for "hardworking folks" to be reimbursed for their contributions to the Cobbs' campaign. Months after the sale closed in July, AJ made good on its promise to file for historic protections on the site. But for the developer to act as if Nashvillians should take its goodwill for granted — whether that's toward the property itself or the culture that the venue is a vital part of — suggests that either they're naive or they think we are. 
AJ also took a rake to the face via the poor handling of its relationship with Wedgewood-Houston. Discussions with neighborhood organization South Nashville Action People didn't go its way, so the firm announced its intention to stop seeking input from the group. This raised the ire of Metro Councilmember Colby Sledge, who responded by withdrawing AJ's rezoning applications for a major project involving the historic Merritt Mansion. AJ returned to SNAP with their tails between their legs. The icing on the Boner is that founder and CEO Ben Weprin got on a Zoom to apologize to the community for his group's behavior, and did so from … a private jet. 
Miscommunications Strategy
It's not clear how many people at the Mosaic Apartments were told one Friday afternoon that they had three days to leave home, but enough of them were upset about the news that they organized and rallied to stay in place. Many said they only received a phone call telling them they had to vacate the premises, while others said they had spoken to a manager or staffer who offered some kind of compensation; still others said their concerns were dismissed because they were immigrants. There wasn't much in writing to inform residents of what was going on, either. The media quickly took notice (including the Scene), and more stories about neglect and unsafe living conditions came to light. Meanwhile, management's explanations for what was happening were shared only in small batches, occasionally with small changes to the narrative. Eventually, Mosaic's out-of-state owner Rob Bond attended a public forum with residents. While his lawyers offered more information about who was being relocated and why (they said it was only people in apartments hit by flood damage), residents were still unsatisfied with both the recent situation and ongoing problems. And they let Bond know directly, publicly shaming him and his management. Bond eventually stormed off in a huff. He could run away from Nashville, but tenants had to stick around — and there's no denying that Mosaic tenants deserved much better than the treatment they'd been receiving for years. 
Busting the Boner Budget
Dave Ramsey may urge his listeners to avoid debt, but he owes us one for keeping this item relatively short — if Boners were dollar bills, you could say this guy makes it rain. The right-wing evangelical macho money guy — through his company flacks — sent an absolutely unhinged statement to Religion News Service reporter Bob Smietana when Smietana reached out for comment about a story that exposed, among other things, some double standards with regards to Ramsey Solutions' enforcement of a company moral code. Later, after a former Ramsey employee sued because she was fired for having sex and getting pregnant outside of marriage, Inc. Magazine rescinded its 2020 designation of Ramsey Solutions as a "Best Workplace" honoree. Doesn't sound like one to us either. 
Some of the News That's Fit to Print
We here at Boner Central don't like to kick The Tennessean and its staff when they're down:  Their owners at Gannett seem to be doing a fine job of that all on their own. After first commoditizing their production process in central hubs and then moving the printing operation to Knoxville, Gannett has made the paper's deadlines so early that nothing newsworthy after 5 p.m. gets into the morning paper. But even by these low standards, Oct. 17's issue was a doozy. In preparation for the big U.S.-Panama World Cup qualifier — which saw a pair of Nashville SC players captain their respective national teams — The Tennessean ran a feature at the bottom of the Sunday sports section. The only problem? The game was played on Oct. 10. A Boner to the folks who thought making the print edition completely irrelevant was a good long-term business strategy.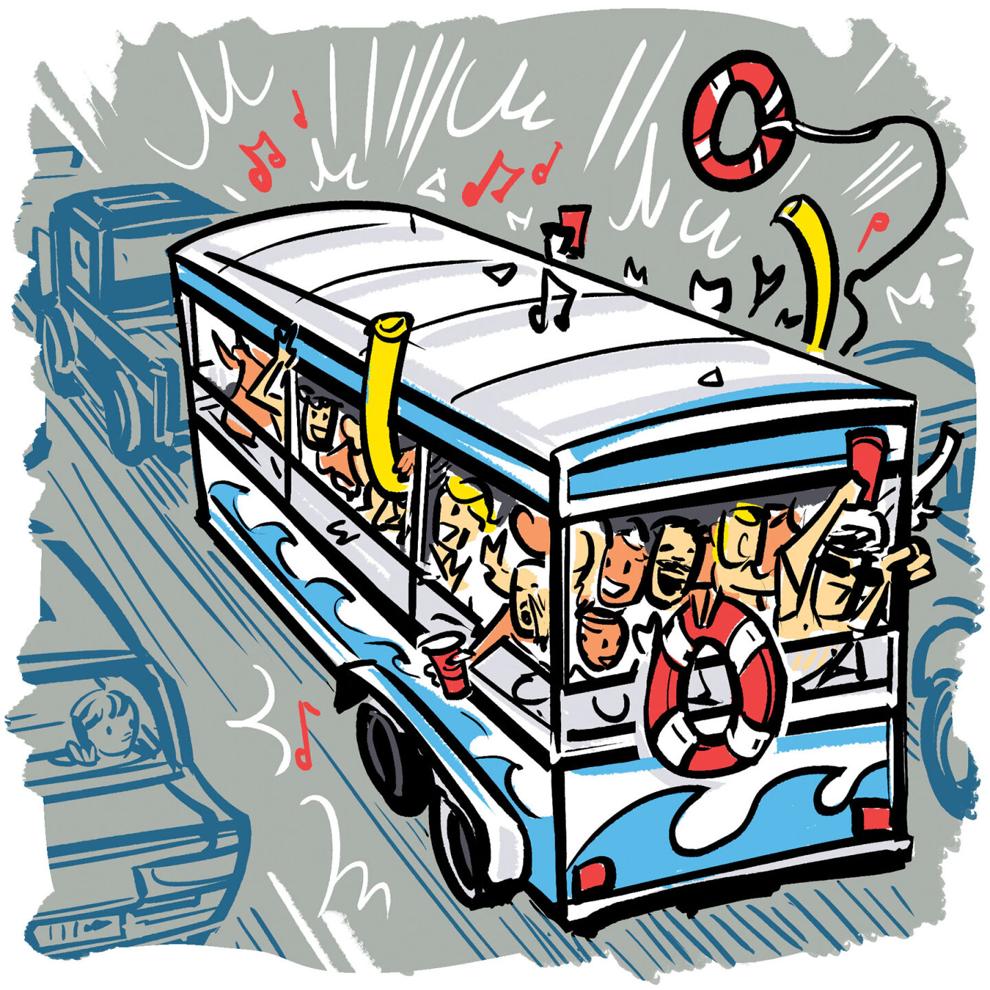 Hot Tub Crime Machine
It's hard to pick just one thing to honor out of the Boner parade that is Lower Broadway's fleet of so-called transpotainment vehicles, but this ranks pretty high: In September, the city filed a lawsuit alleging that the infamous Music City Party Tub was not a registered business in the state, did not have a business license and did not have a public pool permit. But we're giving this award to Metro itself for this little tidbit: The lawsuit revealed that the city had allowed the mobile party tub to operate for a year anyway! Boi-oi-oing. 
Reel Talk
A couple months back, longtime local reporter Phil Williams — who has done some very strong work over the years with NewsChannel 5 — tweeted that Instagram's Reels "overwhelmingly emphasize a stereotypical White female body image — and, as far as I can tell, there's no way to turn it off." He included a screenshot of the offending Reels (which did indeed appear to feature several attractive young white women). Thing is, Instagram tends to suggest the kinds of videos that you're already watching. That's the whole deal with algorithms. After a few helpful Twitter users brought this to Williams' attention, he deleted his tweet. This one isn't the biggest Boner in the bunch, but it's certainly a prime example of an unforced error. Whoops!
Victim Naming
Jason Steen has long been a combative local presence online, trolling journalists, politicians and others on Twitter. That is, when his website wasn't profiting off of mugshot-shaming and bail bondsmen advertising. After he got into a Twitter spat with some local activists about a police shooting — Steen would insult them both online and in his podcast — a local comedian decided to call him out for that incident and others. Josh Black posted a video attacking the sleazy practices of Steen's Scoop: Nashville website, saying Steen profited off the incarceration of Black and working-class people. Black also took a swipe at the then-recent news that Steen wasn't paying employees of his Scoop: Clarksville operation. (The video came out before Steen was arrested for not paying a moving company.) Black fanned the flames by superimposing a Confederate flag over Steen's photo — a cheap shot for sure — but Steen's response is the Boner-winning entry here. Steen said that in response to Black's video, his site would resume the controversial practice of naming victims in Scoop: Nashville's reporting — a cowardly move that would have seen Steen dragging victims of crime and domestic abuse into his beef with the comedian. Steen later deleted the Tweet, while Josh Black's star simply rose higher.
Gender Offender
Most years we try to keep all of our Boner Awards within Nashville city limits, but we're willing to take a trip down Rutherford County way if the Boner is big enough. Back in September, the Murfreesboro Police Department locked down area schools due to rumors of an active shooter — rumors that were sparked after someone reported hearing gunshots followed by a scream. Well, thankfully, those rumors were proven untrue. As it turns out, an expectant father "fired celebratory rounds from a handgun into the air and the expectant mother screamed out of excitement of the news of a baby boy," according to the MNP. Dad was cited with unlawful discharging of a firearm. As far as gender-reveals-gone-wrong are concerned, there have been worse ones, but this one is certainly bad enough to earn these unnamed 'Boro residents a big old Boner Award.
Just Park It Anywhere
Anybody who has ever been stuck in traffic on Interstate 24 (which is to say, everyone who has ever driven on Interstate 24) has seen some weird things. Maybe not as weird as what commuters near the interstate's interchange with I-840 saw on Oct. 1, when a hot air balloon plopped down on the shoulder of the eastbound lanes right during morning rush hour. Don't worry — Capt. Jack Wheeler, owner of Smoky Mtn Air Hot Air Ballooning, insisted there was nothing wrong. He was just low on fuel and the wind wasn't with him, so his best option was to set 'er down right there.