We at the Scene didn't name our annual Boner Awards what we did simply so we could make cheeky puns. That's just a bonus.
Other former mayors get parkways or Metro office buildings named for them. Bill Boner, mayor from 1987 to 1991, gets this issue — now in its 31st year — as an annual honor. Ultimately, Boner's one-term tenure as mayor included a peculiar appearance on The Phil Donahue Show, among other very weird and wacky news items that secured his status as the namesake of this recurring issue of the Scene.
Over these three-plus decades, we've had plenty of fodder for our Boner Awards — countless items that have transcended the gaffes of its namesake — and 2020 is most certainly no exception. From local boneheads ignoring COVID-19 safety protocols to state and local leaders fumbling their handling of the global pandemic, from musicians and business leaders saying and doing all the wrong things to missteps by law enforcement agencies and sports radio broadcasters — this year, the Boner gods were smiling on Music City.
Read on for a list of this year's biggest blunders. See also: our petty-crime roundup, in which we highlight some of the ding-dongs and dopes arrested for Boner-worthy behavior in 2020.
---
Going Viral
If you were trying to spread the coronavirus in the douchiest way possible, you could hardly do better than the Boner convention thrown at an East Nashville home obnoxiously self-identified as The Fashion House. A couple of world-class dickheads named Christopher "Shi" Eubank and Jeffrey Mathews threw a massive, maskless party at the house. Images from the superspreader soiree were widely shared, showing attendees smoking hookah, getting tattoos and, in one memorable case, performing analingus. Astonishingly, Metro police officers stopped by the party but did not shut it down. Eubank — who could be seen on video the morning after the party declaring that he was "not gonna apologize for being legendary" — and Mathews were later charged and arrested for violating public health orders. You're legends now, bros.
Build the Wall
It was a banner year for gasbags moving to Nashville. Twitter user Tomi Lahren was the first domino to fall, announcing that she was "fleeing" liberal California. Among her first stops in Nashville, naturally, was the wings mural in the Gulch. Owner-of-Libs Ben Shapiro also made the move from liberal California, bringing his shitty culture war propaganda outlet The Daily Wire along with him, much to the acclaim of Gov. Bill Lee. Candace Owens, the Trumper who once famously said that Hitler was only bad because he tried to expand beyond Germany, is also joining the team. Though they all claimed to be fleeing liberal places, they ended up settling in a city that votes overwhelmingly for Democrats, just raised taxes and has had a mask mandate in place for months. Joke's on them. 
Stacy and the Case of the Broadcast Boner
Even in the best circumstances, when local TV anchors get on Twitter it can feel a bit like someone let a grandparent loose with a Facebook login. But Fox 17's Stacy Case earned this recognition back in the summer with her boneheaded commentary following the first wave of protests, and the setting of fires at the Metro Courthouse. Boosting our outgoing president's announcement that the government was designating Antifa as a Terrorist Organization, Case said, "This designation of #Antifah says all we need to know about what happened in #Nashville last night after a peaceful rally." In short, it did not, and Antifa is nothing like what the paranoid nightmares of the right wing suggest. When Tennessean reporter Natalie Allison said as much, Case threw a fit. First she asked if Allison had "built a business here" or if she "condone[d] the destruction of this beautiful city." The city, of course, was not destroyed. But perhaps best of all, Case followed up by claiming Allison was just fishing for social media engagement. "Everybody in media is required to get a certain number of clicks on their social media account," Case said. That's what the youths call telling on yourself. 
Cooper Chromosome
Longtime U.S. Rep. Jim Cooper (D-Nashville) caused a stir last month with an offhand remark made during a long interview with the Scene. Yes, he said, he would in fact be seeking another term in Congress, but what caught people's attention was his comment that South Carolina voters must have "extra chromosomes" to keep voting for people like Lindsey Graham. The Tennessean, advocates for the disabled and bad-faith right wingers like Tomi Lahren quickly pounced on Cooper, who later apologized in an open letter for the ignorant and insulting remark that he admitted he has "said for years."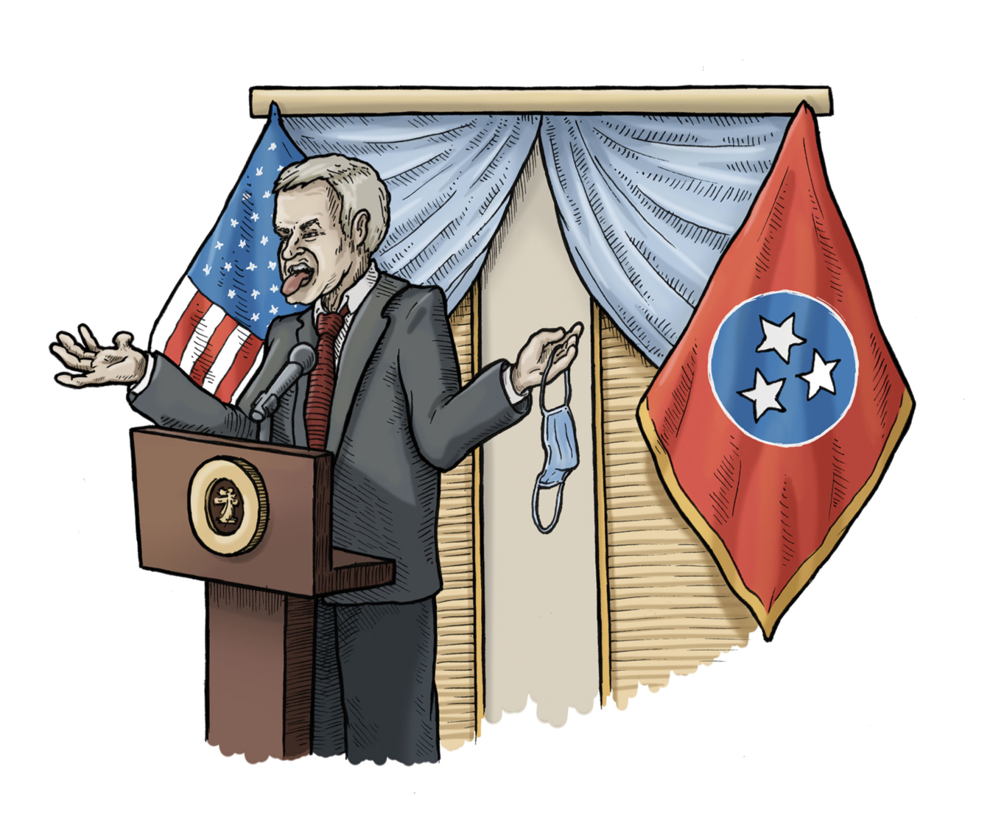 Goobernatorial
It's a bit hard to imagine why a person would feel compelled to spend time, energy and money to become governor if they didn't think it's the governor's place to do much of anything. But that's what we appear to have in Gov. Bill Lee. In early March, as COVID-19 cases were starting to appear around the state, he was slow to declare a state of emergency, coming around to it after at least a dozen other states had done so. He did not declare a statewide stay-at-home order until April, after urgent pleas from thousands of doctors, nurses and average Tennesseans. He still has never issued a statewide mask mandate, despite the White House — yes, that White House, run by that guy — repeatedly saying he should do so. Instead, Lee has "encouraged" Tennesseans to wear masks, and the state has produced a number of television PSAs with the same message. But Bill Lee is rich, and he could have done that without being governor. Failure in the face of COVID is by no means a problem of one governor or one political party. But our guy could be doing better. 
Calling Bullshit
Honoring the dead is one of the state legislature's simplest and least controversial actions. A representative from the fallen's district files a resolution praising some recently deceased and beloved teacher or coach or community member, and it easily passes the House and Senate. But this year, House Majority Leader William Lamberth threw a wrench in the process and ignited a bitter dispute when he led opposition to just such a resolution honoring Ashanti Harris Posey, a Nashville teenager shot and killed earlier this year. Lamberth cited "the activity of her demise" — an unproven allegation of a small marijuana sale that may have preceded Harris Posey's death — in opposing the resolution, a version of which easily passed in the Republican-led Senate. Memphis Rep. Antonio Parkinson called bullshit on the floor — rightfully so, given Lamberth's happy coexistence with Rep. David Byrd, a fellow member whose past activities have included admitting to sexually abusing his teenage students. 
For Sale: Testing Supplies, Never Used
Early in the COVID-19 pandemic, it was extremely difficult to get a test. There simply weren't enough supplies. That changed over time, at least in Tennessee, but it still came as a surprise when The Tennessean reported in October that the state was auctioning off pallets filled with test swabs and other supplies on a government liquidation site. After the newspaper contacted the state to ask about the auction, it was promptly pulled off the site with just one bid, for $150. 
Lax Leadership
It's not like leadership from the state legislature has been anything special in the months since, but our representatives at the Capitol were especially bumbling in the early days of the COVID-19 pandemic. When a reporter asked about the "public health crisis" in March, state House Speaker Cameron Sexton laughed and said "you can use that word." On the same day that Gov. Bill Lee was announcing a state of emergency, lawmakers were upstairs debating a nonbinding resolution congratulating President Trump for fending off efforts to remove him from office. A group of middle school cheerleaders was on hand — free for the day because their own school was closed due to the spread of the virus. Since then, a nonzero but unknown number of legislators have themselves caught the virus, and thousands of Tennesseans have died. The legislature, meanwhile, returned to Nashville for a special session — not to help the unprecedented numbers of unemployed Tennesseans or throw a lifeline to hospitals under siege, but instead to make it a felony to spend the night on state property and make it easier for businesses to squash coronavirus-related lawsuits. 
Not Great, Bob
Bob Corker was gone. The former United States senator had retired and could have been simply enjoying his immense wealth in relative silence. Alas. It's hard to believe this really happened now that we've seen the pandemic's devastating toll in the months since, but Corker emerged in late March to express his support for Donald Trump's batshit idea of reopening the country by Easter. In doing so, he proudly contradicted public health experts and offered people up for a sacrifice he would certainly not have to endure — that is, illness with fear of crushing medical debt or a lack of access to adequate care. The Easter reopening did not happen, of course, but perhaps Corker is pleased now to see that the country's leaders have largely given up on stopping the spread of the virus. We can only urge you now as we did back then: Ignore Bob Corker.  
It's the End of the Boner as We Know It
OK, let's state for the record that running a full-page ad in the Sunday paper that says Nashville will be nuked by Islamic jihadists on July 18 is a bad thing. We can all agree on that, right? (Put your hand down, state Rep. Susan Lynn.) Some nutbag end-of-the-worlders snuck a full-page ad past the very stringent Gannett standards in June and claimed that the Bible foretold these events. There are two ways to look at this debacle. The first: This could be considered a teachable moment for Gannett about their ad process and how few people are actually looking at these things before they cash the checks. One ad manager got shitcanned, and we're sure very stern things were said to everyone in what's left of the ad department over there. But the bigger problem is that the ad ran in the paper the Wednesday before AND NOBODY NOTICED IT. Sure, it's an issue that the content of the ad is hateful and cuckoo-for-Cocoa Puffs crazy, but the deeper issue for the company — one that is hemorrhaging cash and giving buyouts to employees — is that nobody reads their ads. That might do more damage to the paper than any nuke ever will.
You're Doing a Heckuva Boner, Mikey
Like George W. Bush with his FEMA chief, premature congratulation can be a problem in men. Just ask Michael Anastasi, The Tennessean's vice president and editor who's also responsible for the USA Today Network in Tennessee. He ordered up a front-page editorial not just in Nashville, but in every Gannett paper in the state on March 18. The headline on that unsigned piece? "Tennessee leaders' steps are decisive, responsible." Yes, there's nothing like bending over backwards to suck up to government leaders and praise them in the first weeks of what, even then, we knew would be a massive pandemic. How much hubris did it take to not only order up that editorial, but also make it the centerpiece of a state's worth of papers? This came a week after Gov. Bill Lee's administration had to be publicly shamed into releasing county-level data on the effects of the virus. If you want to look like a player to the elite, try not to make it look so obvious. There are a number of treatments for that now.
Schoolhouse Crock
Ah, Sen. Marsha Blackburn — the perpetual Boner machine. Frankly, if you wanna see a smattering of groan-worthy gaffes, just take a gander at the Trump-adoring uber-conservative legislator's Twitter profile on any given day. One particular tweet, however, stood out back in September: "We will never rewrite the Constitution of the United States," she proudly proclaimed. The thing is, we've done that already. Twenty-seven times, to be exact. Not only did the longtime Williamson County resident and, you know, sitting United States senator not seem to realize that constitutional amendments are, by definition, a means of rewriting that so-called living document — she also apparently forgot that she herself has been a co-sponsor on more than one attempted amendment. Whoops!
Spines? Who Needs Spines!
Sadly, Donald Trump's refusal to concede the election to President-elect Joe Biden comes as little surprise. Just as depressing and only slightly more surprising, though, is Tennessee lawmakers' willingness to go along with the sitting president as he continued (and continues) to make completely unfounded claims about widespread voter fraud. The most powerful people in the state (including Gov. Bill Lee, U.S. Sen. Marsha Blackburn and Sen.-elect Bill Hagerty) refused to call out Trump's clear attempts to undermine democracy. Blackburn, Hagerty and the state party begged their supporters to donate to Trump's "legal defense fund." State Rep. Bruce Griffey went so far as to show up at a "Stop the Steal" rally in downtown Nashville and address the crowd while wearing a MAGA hat. Blackburn did call Biden "the president-elect" in late November, but a spokesperson quickly told press that the senator "misspoke" in doing so. Cool. Great work.
What Goes Around
In this issue and previous ones, we've been happy to give shit to Tennessee Republicans who refused (and still refuse) to accept reality: Joe Biden won the presidential election. So it's only fair that we highlight a Trumpian turn by one of the year's most unexpected candidates. Marquita Bradshaw thrilled some on the left by winning the Democratic nomination for Tennessee's open U.S. Senate seat. But on election night, the race was called for her Republican opponent almost immediately after polls closed. She ultimately lost by nearly 800,000 votes, but would not concede defeat, either on election night or in the days after, holding out hope for "votes in the basement," a reference to a 1970s Memphis congressional race. Sometimes it's good to fight, but not when you're looking for 800,000 "votes in the basement."
Full of Beans
State Rep. Jerry Sexton quite possibly would have made our illustrious Boner list just for trying and failing — for a second time — to have the Bible named Tennessee's official state book earlier this year. But the honorable representative from East Tennessee's Bean Station earns double Boner status thanks to a bizarre and rambling aside he issued back in June. While ostensibly arguing in defense of keeping the bust of Confederate general and Ku Klux Klan leader Nathan Bedford Forrest in the state Capitol, Sexton meandered off on a diatribe about how "we're killing millions of babies every year in this country by abortion" before ultimately delivering this weird-as-hell line: "Who knows, maybe some of us will be slaves one of these days. Laws change." If you're having a hard time parsing Sexton's logic there, uh, you're not alone. Only time will tell what kind of nonsensical jibber-jabber Mr. Bean will offer during next year's legislative session, but we can't wait to hear it.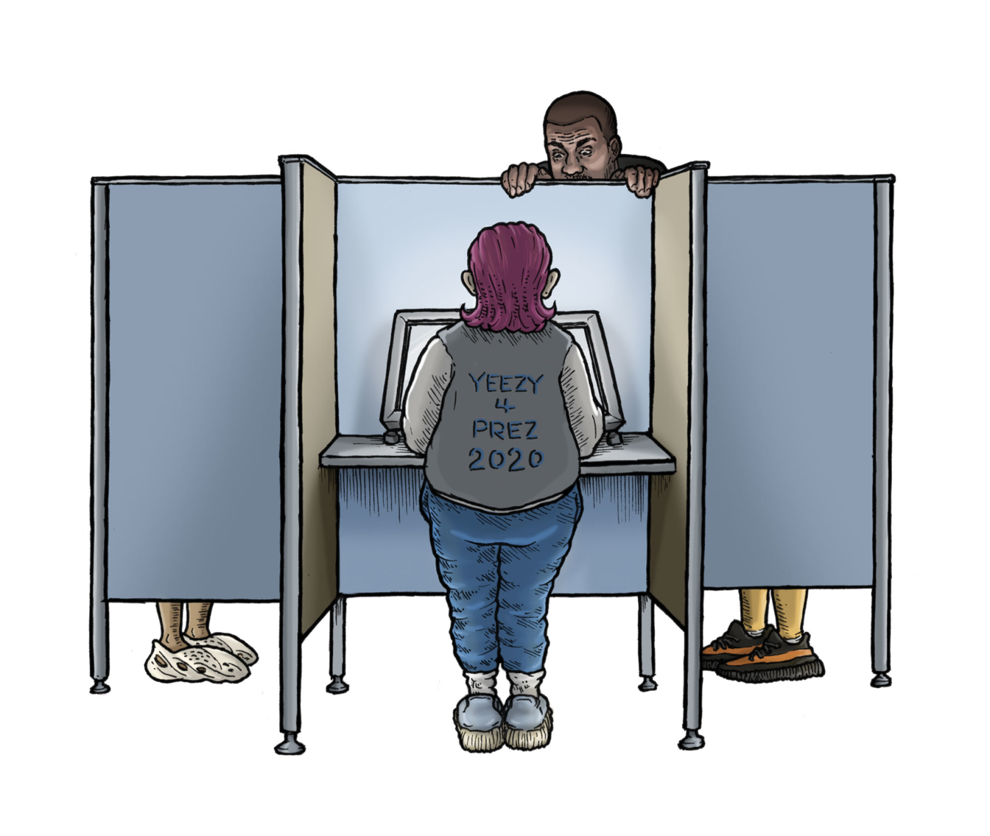 A Toast for the Douchebags
This Boner goes out to a very specific set of Nashvillians — 2,601 of them, to be precise. According to the Tennessee Secretary of State's office, that's how many residents of Davidson County voted for independent presidential candidate Kanye West in November's election. That's how many Nashvillians — in a global pandemic, with a disastrous incumbent POTUS actively attempting to undermine the election — went to the trouble of casting their votes for the guy who once tweeted, "Mark Zuckerberg invest 1 billion dollars into Kanye West ideas." Even worse, Tennessee led the country in total votes for the (admittedly very talented) producer and rapper with 10,279. To loosely paraphrase the would-be POTUS himself, this particular man should definitely not have all that power. Dark twisted fantasy indeed! 
Rocks Hard
In February, the General Assembly took a break from their usual undertaking of passing laws that ultimately get the state sued and instead debated the relative merits of the Cumberland Plateau. Nobody knows why. It started with John Ray Clemmons, whose district is nowhere near the Cumberland Plateau, filing a resolution honoring the plateau. Obviously, the plateau wouldn't be able to show up to the Capitol to receive a finely calligraphed copy of this resolution, so we're not sure what the point of this was. But the legislature does all kinds of pointless things, like pass laws that aren't even in the same time zone as the United States Constitution, so let's not get hung up on the details. Even though most of these resolutions get scooted along via the consent calendar, this one was pulled and Clemmons was forced to defend the resolution in front of the Aristotelian wonder that is the House Ag Committee. During this colloquy, he was challenged by state Rep. Chris Todd. Todd, who holds a bachelor's degree in biology from Union University, took particular umbrage to the description of the plateau as "a vast tableland of sandstone and shale dating as far back as 500 million years," saying we "don't have any solid evidence that the Earth is that old." There is, of course, mountains of evidence the earth is at least 500 million years old. Indeed, there's plenty showing it's about 4 billion years older than that. It's in books. Books Todd probably had to read — or at least should have read — to get that bachelor's degree in biology. Bonus geology Boner for Clemmons: The sandstone and shale on the Cumberland Plateau are "only" 300 million years old. Dummy!
Hale. No.
It's tough sledding for Tennessee Democrats, destined for second place in most elections — even when facing off against Republican and multiple Boner Award winner Scott DesJarlais (who is pro-life but also advised a secret abortion for his mistress). DesJarlais' main legislative accomplishment seems to be "is a member of the United States Congress and votes on stuff (sometimes)," so we almost have to applaud sentient Coexist bumper sticker Christopher Hale, the world's youngest perennial candidate. He developed a multipronged strategy that went beyond the retail politics of door-knocking and phone calls. He also came up with the slogan "Hale Yes!" that must have come to him in a stroke of inspiration like Proust eating his madeleine. But PG puns weren't all Hale had to offer. Seeing that Democrats have a tough time winning on their own merits in Tennessee, he thought it wise to encourage voters to vote for him so they could vote for someone else later, tweeting that conservatives — and in Tennessee's 4th Congressional District, that's roughly everybody — should vote for him to rid themselves of DesJarlais, and then vote for some really conservative candidate the next time around. He offered a parade of horribles that included loony Islamophobe Lou Ann Zelenik and monorail enthusiast Joe Carr. He seemingly did this with no trace of irony, because he wouldn't know what irony was if it marched up to him wearing a pink pussy hat and introduced itself. Hale, perhaps it doesn't need to be noted, finished with a third of the vote in the general election. He bragged he got more votes than any challenger Democrat in a Congressional race in Tennessee history. He left out the part about how there weren't many challenger Democrats for the first, oh, 160 years of the state's existence, and also the part about how he had the lowest percentage of the vote of any Democrat who faced DesJarlais, a man once described by a Republican operative as a "terd."
Boners on the Trail
Campaign season is the time to let a hundred Boners bloom, and this year did not disappoint.  Twice (at least) this cycle, Republicans reached for attacks on their opponents that only served to expose their low opinion of the voting public. During his primary fight with Dr. Manny Sethi, Bill Hagerty launched a website implying shady things in Sethi's past — shady things that amounted to nonprofit work and personal relationships with other doctors who wouldn't win a GOP primary. (Hagerty went on to win.) Later, in the final weeks of the state Senate race between Republican Sen. Steve Dickerson and his Democratic opponent Heidi Campbell, the Senate Republican Caucus spent loads of cash attacking Campbell. One ad sought to sully her reputation in the closely divided district by highlighting her support for Gideon's Army and demonizing the group as a dangerous sect of far-left extremists. The group has indeed supported calls to defund the police and empower alternative public safety initiatives. But it was literally founded in response to devastating gun violence in North Nashville, and the group's most extreme action this year was organizing an amazing rapid response to the March 3 tornado. Swing and a miss. Campbell went on to unseat Dickerson. 
Lee's Persistent Plaza Problem
Gov. Bill Lee could have just ignored demonstrators' plans to occupy the steps leading to the state Capitol and set up an "autonomous zone" in protest of racism and police brutality. Maybe then it wouldn't have lasted as long. But instead, the governor put out a statement hours before the protest began that state troopers would arrest anyone violating anti-camping laws established years ago after the Occupy movement, and this declaration of animosity only served to embolden protesters. No arrests were made the first night of the campout, and while demonstrators relocated across the street onto Legislative Plaza, the movement — which would soon be known as the People's Plaza — continued for 62 days. Rather than de-escalate the situation, the state wasted taxpayer money and lawmakers assaulted free speech (including an early attempt by House Speaker Cameron Sexton to make chalk writing on state property a felony). More than $1 million was spent on overtime and travel costs for state troopers to monitor the protests in June alone. In a special session in August — which was supposed to be devoted to COVID-19 response efforts — state legislators passed laws to enhance penalties for violating anti-camping laws, which Lee signed. In a summer defined as much by protests against racial justice as this damn pandemic, Tennessee's attack on free speech garnered national attention. On top of that, this was an election year — it wasn't lost on local and out-of-state observers that in Tennessee having a felony conviction means you lose the right to vote.
Stop the Press
While organizations across the country reckoned with institutional racism, folks at the state Capitol tripped over their feet. In June, WPLN reporter Sergio Martínez-Beltrán said in a tweet that he had twice faced obstacles from security personnel while trying to move around the Cordell Hull State Office Building to do his job. Martínez-Beltrán has been the station's political reporter since 2018; he is also the only person of color in the Tennessee Capitol Hill Press Corps. "I wear two press badges around my neck every day," wrote Martínez-Beltrán in a tweet. "I wear a suit too. Why? So that security and lawmakers know right away I'm press. Not an intern, not a random person, not a criminal. Press. This week showed that hasn't been enough." 
Trooper Stupor
When Tennessee Highway Patrol Trooper Harvey Briggs saw Andrew Golden filming a traffic stop in the parking lot of the Capitol, he left his post and started shouting at the man to not interfere. Golden, who had occasionally joined in at the nearby People's Plaza protest occupation, shouted back and used some blue language, which seemed to spark the trooper's temper. Briggs got up in Golden's face, and the protester turned the camera on their interaction — the maskless trooper was inches away from the masked protester, in the middle of a pandemic. After more back-and-forth, Briggs ripped off Golden's mask and shrugged off his complaints about the act. While the cell phone footage didn't capture the mask-ripping, surveillance footage did — and Briggs was terminated following review. A disciplinary file obtained by the Associated Press showed it wasn't Briggs' first mistake as a trooper, but it sure as hell was his last.
ACAB: A Cop, a Boner
Early in the spring, the pandemic and associated lockdowns were new, and we all handled them differently. Some folks used the time to go on walks and enjoy the only places where things still felt somewhat normal. Others, like Metro Nashville Police Captain Jason Reinbold, took the opportunity to launch profane tirades at such people. That's what happened in early April when Erin McDermott was walking along a path in Brentwood with the children she watches as a nanny. They stopped to eat some snacks and get some water, and the place where they did so just happened to be behind Reinbold's house. That's when the longtime MNPD veteran and one-man Boner Squad started berating McDermott, telling her to leave and eventually yelling to the children, "You wanna stay and listen to me fucking cuss all day?" Reinbold was later accused of sexual harassment and assault, just one example of a variety of allegations that have surfaced about the culture inside the MNPD. He recently retired while under investigation for another misdeed involving copying department files. 
APB: All-Points Bullshit
A few days after riots in downtown Nashville led to widespread confrontations with the police, the Metro Nashville Police Department announced its intention to arrest two well-known local Black activists, Justin Jones and Jeneisha Harris, on charges of felony aggravated rioting. Police said the two could be seen in photos and video standing on the roof of a squad car that was later found to be damaged. Metro Councilmember Dave Rosenberg called the charges "absurd" and said the story "reeks of vengeance." Jones called the charges "politically motivated." Less than three hours after MNPD's announcement, as Jones and Harris were preparing to turn themselves in, the police department released another statement. This one announced that the warrants had been recalled after Davidson County District Attorney Glenn Funk and the MNPD "reviewed additional information." We're glad the charges were cleared up, but it sounds an awful lot like they never should've been issued in the first place.
Reviled Child
In late May, fully righteous and justified protests over the police killing of George Floyd popped up around the country, including here in Nashville. Though a May 30 "I Will Breathe" demonstration in downtown Nashville was peaceful, it was followed by calamitous events later that night, including one bad actor, a white man, setting fire to the Metro Courthouse as a crowd looked on. Photos and videos posted to social media showed the man — shirtless and bearing a tattoo reading "Wild Child" — clearly igniting a fire through one of the building's smashed-out windows. A 25-year-old named Wesley Somers was ultimately arrested for the crime and charged with felony arson, vandalism and disorderly conduct. Here's the thing: If you're going to set fire to a historic public building while surrounded by dozens of camera- and smartphone-wielding onlookers, maybe pull that face mask up over your nose, or at least, you know, cover up any extremely identifying tattoos you might happen to have on your torso.
Frenemies
Metro Police officers may have helped expedite the departure of Chief Steve Anderson when they cheesed it up with unmasked revelers crowded on Lower Broadway this summer. Police largely declined to enforce the mask mandate as COVID-19 case numbers continued to rise. That is, until they cited a man experiencing homelessness near the bustling Lower Broad bar district, leading to outrage over the selective enforcement of the rules. Anderson was out hours later. 
Under Pressure
There have been a lot of bad meetings in Metro history, but perhaps the worst was a June public hearing regarding the city's budget. City leaders were proposing a significant property tax increase in order to stave off potentially drastic cuts to city services in the middle of a raging pandemic, amid a debate about racism and criminal justice, and a lot of people wanted to register their thoughts. It was a pain in the ass navigating technical difficulties and keeping the dozens of people who arrived to speak in person adequately distanced. And because of that, the meeting lasted well into the next morning. Vice Mayor Jim Shulman, tasked with managing the show, lost his temper in the wee hours, scolding those who repeated similar messages about defunding the police for taking up too much time. After the fog cleared, the vice mayor apologized for his undemocratic showing. 
Entre-Manure
If you're at all familiar with Dave Ramsey's brand of financial tough love and conservative Christian talk radio, you could hardly be surprised by how he responded to the coronavirus pandemic. In March, after a staffer at the Williamson County offices of his company Ramsey Solutions tested positive for COVID-19, Ramsey kept the offices open while acknowledging public health guidelines discouraging large gatherings. A few months later, when a Florida hotel decided against hosting his EntreLeadership Summit, Ramsey simply brought the whole event to Franklin. In an email to staff, Ramsey Solutions executive vice president Daniel Tardy said the hotel was "being immature, transactional and irrational." Well, that certainly describes someone in this situation. After the Scene reported on the conference, Ramsey sent an email to staff encouraging them not to click on the story and framing it as an attack on Christians. Many of his staffers did click on the story and leaked us his email. Hi Dave! 
Keep It Tite
The Tennessee Titans weren't going to let something as small as a worldwide pandemic keep them from their pursuit of AFC South glory. After a mini-outbreak shut down team facilities (and led to the first of what has been a series of confusing NFL schedule moves) and the NFL subsequently barred the team from in-person contact, some Montgomery Bell Academy students noticed a "large group of adult football players" on the school's field in the middle of the day. Because they are teens, they snapped pictures on phones that are nicer than the one you have, and those pictures made their way to bald curmudgeon and longtime Titans reporter Paul Kuharsky. The clandestine practice was confirmed by MBA headmaster Brad Gioia, who apparently has no civic pride and dimed out the Two-Toners. Despite some worries that the hush-hush practice, which took place under the cover of mid-afternoon, would cost the team draft picks or even lead to a forfeit, the "only" punishment from the league was a $350,000 fine.
Don't Bet on It
Now that Tennessee has legal sports betting, would-be touts are seeking advice and an edge from everywhere. But one place not to look: the mayor's office, as it is clear John Cooper doesn't know how betting works. During the Titans' playoff run, he tried to set up the traditional mayor's bet with his Boston opposite number Marty Walsh, offering up a six-pack from East Nashville Beer Works if the Patriots prevailed (which they didn't, by the way, just a reminder). Walsh famously believes mayors' bets are a jinx and doesn't engage in them. Even more famously, Walsh is a recovering alcoholic. During the mayor's star turn at the 2016 Democratic National Convention, literally the first words out of his mouth were, "My name is Marty Walsh, and I'm an alcoholic." As bad as this double-ended boner was, at least it was a bet made in a recognizable way. When the Predators faced the Stars in the NHL's Winter Classic on New Year's Day, Cooper — having apparently never made a bet before or seen anyone make a bet or heard of betting — told Dallas Mayor Eric Johnson, "If the Preds win, join me at the world-famous Grand Ole Opry this spring!" (Bonus Boner for trying to make plans for the spring, lol.) Essentially, Cooper said, "If I win, you get a vacation." Hard to believe the city is facing a budget crisis with that sort of outside-the-box thinking at the top.
Billy Ray Virus
Taking shots, playing songs and kissing strangers at a house party may be all well and good under normal circumstances. But definitely not during a global pandemic, and especially not the weekend before your Saturday Night Live debut. Morgan Wallen learned this the hard way. A passel of social media posts showed the rising country star celebrating a University of Alabama win in close quarters with maskless fans. When he arrived in New York for SNL rehearsals, Wallen discovered he'd been disinvited from the show for breaking its COVID-19 safety protocols. Jack White assembled a trio at the last minute and filled in ably; Wallen issued a seemingly genuine public apology and got another chance to play the show in December. All the same, that's a huge opportunity that few other artists would blow so hard.
Up in the Air
It's hard to know who should really be accepting this Boner Award. Bobby Joslin, the Nashville businessman who reported his Cessna 172 missing last December only to discover it parked in the wrong hangar? Or the goofball who parked Bobby Joslin's Cessna 172 in the wrong hangar at John C. Tune Airport? Look, this mixup lasted long enough to get the FBI involved, so they should probably both come on up here and take a bow. Congrats on the rare Scene double, appearing in both the Best of Nashville Issue and the Boner Awards.
Here We Go Again 
This year, our city's excellent professional theater companies have canceled their seasons and watched their funding dry up, TPAC has paused all performances, and Chaffin's Barn Dinner Theatre shuttered for good. But the thespians in the 'burbs continued to have a hootin' good time, mounting in-person productions of the plays that no one needs to see ever again. Who could argue with the essential nature of Steel Magnolias, performed in person by Hendersonville Performing Arts Company? An August production of Mamma Mia! in North Platte, Neb., closed down because 23 members of the cast tested positive for COVID-19. But what would the people of Coffee County do without another viewing of the "smash hit musical," which The Ultimate Oldies Rock and Roll Show group performed in September at the Manchester Arts Center? The theater has a packed calendar of performances this winter, despite the fact that the town's mayor, Lonnie Norman, tragically died of COVID-19 in October. The Facebook page of Lebanon's Audience of One Productions is full of scripture — perhaps that's what has kept the cast, crew and audience of The Addams Family musical safe. There are circuses in Brentwood, a murder mystery in Smyrna and even Shakespeare in Murfreesboro (possibly the only of these shows worth seeing in normal times), all while cases of COVID-19-related illnesses and deaths rise throughout the state. It seems the enemies of art are also the enemies of science. 
The COVID Cover-Up That Wasn't
Fox 17 really thought it had some kind of smoking gun when it came across an email correspondence concerning Tennessee Lookout reporter Nate Rau's request for COVID-19 numbers at restaurants and bars. The emails showed city officials trying to figure out how to properly share the low numbers of COVID cases traced back to those spots; out of context, it kinda-sorta sounded like a conspiracy to avoid releasing the data — and reporter Dennis Ferrier quickly called it a cover-up. With the context, though, it sounded more like complying with health care standards to help protect people's identities, since it's easier to identify people from smaller outbreaks. Not only that, the report completely missed that Metro did in fact share those numbers with Rau (who they mistakenly identified as a reporter with The Tennessean, his former employer). Amid the mistaken cries of a cover-up was an appearance by Metro Councilmember Steve Glover, the only named source in the story, who mostly complained about the tax rate increase and regulations concerning downtown businesses. While journalists from other outlets quickly corrected the article's misinformation — and Fox 17 strangely deleted and then undeleted the story from its website —  Glover himself appeared on Tucker Carlson's show to spread the false story. One day later, Fox 17 retracted the story and apologized for it, but the right had already had a field day with the false news.
Dollars and Nonsense
There's a lot to scrutinize about the homeless shelters set up at the Fairgrounds Nashville — and whether the city should investigate more socially distanced alternatives. But WSMV's recent look at what it costs to run the operation came across less like accountability reporting and more like a thinly veiled complaint by folks who want the economy to reopen, as well as flea market vendors feeling the financial crunch of the pandemic. Really, once Metro Councilmember Steve Glover enters as a key source for the story, it's clear what the angle is. WSMV found it cost $2.5 million, which includes expenses like fencing and medical staffing. In a particularly cynical move, the report tries to call out homelessness service providers' calls for motel rooms to be provided instead of shelters — a request that stemmed from safety concerns rather than budget crunching. Some back-of-the-napkin math shows that strategy would have cost $410,000 — but as Metro's statement points out, that leaves out other operating costs, like $1.1 million for contracted medical staff. Given that people experiencing chronic homelessness also often face medical conditions, it's crucial to realize that it does take more than just a spare room to care for a vulnerable population — something service providers doubtlessly would have told reporter Nancy Amons had she bothered to reach out to them. Whatever Amons set out to do with this story, she missed the mark.
Be the Change You Wish to See
Steve Smith and other owners of Lower Broadway honky-tonks have spent much of this pandemic shouting loudly that the real problem isn't hordes of boneheads stumbling around the neon canyon, but rather Mayor John Cooper's administration being overly cautious. The claim that their bars weren't contributing to the spread of COVID-19 rested on a tiny amount of information Metro released in June. Vast amounts of additional contact tracing data the city collected included information that could identify individuals, and releasing it would violate federal medical privacy laws, so it remained unreleased. Then, Smith and other bar owners filed suit against the city, forcing Metro to de-identify contact tracing data and make it public — which, as Tennessean journalist Brett Kelman's report notes, pointed a finger right at Lower Broadway.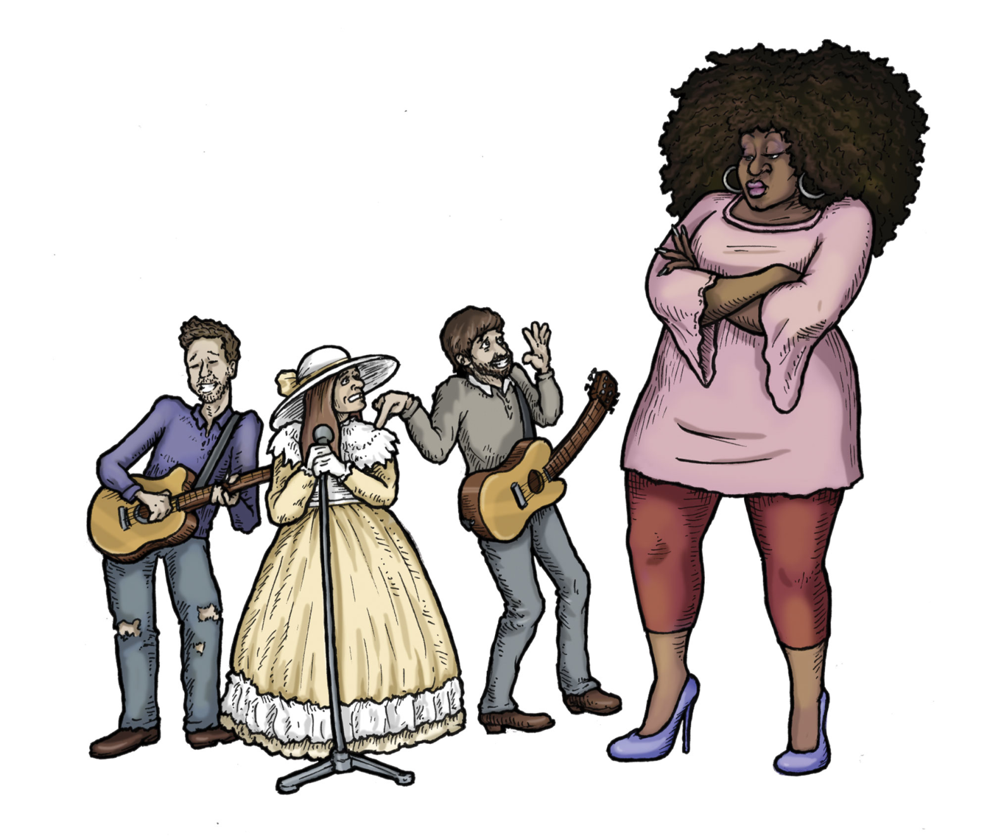 Lady A-Holes
Naming their band Lady Antebellum was the foundation on which the milquetoast pop-country trio built a towering Boner palace. Since 2006, Hillary Scott, Charles Kelley, Dave Haywood and everyone in their orbit have ignored the racist implications of adopting a euphemism that glorifies a time before the Civil War brought an end to slavery. As protests over police violence against Black people spread this summer following the deaths of George Floyd and Breonna Taylor, the band announced it would change its name to Lady A. But someone on the group's team tripped over their Boner by failing to do a Google search. Or else they assumed that Anita White, a Black blues singer from Seattle who has performed as Lady A since 1987, either wouldn't care or wouldn't be able to do anything about the group appropriating the name. When White refused to share "Lady A" under terms of an iffy contract, the band filed suit, starting a legal battle that is still ongoing — transcending Bonerdom into the territory of upholding the systemic racism that led to the protests in the first place. 
Boners by Association
Boners spring eternal from the Country Music Association's annual awards ceremony. This year, their media team started a week early with a tweet about how the performance was intended to be a "no-drama zone," echoing the organization's 2017 attempt to ban discussions of gun reform. The Associated Press pulled out of coverage, citing photo restrictions that would prevent true journalistic documentation of the event (read: creating a record of which celebrity guests came to this large, invite-only indoor gathering during the pandemic). During the show, 86-year-old Charley Pride — a legend whose age puts him at high risk for suffering badly with the coronavirus — was honored onstage in said room full of unmasked celebrities. If more proof was needed that the CMA reads a room like the writing's in cuneiform, the program recognized late songwriter Mac Wiseman with hosts Reba McEntire and Darius Rucker duetting on "In the Ghetto." And a bonus Boner of omission: John Prine, Jerry Jeff Walker and Billy Joe Shaver, three recently deceased singer-songwriters who had enormous impacts on country music, weren't acknowledged in the show at all.
White Knights of the Boner Table 
Following the CMA Awards, Jason Isbell tweeted that he and Amanda Shires were returning their lifetime CMA membership cards, protesting its failure to recognize the aforementioned late legends Prine, Walker and Shaver. Journalist and author Andrea Williams, a Scene contributor, pointed out that the couple did this in honor of white heroes, but hadn't ever taken the CMA to task for its refusal to support Black musicians in meaningful ways. Angry fans came out of the woodwork to defend Isbell's honor, incensed that someone who has shown respect for Black lives was being asked to do more. They could learn a lot from Isbell's gracious response, which put his privilege in perspective. Many of us have made the mistake of getting unnecessarily Mad Online, but in this case, Isbell and Williams were just having a conversation. Maybe take it down a notch, Twittersphere.
High Alert
File this under Petit Boners, since it's only the fault of whoever scheduled the federally regulated Emergency Alert System for its monthly test. They couldn't know that the signal would interrupt country supergroup The Highwomen singing a socially distanced rendition of "Crowded Table" on The Tonight Show. But interrupt it did, coming in right on the first syllable of the opening line. At least the performance is on YouTube. 
Superspreaders Indeed!
In November, an odd flyer started making the rounds online. "Island of Misfit Toys Christmas Party," it read. "Dress up as one of Santa's sexy mistresses, a naughty little elf, a spicy candy cane, or even the hot big guy himself!" The flyer promised a weekend-long private party presented by the Vibe Social Club to take place in early December at an unnamed hotel in Antioch. Tennessee Lookout reported that Vibe had previously hosted two other Nashville parties (a "Back to School" party in September and a "Back the Blue" party in October). The owners claim the group is not a swingers' club (sure seems like it is!), but regardless, big sexy parties aren't exactly kosher in the midst of a global pandemic. Ultimately the party's organizer told WSMV that the sensual soiree had been moved to a hotel in Mississippi. Hey Magnolia State — good luck with all that!
Eye of the Needle
Before making a bunch of noise about bar and restaurant pandemic regulations, John Rich caused a different kind of ruckus in the pre-COVID days of yore. Last December, the country singer and Celebrity Apprentice champ was upset to learn that students at Lipscomb Academy, where his kids go to school, have been learning about white privilege and racism. The Redneck Riviera owner and his wife even canceled a fundraiser over the curriculum, and rallied like-minded white parents who complained in a series of town halls at the private Christian school. There were calls for people to be fired, including Lipscomb's first dean of intercultural development, Brittany Paschal, a Black woman. Rich spouting off fragile-white-guy talking points wasn't particularly out of character — what's more embarrassing is that the school seemed to accommodate Rich and others' calls for heads to roll, transitioning some academy staff, including Paschall, to the University. (Rich later said he didn't want Paschall fired, but did highlight her past writings in one of his mass-email complaints to parents.) Paschall has seemed to handle the ordeal with as much grace as possible, and recently announced she had transitioned to a job in Metro Nashville Public Schools this fall.
Throwing Caution to the Boner
When a freak derecho slammed into the area with 70-mile-per-hour winds in May, Chad Withrow did what any self-respecting sports talk radio host would do — he picked a fight on air about something he didn't really understand. On the one hand, we should probably forgive Chad, because he was about two months into a pandemic sports desert and didn't have much else to opine about on a daily basis. On the other hand, calling out Nashville's favorite Tweeteorologists, @NashSevereWx, for failing to predict an unpredictable storm is next-level oblivious. After all, the NashSevereWx account actually saved lives with its warnings on the night of Nashville's March 3 tornado. Given sports talk radio's sketchy relationship with science these days, maybe Chad ought to just stick to the games.