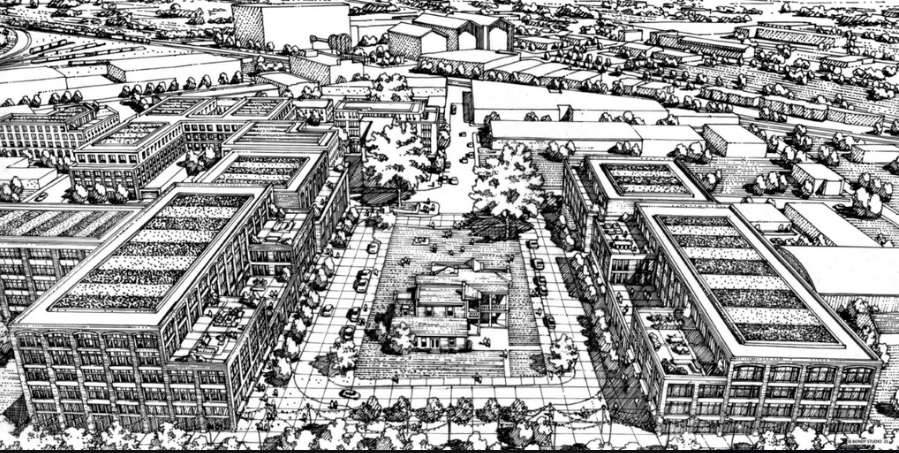 A development planned for Wedgewood-Houston and offering a mixture of uses — including an update to the historic Merritt Mansion — is now seemingly in limbo. 
Nashville-based AJ Capital Partners is seeking to undertake the project with a key address (among others) of 441 Humphreys St. According to documents submitted to the Metro Planning Department, and as Nashville Post reported in January, the development will include eight new buildings sitting on 13 parcels. AJ Capital, which owns the nearby May Hosiery complex, owns some of the parcels within the 6.13-acre property.
However, Metro Councilmember Colby Sledge, in whose District 17 the property sits, told the Scene Tuesday he received an email from the company president Friday morning noting AJ Capital would no longer be negotiating with the neighborhood organization South Nashville Action People (SNAP).
"So I informed them I would be withdrawing their rezoning application," Sledge says.
AJ Capital, officials for which could not be reached for comment, had been slated to appear before the Metro Council on Tuesday, May 4, for a second reading and public hearing related to the rezoning needed for the project — to offer residential, retail and office space and to include the Merritt Mansion being physically repositioned on the site.
Sledge says an AJ Capital representative reached out to him over the weekend, noting the company would attempt to resume dialogue with SNAP.
"But I made sure the practical effect of the zoning application withdrawal is that it kills their rezoning," he says. "And that the company would have to restart the entire zoning application process."
Sledge says AJ Capital had been seeking a comprehensive rezoning that would have allowed a significant amount of mixed-use space, primarily commercial and retail.
"So now, at least for the short term, that's not going to happen," he explains. "And if they want to re-engage with the neighborhood, there's going to be a whole new set of parameters regarding that. That's where things stand right now."
If it materializes, the development will include residences and face Brown, Houston, Humphreys and Martin streets. Another key address of the overall South Nashville site — which sits south of the warehouse home to Jackalope Brewing Co., among others — is 1220 Martin St. At least three structures, none of which are architecturally significant, will need to be demolished.
AJ Capital still needs to acquire the Merritt Mansion property from members of rock band Kings of Leon and some parcels located between Houston and Humphreys and owned by Art Daws.
Chicago-based HPA is the architect of record. Other entities involved include Barge Cauthen and Associates (land planning and engineering), Dryden (architecture) and HDLA (landscape architecture). Each is Nashville-based.
AJ Capital is also underway on another nearby site with mixed-use project Nashville Warehouse Co. and has been under contract to purchase the property home to Exit/In. The company developed the Midtown site on which now sits the Graduate Hotel and operates from its May Hosiery Co-Op, also located in Wedgewood-Houston.
This post originally appeared at our sister publication Nashville Post.
Stephen Trageser and Erica Ciccarone contributed to this report.