In July, as Nashville was hitting new highs for COVID-19 positivity rates and hospitalizations were surging across Tennessee, TMZ published a video of Lower Broadway with the title "No-Maskville." The nearly 90-second clip taken from a car shows what looks like a normal scene for the street on a weekend night — and that's what was so confounding about it. Large crowds crammed into small indoor bars, with many more people milling around outside waiting to get in, most of them apparently unmasked. A shirtless man strolls by in the foreground.
It was one of several videos and images from Nashville's main tourist destination that spread around the internet over the past year to the shock and horror of many observers. The images further prompted a question that one might have already felt compelled to ask: What the hell is going on down there? 
It's been impossible to ignore the way Lower Broadway has grown and mutated over the past decade: The arrival of bigger bars where one is more likely to hear Bon Jovi or, to borrow a lyric from recent SNL-performing songwriter Phoebe Bridgers, "some America First rap-country song" than the sort of honky-tonk tunes that used to echo down the street; the transpotainment arms race in which pedal taverns led to party tractors and a hot tub on a trailer called the Music City Party Tub; and, of course, the bachelorettes.   
Intoxication has always been a feature of downtown Nashville, and Lower Broadway-centric hand-wringing about fading authenticity — a vaguely defined idea that is often a commercial creation itself — is an old pastime for locals. A recent round of it came a few years back when bigtime country stars started lending their names to branded bars that came to tower over the original honky-tonks. The Tennessean reported in 2017 that "to some observers, these celebrity-endorsed spots threaten to make Lower Broad look more like a musical theme park" and quoted the venerable honky-tonk proprietor and performer Layla Vartanian referring to the new arrivals as "Wal-Marts." Can anyone say now those concerns were misplaced? If anything, they underestimated what was to come. The Tennessean's article came before the opening of Kid Rock's Big Ass Honky Tonk & Rock N' Roll Steakhouse, an establishment that would seem to have been conjured out of the nightmares of someone with such concerns for the identity of the street.  
Bars built in the image of figures like Kid Rock (who responded to President Joe Biden's inauguration by tweeting "THESE FAR LEFT SOCIALIST LIBERALS AND MEDIA CAN DE-PROGRAM DEEZ NUTZ!!") and John Rich (who spent the past few months predicting that Donald Trump would serve a second term despite having clearly lost the presidential election) were bound to attract a certain type of customer. One local who recently left a job at an establishment downtown says nights on Broadway felt increasingly inflected by America's political culture wars. The era of Donald Trump and COVID-19 only heightened these dynamics and the street's image among some locals. When a man who was photographed taking part in the Jan. 6 attack on the U.S. Capitol — the so-called zip-tie guy — was arrested and revealed to be a former employee of Kid Rock's bar, eyes rolled all around the city. Of course he worked there. (It's worth noting that the man, Eric Munchel, had been fired months earlier.)
Taken all together, these dynamics raise questions about what the city has created or allowed to grow on its most famous street. Much of Lower Broadway's aura comes from the legends of someone like Hank Williams stumbling drunk in an alleyway behind the honky-tonks. Go down there today, though, and while you'll run into a whole lot of stumbling drunks, you might not even hear a Hank Williams song. The pandemic interrupted the party, putting businesses in jeopardy and raising questions about what shape the street will be in on the other side. Another question is this: Is Lower Broadway today a reservoir of Music City culture, or a drunken playground dominated by assholes?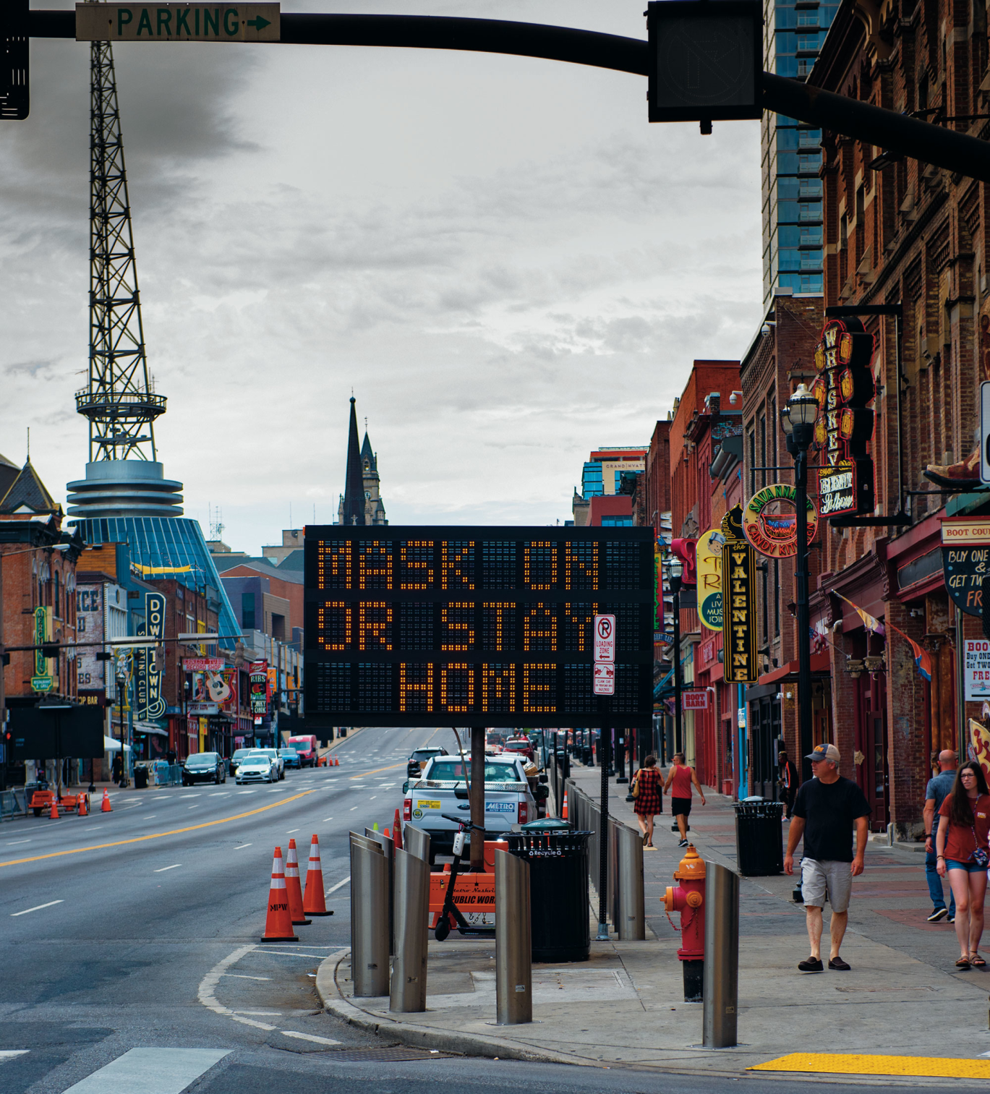 ---
Barrett Hobbs inherited memories of Nashville's bar business well before he could make any of his own. The fourth-generation Nashvillian is the grandson of the late John A. Hobbs, who in 1977 opened the Nashville Palace — one of his many establishments in Music Valley, the commercial area near Gaylord Opryland Resort — and provided a proving stage for future country stars like Randy Travis and Alan Jackson. The younger Hobbs' earliest childhood memories of Lower Broadway, he says, are of retail stores like Service Merchandise, still barely hanging on before the opening of the mammoth Hickory Hollow Mall in Antioch. As a senior at Father Ryan High School in the early '90s, he and his friends would head down to the corner of Fifth and Broadway, to a parking lot where Bridgestone Arena sits now, and people-watch — scanning a Lower Broadway that even an intoxicated observer today would recognize as something from a different era. 
"We would drink a beer and sit there and watch the different characters — you know, homeless or addicts or whatever they were, just drunks — fall in and out of The Turf and The World's End, and try to peep in the windows on the strip joints that were left," Hobbs says.
It wasn't long before he was in the bar business himself. Now, more than 20 years later, Hobbs' Cumberland Hospitality Group owns Lower Broadway bars Whiskey Bent Saloon and Bootleggers Inn, along with several other establishments elsewhere (including the Palace, which he bought in 2016, bringing it back into the family). 
When he speaks to the Scene, Hobbs says he's on his third day of shuttling staff to and from work to try to keep his businesses running through a week covered in ice and snow. 
"I was hoping 2021 would come in with a bang and things would get back to normal a little quicker than they seem to be, surviving with a hangover from 2020," he says.
Hobbs gives credit to early Lower Broadway proprietors like Vartanian and Robert Wayne Moore, whose Western boot and apparel store would eventually become the beloved Robert's Western World. He also credits Steve Smith, who took a risk on Tootsie's Orchid Lounge, buying it for four figures in the early '90s when the street was anything but a sure business success. Not surprisingly, Hobbs is eager for Broadway to be operating at full strength again.
"Until Broadway has its full heartbeat back, that's not restricted," he says, "Nashville is not going to come back."
But Hobbs also acknowledges some concern about what Lower Broadway has, or at least might, become, saying he worries about losing an "authenticity" that separates Lower Broadway from the famous main drags of other cities. No doubt many would say that ship sailed long ago. A 2001 Scene story titled "The Bar That Time Forgot" bemoaned the "Gaylordization" of Lower Broadway and hailed long-since-departed The Dusty Road as "Nashville's last honest-to-goodness honky-tonk." Still more might argue that the "It City" era fully completed the street's transition from a place to have your face melted by a guitar lick or an unknown songwriter to simply a place to get shitfaced. 
Hobbs isn't ready to go that far, but he has seen a shift. 
"There is a shift in the atmosphere, and it's inevitable," Hobbs says. "It's not that anyone's done anything wrong. But if you have a place that can only hold 60 or 70 country music fans, you're going to have one type of atmosphere — you're going to have 21-year-olds to 71-year-olds wanting to hear the best music on the planet, and drinking at different levels at that time. If you put in a bar with three different types of music, where you've got rock 'n' roll, and you've got mix music, and you've got country, and those people don't necessarily intertwine together. Now, all of a sudden, you've got three concerts going on at once." 
He says that perceptions of the district have to come with perspective, and have to be put in context of the incredible growth in tourism that Nashville has experienced over the past decade. 
"There's the perception there's more drunks down there now," he says. "There's not any more drunks by percentage — there's just more people in general." 
Even so, the prospect of drifting further in that direction is a topic of conversation among people with interests in the future of Lower Broadway. 
"There is a conscious discussion that has been going on — and you don't want to pick on any city, but you hear it a lot — we don't want to become Bourbon Street," Hobbs says. "You know, where it is nothing but a 21-and-up party scene. That's all Bourbon Street is."
Hobbs says he understands that a family might not want to come inside one of Lower Broadway's honky-tonks, but "I want them to always be comfortable being able to walk by." 
"We cross that threshold where they're not comfortable walking by, I think we gotta look at ourselves," he says.
---
Other proprietors on Lower Broadway suggest that threshold may have already been crossed.
"It's always had a seedy reputation, but the seedy reputation was built around creativity," Acme Feed & Seed owner Tom Morales says of the street. "It wasn't built around drunk bachelorettes. Now, you might find some musicians down on Lower Broad drunk, but it was part of the creative process."
Morales laments what he sees as an abandonment of what was — or at least what he feels should be — the identity of Nashville's most famous thoroughfare. 
"There's no vision, it seems like haphazard, 'let's just keep the hotels full and however that happens is good,' " he says. "I personally don't agree with that. I think [it's about] the history and the preservation and the music, the music, the music. Nashville's got a diverse economy, I understand that part, but the reason all of this is diverse and everybody came to Nashville, located here, was for the music. They didn't come because there's pedal taverns, they didn't come because there's drunken debauchery on weekends."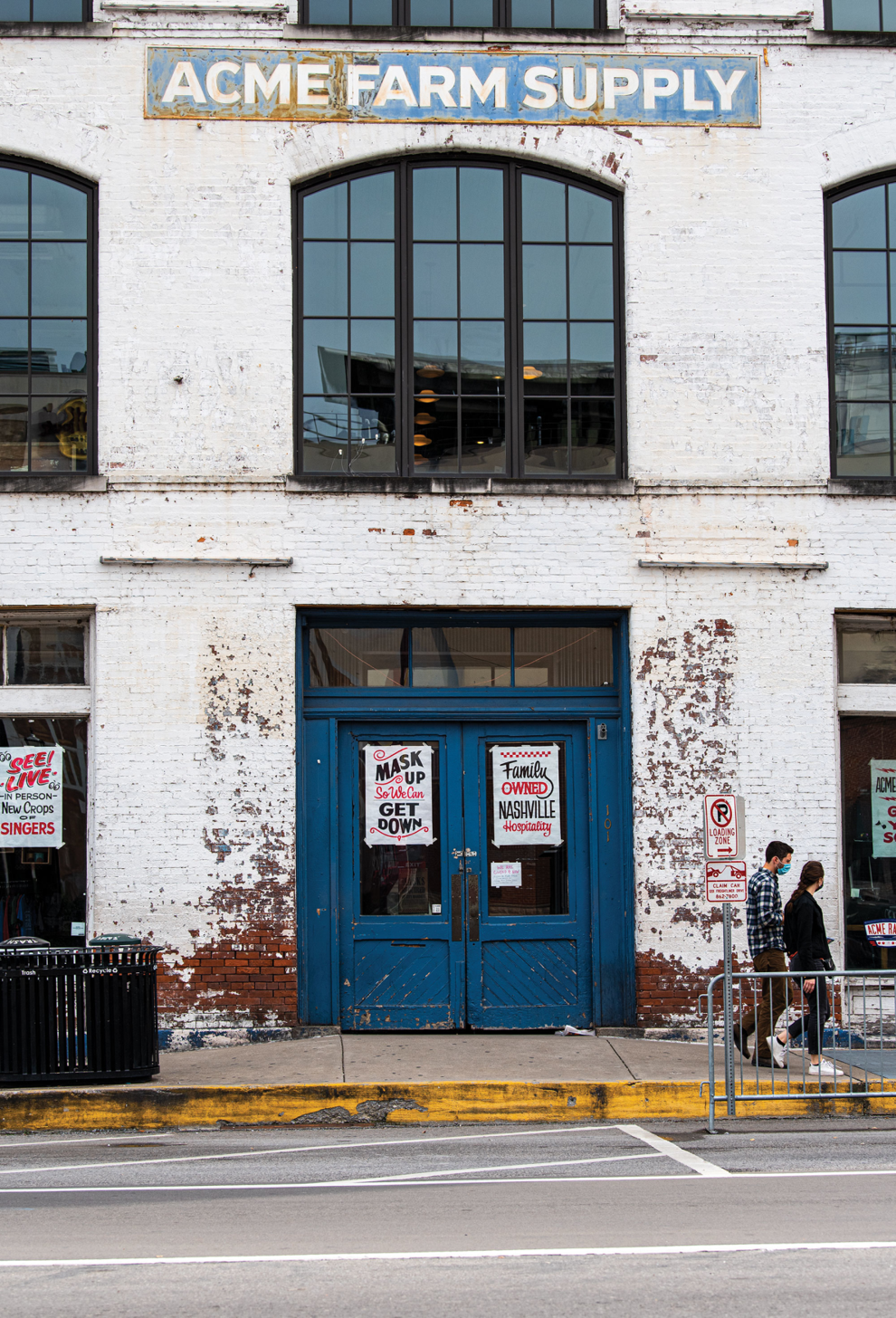 "While we have enjoyed tremendous success, we have obviously generated growing pains as well," says Nashville Convention & Visitors Corp president and CEO Butch Spyridon. "We are equally concerned about the evolution. Our character, our authenticity and our music brand are critical to sustaining our success, and we have to address issues like entertainment transportation, aggressive panhandling, trash and noise. We had initiatives last spring with Metro and the Downtown Partnership to work on these issues, but paused due to the tornado and COVID-19 pandemic. We hope to restart those efforts again."
Morales, who also owns The Southern Steak & Oyster, has been outspoken recently about his frustrations with the atmosphere on Lower Broadway in more ways than one. After a long shutdown at the beginning of the pandemic, Morales reopened Acme — but in October, he announced that he would be closing down the bar and restaurant again. In those early months, Morales had kept the four-story establishment on the corner of First and Broadway closed longer than others, a decision he attributed in his October announcement to concerns for "the safety of our staff and customers, followed by the economics of operating in this climate."  
After finally reopening, Morales said he and his team quickly came to believe the situation was untenable. Staff started getting sick, he says, and customers were trying to defy things like mask mandates because they hadn't been made to follow them in other bars on the street. When he decided to close, Morales says he "caught hell" from unnamed bar owners on the street. 
"It's a perpetual Trump rally down there," he says. "You're having to be policemen instead of hospitality people."
His complaints bring together concerns about the changing culture of Lower Broadway and the way that the Trump era and the pandemic, in his view, amplified the dynamic. 
"There's a core destination customer or tourist that has always come to Nashville and its surrounding country music," he says. "Nothing against that. But with it brings a culture, and right now that culture has been hijacked to represent a lot of the things that, for myself, are contrary to what we need as Nashville business."
Morales says in the brief period Acme was reopened, his staff was met with people in fishnet masks with the words "FAKE NEWS" on them trying to get into the bar.
Hobbs, who is the chairman of Mayor John Cooper's Advisory Committee on Hospitality, sounds a more optimistic note about where things are headed. He says the committee has been a successful mediator, working with the Metro Public Health Department and the mayor's office to translate proposed rules into more workable forms for the reality of the industry. He points to more nuanced policies that have resulted from the committee's work, such as a recent loosening of restrictions that allowed restaurants that don't serve alcohol to be open 24 hours a day. He also says he's pleased that the committee has worked to restart negotiations for the booking of meetings and conventions in the city later this year. 
Spyridon says the city has "lost around $4.5 billion in direct visitor spending and, more importantly, tens of thousands of jobs." He also says, however, that he is "reasonably optimistic about our recovery starting this spring and steadily improving through the rest of the year" if the vaccination rollout continues apace and planned events are able to take place. 
Metro Councilmember Freddie O'Connell represents District 19, which includes Lower Broadway. He says in the early days of the pandemic, "We had some folks come to the table in good faith and closely examine how to operate safely, and we had some other folks who, I think, were not doing that."
O'Connell doesn't name any names, but it's easy to imagine who he might have in mind. When Metro's then-director of health Michael Caldwell mandated that all Nashville bars — including Lower Broadway's honky-tonks — close until further notice, Tootsie's owner Steve Smith immediately announced his intention to defy the order. He reversed course within 24 hours, but he has made his displeasure with the restrictions plain. In June, he joined a lawsuit against the city seeking to block the restrictions, and in the same month his Honky Tonk Central and Kid Rock's Big Ass Honky Tonk & Rock N' Roll Steakhouse (the latter of which he co-owns with the eponymous "Bawitdaba" singer) were cited for failing to comply with public health guidelines.
While opposition on Lower Broadway to pandemic-related restrictions and guidelines appeared to many like greed-fueled obstinacy, there was also a more reasonable frustration among the street's business owners — that the city did not have a long-term plan for how to reopen that was workable for establishments like theirs.  
Nearly a year after COVID first arrived in Nashville, O'Connell says the situation on Lower Broadway seems to be relatively under control. 
"I think overall, if I'm not hearing from people, it's a reasonably good sign," he says. "Right now, I'm not hearing from the Metro side with regard to frustration with lack of compliance, and I'm also not hearing from the Broadway side a particular set of concerns. And I think it's one of those things where it's a bit of give and take." 
---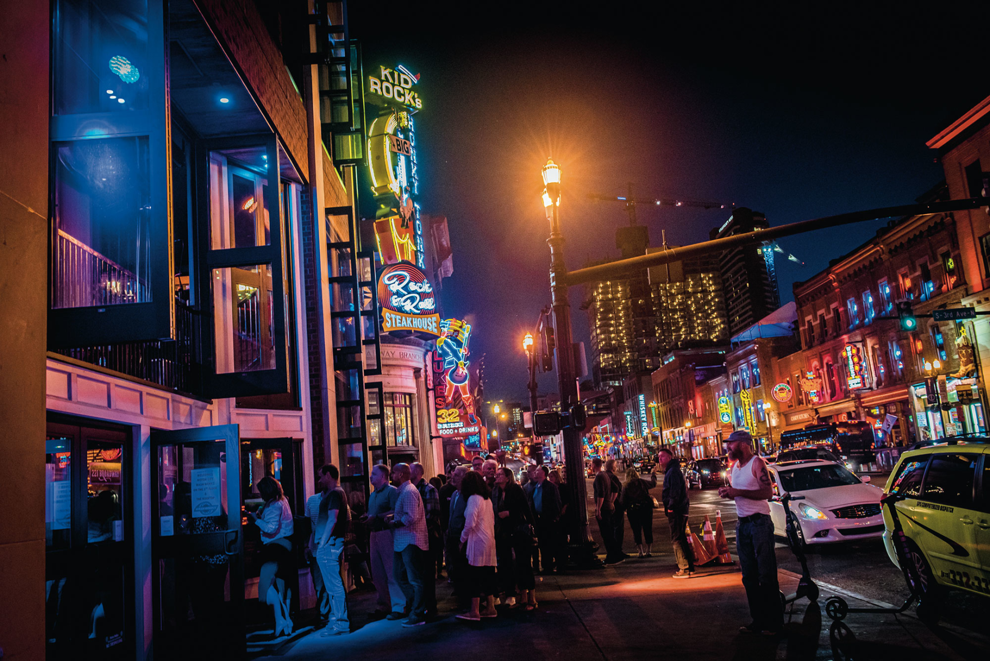 Steve Smith answers his phone and announces that he's in Palm Beach, Fla., where he's just been golfing and eating lunch with Donald Trump, Kid Rock and "Daddy Kid Rock" — "which is Kid Rock's daddy." 
So, how is the former president doing in exile?
"He's so happy it's unbelievable," Smith says. "He's gonna sit back and watch Joe Biden fuck the rest of the world up for four years, then he's gonna walk in and take it over."
It would be difficult to talk about the culture and identity of Lower Broadway today without talking to or about Smith, who owns or co-owns three of the most visible establishments in the district. He played an undeniable role in revitalizing Lower Broadway in the '90s and an undeniable role in making it whatever it is today.   
But that conversation turns out to be difficult to have. The Scene reached out to Smith through an associate, and he agreed to speak for this story with a tentative plan to talk on Wednesday, Feb. 17. Once he's on the phone, it seems as if he and his party have been — as his rap-country-luminary business partner might put it — "chillin' the most." Over the course of a nearly 30-minute conversation, Smith launches into tirades about the coronavirus pandemic and, more specifically, Nashville's public health orders. He reserves special invective for Mayor Cooper, and repeatedly urges the Scene to print it all. He also makes repeated reference to the fact that he knows the Scene's owner, Nashville real estate magnate Bill Freeman, with requests that the paper "be nice" to him. 
Smith interrupts a question about his early opposition to COVID-related guidelines to insist that his establishments have followed the guidelines, but that "COVID's over." It's not, of course. On Feb. 18, Tennessee surpassed 11,000 COVID-19 deaths, and more than half of the state's deaths from the pandemic have come since December. 
Smith says the closures and restrictions have cost him more than $90 million, and he repeatedly places the blame for what he describes as the death of Lower Broadway at the feet of the mayor.
"John Cooper has ran the city in the ground, so my opinion on Broadway — we're done," Smith says. "Downtown Broadway is going in the tank like a snowball headed to hell because of John Cooper. You wanna print that? You got enough nuts to print that, son?"
Asked what he thinks of the current situation on Lower Broadway — where bars are allowed to stay open until midnight, with last call coming at 11 p.m. — Smith says this: "What are you allowed to do in Davidson County? Then what are you allowed to do in Wilson County? Or in Hendersonville? What are you allowed to do there? You answer that question. Someone can drive 15 minutes down the road and live a normal life or stay in a concentration camp under John Cooper — Hitler John Cooper's word. Use the word 'Hitler,' I called John Cooper 'Hitler,' put that in the fucking paper."
Someone near Smith apparently asks who he's talking to, and Smith responds: "a newspaper reporter." The man chimes in again: "Retract the Hitler." 
"I'm not gonna retract 'John Cooper's Hitler,' " Smith says. "I'm not retracting that." 
(When asked for a response to Smith's statements, Cooper's office offered the following: "Comparing the Nazi atrocities of the Holocaust to public health restrictions that saved lives is deeply offensive. That kind of ugly comment speaks for itself. The public health actions taken over the past year have saved hundreds of lives, as evidenced by our fatality rate being less than half of the state and national averages. Compared to other cities, Nashville took a balanced approach that allowed businesses to operate at safe capacities. We are a resilient city that is well-positioned to thrive as we rebound from the pandemic.")
It's certainly an escalation from how Smith described the situation in June, when — after joining the lawsuit against Metro's public health restrictions — he told The Tennessean, "They've got us behind a Berlin Wall."
As it turns out, during the call Smith is with Kid Rock, who chimes in again to ask what publication Smith is talking to. When Smith tells him, Kid Rock draws a connection between the Scene and the Metro Times, an alt-weekly newspaper from his native Detroit. 
"Fuck them," he says. He declines to get on the phone.
Soon the two seem to be trying to amuse each other. Smith asks, "Do you want deez?" apparently attempting to draw the reporter into a "deez nuts" joke. This comes up again later when Smith asks Kid Rock — whose real name is Robert Ritchie — "what should he print, Bob?" Kid Rock answers, "Deez nuts." 
Soon, Smith is back to declaring that Cooper has "killed the city."  
"Downtown Broadway has gone to the shithole, and I wouldn't give a quarter for any property down there if I was any kind of smart businessman," he says. Smith goes on to claim that he is in possession of emails in which Metro public health officials refer to Tootsie's as "the Purple People Eater" and Kid Rock's bar as "Kid Rock's Big Ass Cluster." 
Asked if he understands why it was concerning to people to see large crowds in indoor bars during a pandemic, Smith begins extolling the virtues of Florida's handling of the crisis. He claims the state has "the best numbers of anybody in the United States besides Utah." It does not — either in cases per 100,000 people or deaths per 100,000 people, although it has done better than Tennessee in both categories. Smith makes more false claims, like, "Healthy people can get out and get immune to any virus and live," and that COVID-19 is "just a damn 'nother flu." 
"They need to let these young people that's healthy and older people that's healthy live their lives," he says. "Live their fucking lives. If you're in a nursing home or you have underlying conditions, you need to fucking stay in. But at the end of the day it needs to be the people's choice, not the government's choice. This government is trying to turn everything into a communist country so they can tell us when to walk, when to talk, when to breathe, when not to fucking breathe. At the end of the day we better wake up and get to that." 
At this point, Smith declares that he's "not gonna authorize" the Scene to print everything else he's said, "'cause it's all stupid shit." Before the call ends, he returns to the matter again, asking to approve the quotes the Scene will use.  
Informed that's not how it works when you've agreed to an interview with a reporter on the record, he says, "Well that's great, so do what your conscience will allow you to do, son." 
With that, the Scene asks one more question. 
"Have you been drinking?"
After a brief pause, Smith answers: "Always."