While the phrase "multimedia event" is not an inaccurate description of the ambitious and imaginative undertaking that is The Jonah People: A Legacy of Struggle and Triumph, it is about as far as you can get from complete. 
The piece is a collaboration between composer-instrumentalist Hannibal Lokumbe and the Nashville Symphony, and it makes its world premiere at the Schermerhorn with four performances April 13 through 16. While the production is technically the first opera among Lokumbe's extensive body of multidisciplinary works, it obliterates distinctions between idioms. It combines and converges elements of symphonic and improvisational music while also incorporating aspects of theater and dance. 
In addition to the Grammy-winning Nashville Symphony, The Jonah People brings to the stage an African drum and dance corps as well as a 100-voice choir whose members come from HBCUs in both Tennessee and Kentucky. There's a jazz band that recalls Lokumbe's days on the road as a young man. There are film elements and a live dramatic component utilizing the skills of 30 actors. 
"For me, it's the realization of a dream that I've had since childhood," Lokumbe says in a recent conversation with the Scene. "I wanted to chronicle the full measure of the African American experience — the glories and the tragedies, the incredible things that have occurred along the way."
The story is presented in four movements, called "veils," beginning with one set in Africa at a point of departure for enslaved people bound for America. This is the foundation for the production's overarching symbolism, comparing the past 400 years of African American history to the biblical parable of Jonah and the whale: surviving the horrors of slavery, enduring Reconstruction and building lasting and vibrant communities, in spite of injustice fueled by systemic racism. 
It is a story about building pride and strength by seeing the promise of the future in the past and present, chronicling the resilience and visionary ingenuity of Black people throughout the history of the United States. It is deeply personal for Lokumbe, including memories of his own and those of his family and mentors, and it's meant to touch a broad audience.
"It isn't possible to include every single important figure and event, but I feel we have done a good job of presenting the major developments and personalities," says Lokumbe. "Getting the full scope of our experiences and lives was the goal. I spent a lot of nights on specific segments — what would work with actors and in a theatrical way — while also getting the musical elements together." 
Lokumbe views The Jonah People as a crowning achievement in his career, and when discussing its conceptual origins, he is both reflective and exceptionally detail-oriented. Another of the veils is devoted to Minton's Playhouse, the legendary Harlem club where leading lights like Roy Haynes, Charlie Parker and Thelonious Monk crafted innovations in modern jazz that would become known as bop. Lokumbe built the narrative in this segment around stories shared with him by Haynes, who is now 98 years old.
"He's one of the very few people alive who played at Minton's [in its heyday]," says Lokumbe. "Getting that degree of accuracy and authenticity within the piece, so it honors that achievement, is so critical."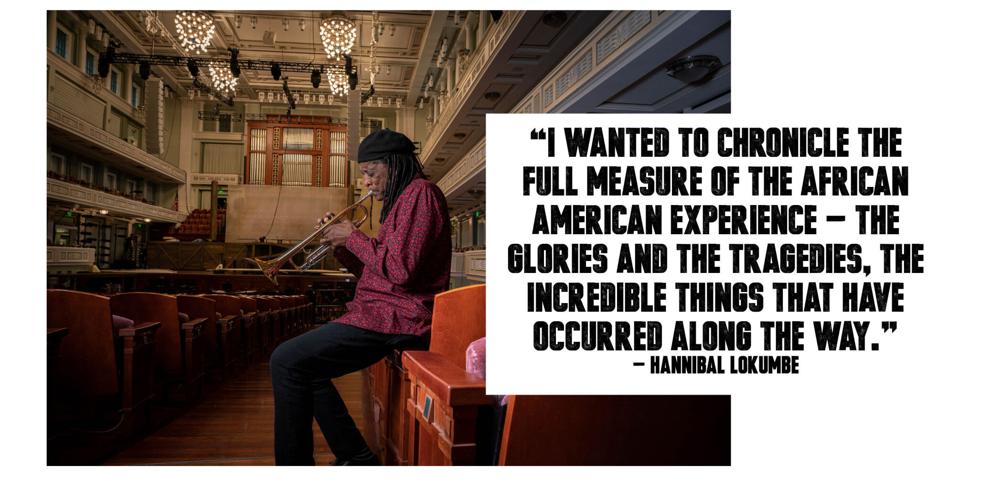 ---
Lokumbe has a deep gratitude for the greats he's worked with. Now 74 years old and dividing his time between his studio space in New Orleans and his home in Bastrop, Texas, he grew up in a farming community outside Austin. He formed a top-notch soul band in his teens and studied briefly in the renowned music program at North Texas State University (now the University of North Texas). He left in 1970 for New York City, playing with and learning from figures like Haynes, Pharoah Sanders, Rahsaan Roland Kirk and Gil Evans. Lokumbe quickly earned widespread critical respect as a trumpet soloist of distinction. He toured the world and appeared on such landmark recordings as Sanders' Black Unity that still influence forward-thinking contemporary jazz musicians. 
In the 1980s, Lokumbe began work on music for classical ensembles, and his expansive suite African Portraits premiered in 1990 at Carnegie Hall. Since then, orchestras and other groups across the nation have performed or commissioned his works, which focus on the stories of marginalized people and historic figures who fought for freedom. Pieces have ranged in scale from A Star for Anne — a piece for string quartet and narrator, in memory of Anne Frank — to Crucifixion Resurrection: Nine Souls A-Traveling, which features a chorus, a jazz band and more, and remembers the victims of the 2015 racist shooting that left nine people dead at the Emanuel AME Church in Charleston, S.C. 
"I really have sought to get out of the box of categorization," Lokumbe says. "If there is one major theme that I emphasized throughout the development [of The Jonah People], it's that this piece represents the spectrum — both of my life and that of African Americans since arriving here. So in that regard, I wanted everything that the audience will see and hear included."
Over many months leading up to the premiere, Lokumbe and Nashville Symphony staff got deeply involved in community outreach programs. They visited local schools and engaged students — especially young Black people — in discussions about perseverance and the value of what they have to offer.
Soprano Karen Slack, who has collaborated with Lokumbe on three previous projects, is one of four principal voices in The Jonah People. She was immediately hooked by the project's conceptual framework and overall scope.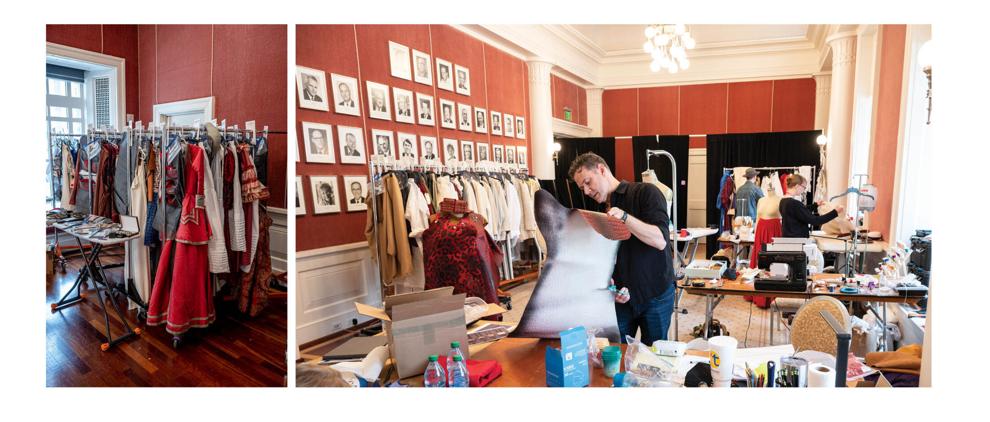 "When Hannibal and I discussed the libretto and what he wanted to do with this piece, I was so thrilled," Slack says. "So many times as African Americans, we don't get to tell our stories. So to be a part of something this extensive and far-reaching is such an experience. I applaud the Nashville Symphony for their willingness to present this, and I would like to urge the Black community in particular to please come out and support this. Too often, the story that is being shown here isn't included in programs by symphonies."
Nashville is steeped in Black history and the cultural and social contributions of Black people. For just a small sampling: Music City was home to the Union Army's U.S. Colored Troops during the Civil War, and later to civil rights leaders like Diane Nash, Rip Patton, Kwame Lillard and Z. Alexander Looby. Blues and soul singers turned North Nashville's Jefferson Street into a thriving and renowned center for entertainment, before the construction of I-40 strangled the neighborhood. We have a rising and deep-rooted conglomeration of hip-hop scenes. The Black musicians who have always been an integral part of country music are finally getting a degree of support in Nashville, thanks in no small part to grassroots organizations like Black Opry, whose leaders have relocated here; there's still plenty of work to be done to build true equity. We're the home of the Fisk Jubilee Singers, the Tennessee State University Aristocrat of Bands and the phenomenal National Museum of African American Music. 
The Nashville Symphony has a commitment to honoring the full breadth and depth of American music, and it's fitting that a story on the scale of The Jonah People be told here, with help from our world-class orchestra. In February 2019, Lokumbe was in Nashville for a residency with contemporary classical ensemble Intersection. During that time, he had conversations with the symphony's music director Giancarlo Guerrero and its president and CEO Alan Valentine. Those talks made the decision to join forces with the Nashville Symphony an easy one.
"When I sat down with Giancarlo and Alan and we discussed it, their energy and enthusiasm made it obvious they really understood the importance of this project," Lokumbe says. "Plus the experience I had during my residency here with Intersection and presenting a piece at Fisk — it was deeply moving. I also had the chance to see the Nashville Symphony performing works by composers from Tchaikovsky to Ellington, and there was no lessening of respect and reverence given to one over the other. I just knew this would be the ideal situation and best place to debut this piece."
Both Guerrero and Valentine see presenting The Jonah People as an enormous opportunity and a great, invigorating challenge.
"If you know Hannibal, you know what a great musician and composer he is," Guerrero says. "This might be the most ambitious and important thing we have done as an organization for many reasons. It fully falls in with our mission to celebrate the complete body of American music. It's a stimulating and brilliant work. It will hopefully continue extending the message that as an orchestra, we are truly welcoming — and that if this is truly Music City, then we as an orchestra are truly open to all music."
Valentine echoes Guerrero's message of diversity and inclusion. He also addresses the practical concerns of presenting a project this massive.
"We had to meet the challenge of just mounting a production with this size and scope," Valentine says. "There was and is no question that this project is exactly what our mission is about as a community-based organization. … I see projects like this as helping to unify the community through the arts. It is reflecting a historical set of experiences, and it's a major part of the entire American musical experience. We remain fully committed to reaching out to every community in the city. It hasn't always been an easy task, but it is one we are engaged in. And we see projects Iike The Jonah People as an important part of that." 
---
The hustle and bustle of preparations for the premiere is taking up the majority of the bandwidth of those involved with The Jonah People. But Lokumbe has had some thoughts about the legacy of the piece. He's open to the prospect of it continuing beyond this series of performances, whether its future life involves turning into a traveling production or becoming an annual staged event in Nashville.
"Right now, I am just so happy to finally see this happen," Lokumbe says. "Not only is it the realization of a lifelong dream, it really is for me an affirmation of everything that makes the Black experience so vital and special."