Molly Tuttle has a lot of important firsts to her name. She was the first woman to be recognized as the International Bluegrass Music Association's Guitar Player of the Year, and she's so good she won in both 2017 and 2018. She may be the first singer with alopecia — a medical condition that results in hair loss — to headline a bluegrass festival. When we got on the phone recently, Tuttle tried to make light of the mention of the festival by cracking a joke about baldness that got me howling. But the representation is wholesome and much needed.
Now, Tuttle is pulling off another impressive feat that's even more personal. For the first time, she's feeling ownership of the bluegrass tunes she writes.
Tuttle grew up in the California bluegrass community. Long before Sierra Hull was a world-renowned mandolin picker, the two were young kids playing together. After the IBMA recognized her instrumental prowess, Tuttle brought songwriting to the fore on her 2019 album When You're Ready. She put a spotlight on the songwriting of others on two EPs of covers, …But I'd Rather Be With You and …But I'd Rather Be With You, Too, released in 2020 and 2021. On those records, Tuttle branched out into rock, indie pop and Americana, and excelled throughout.
Her new bluegrass ensemble Golden Highway has a talented roster, with Bronwyn Keith-Hynes (fiddle), Dominick Leslie (mandolin), Shelby Means (bass) and Kyle Tuttle (banjo). Their album Crooked Tree, out April 1, marks a big step back toward the traditional bluegrass roots that Tuttle's career grew from. It's her first project with Nonesuch Records, and the experience helped her connect with the bluegrass music she's been playing practically all her life in a new way.
Being from outside the South and Appalachia made it difficult to feel personal ownership of the genre before, and Tuttle says there was "something missing" from her songwriting. It may not have helped that many bluegrass tunes are about murder, liquor, tiny cabins, spurned lovers or a combination thereof — songs that are fun to play, but tell stories that might not resonate with today's audiences in the same way they have for generations past.
In our contemporary time of great political divide, Tuttle's recent single "Big Backyard," written with Ketch Secor of Old Crow Medicine Show, is a nugget of peace and wisdom. The song starts with Secor's signature swingin' old-timey fiddle sawing. In a gentle, Alison Krauss-esque mode, Tuttle sings: "Come on out to the big backyard / It ain't mine, it ain't yours, it's all of ours." Harmonica, bouncy percussion and harmony singers hover in the background. The tune was inspired by Woody Guthrie, and others have described it as a contemporary companion to "This Land Is Your Land." 
"Crooked Tree" hews closer to a classic bluegrass rhythm, with acoustic guitar solos, fiddle swells and deep stand-up bass accompaniment. The story, however, feels timeless. Tuttle sings: "Can't you see? / A crooked tree won't fit into the mill machine / They're left to grow wild and free." The expression is a perfect match for a moment when many Americans — indeed, people around the world — aren't sure how they fit into an uncertain future.
I caught up with Tuttle in advance of Crooked Tree's release, ahead of which she and Golden Highway will play the Station Inn — a frequent haunt for Tuttle — on Monday, March 28. Check out our conversation and keep up with Tuttle via Instagram and her website.
---
You've played the Station Inn often. What'll keep it fresh on March 28?
Well, it's our Nashville album release show and we wanted to make it special. One set we'll play the full album with special guests. The second set will be some older material.
Let's talk about "Big Backyard." Why is that song so important now?
Ketch and I wrote this song together and we were thinking what kind of song would Woody Guthrie write in our current day. Around the country, so many people feel separate from each other. We've all begun putting walls up and feeling superheated, and this song reminds us that this land is all of ours. 
Some people have likened "Big Backyard" to "This Land Is Your Land." How does that make you feel?
It feels really good. It's been amazing singing it live because we get to the chorus and everyone cheers, even if they're never heard it before. That's really rewarding as a songwriter. 
This record meanders back into bluegrass territory. Why follow two very different albums with this project?
In the past year or two, I felt the pull back to the music I grew up with. I started writing bluegrass songs and writing with a couple friends of mine. I suddenly found my voice within the genre. When I was younger, I never knew where to start because I didn't relate to a lot of songs you hear. I didn't grow up in the South. I didn't feel ownership over the music. But during the last couple years, staying home and digging into my music, I went to visit my grandmother. We walked around the old farm where my dad grew up and my grandfather got bluegrass started in the family. I realized I wanted to have a bluegrass project.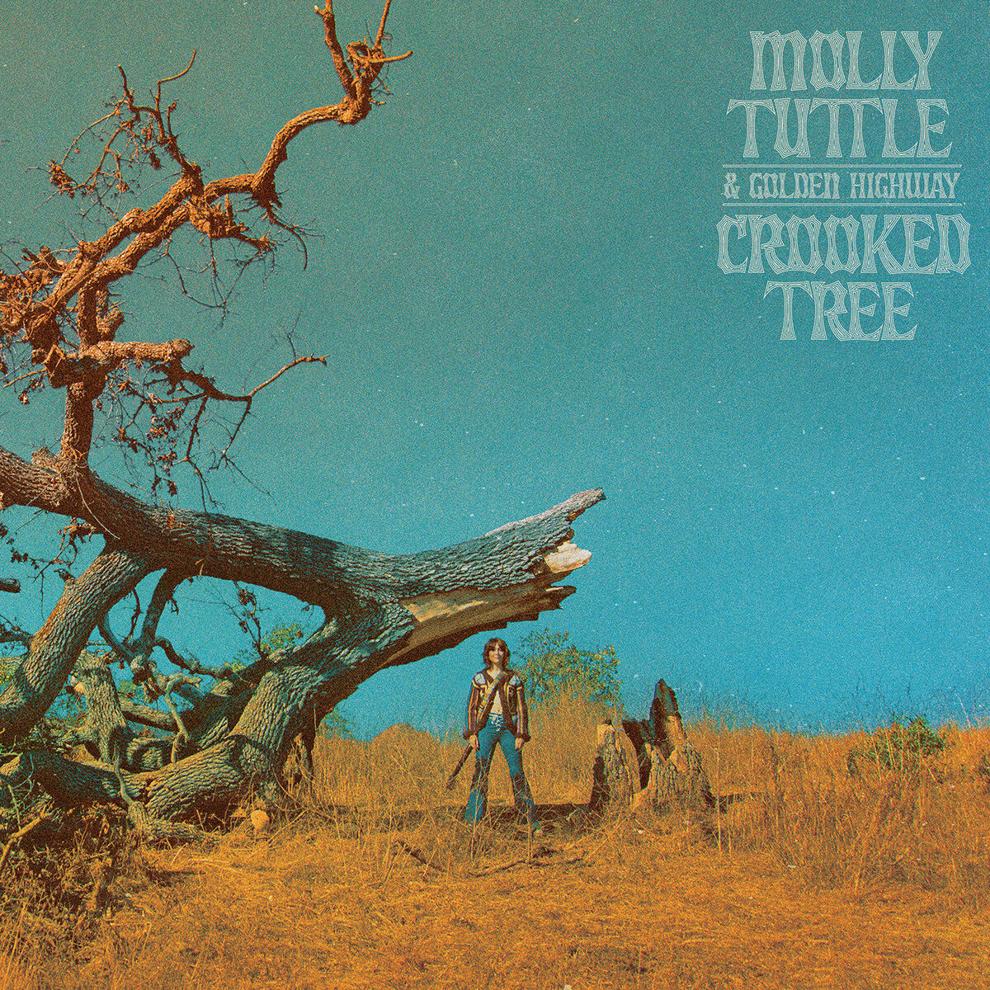 Where did you come up with the pose on the new album cover?
The cover photo is inspired by John Hartford. He has this wide-legged power stance. He was such an inspiration on the record.
Who's gonna be making guest appearances on this album?
I called up people on my dream list. Sierra Hull and I have played together since we were kids. She helped me arrange the song she played on, "Over the Line." I grew up obsessing over Gillian Welch. "Side Saddle" [which Welch sings on] was directly inspired by her songs. It was also so cool to get Margo Price to come in and sing on "Flatland Girl."
You're the first woman to receive IBMA's Guitar Player of the Year. Are there other firsts in bluegrass you want to accomplish? 
I lost my hair as a kid. I usually wear wigs on stage. I get nervous to take it off. That kind of inspired "Crooked Tree." I'd like to bring that to my bluegrass audience — be the first bald lady to headline a bluegrass festival. 
Is the future of bluegrass more inclusive?
I think the future of bluegrass looks more inclusive. The IBMA started having diversity showcases. They've been welcoming of Bluegrass Pride. I was so proud when that started. A lot of LGBTQ+ people have felt left out, even though there are a lot of LGBTQ+ bluegrass musicians.
You get people outside our region interested in bluegrass. Is that important to you?
I haven't thought about it a lot. Part of it might come from the last few years when I haven't been focusing on purely bluegrass. Stepping outside the genre helped me reach other audiences. I'm really excited to take this record to those audiences who might not feel like they're bluegrass fans, but can discover it.
I have to ask: You and banjo player Kyle Tuttle share a last name. Is he your brother? 
Everybody thinks Kyle and I are related. We kind of have decided to keep it a mystery.
How's it touring with Golden Highway going so far?
This is the first time I've gotten to tour with people who are my really close friends. We've all known each other for so long and it feels really good.