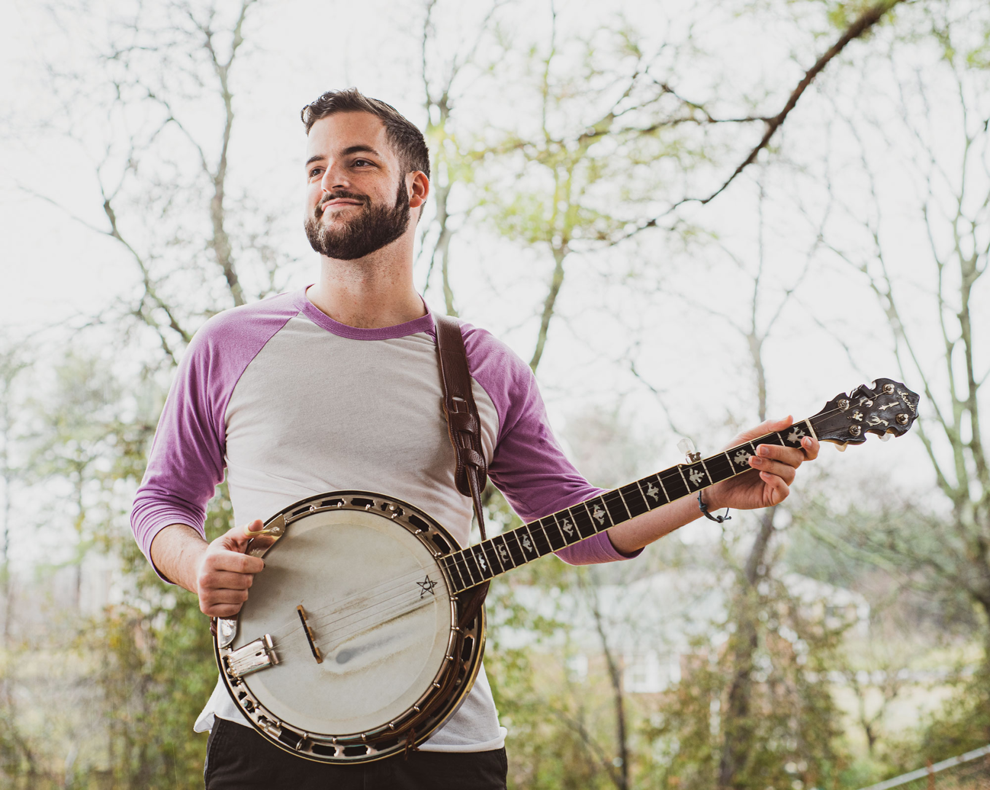 Radley Balko is a journalist who covers criminal justice and more for The Washington Post. He is author of the books The Rise of the Warrior Cop and The Cadaver King and the Country Dentist. With his ongoing series Nashville Byline, he'll profile fascinating characters, businesses and other parts of Nashville.
---
"Bluegrass is a music of nostalgia," says Justin Hiltner. "There's a lot of longing for home. As much as the music moves me, there's no home I pine for, or long to return to. 'Home' was a hard time for me."
Ironically, it was bluegrass that pulled Hiltner, a gay man, away from his home — the suburban town of Newark, Ohio, just outside Columbus — and from his evangelical parents. It was also bluegrass, generally seen as traditional and conservative, that provided Hiltner with the space he needed to be himself.
One of the best moments on the terrific podcast Dolly Parton's America comes when host Jad Abumrad attempts to explain the universal appeal of Parton's music. He looks at one song in particular, "My Tennessee Mountain Home," and how it seems to resonate with mountain-dwelling people all over the world, including those who have never visited Tennessee, and likely never will.
As Abumrad delves into the song's cross-cultural appeal, he finds that despite its reputation as the whitest of "roots music," the appeal of American "mountain music" — specifically, string-band, bluegrass and country music — may be that, at heart, it's the music of immigrants. That obviously includes the Scots-Irish immigrants who came to the U.S. voluntarily and settled in Appalachia, but it also includes the freed slaves and their descendants dispersed across the South. Immensely talented musician and MacArthur fellow Rhiannon Giddens has for years been educating audiences about the African origins of the banjo, and country icons from the Carter Family to Hank Williams were indebted to black musicians like Lesley Riddle and Rufus "Tee Tot" Payne. Jimmie Rodgers was influenced by the work songs of black railroad men he worked with in his teens.
But Abumrad also found evidence that even deep in the hollers of Kentucky and Tennessee, merchants and traders from India and the Middle East influenced "hillbilly music," both in its rhythms and cadences, and even in some of its instruments.
When I ask Hiltner — who appeared on the Parton podcast — about all of this, the 27-year-old banjo player's eyes light up. "Yes, yes!" he says. "It's all there. It has always been there!"
Hiltner has at times been depicted as an activist musician — an artist trying to bring bluegrass into the 21st century. But he isn't entirely comfortable with that description.
"I'm going to get on my soapbox now," Hiltner says. "This has always been the music of outcasts — of the poor, freed slaves, exploited workers. Migrants and refugees. It's music by people who endured harsh times and discrimination. The music was their escape from that reality."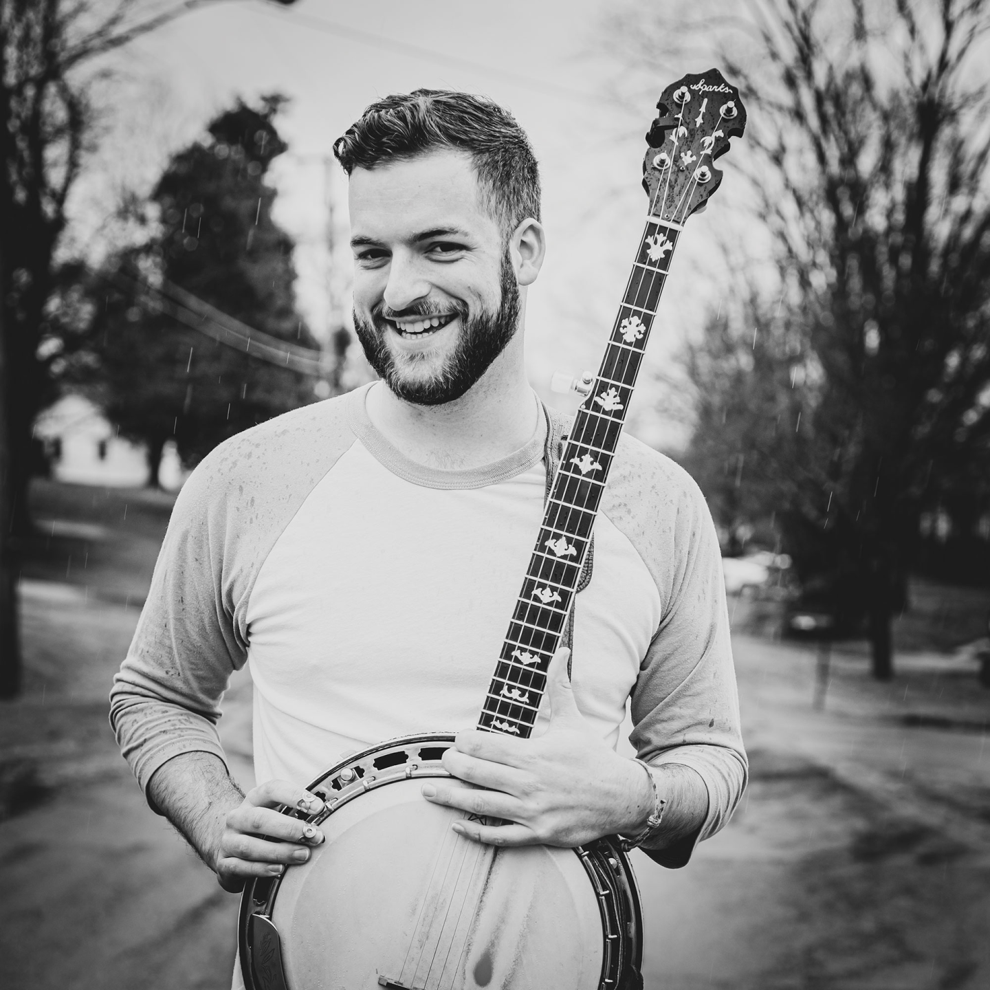 Hiltner says he isn't trying to modernize the music he loves. Rather, he's trying to take it back to its roots. "There have always been gay bluegrass musicians. There have always been bluegrass musicians of color, and musicians who didn't conform to traditional values and standards." 
Hiltner adds that bluegrass is also an especially genuine, meritocratic form of music. The music's icons include the heavyset and the homely. If you can pick, if you can sing, if you can harmonize, you'll find a stage that will have you.
Hiltner was first introduced to the music at age 6, when his Sunday-school class watched The Cotton Patch Gospel, the 1980s Harry Chapin musical that interprets the book of Matthew as though Jesus had been born in rural Georgia. Hiltner was transfixed by the banjo. 
"It was just this explosion of sound and frenetic excitement," he says. "I wanted to play immediately." His parents bought him a banjo the next year. He took lessons from a blues guitarist in town, and was soon studying tablature books. He and his brothers later formed a band. "I guess it's playing to stereotype, but I loved the attention, loved being in the spotlight," he says.
As Hiltner got older, he began to come to terms with his sexuality. "My family didn't handle it very well," he says of his coming out. His parents enrolled him in conversion therapy, which of course only made him miserable. "It has been a process." 
After a year in college at Denison University near Columbus, Hiltner was offered an internship with Compass Records, a roots and Americana label based in Nashville. "I told myself and my family it was this thing I'd be doing for college credit," he says. "But on some level, I knew I wasn't going back to school. I needed that distance from my family to figure things out."
Hiltner decided he'd make a clean exit from the closet as he pursued his music career, and let the bluegrass world react as it may. "I was just getting started, so I had nothing to lose, economically or professionally," he says. "I figured if I'm open about who I am, the people who don't want to work with me will winnow themselves out. I'd have no expectations, no illusions."
But with some notable exceptions, he found a community that largely welcomed him. "Growing up, I used to write letters to Ricky Skaggs, telling him how much I wanted to play in his band," Hiltner says. "I'd still love to play in his band. But I know that will never happen. He'd never play with someone like me, and I've accepted that. But I did find incredible support from people like Alison Brown, Roland White, Molly Tuttle and Ronnie McCoury, just enormously influential people who have been really kind to me."
Hiltner's mentor and songwriting partner is Jon Weisberger, a 66-year-old bass player — and former Nashville Scene contributor — who won the International Bluegrass Music Association's inaugural Songwriter of the Year Award in 2012. "I'd definitely say that he's a mentor," Hiltner says. "But I also don't think Jon sees it that way. He's been a mentor to so many young musicians, but I think he's just good at finding talented people who help him advance the music. I mean, a gay banjo player and a Jewish bass player in his 60s. We're an odd pair, right? We've caused a lot of trouble."
Weisberger has been pushing to diversify bluegrass for decades, dating back to the schism between traditionalists and the hippie, activist and other lefty folk musicians who latched on to the string-band sound in the 1960s. The two first made some noise in 2013, when the IBMA moved the World of Bluegrass Festival to Raleigh, N.C. Shortly therafter, the North Carolina legislature debated HB2, the infamous"bathroom bill" allowing discrimination against trans men and women. Rather than pull out of the state, Weisberger and Hiltner persuaded the IBMA to provide a platform for minority, queer, disabled and other marginalized bluegrass musicians. The Shout & Shine diversity showcase has been part of the festival ever since.
"Last year, we had our first indigenous band," says Hiltner. "We had a queer step-dancing group. And we had these Asian American kids who were bluegrass prodigies. It's a really incredible thing to see these artists celebrated like that."
Rhiannon Giddens herself delivered the keynote address at the 2017 IMBA conference, underscoring the message Hiltner has been shouting from his soapbox — that bluegrass doesn't need to be "diversified" so much as it needs to acknowledge and celebrate the contributions from people already making the music, and who have been doing so from the beginning.
"I think the misperception cuts both ways," Hiltner says. "There's this metro-centric attitude that if you play the banjo or the mandolin, you're just some dumb, racist hick. But Earl Scruggs recorded with Elton John. Alice Gerrard was playing integrated shows across the South in the 1960s. When the expectations are so low, it can become self-reinforcing. You erase both the marginalized people who play bluegrass, and the established artists who have embraced and advocated for them."
In August 2018, after seven years in Nashville, Hiltner had written enough songs with Weisberger to make his first album, Watch It Burn. In the title track, a pyromaniacal narrator seems to revel in watching a home go up in flames, then burn to the ground. The song evokes Hiltner's efforts to tear down the staid, traditional image of bluegrass, as well as the way he had to destroy his old life to build a new one.
"I swear, I wasn't setting out to write such an obvious metaphor," he says. "I didn't intend it at the time we were writing it. After it came out, I kept getting that question, and I saw it, and said, 'You know what? Y'all are right. It is about all of that!' "
But the very week it was released, Watch It Burn took on a more ominous significance: Hiltner was diagnosed with colorectal cancer. Now the new life he had built in Nashville had also just been set aflame.
"I played our album release party with that in the back of my mind the entire time," he says. In addition to making music, Hiltner also writes for the industry publication The Bluegrass Situation. In a candid piece disguised as a playlist published in September, he wrote openly about the loneliness, depression and anxiety he faced in his year long battle with the disease. He has been free of cancer since May.
"It's just this constant thing," he says. "It's always lurking. Earlier today I was meeting with my survivorship doctor in the oncology lab, and I was feeling this latent anxiety. I couldn't figure out what was causing it. And then it just sort of bitch-slaps you. I'm meeting with my survivorship doctor in the oncology lab! It's like, 'Oh yeah. I've had cancer for the last year.' That's a perfectly fine reason to have anxiety all by itself. But it becomes such a part of you that you can't detach yourself from it."
Now healthy, Hiltner is working on a singer-songwriter album. "There have been plenty of instrument-centered solo albums featuring the banjo, but not many song-centered albums. I want to do a truly solo album, one that says I'm not just a banjo player, I'm also an artist."
Despite the relatively warm welcome he's had among his fellow bluegrass musicians, Hiltner says there's still lots of work to be done to create a more inclusive bluegrass community among the genre's fans.
"Here in Nashville, there's some insulation, definitely," Hiltner says. "There's some preaching to the choir. You see it in the reactions on social media. There's still a lot of hate out there. And that's really the toughest thing that we still need to accomplish. We need to enforce empathy and accountability. We can talk all about these issues all we like. But in the end, we've all got to do the work."