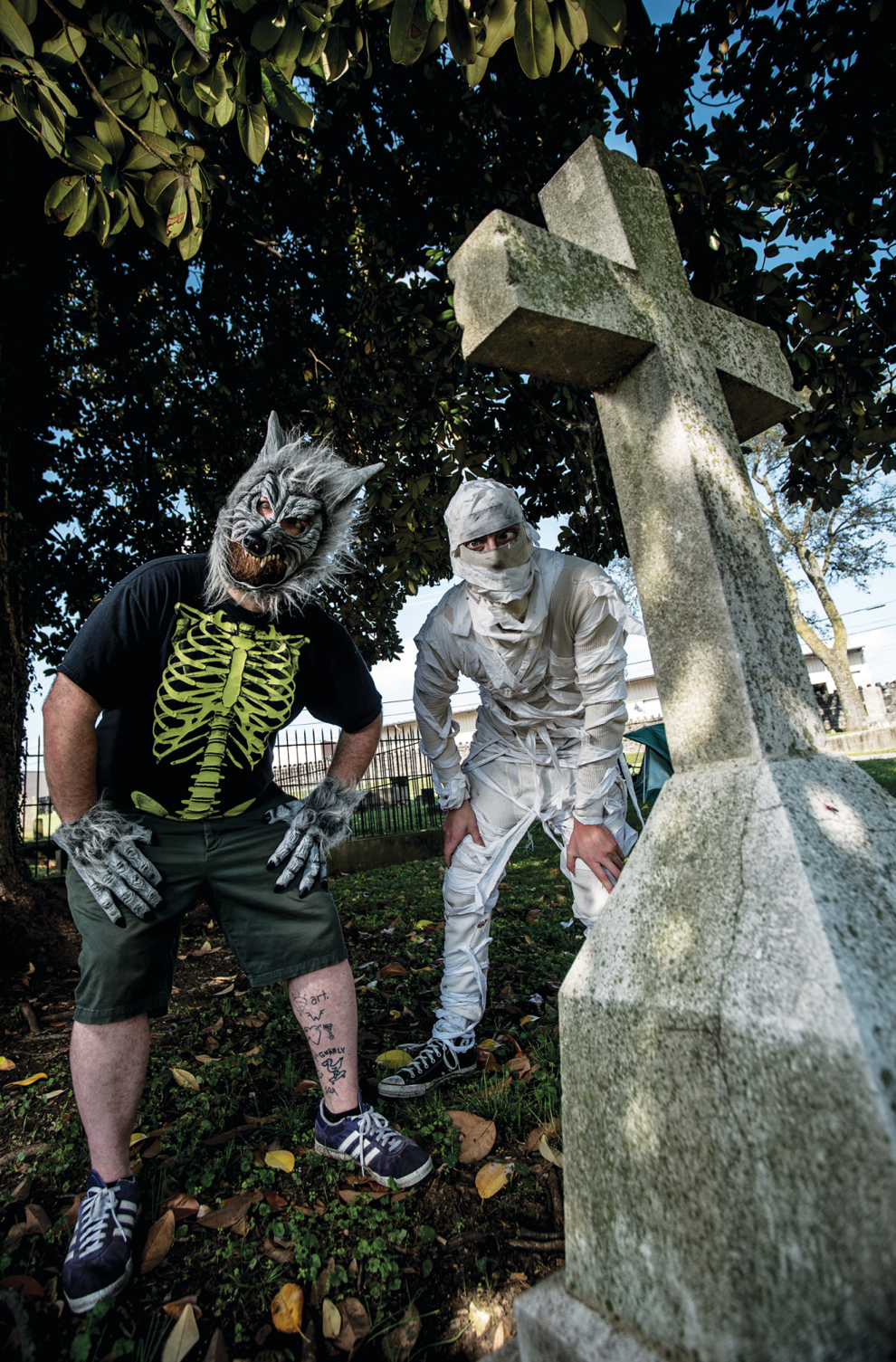 There's a chill in the air and a new (if not particularly great) Halloween sequel in the cineplexes, and that means it is well past time for an update on Music City's kayfabe kings of Halloween. You know who I'm talking about: The candy-pushin', weed-fearin' boys of Boo Dudes. In the seven years since the release of their debut Ride the Frightening, their saga has taken so many twists and turns that you need a Heckronomicon to keep up.
The 2020 spooky season saw yet another delay for their long-shelved prog masterpiece Spookydelica 2045, as label head Bloody Buddy Pearlman put his muscle behind Soundclown rapper Terry the Horror Clown. However, during the Belcourt's virtual 12 Hours of Terror celebration last year, Terry was called up to the next plane of existence.
Since then, the fallen rapper has served as something of a divine inspiration. Graveyard Guys, the skate-punk heels who seem to want nothing more than to harsh the Dudes' Mallomars-induced mellow, became Grace Guys and released the pop-punk praise EP Easter Sucks.
Even with hauntrepreneurial guitar wolf Ghastly Mike Hackenslash banished to Cancelvania, among other obstacles, Boo Dudes managed to get together a whole new LP. The Invisible Album feels like a return to something close to "normal." Its 10 spooktacular compositions hop genres (pretty damned convincingly) from the classic rock of "Night of the Wetted Bed" to the dreamy nightmare pop of "Intergalactic Space Clown Messiah" to the … reggaetón … of "Despacito 2." OK. And as usual, the Dudes take a bite at some important social issues — hear the groovy anti-gentrification joint "The Historically Black Lagoon" and take a visit to the land where canceled things creep in "The Curse of Cancelvania."
In the weeks since the album's release on Oct. 1, another opportunity has arisen. If you attended this year's in-person 12 Hours of Terror, you got Ghastly Mike's elevator pitch for Boo Dudes Francheising (sic), LLC, through which you can start your very own licensed version of Boo Dudes. It seems like an offer you can't refuse, but be forewarned that those franchising dues might be a bit … steep. Also, it would appear that bassmummy Jesse Boo is very perturbed by these goings-on. Could trouble be brewing in paradise?
You'll want to check out Boo Dudes' Instagram for all the gory details and to get caught up on all the drama. Above, check out The Invisible Album for yourself via Bandcamp. Below, see the music videos for "Night of the Wetted Bed" and "Despacito 2."