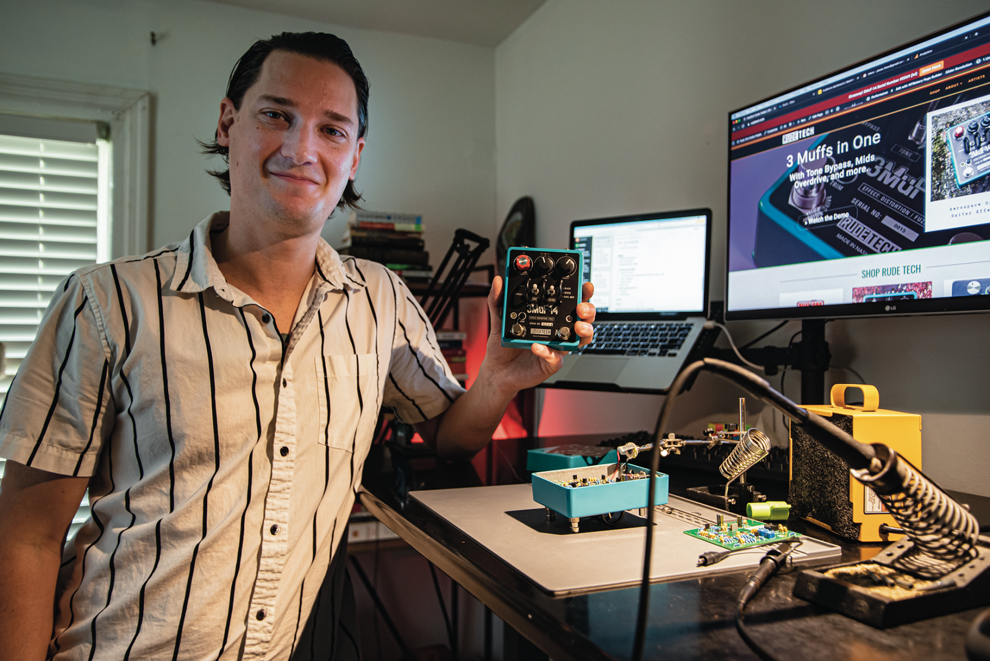 Editor's note: While venues and music stores remain closed in an effort to slow the spread of COVID-19, we're profiling some of the people around town who make or repair the instruments and other equipment that musicians use. It's an occasional series we're calling Gearing Up.
This time of year, Jesse Rhew would ordinarily be deep in preparations for the summertime edition of the biannual National Association of Music Merchants show, aka Summer NAMM. The event typically fills the Music City Center for a full week each July with twanging, bleeping, chugging demonstrations of new musical instruments, recording equipment and related gear. Rhew, who grew up in Music City, designs and builds guitar effects pedals by hand under the name RudeTech, and Summer NAMM has been a major part of building his business over the past decade. It's where potential customers get to try out his devices for the first time, and it's an important networking opportunity. To get on the show floor, Rhew teams up with other pedal builders, with help from fellow Nashvillian Grant Wilson of Big Ear Pedals.
"[Wilson will host] a bunch of companies that are really small and don't typically have enough money to run a whole booth by themselves — or just don't have the money to fly out for the trade show," Rhew tells the Scene via phone. "All the guitar players know, 'OK, if I want to see the weird pedals [made by companies that don't] have the budget of Line 6 or Boss or whatever, I want to see the underground stuff, I go to this booth. … My ticket to the trade show has got me the opportunity to be one of the first hundreds of people who get to see this on this day.' That's the appeal for them."
With Summer NAMM canceled for 2020 because of COVID-19, Rhew is instead busy getting into the weeds of digital marketing. He's connecting with podcasters and YouTubers who can review his 3MuF-14 fuzz pedal. Launched at Summer NAMM in 2019, the device includes three variations on the popular Big Muff Pi in one unit, whose case design is inspired by an F-14 fighter jet. As the sole employee of his company, Rhew is spending a lot more time thinking about how best to communicate with his customers to get feedback, and when to run sales or other promotions through his social media or on his website. Before the coronavirus, he expected to spend much more time on the two-thirds of his business that aren't marketing: design and manufacturing.
As a grade-schooler, Rhew loved Teenage Mutant Ninja Turtles — especially Donatello, who could build whatever gadgets the Heroes in a Half-Shell needed to fight the evil Shredder and his minions. Rhew took many of his toys apart, trying to learn how they worked, but their electronic brains mystified him. Then, at age 12, he found instructions for building a fuzz pedal, complete with a circuit that had to be transferred onto a copper sheet using an iron, in an issue of Popular Mechanics.
"I was just curious, I wanted to figure stuff out," Rhew says. "And as soon as you start to figure out a little bit, you realize how much more complicated it is than you even thought in the first place, and I guess I was hooked. I thought it was cool, and was like, 'I'm going to go to college for that.' "
He played in punk and ska bands throughout high school, and earned a degree in electrical engineering from Tennessee Tech. He started RudeTech in 2011, and the next year, he took a job managing tests of prototype engines for commercial jets at an Air Force base in Tullahoma. He left a few years later when sales of the Proto-Chorus, his first commercially available effect, began to take off. Over the past several years, he's created a handful of other designs, but he's very careful about thoroughly testing his work before he goes to market. Nashville, he's found, is a perfect place to do that.
"I think one thing that you take for granted growing up in Nashville is, pretty much everyone plays an instrument," Rhew says. "I just give a product to somebody, and they know their stuff when it comes to gear, they know their stuff when it comes to setting up their own recording system in their house. So I don't have to worry about them not testing all the features of a piece of equipment. … Everybody really knows their stuff, and there are a bunch of gear companies around, so we all become friends and help each other out."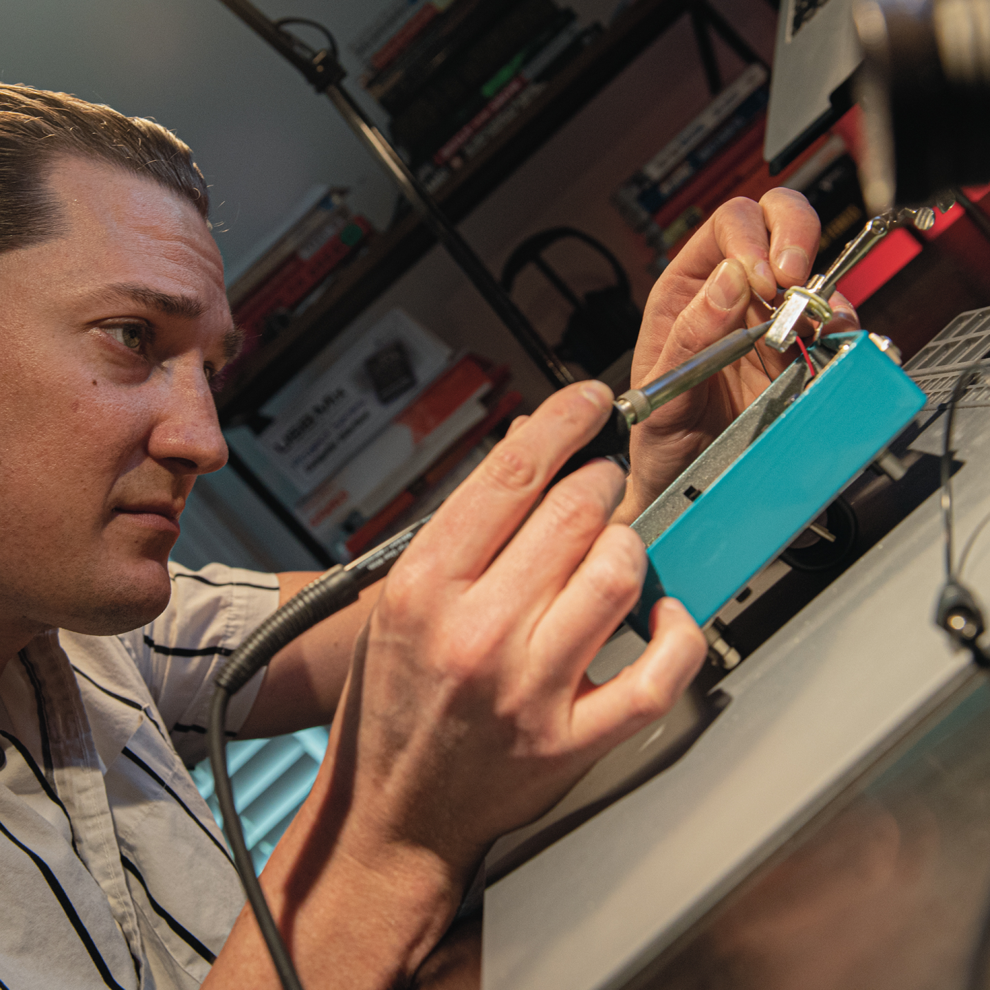 Rhew had planned to launch two new pedals of his own design and a third developed in collaboration with others at Summer NAMM. He expects to launch them as soon as they're totally ready, hoping that smart online marketing can make up for the lack of trade-show buzz. Meanwhile, he's also experimenting with ways to expand on volunteer work he's done in the past. A few years ago, he developed a class for students at the Southern Girls' Rock Camp, in which campers build a simple but high-quality fuzz pedal. He repurposed the design as the Ain't Afraid Fuzz, sales of which benefit Jessi Zazu Inc., the nonprofit organized in memory of Those Darlins frontwoman and SGRC alum Jessi Zazu.
Currently, Rhew is looking at developing a series of video-based online classes in pedal-building for adults, which could be used as part of a benefit for YEAH!, the nonprofit that operates SGRC. One of the challenges he sees is adapting his teaching method for grown-ups.
"[Kids seem to be] used to just kicking back and understanding, 'Hey I've got to learn a new skill,' " he says. "And then you teach the same class to adults, and they're used to knowing things. They assume that they either get it, or they don't."