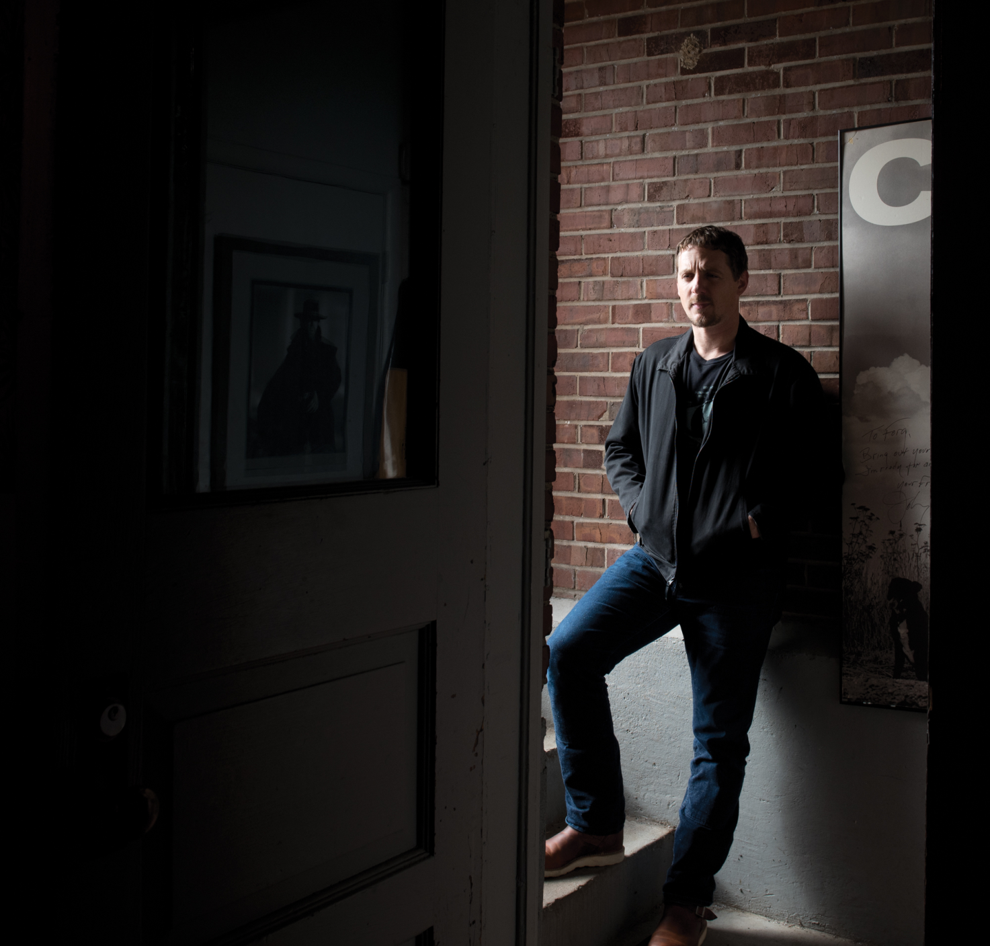 Back in April, Sturgill Simpson's highly anticipated third album and major label debut, A Sailor's Guide to Earth, arrived to robust sales and near-universal critical acclaim. "This is Nashville craft less as pop science than as expansive headphone listening," wrote Rolling Stone's Will Hermes in a four-star review of the record, which debuted at No. 3 on the Billboard 200 and No. 1 on Billboard's Top Country Albums chart. Yet the singer wasn't nominated for any CMA Awards this year.
Contrary to popular belief, the Country Music Association has acknowledged Sturgill Simpson at least once. It was around the time of the modern outlaw-country dissident's debut album High Top Mountain. The CMA heralded High Top as "a one-stop guide to everything that made real country music such a force to be reckoned with" in an October 2013 profile for its membership magazine CMA Close Up. It included a brief boilerplate Q&A session of short answers to short Seventeen-magazine-gone-country-style softballs like, "What mode of transportation do you prefer?" (Answer: "Walking.") But looking back, the singer's answer to the CMA's unintentionally Socratic closing question — "What can you tell us about yourself that we'd never guess about you?" — is almost frighteningly prophetic: "I'm plotting your destruction."
"Nobody can ever say I didn't warn them," Simpson tells the Scene three years later.
The 38-year-old Kentuckian first moved here in 2005, taking up residence in a cinderblock garage apartment behind a house in East Nashville. His ambitions at the time didn't extend far beyond simply being a "scholar and student" of bluegrass music.
"[Nashville] was a much different town, and I literally didn't know anyone and didn't know where to start, or even what I was here to do," the singer recalls from a small table in the shotgun-shaped office he shares with hero John Prine at Prine's Germantown studio The Butcher Shoppe. Simpson is sporting a T. Rex Electric Warrior T-shirt. "I was just fucking obsessed. … So I moved here primarily to seek those [old-timers] out, and I just hung out at The Station Inn for Jam Night on Sundays."
But with pop country at its "saccharine peak," Simpson had a hard time finding fellow young traditionalists to play with. He lasted 10 months before leaving Nashville for the not-so-greener pastures of Utah and a freight-shipping gig for Union Pacific Railroad.
"I'm glad that happened, because years later, I moved back, I knew what [Nashville] was," Simpson says of returning to Tennessee in 2011. He was 33 years old, didn't have a single Music Row contact and still had minimal industry savvy. "Kismet has been very kind to me in the last five years."
To call the rise of Sturgill Simpson extraordinary would be an understatement. He's now sold more than a half-million copies of his three LPs — the self-released High Top Mountain, his 2014 Grammy-nominated breakout Metamodern Sounds in Country Music and this year's A Sailor's Guide to Earth. He's a darling of the country, indie and mainstream music press, and he's been taken in like an outlaw-country orphan by the likes of Kris Kristofferson, John Prine and his hero, the late Merle Haggard. In the process, he's cultivated a global following of religiously devoted trad-country-hankering fans who hail him as a dark-horse savior of the genre.
"If you pour your heart out," he offers, "and you're honest with yourself and your human experience and your life, and you put that into music, you don't have to be talented. … People will connect, and they'll spread it for you. You don't need radio. You don't need some big machine throwing it out there. I'm living proof of that."
Simpson's fans fill 3,000- to 5,000-seat theaters to see his high-intensity shows, and on Friday and Saturday, Oct. 28-29, they'll pack the Ryman to capacity once again — it will be the fourth and fifth times he's played to sold-out Ryman crowds in the past year. And he's done this while being almost completely ignored by Music Row. In the process, he's helped blaze a trail for country singers to cultivate a rabidly dedicated true-blue fan base without having to croon platitudes about tailgate pastimes and small-town romance.
"I want people out there that are in the position I was in four years ago to know that there's hope," Simpson says. "I wake up every day and feel like, 'I wanna fuckin' crush this game, without playing the game,' just to prove it can be done. … I wanna hit Goliath in the forehead with a rock."
But in Nashville, a town where stars aren't supposed to rock the boat and raw honesty comes in whispers behind backs and behind closed doors, Simpson's uninhibited attitude of insurgency and penchant for point-blank real talk has made him a reluctant, polarizing flashpoint for the ongoing art vs. commerce debate in country music.
"My fans want me to walk out with a big sign that says, 'Fuck Nashville,' " Simpson says. "And some days I do feel like that. And a lot of days I don't — most days I don't."
That duality reveals itself with greater degrees of complexity as the Scene spends a lazy fall day loitering around Germantown with the hyper-analytical, hyper-self-aware singer. Let him off the leash to opine and he'll crescendo from a quiet, self-deprecating drawl to a stern-voiced rant in less than 60 seconds. Other times he takes pregnant pauses to contemplate every angle with surgical focus. And much like his music, which filters modern metaphysics through a colander of timeless R&B, rock and country influences, Simpson can be a walking contradiction. But he means every word as much as means every note. "It's tough, man. I'm a Gemini — ask me in an hour [and get a different answer]," he says half-jokingly.
Earlier in the day, Simpson hardly breaks eye contact to look down at the acoustic guitar he's restringing, laying out the bridge pins on the table, running the strings over the fret board and twisting the tuning pegs, seemingly by muscle memory. In a matter of minutes he's quietly plucking away as he talks about his career.
"We're doing 3- and 4- and 5,000-seat theaters now," he says. "If I never go beyond this phase right here, who gives a shit? I wrote a cliché, sappy record [Sailor's Guide] entirely and specifically for my kid, and it went to No. 1. I got no complaints, man."
By lunch, over burgers at Jack Brown's Beer and Burger Joint, a New Nashville pub a couple blocks from The Butcher Shoppe, Simpson's attitude toward the industry had drifted from live-and-let-live detached to a damn-The-Man desire to overthrow Music Row with a people's revolt.
"It took me this long to get right here," he says. "[But] this isn't all I want, this isn't all I know my music [can do]. I know that there are a whole lot of people out there that aren't aware, that will connect with [my] music. … The industry's not gonna give it to me. And at this point I don't want them to. I'm going to prove to them I can do it. In 10 years I'll be the biggest country star on this planet, I guaran-fuckin'-tee it. And there's nothing they can do to stop that.
"I've got the Rocky heart, man," he continues, referring to the indefatigable boxer hero of seven popular movies. "I'm gonna do it now out of spite. And I'm gonna go play rock 'n' roll, too, and take all those fuckin' people, and I'm going to build a little army. And you'll come to my show, and it'll be four hours long, and it'll be an American music show. It won't be a country music show, Americana music show or a soul music show. We're gonna hit it all, we're gonna touch it all, because I love it all. And I want to love everybody."
That's not some shit Sam Hunt's going to spit in an interview. But maybe it's the Coke talking.
"I know [soda] is horrible for you," says Simpson, who lives sober save for the occasional jazz cigarette. "But [with a] cheeseburger and fries, you know. … We used to shine brass with fuckin' Coca-Cola in the Navy," he continues, recalling the three years of service he put in after graduating high school. "That shit will strip saltwater corrosion. Imagine what it's doing to our insides."
As a performer and a bandleader, Simpson is an admitted authoritarian with high expectations; a demanding boss who doesn't suffer fools well. "A lot of that comes from the military and the railroad," he explains. "And even more of that comes from the first couple years I was in this town."
When Simpson returned to Nashville in 2011, he spent a week scouring the internet, compiling a list of literally hundreds of Nashville movers and shakers. Then he sent out an email blast introducing himself, along with a link to the ReverbNation page for Sunday Valley, the Lexington, Ky., band he'd fronted off and on since 2004. Today his manager, industry veteran Marc Dottore — the only recipient to write him back — has a printed-out copy of that email framed on the wall in his office.
"I kind of got hooked," Dottore recalls. "His energy and his voice and the music and his songs — you know, those moments you have when you're doing this stuff, it's like that one that just punches you in the face like, 'I've got to pay attention to this.' "
Still performing as Sunday Valley, Simpson slowly became a small fixture at East Side haunts like The Building, FooBar and The 5 Spot. "We kind of took advantage of the East Nashville developmental vibe and did shows there." Dottore recalls. "He was an onstage force from the first time I saw him. The guy has incredible intensity as a frontman."
Simpson says for him, going onstage feels like walking into a fight, and he's never lost a fight.
"Dude, you don't have any fucking idea how I'm in that shit," he says. "It's just this inner drive to, like, crush it, do the fuckin' absolute best you can, because this is the greatest job on the planet, you're making people really fuckin' happy."
But in the beginning, there wasn't much of a crowd to please. Simpson remembers a long, lonely night playing cleanup on The Billy Block Show at Exit/In for a grumpy audience of one — the sound guy. "That was probably the first showcase gig I ever got. Billy Block probably gave me more support early on than anybody in this town." 
"Sturgill's commitment never wavered an inch," Dottore remembers. "He was incredibly disciplined and incredibly focused, so at the time he was working at Turnip Truck — that's not a glamorous job, but it's a flexible job. It allowed him to get in a van and go do shows with the band and develop a starting following."
The natural-foods market is near the Scene's office in the Gulch, and so this was around the time Simpson was ringing up my lunch every day.
"When you'd [see me at Turnip Truck], literally most mornings that was my second day with no sleep because we'd driven back from Atlanta or Louisville, and I came in at 6 a.m."
By 2013, that hard gigging was paying off. "We got a little bit of ink, but we seemed to get a lot of cred out there in the internet world," Dottore recalls. That set the table for High Top Mountain. Simpson's de facto album release show for his first record under his own name — and first show with a new backing band of hungry Nashville cats — was a low-key affair. They played first on the bill at a showcase at The Basement — "a last-minute charity case," as Simpson describes it. There were maybe 10 people in the room. One of them happened to be Jonathan Levine, a visitor from California who would soon become the singer's booking agent.
"He walked onstage as soon as we finished," Simpson recalls. "He said, 'I want to work with you.' To me, that was the greatest night of my Nashville experience, because that guy changed my fucking life. It was so gratifying to have somebody of that stature come up [to me] and say, 'I recognize and believe in what you're doing, I see the potential,' after being rejected for a solid year-and-a-half by everybody in this town."
Levine got Simpson booked on tours supporting the likes of Dwight Yoakam and Zac Brown Band. Those gigs helped him get exposure. Dottore offers a take on what won fans over show after show: "It's the songs, man. It's the words. I think he just connects to people's hearts. It's what he's singing about that people connect to."
Cut to May 8, 2014, and across the street from Turnip Truck: A one-in-one-out line stretches down 12th Avenue South from the door of The Station Inn. It's five days before the release of Metamodern, and already fans are jumping out of their chairs singing Simpson's own words back to him like they've been listening to them for a decade. This impresses the Music City schmoozers in the room. 
"That was a funny night to me," Simpson recalls, "because in the crowd there were a lot of people that, you know, it took a while for us to get any traction from anybody. I mean, Thirty Tigers [which distributed High Top and Metamodern] even passed the first time. The Americana Association [which voted him Artist of the Year in 2015] even passed until things started blowing up. A lot of labels that I'm not going to name specifically; booking agents that I had to do showcases for."
He remembers one particularly demoralizing showcase where every agent sized him up and wrote him off. "They're like, 'Is he gonna wear those shoes onstage?' … [Now] they see guys like me or Jason [Isbell] doing what we're doing, and it has to scare the hell out of them." 
Simpson's glad those naysayers passed. "I wouldn't change my experience for any other fuckin' road that could have come, man," he says. "Because I know that this is real, and the people that are with me are with me."
My idea was to drive around with Simpson and take a tour of the spots he haunted during his years in the local trenches. Like maybe The Station Inn, where later that night, he'd jam unannounced with Prine (also playing unannounced). Or maybe drive by that cinderblock apartment that became his den of bluegrass addiction for the better part of 2005. But Simpson starts sharing snippets of his life story before Nashville, and we end up driving through a maze of streets circling the industrial outskirts of Germantown. We're riding in the aggressively unglamorous Reagan-era Ford Bronco he bought off Craigslist. It's a black-on-black metal box on big wheels — no AC and a stripped-down interior with just a pair of bucket seats. It feels like a bit of a death trap.
"This is my family vehicle," Simpson joked when we first hopped in, turning the ignition and firing up a souped-up 400 Windsor that purrs like a lion sleeping under the hood. "The engine is literally probably worth three times as much as the vehicle," he says. "I didn't have a car for, like, five years that I lived here. … This year, my wife was like, 'Uh, OK, you ride around in a tour bus, you can go buy yourself a car now, asshole.' … I kind of like the fact that I could just set it on fire right now and I'd only be out, like, 1,200 bucks."
Simpson later recalls being back in Utah, and how his wife — more convinced than he was that he had more than a hobbyist's skill for singing and songwriting — urged him to leave behind his misery-inducing railroad job. And leave the $80,000 salary that came with it, to return to Nashville and take a real shot at music. "Thank God, she just leveled me one night: 'You don't fuckin' suck at this. … You should share this and maybe try doing something you love with your life before I wake up and I'm stuck with some 40-year-old miserable asshole.' "
It quickly becomes clear Simpson's more focused on his story than choosing a destination when we find ourselves dead-ending in a cul de sac by the train tracks. Minutes later he nearly stops at a green light on a wide thoroughfare. Were it not a low-traffic Wednesday afternoon, this might be a concern. "Sorry, that seat belt can be a little janky," he'd said earlier, promising to drive extra cautiously.
Soon Simpson — who has a second child due early next year — is talking about his 2-year-old son, the inspiration behind Sailor's Guide. "The whole thing of writing it to my kid was really just the curtain to hide behind," he explains. "[The album] is just an autobiographical, sort of embellished and Fantasia-like account of my life. I wanted to present the life experience to him in widescreen, almost like a Disney movie, but in audio."
In that sense, the album's uplifting reimagining on Nirvana's "In Bloom" tells part of the tale — of an only child who remembers being alone a lot and getting lost in records like Nevermind, an album Simpson says saved his life. "I was the seventh-grade latchkey kid from a broken home. [And] that record sounded like it was made for me."
Simpson's the son of a state policeman who worked narcotics, worked as a homicide detective and was head of security for four consecutive Kentucky governors. The family moved around a lot.
"It was a weird childhood," he says. "All my babysitters were cops. … My dad was a cop, but he wasn't a strict authoritarian. From a young age, when I showed interest and an inclination in music, he probably supported it more than anybody. He bought me my first guitar. He's my biggest fan. He'll come to all the shows I'll let him. But for me, I play better when I don't know anybody in the audience."
Simpson started writing songs as a hobby, looking for some catharsis after getting out of the Navy and moving back to Lexington, Ky., where he lived in a shoebox studio apartment and made ends meet working shitty odd jobs.
"I've always been very shy," he says, "and I find it difficult in social settings to go out and be, you know — I'm just introverted. So I would stay home way more than anybody should. … My neighbors were so close that I couldn't play my electric guitar anymore, so I'd get the acoustic out, and then the next thing you know you're up at 3 in the morning writing songs to make [yourself] feel better."
Now his songs make other folks feel better. But to the chagrin of many Simpson-heads, there are songs the singer has retired from the live repertoire because he doesn't relate to them anymore. Songs like High Top standout "Life Ain't Fair and the World Is Mean," in which he takes on the role of a nameless Nashville label man telling Simpson his voice is too genuine and his songs are too sincere.
"It's all about me struggling to get my foot in the door and figuring out how to land. I've landed now. I can't really sit there and complain anymore. Life's pretty good.  … But you still won't see me on the fuckin' CMAs." He laughs a bit of a victory laugh. 
"If you ask me what I think about, what I stress about — it's making the best fucking records that I possibly can," Simpson says. "[If] I feel like I just kind of went through the motions and pumped out what I think people were expecting, to appease them and make them happy to sustain my lifestyle, [then] I'm lying to them."
But don't believe Simpson completely when he says he doesn't give a shit what anyone else thinks. He definitely gave a shit about what Merle Haggard had to say about him, and to him. In the last year-and-a-half of his life, the late outlaw country legend — who died of complications from pneumonia on April 6, his 79th birthday — befriended Simpson, becoming a confidant and mentor to the younger singer. The two met through Haggard's son and guitarist Ben Haggard, who distinctly remembers the first time he heard Simpson's herky-jerky DEVO-gone-honky-tonkin' cover of Buford Abner's "Long White Line," Metamodern's centerpiece.
"You know [how] when you hear really good music, and at first it's so different that you're not sure if you like it?" Ben Haggard asks, talking to the Scene by phone from California. "That happens, and you listen to it again, and you completely fall in love with it, and become obsessed with it for about a month. That was the beginning of one of those moments."
Ben Haggard fell in love with Simpson's music, so much so that he played "Long White Line" for his father — a picky listener and a tough critic. Like father, like son; Merle had a similar reaction. He wasn't sure at first, but he wanted to hear it again. "About midway through the song," Ben says, "he gets this big smile when the music is good — he said, 'God damn! It's fantastic.' It was a different take on country music that he hadn't thought about, and he was really impressed by how Sturgill approached it."
So impressed was Merle that he tapped Simpson to open some dates.
"I was initially starstruck for about two minutes," Simpson recalls. "But he had this way of being so completely human and void of any bullshit, like he would just tell you anything, regardless of whether it made him look good or bad. … It reminded me so much of my grandfather, it was just uncanny."
"I think he's definitely an old soul," Ben Haggard says of Simpson. "He's something completely different than the music scene has ever seen, I think. I feel like he broke new ground with Metamodern Sounds in Country Music. He almost immediately became a legend. … It caught a lot of ears. It caught Kris Kristofferson's ear. He said, 'That's the best thing I've heard since The Beatles.' That's some of the back-of-the-bus talk right there."
"[Merle] got into this weird habit of calling me when I was on the road," Simpson recalls. "He would call me at, like, 7 in the morning, just to talk or, like, send me songs and stuff. I only knew him for about a year-and-a-half, and I feel like we were just getting to know each other. … I cherish every second that that man gave me."
Merle, who had a lifelong fascination with trains, was also taken by Simpson's background as a railroad worker. But despite the Hag's affinity for Simpson, or perhaps because of it, he didn't pull punches when he offered him advice. By and large, the conversations with Merle are among the few things Simpson keeps close to the vest. But he does talk of a time the pair went for a golf-cart ride around Merle's Northern California ranch.
"He told me all the stuff he liked about me and what I was doing," Simpson recalls. "And then he told me all the shit that he didn't like, or the things he thought I should improve on or shouldn't do. And I just shut the fuck up and listened. … He told me I shouldn't cuss onstage. That's a no-brainer, but I spent three years in the Navy and four on the railroad, I'm a cussin' motherfucker. … But he was right, that shit has no place on the stage.
"He told me a lot of things that I really needed to hear," Simpson continues. "There was no apologies or excuses or watering down or sugarcoating. The first time I met him, within 10 minutes he was saying things and telling me stories that, like, I would never tell anybody [as long as] I ever lived. The sheer humility — just zero fucks — it was inspiring."
And Simpson was feeling inspired on Aug. 29, when he posted a now infamous Facebook rant in response to the Academy of Country Music announcing its new Merle Haggard Spirit Award.
"I'm writing this because I want to go on record and say I find it utterly disgusting the way everybody on Music Row is coming up with any reason they can to hitch their wagon to [Merle's] name while knowing full and damn well what he thought about them," Simpson wrote. "If the ACM wants to actually celebrate the legacy and music of Merle Haggard, they should drop all the formulaic cannon fodder bullshit they've been pumping down rural America's throat for the last 30 years along with all the high school pageantry, meat parade award show bullshit and start dedicating their programs to more actual Country Music."
In the post's wake were think pieces, editorials and countless internet commenters weighing in with praise and criticism alike. Simpson says he received private attaboys from otherwise politely silent parties up and down Music Row.
"Very, very influential people that I didn't even know were aware of me," he says. "A lot of people think it. Whatever. I'm the dumbass that opened his mouth. … I don't regret it at all, because I know for a fact exactly how [Merle] felt about it, because I heard it come out of his own mouth. … He just said, 'You know, when I die, these assholes are going to try and turn me into a gift shop, like they did Johnny [Cash] and everybody else.' He spoke often and very frankly about it."
"I appreciate anyone being as honest as Sturgill was," Ben Haggard says of the Facebook post. "He said what was on his mind, and I believe that the reaction he got from that, the good response, was that people were just waiting back in the wings to hear somebody say that."
Despite rocking Music City off its foundation and organically endearing and ingratiating himself as an heir apparent to royalty, Simpson still ultimately feels like he's living with his nose pressed up against the glass in this town.
"My feeling about my connection and my place in Nashville, if I had to sum it up, it would be this view right here," a reflective Simpson says, taking in the view of the city skyline while sitting on a stone wall outside The Butcher Shoppe. "I mean, it's there, I can touch it when I want to, and it's attainable. But most days, even though I'm on the fringes and I am a part of it, I feel very outside [of it]. That's both by my own design and by the design of the industry. In terms of the big world, if you're not on the inside, you never will be. And I didn't start on the inside. So it's not as much accepting as it is embracing my place on the outside."
Hours after his Facebook rant, Simpson posted a follow-up clarifying that he hadn't known the recipient of the Merle Haggard Spirit Award would be Miranda Lambert, whom he respects, and whom he knows Merle respected. He also speculated that "meetings and conversations [were] taking place on Music Row to ensure I am blackballed from the industry." He closed that missive by quoting Merle in the postscript: "Fuck this town. I'm moving."
At the time he meant it. But true to his mutable nature, Simpson has since changed his mind.
"That was a kneejerk reaction," he says with a knowing nod and a sly smirk. "So I think I'm gonna make this town a little special project. … I woke up the other day and I was like, 'Fuck that, I'm not going anywhere.' "