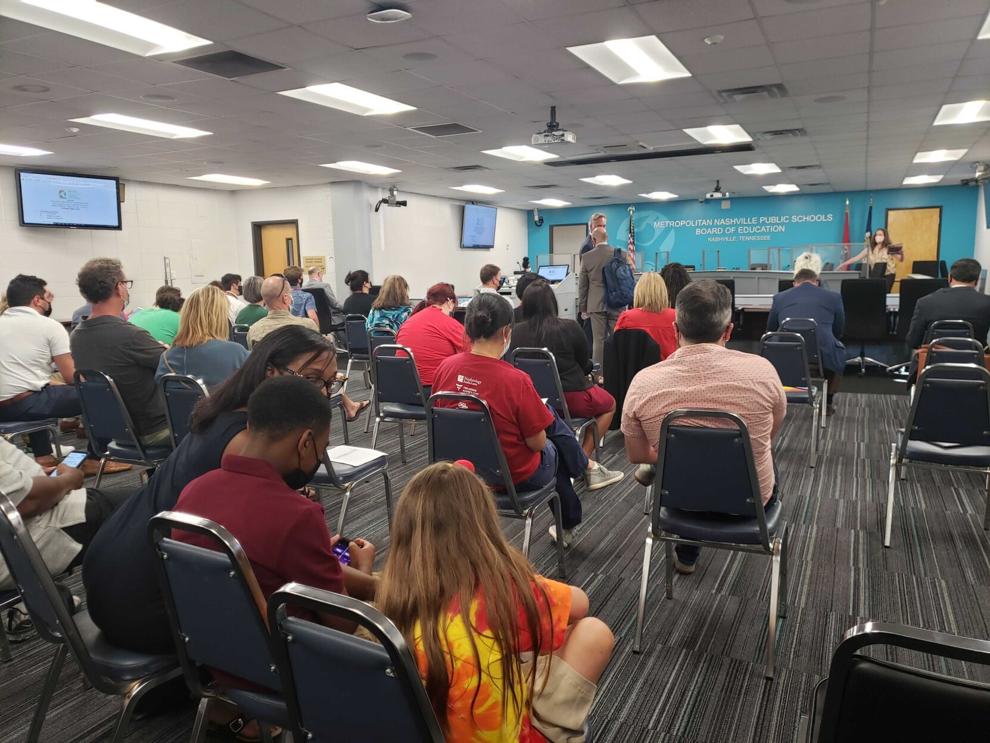 The Metro Nashville school board gathered Tuesday night for its first meeting of the new school year, which happened to fall on the first day of classes. The room was filled with parents and other community members, most of whom were there to discuss the recently declared mask mandate, which the board passed in an 8-1 vote at a special meeting last week. 
Some parents and educators stepped up to thank the school board for its decision, while others challenged them. Many parents in the anti-mask camp talked about their individual rights and the needs of their children. 
Among those who showed up to complain about the mask mandate was Matt Walsh, who contributes to right-wing site The Daily Wire (which recently relocated to Nashville). He compared MNPS' mandate to muzzling rabid dogs, child abuse and Munchausen syndrome by proxy, a psychological disorder in which a person projects nonexistant illness onto someone in their care. "If you think I'm exaggerating," Walsh told the board, "then how would you respond to a parent who forced his kid to wear a football helmet every day, all day, for fear of falling coconuts and meteors? Your kid is almost as likely to die of COVID as he is from a rock from the sky, and yet if you saw that, you would say to that parent that he is abusive, that he is forcing his kid to participate in this utterly insane charade in order to satisfy his delusional psychotic hypochondria."
Comments from Walsh and other anti-mask parents stirred cheers and hollers from some in the crowd. About an hour after the meeting began, school board chair and District 5 representative Christiane Buggs reminded the crowd that, per Mayor John Cooper's recent order, masks are required in government buildings. Still, many adults did not put on masks. After a few more minutes, Buggs restated her request, to which one audience member repeated "we don't care." Buggs told everyone to leave the room, and that only those wearing masks would be allowed to re-enter. As people left, one attendee yelled "bunch of commies." 
Meanwhile at a school board meeting in Williamson County, similar outbursts ensued, with one particularly problematic man being escorted out of the building and crowds heckling people wearing masks. The Williamson County School Board ultimately decided to instate a mask mandate in schools as well. 
Those who support the mask mandate in Davidson County used Tuesday night's public comment period to thank the board members for their decision. Several teachers, however, complained about how a lack of adequate sick days could make proper testing and safety precautions difficult. Some teachers fear using up their limited number of sick days would force them to take unpaid time off to get tested or quarantine due to contracting COVID-19.
School curriculum was another popular topic, mostly brought up by a group of women wearing Moms for Liberty shirts. The group is best-known for its support of Tennessee's new law banning the teaching of critical race theory in schools. They brought up a book about civil rights icon Ruby Bridges. "I want to clarify that Moms for Liberty is not against teaching about Ruby Bridges," said one woman. "Our concern with  [Metro schools' Wit & Wisdom curriculum] and the way they are teaching Ruby Bridges is that it is teaching division, drawing attention to division, and it's creating racism, rather than bridging the gap between the differences in people, where kids do not even notice those differences."
Moms for Liberty members also complained about other books, including Sharon Creech's Thunder Rolling Down the Mountain, Gary Paulson's Hatchet and a book called Shark Attack for various instances of content they called graphic and inappropriate for elementary-age children. One woman had complaints about a book being taught to first-graders called Sea Horse: The Shyest Fish in the Sea by Chris Butterworth. The book, she said, includes a scene that describes seahorse reproduction. "Why did the writers of this book pick the one fish that has opposite gender roles to portray this? I think everybody in this room knows why." One audience member responded, "It's an agenda!"
After the public-comment portion of the meeting ended, the board moved on to other matters. Director of schools Dr. Adrienne Battle gave her report, focusing on the first day of school. 
The board also discussed the details of the contract between MNPS and Meharry Medical College Ventures Inc., who entered a partnership last year to administer COVID-19 tests to students. Though the contract has ended, there are still some questions about the cost of the endeavor, which was originally priced at $18 million — though MNPS did not spend the full amount. Board member Fran Bush questioned the contract and asked to see more specific billing details. Battle promised to send more info by Friday. 
The board also discussed state testing scores in anticipation of the district-level TCAP scores, which are set to be released today. Statewide results show an expected decline in student academic achievement in the past year as students attended mostly virtual classes. Paul Changas — executive director of research, assessment and evaluation for the district — layed out Measure of Academic Progress data. Administered in K-9, the results showed declines in academic achievement, as well as widened gaps from economically disadvantaged students. The board discussed the disparities that typically affect students of color, learning loss, intervention strategies, and the need for holistic approach to education, including social and emotional learning, food security, and other resources that can help students learn better. 
Among the final round of announcements, board member Gini Pupo-Walker encouraged parents "to not penalize or go after our teachers and our administrators on masks … come here and tell us about it, which you did tonight. Let us be the ones that take your frustration. Principals and teachers are doing what we've asked them to do. They are not the deciders."