"If I were the very hungry caterpillar, I would eat pancakes." 
This, one of the many messages lining the walls of Napier Elementary School, is from a pre-K class project based on Eric Carle's iconic children's book, The Very Hungry Caterpillar. There are myriad student works like this one on display, left over from the summer's Promising Scholars program. They hang alongside cheerful decorations like college flags, colorful murals and quotes from leaders like Barack Obama and Coretta Scott King. The floors are dotted with bear tracks, allusions to the school's mascot that also serve as social distancing markers.   
The motto of Napier Elementary is also displayed throughout the building: "Working together to inspire leaders, learners and high achievers." This is the guiding philosophy of the local elementary school's staff, students and principal, Dr. Watechia Lawless.
When the Scene visits Napier, the staff is preparing for nearly 300 students, ranging from pre-K to fourth grade, to start the school year. It's a Monday, four weeks out from the first day of school, and chairs and classroom materials fill the hallways so that floors can be waxed. Though Lawless cannot be there for an in-person interview (the Scene catches up with her by phone later in the day), assistant principal Whitney Russell shows us around, along with kindergarten teacher Erial Jones and fourth-grade math teacher Michael Adkins, who also spearheads numeracy instruction and coaching for the teachers at Napier Elementary.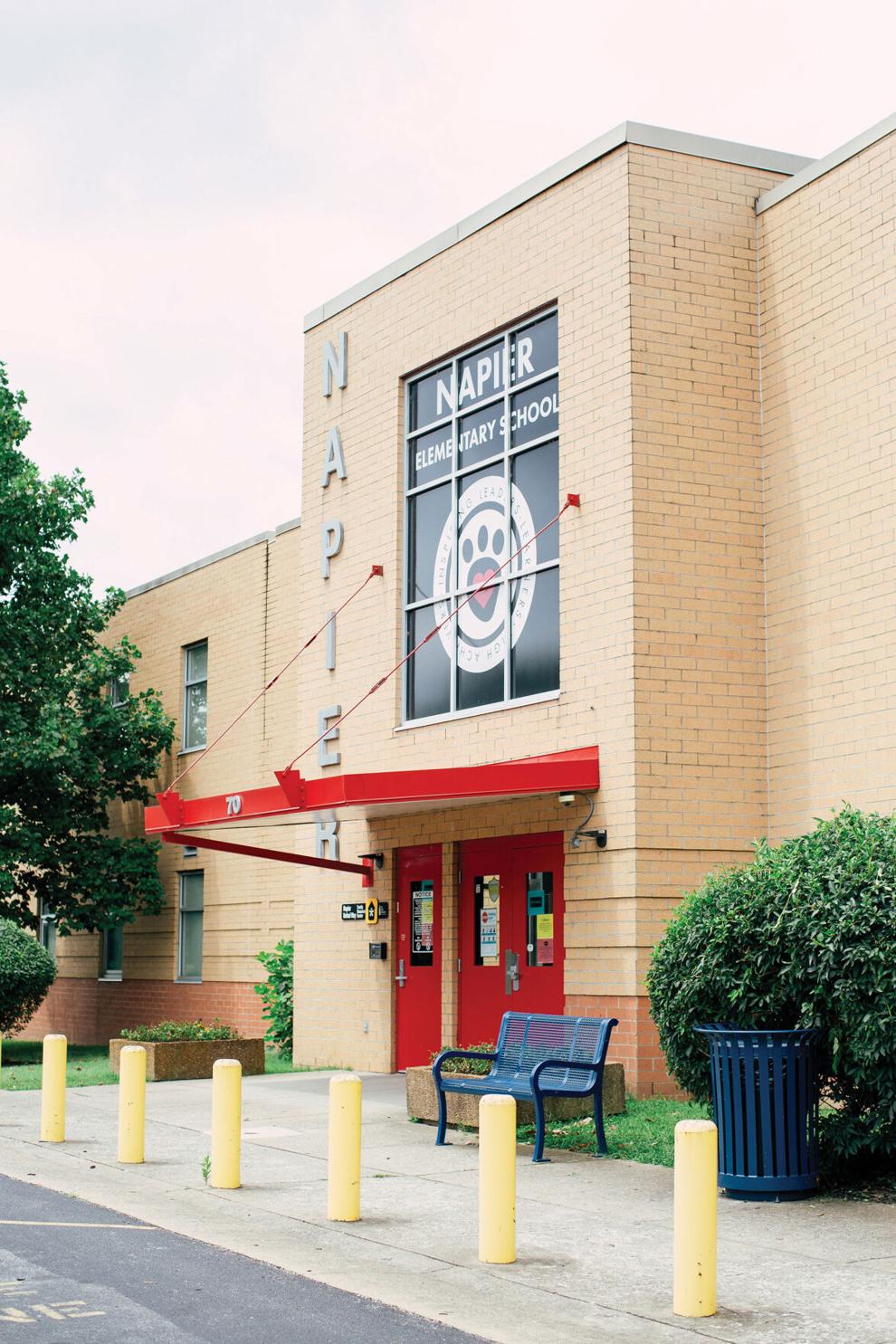 There is a sense of familiarity among the colleagues that extends beyond professional rapport. Having just navigated two extremely difficult school years, they've been through a lot together, and it shows. Plus, Lawless prioritizes creating a comfortable space for students and staff. 
"It's definitely a community of respect," Jones says proudly. "A family. You'll feel it ... with the students, the teachers, the admin — everybody. It's not just everybody's for themselves. Everybody is for everybody here." 
Part of what makes Napier feel like a family, the staff explains, are the struggles and success the school has experienced. While COVID-19 was certainly a unique challenge, it isn't the only one Napier Elementary has faced. 
---
On Aug. 10, Metro Nashville Public Schools students will return for their first full year of in-person instruction since the start of the COVID-19 pandemic. That's the plan, anyway. Even though the pandemic is less of a threat than it was last year, it's still a reality, and there are new challenges schools must face. But despite the chaos of last year's back-and-forth from virtual to in-person learning, the experience also initiated some positive aspects, like a greater emphasis on mental health. For Napier, it established deeper connections with the community, as faculty and parents had to collaborate more than usual to sustain students' academic progress and navigate changing regulations. After a rocky 19 months, the coming weeks will provide a glimpse into how the pandemic may have changed public education for the long run. 
Napier has been experiencing impressive changes for years under the leadership of Lawless. In her time there, she has carried Napier from its status as what's known as a priority school — one of Tennessee's schools most in need of improvement (according to Lawless, Napier was at the very bottom of the list) — to being recognized for its significant improvement. In addition to leading the school, she supports local families by contributing school supplies, clothes, food, rental assistance, career support and much more with the help of Napier's many community partners. Now she can add "leading a school through a pandemic" to her list of accomplishments.  
Napier Elementary School serves many children from the neighborhood's two public housing complexes, J.C. Napier Homes and Sudekum Apartments. It's a part of town with high crime rates — shootings are common in the neighborhood, and according to Lawless, many of her students also experience poverty, abuse, neglect and food insecurity. When Lawless entered the interim principal position in 2016, after several years of teaching and a brief stint as assistant principal, she says Napier was the lowest-performing school in the state of Tennessee. 
"One of the first things I wanted to do was change how people saw Napier," Lawless tells the Scene, "because I believe that people treat you how they see you, and it wasn't OK that [only] 20 percent of the kids were reading on grade level. It wasn't OK that the families in this area were … seen but not heard. It wasn't fair that there were so many needs that needed to be met, and no one was really paying attention to it." 
With the guidance of Lawless, Napier exited priority status altogether, moving up from the bottom 5 percent of schools in Tennessee and away from the threat of a state takeover. 
"I put together a rebranding program and a marketing plan," says Lawless, "to make sure that people knew that Napier was full of beautifully made people who deserve an exceptional education, period." 
Napier's growth was so significant that in 2019 it was recognized as a Reward School, a designation given by the Tennessee Department of Education to acknowledge schools that "are improving in terms of achievement and growth for both all students and student groups." Of Davidson County's 132 district schools and 27 district-approved charter schools, 37 hold the Reward School status, including magnet and charter schools like Hume-Fogg Academic High School and Nashville Classical Charter School.
Lawless also implemented the Leader in Me program, a student-based framework based on Stephen Covey's bestselling 1989 self-help book The Seven Habits of Highly Effective People. Alongside Covey's seven habits, which are inscribed on signs throughout the school, Napier added its own bonus habit: "Find your voice."  
"If you can learn the seven habits of highly effective people starting in pre-K, just think how effective you can be by the time you graduate," Lawless says. "And so we start talking about college, we start talking about leadership skills when they're 4 because we know that education is the equalizer. And just because they live in 37210 doesn't mean that they don't deserve an excellent education. So we're trying to pour into them all the skills that we can, and making sure they can understand what their gifts and talents are, so when they do go out to the world, they can make their impact on the world, and they can have a true chance at changing the trajectory of their lives." 
Napier has also achieved Lighthouse status within the Leader in Me framework. This coveted certification indicates outstanding student outcomes as well as a high impact on teachers, families and communities that schools serve. Napier had to meet a number of qualifications and pass several evaluations to earn that title, which, according to Lawless, it shares with only one other school in the district — the nearby Fall-Hamilton Elementary School. 
One of the major touchpoints of the Leader in Me framework is its emphasis on social and emotional learning, oftentimes referred to as SEL. Napier has been prioritizing SEL for years, with referral networks to connect students with Vanderbilt counselors, as well as an on-site counselor and social worker.
Soon Napier's students will have even more support as a result of the upcoming MNPS budget, which allocates funds for every elementary school to establish an advocacy center.  
---
Dr. Mary Crnobori, MNPS' trauma-informed schools coordinator, is spearheading the implementation of advocacy centers throughout the district. These new advocacy centers, explains Crnobori, will be staffed with specialists and will serve as an avenue to social and emotional learning. If students are having a hard day or experiencing trauma outside of school, they can visit their advocacy center to learn and practice mindfulness-based calming exercises. When they utilize these spaces, parents will be notified and informed about how to continue SEL practices at home.  
"It's both about self-advocacy," Crnobori tells the Scene, "but also about advocating for that student in order to eliminate some of the barriers that are getting in the way of wellness and [ensuring they] have the ability to stay regulated and experience school success." 
Even though SEL has been implemented in MNPS schools to various degrees, and a handful of schools already had similar centers, the widespread implementation of them throughout the district probably wouldn't have happened without the pandemic.   
"The urgency and buy-in and understanding of the need has just increased exponentially with the pandemic," says Crnobori, "[as has] our awareness of what our students and families and workforce need."  
The incoming advocacy centers will also provide opportunities for educators. It's not uncommon for teachers to ignore their own needs so they can focus on their students, but with the advocacy centers, they'll be able to rely on additional support. This holistic approach will better equip schools to meet student needs and help establish solutions for those whose emotions affect their learning. 
At Napier, Lawless prioritizes the well-being of her staff as much as her students. 
"She's a firm believer in, when you're not 100 percent, your kids are not gonna be 100 percent," kindergarten teacher Jones tells the Scene. "The day is not gonna be what it needs, and it's not fair to them when we're not our best, so we have to be honest with ourselves and we have to take that time." 

Lawless has many items in place to ensure her staff is taken care of. Teachers have access to healthy snacks, an on-site counselor, yoga classes and a massage chair, and the walls of the teachers' lounge are posted with positive messages and reminders. 
"Everything that is here that's been implemented, it's intentional, because there's a need for it," says assistant principal Russell. "Our students experience a lot of trauma, and they bring that trauma with them. And you're taking on their trauma as well. So what are you doing to take care of yourself?"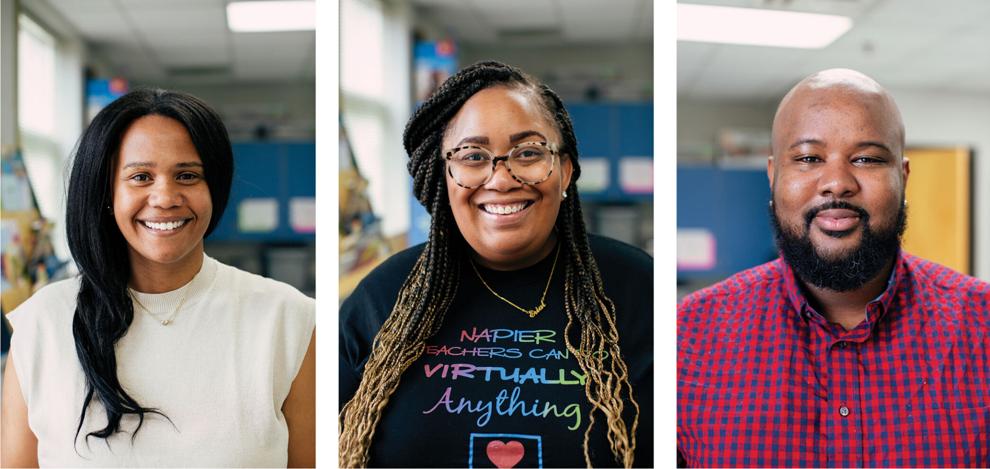 Of course, looking out for the needs of students and staff at school means more than mental health care. Despite MNPS' return to in-person classes, the COVID-19 pandemic is still happening. The state of Tennessee has seen an uptick in cases in recent weeks, and the Delta variant raises concerns amid relaxed regulations because of its higher transmission rates among kids and young adults, especially those who are unvaccinated.
In mid-July, the Tennessee Department of Health fired top vaccine official Michelle Fiscus after she released a memo advising physicians on the Mature Minor Doctrine, a policy stemming from a 1987 Tennessee Supreme Court decision that enables physicians to treat teens ages 14 and up without parental consent. Since then, state health officials have gone back and forth about whether to circulate information about vaccinating minors, including vaccinations other than COVID-19. On Friday, The Tennessean reported that the state will resume nearly all of its halted vaccination efforts and communication (except social media posts aimed directly at minors), emphasizing that the efforts are directed at parents and not children themselves. Though Metro schools — aided by partners Neighborhood Health, the Metro Public Health Department and the Nashville Diaper Connection — continued to administer vaccinations on school property in Nashville during the state's paused vaccination outreach, the state says it will restart COVID-19 vaccination events on school property elsewhere in Tennessee.
MNPS recently released its new guidelines regarding COVID-19 protocols for the upcoming year. Masks are not required in schools, but they are still highly encouraged for those who have not received a COVID-19 vaccine — which includes everyone under age 12. Students must also try to maintain a distance of three feet from one another, and parents are not allowed in the building without a specific purpose. After this story went to press, the CDC released new mask guidelines stating that "everyone should wear a mask in schools." When asked about the guidelines, an MNPS spokesperson on Wednesday said, "We are not planning to change our protocols at this time and will continue to highly encourage, but not require, all staff and students to wear masks when schools resume on August 10."
Alongside MNPS' COVID-19 guidelines, Napier has its own systems in place to ensure the safety of its students and staff. Though students won't have to wear masks in classrooms, they will be required in high-capacity settings, like in the hallways and on the bus. They'll also use individual desk shields, and students who are showing symptoms will be moved to an isolation room to prevent possible exposure. MNPS nurses will be able to administer rapid COVID tests to identify possible cases.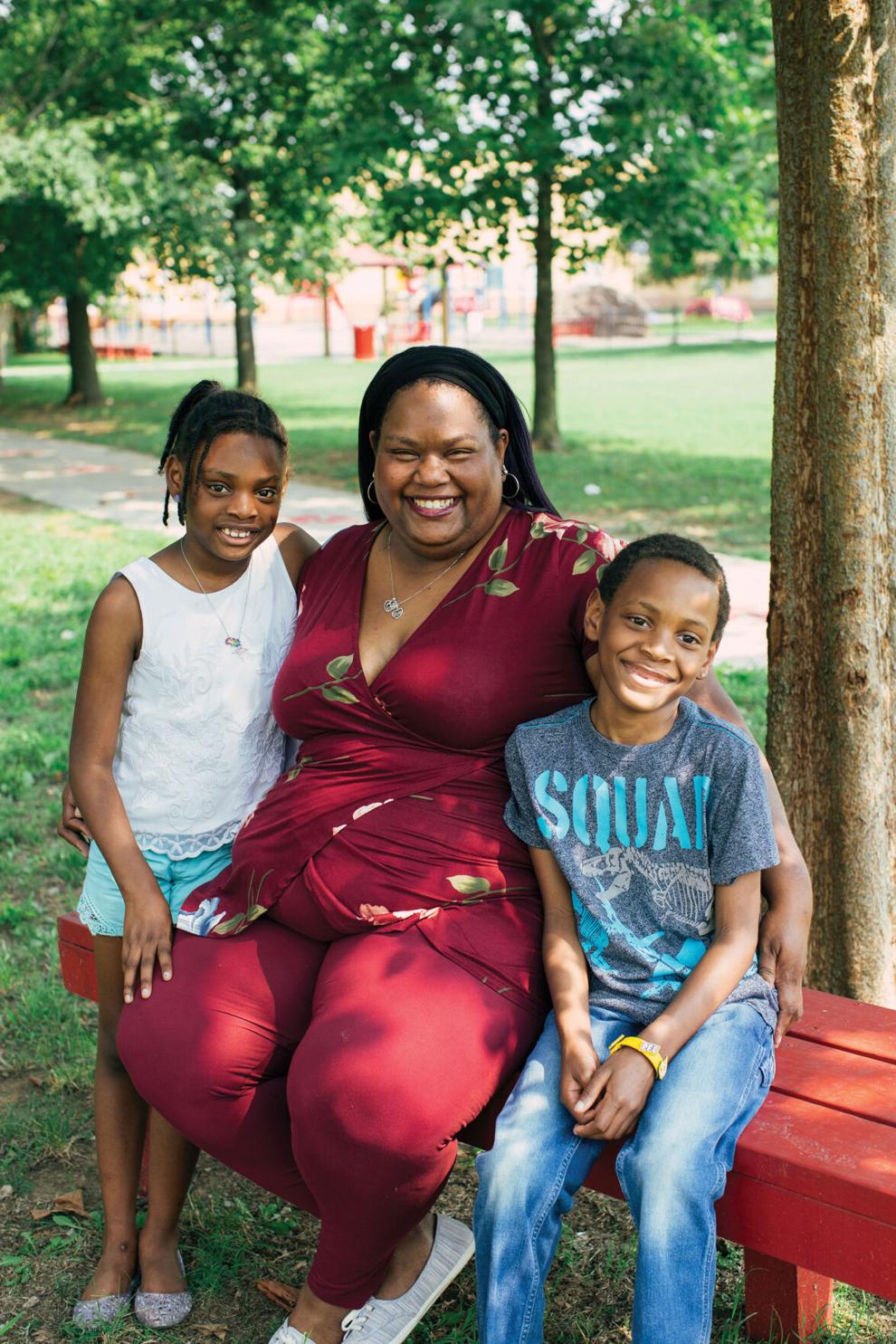 Lena Miles, a parent of two Napier Elementary students, trusts that Lawless will keep her kids as safe as possible in the coming year. Even though her children didn't attend in-person school last year, she's ready to send her kids back to Napier, where they've been students since pre-K.  
"I think they're doing everything they can, and I'm pretty confident in sending my [children] back to school," Miles tells the Scene. She compares the possibility of her kids contracting COVID to the possibility of getting hurt on the playground ​​— it's just part of our reality now.
Though fears and restrictions are relaxing, the pandemic is still a particular threat to those with underlying health issues, and not everyone can risk contracting COVID-19. Families who still aren't comfortable sending their kids back to school can enroll in MNPS' virtual school, but that option is available only to fourth-graders and up.  
There are, after all, tradeoffs to keeping kids at home. While some kids had few problems learning virtually last year, others have struggled and experienced learning loss due to a variety of factors, such as digital literacy and home-life changes. 
Lawless anticipates that some students will have fallen behind, but through testing, assessments and grade-level exposure, she intends to intervene as necessary to "fill in any gaps."
---
A defining factor of the upcoming school year that could affect student instruction is Tennessee's new law regarding critical race theory. The law states that funding can be withheld from schools that teach lessons that suggest "an individual, by virtue of the individual's race or sex, is inherently privileged, racist, sexist, or oppressive, whether consciously or subconsciously," or that "a meritocracy is inherently racist or sexist, or designed by a particular race or sex to oppress members of another race or sex" or other ideas. 
CRT is an analytical framework traditionally taught to graduate-level law students, but rarely in public schools. Even so, the new legislation has distressed many teachers as they approach the coming school year. Teaching U.S. history, for example, must inevitably address racial injustices such as slavery and the Trail of Tears, but the new law might make these lessons more difficult to navigate due to fear of punishment.
At an MNPS school board meeting in July, several parents and educators addressed the board to share their concerns and ask district representatives how they plan to protect teachers from the new law. "The state attempting to legislate away the ugly truth of this country's history and foundation will not change the facts," said Karen Sun, a teacher at East Nashville Middle School. "It will only render a massive disservice to our students and make it difficult for teachers to teach their curriculum." 
Several of the board members voiced their support for teachers. "We have to protect our teachers," said District 8 board member Gini Pupo-Walker. "Our teachers are going to be the ones that are going to be attacked and questioned and judged, and we have to figure out what the message is [in order] to defend our curriculum, our instruction, our practices [and] our staff.
"I will take the hits," she continued. "I will take whatever it is if we can carry the load so that they can do what they need to do, because it's just not ending." 
More than 90 percent of Napier's students are Black, and Lawless says she has always depended on a diverse array of community partners to promote mutual understanding. When George Floyd was murdered by a Minneapolis police officer last year, for example, she facilitated "courageous conversations" with the school's community partners, including police officers, who have also coached the school's soccer league.  
"[Courageous conversations] gave us an opportunity to really be vulnerable and raw in those conversations with the goal to really get to know each other a little bit better, and maybe help ease some of the racial tension that was going on," says Lawless, who is Black. "Because when you have an area that has so much going on, you cannot ignore those issues." 
Lawless says inviting the police into the school has "a two-fold purpose — so the police can see the goodness that the kids are doing, but also the kids can see the goodness that police are doing. I don't want our kids to look at the police and say, 'They're all bad,' because they're not. … They need to know that not all people are one way."
Facilitating these interactions with students might be more difficult in the coming year, and no one is quite sure what specific measures will be put in place to shape or monitor the teaching of race-related issues. While the state's new critical race theory law lays out generalized parameters regarding instruction on race, specific guidelines and the consequences of breaking them have not yet been established as of press time. Tennessee Department of Education Commissioner Penny Schwinn has promised to deliver specific guidelines by Aug. 1, as reported by Chalkbeat Tennessee.  
Initially, when the Scene asks Napier's teachers what they think about CRT, assistant principal Russell declines to comment. A few minutes later, though, she circles back to the topic: "It's so sticky, and it's just so disheartening, but our students need to know that they're beautiful and they're uniquely made, and they can be anything that they want to be." 
"And we value who they are," adds fourth-grade teacher Adkins. 
---
On the first day of school at Napier, a long red carpet will be rolled out to welcome incoming students and faculty. Family and community partners will clap and cheer them on. The school mascot — the aforementioned bear — will be out and about and photos will be taken. In the past, Tennessee State University cheerleaders have joined the party to welcome incoming classes. Some students will be taking their very first steps into a school as they enter pre-K.
Miles' kids have walked down that carpet a few times already. "It is the most fun," she says. "It lets the kids know that it's not just another day. It lets the kids know that, 'Hey, we are happy, we are glad, we're excited for you.' " 
"The night before they can't sleep," says Adkins. "We can't sleep either, because we're excited." 
Napier's teachers love their students, and they're prepared to keep serving them in safe, innovative and creative ways. When the Scene asks the faculty what they're most looking forward to, everyone answers unanimously: seeing the students again.  
Even if the kids are still wearing masks, even if their parents can't accompany them inside, even if hugs and high-fives must be replaced with fist-bumps and elbow-touches, the first day of school for the 2021-22 school year will be special. It will mark a fresh start, enabling teachers and students to form stronger connections as they work through the school year as a community.
"Schools are prepared for your students to come back," says Lawless. "We're ready. Not only do we miss them, but we're ready to get them back on track and to make sure the kids have what they need to succeed."