Despite a painful slowdown during the lockdown phase of the COVID-19 pandemic in 2020 and early 2021, Nashville tourism is enjoying a strong recovery. Data published by the Nashville Convention & Visitors Corp clocks some 12.6 million visitors last year, with a projection that this year's total will beat the 14 million recorded in 2019.
As Nashville established itself as a country music mecca in the mid-20th century, Lower Broadway became famous as a hub for music lovers. By the 1990s, it had become something of a ghost town, but bar owners and restaurateurs began taking chances in the district. Closed since the 1970s, the Ryman reopened to the public 1994. Investment from major firms also started pouring in around the turn of the millennium.
Nashville's rapid growth over the past decade saw, for better or worse, growth on Lower Broadway. Tens of thousands of tourists from around the world now flock to famed haunts like Robert's Western World and Layla's Honky Tonk. Celebrities like Miranda Lambert and Florida Georgia Line have opened massive bar-restaurant-entertainment spaces in the district, and drunken revelry spills out into cross streets. The bar that Garth Brooks is set to open nearby will include a Metro police substation. Other major new attractions include the mixed-use Fifth + Broadway development, which includes the National Museum of African American Music. The building's Assembly Food Hall includes Slim & Husky's and Prince's Hot Chicken, bringing local favorites directly to the downtown set — a group that includes "woo girl" bachelorettes besieging the city in hideous matching outfits, whose presence has drawn national attention.
Another phenomenon developing on Broadway, however, has gone largely ignored. As more people head downtown, diversity among the visiting crowd has also increased, as has the variety of music on offer in the district's many clubs. Country music of one sort or another still blares from most doorways on Broadway, but there are also rock acts, pop artists and a variety of DJs spinning curated mixes of hip-hop, R&B, EDM, Top 40 and the occasional crowd-pleasing oldie. In other words, Broadway is as much a destination for dancing as it is for catching cover bands.
Jerry Pentecost is one of those DJs. A beloved and respected local musician, DJ and advocate, Pentecost is a familiar face to many music fans, having played drums with artists like Amanda Shires and Brent Cobb and now serving as drummer and percussionist for Old Crow Medicine Show. While off the road, Pentecost often picks up DJ gigs across the city, some of which led him to contact the Scene with allegations of racism in several popular Broadway establishments. As he tells it, Black DJs, Black bar personnel and Black patrons often encounter a culture of racial profiling and discrimination while working in or patronizing bars and clubs on Broadway. 
"It's changed a lot in the last couple of years, because now every bar has multiple floors and rooftops and has multiple DJs," says Pentecost. "At one point, I feel like there was really a core of about 15 or 20 of us DJing at all the spots. I DJed at several spots. And I just saw the way that security treated [Black DJs and performers] and the way that management talked to them."
Inspired by his own experiences of discrimination, Pentecost set out to talk to as many current and former Black Broadway employees and performers as possible, doing so with a notepad in his hand and his friend Chris Wood, who is also an attorney, by his side. The more than 30 interviews Pentecost conducted paint a damning portrait of a culture of racism and abuse that extends far beyond any one bar. Pentecost shared notes from some of these conversations with the Scene, which are excerpted (and lightly edited for clarity and confidentiality) below.
Female bartender and singer at two popular Broadway bars, seven to eight years of experience working downtown:
"I experienced a lot of gig discrimination. They didn't want me to be the face of their establishments. It's hard to maintain a gig when you only get the shitty shifts. I had decent shifts, then the [bandleader, who is white] left, and the shifts changed. … Lots of people called me 'blackie,' 'midnight,' etc. I got touched and grabbed, too. Management and security's answer was to 'get thick skin.' I was constantly accused of stealing money for no reason."
Male barback, performer, door security at three popular Broadway bars, seven years of experience working downtown:
"One bar only wanted one Black man and one Black woman as performers. I was always offered bad deals and bad stages. Other performers got in trouble if they called me to fill in [for them]. With management and customers, it was subtle [discrimination] but it was a lot, and it came from everywhere. You have to tiptoe around [if you're Black]."
Male security guard and barback for three downtown establishments, four years of experience working downtown; has since moved out of state and works in a different field:
"I thought about it daily, and now I'm able to see it clearly after time away. One time while bartending during my training phase, I was waiting on a small group. A woman asks if we have sushi. [I tell her] the sushi bar is closed. She responds, 'Take your Black ass over there and make my sushi,' and, 'This n****r won't make my sushi.' I told my trainer and the next day I told my manager. Nothing happened then or afterwards to keep me safe. … There were other comments when I was behind the bar. 'I didn't expect to see a Black bartender. I expected to see a cowboy.' 'That's the biggest boy I've ever seen,' from a woman who would not let me serve her. … While working security at another bar, there were no people of color in management. All of the owners, managers and security thought it was best to keep the room 'whiter,' to get 'more business.' They tried to keep [white and Black patrons] separate — to keep people happy, they monitored playlists to make sure they appealed to white people."
Pentecost gathered so many similar stories, from a broad range of people, that it would be impossible to print them all here. But he can sum up the crux of these conversations succinctly: "There are two versions of Broadway: the one that white people get to experience and the one that people of color experience." 
---

Given his extensive résumé as a DJ, Pentecost also has many experiences of discrimination of his own to share. While DJing at Dierks Bentley's Whiskey Row, Pentecost recalls increasingly hostile interactions with security, including a security guard getting physical with him because he entered the bar wearing a backpack, which he used to carry his DJ equipment. He also notes that it seemed like patrons had more access to him than other DJs.
"I'd be DJing on a set, and I'm having to keep drunk girls off of me — just trying to mix songs and trying to keep people from spilling drinks on my equipment," Pentecost says. "Security is just wild and loose, just hanging out. When we'd switch over and it would be another DJ's shift, I'd always hang out for a little bit. And you couldn't get within two feet of the next DJ for their shift. They always had security coverage. Girls couldn't come up and talk to them unless the DJ told them it was OK. I was like, 'Why am I being treated so differently?' " 
For reasons Pentecost says were never specified, he wasn't allowed to work more-desirable shifts in the bar's club level on weekends, though he was asked to participate in some special event programming. In 2019, after he suggested to management that DJs should be fairly compensated as part of rooftop buyouts for private events, Whiskey Row told Pentecost he had a "bad attitude" and fired him.
The Scene reached a representative of Whiskey Row and provided details of the experiences Pentecost shared. They offered the following comment: "This is a case of a disgruntled former DJ, who over four years ago, was asked not to return after continually trying to sneak his dog into the restaurant in his backpack."
Pentecost admits to bringing his dog Stella with him to the bar — while visiting with a friend on a night off, not to work — and attempting to sneak her in after he was told he was not allowed to do so. However, he notes that the incident happened in fall 2018, several months before he was let go, and he says he had the dog with him while DJing at a different bar on the same day. He also shared a photo with the Scene that he says he took a few weeks later as he walked into Whiskey Row for his shift in the DJ booth. The photo shows a patron wearing a similar backpack, out of which a small dog is peeking.
While DJing at another club, Pentecost says, management tried to steer his playlist choices along racial lines. "One of the managers just straight-up said, 'Hey, you need to play some country because it's getting too rough out there,' " he says. "And I looked out, and no one was fighting or anything like that. I just saw a crowd of Black people, and I was like, 'I don't understand.' I'm not saying I was naive this whole time. I just wanted to give these people the benefit of the doubt. But these [instructions] were basically, 'There are too many Black people in here. We need to change this around.' "
Changing up playlists is not the only way clubs try to attract primarily white patrons. Pentecost witnessed multiple instances of discrimination against people of color from door security, including racially skewed dress codes that prohibit patrons from wearing sports jerseys or popular sneakers like Air Jordans. Witnessing patrons treated this way led Pentecost to change his own behavior. 
"I didn't dress the way that I normally dress," he explains. "I was worried about a dress code everywhere I went. But it did start to enter my mind, like, 'You mean to tell me that you can't even wear a gold chain out anymore? You can't wear a jersey?' So my closet got really small. I just wear T-shirts and jeans all the time, because I know nobody is gonna give me any shit over wearing a band shirt and a pair of Levi's, you know?"
Dress codes are only one barrier to entry for nonwhite patrons. Lines to get into popular establishments are often long and require a wait, a typical experience for anyone familiar with nightlife. In 2019, a white would-be patron of Jason Aldean's Kitchen and Rooftop Bar alleged that her husband, a Black man, was prevented from entering because he was wearing a hoodie, while white patrons were not. The story in her Facebook post went viral, and the owners of the bar issued a statement of apology, promising to look into the matter with their third-party security firm. Pentecost also noticed that nonwhite would-be patrons of bars where he's worked were more likely to wait longer than their white counterparts — or worse, would never get in the door at all.
"The same Black people that were in line when I went [into a bar] to DJ for four hours, sometimes they're still in line waiting to get in [when I come out]," Pentecost says. "And that's really hard to see. But at the same time, it's not my place to jump in and start beef with security, because these are the dudes — and half the time they don't — but they're supposed to protect me. They're the last people you want to piss off."
These revelations from Pentecost and his sources come amid a high-profile case involving security at Whiskey Row. An August 2021 incident resulted in the death of Dallas Barrett, a 22-year-old Black man and Smyrna resident. Pentecost had already begun conducting interviews, but Barrett's death increased the urgency of his work. 
"I started reaching out [to colleagues for interviews] because I just knew it was only a matter of time before somebody got hurt," he says. "I always wanted Broadway to be a place for everybody. And it was drastically unfolding before my eyes that it wasn't."
In the August 2021 Whiskey Row incident, Barrett died from oxygen deprivation after being wrestled to the ground and held there by several of the bar's security guards, who allege they asked Barrett to leave the establishment and that he refused. Seven men — six members of bar security along with one bystander — were indicted on charges of reckless homicide and aggravated assault in December 2021. In January, The Tennessean reported that four of the involved security guards were not properly licensed, and Whiskey Row's private security license, which allowed the venue to hire and train its own security staff, had been suspended. Weeks later, a group of state legislators proposed Dallas' Law, which would require training for unarmed private security guards. In June, Gov. Bill Lee signed Dallas' Law, which will take effect Jan. 1. Three of the involved men — Tarrell Gray, Dylan Larocca and Mallet Meneese — will stand trial on Feb. 27.
---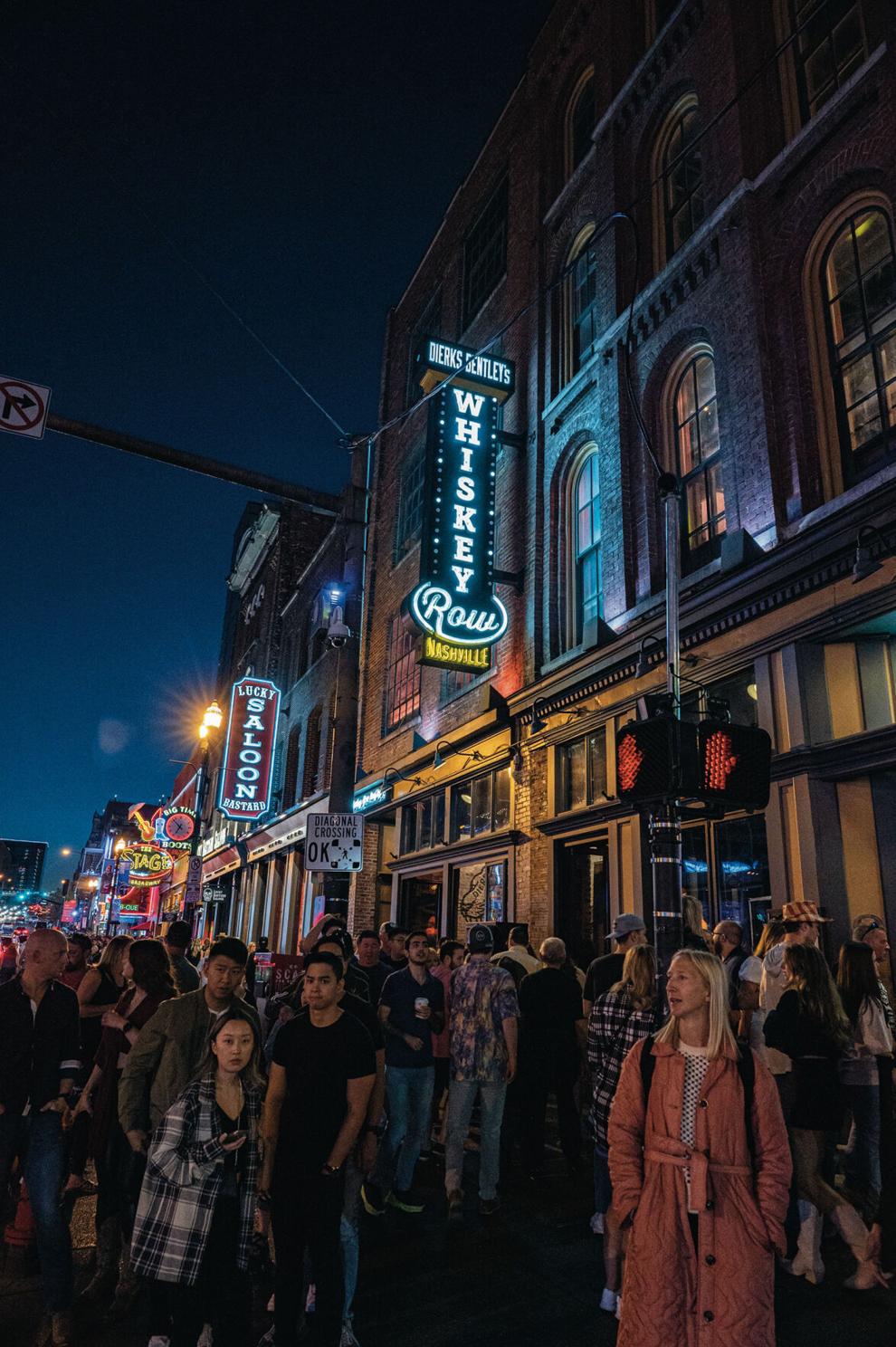 In late August, Ryman Hospitality Properties' then-chairman and CEO Colin Reed — who in October announced he would transition to executive chairman of the company — shared plans for a new initiative to address the future of tourism in Nashville, with the Broadway district a particular focus. Reed's initial announcement listed six areas the committee would address: housing, homelessness, public education, public transportation, cleanliness and safety. The new committee has yet to have its first meeting, but in a statement sent to the Scene, Reed reiterates the importance of making music fans and staffers, as well as employees, feel safe and welcome.
"We're proud of our progress, but we know there is still much more work to do," Reed writes. "Accountability is at the core of building a more equitable future for our company and our industry, and we are committed to living these values in all that we do — whether, for example, through OPEN, a new space for Ryman Hospitality teammates to celebrate individuality and empower one another, or Opry NextStage, which is nurturing the next generation of artists that represent country music's increasingly diverse fan base." 
Mayor John Cooper, with whom Pentecost had lunch to discuss his experiences, believes the initiative can also be a fitting and effective forum for future conversations about race and equity within Nashville's tourism and hospitality industries.
In an emailed statement to the Scene in response to Pentecost's revelations, Mayor Cooper writes: "Discrimination of any kind has no place in Nashville. When we see it, it's important we address it head on. That's why our new tourism strategic planning group will take on how we achieve better diversity and root out systemic racism as part of their work developing a cohesive vision for the industry. I'm grateful to Jerry for courageously speaking out about his experience, which unfortunately is far too common and must change." 
Of course, the allegations of inequity on Lower Broad aren't coming solely from DJs. In June, the Nashville Banner issued a report laying out how the district's established venues resist fair opportunities for performers of color, relegating Black musicians to less-visible spaces. Noted longtime performers including Wendell "Bizz" Bigsby, Kelly "Top Notch" Buchanan and Carl Fields Jr. explained to the Banner how, despite the diversity of crowds on Lower Broad, Black performers tend to receive more pushback and fewer chances to play in the district's busiest spaces. 
It's impossible to look at the culture of Broadway without also looking at the culture of country music. The country music industry is a sizable part of what draws visitors to Nashville, and particularly to Broadway — especially given the recent spate of famous country artists (and a washed-up has-been or two) slapping their names in neon onto some of the area's most prominent real estate. There's Miranda Lambert's Casa Rosa, Florida Georgia Line's FGL House, Luke Bryan's Luke's 32 Bridge, Jason Aldean's Kitchen + Rooftop Bar and Kid Rock's Big Ass Honky Tonk Rock N' Roll Steakhouse, to name a few.
For anyone who's paid a bit of attention to country music in recent years, it's apparent that the genre still has a long way to go toward establishing racial equity among artists and fans, as well as within the industry itself. Scores of Black and brown people love and make great country music, but the lion's share of resources have long gone to support white fans, white executives and white artists — white men in particular, though white women are beginning to fare better. And while marginalized groups are making some hard-earned headway in country music — thanks in large part to grassroots efforts like the Black Opry — the systemic rot at the heart of the country music industry remains largely unchanged. 
Breland is the only Black artist nominated for a CMA Award this year, sharing a Musical Event of the Year nod with Dierks Bentley and Hardy for Bentley's song "Beers on Me." Morgan Wallen, who was infamously caught on video using the N-word in February of last year, is nominated in several major categories at the Nov. 9 ceremony, including marquee award Entertainer of the Year and the similarly coveted Male Vocalist of the Year — his first CMA nominations following being barred from participating in the 2021 ceremony. Wallen's seemingly effortless transition back into the industry's good graces is one of several issues currently fracturing the country music industry.
On Oct. 14, Aldean invited Wallen, as well as Miranda Lambert, to join him onstage during his own show at Bridgestone Arena. The performance came on the heels of a contentious public feud between Aldean's wife Brittany Aldean and country star Maren Morris, prompted by Brittany's use of transphobic rhetoric in an Instagram story. Morris, following a strongly worded condemnation of Aldean's post by fellow artist Cassadee Pope, defended the LGBTQ community in a series of tweets that found her keyboard-sparring with, among others, right-wing influencer Candace Owens and former The Voice contestant RaeLynn. In September, Morris told the Los Angeles Times that she does not "feel comfortable" going to the CMA Awards. During his Bridgestone show, Aldean joked to the crowd that he planned to invite Morris onstage as a guest too, which drew boos and obscenities from the audience. 
While celebrity feuds may seem little more than gossip-rag fodder, the fact that one of this particular dust-up's key players, Aldean, owns one of the city's more popular bars shouldn't go unnoticed by Nashvillians. It isn't wild conjecture to assume that more than a few of those fans gleefully booing Morris and cheering Wallen, upon leaving Bridgestone, spilled out onto Broadway and into establishments that do little to protect the rights and safety of people of color.
For Pentecost, Broadway still holds opportunities for lifting up marginalized voices. During September's AmericanaFest, he assembled an all-Black band to perform at Robert's Western World, with guest artists like Joy Clark and Kyshona stopping in along with renowned Robert's mainstay Joshua Hedley. Captioning a photo of the band on his personal Instagram account, Pentecost writes: "I don't want to say that it's never happened before, but I've never seen an all-Black country band at any of the honky-tonks downtown. … My events have always been about bringing people together and that's exactly what we did last night!"
He hopes his efforts can be part of bringing people together in a larger way, one that works toward equity across all of the Broadway district and creates a fun, welcoming environment for employees, performers and patrons of all stripes. 
"When I'm walking in my gigs, I don't only just see white people," Pentecost says. "I see Black people. I see Latino people. I see Asian people. I see tons of people, everywhere. And that's a sign, in my mind, that we're doing something right, because everybody is coming down here looking for the same experience. Now the problem is, will everyone have the same experience?"

Pentecost is open to being part of these efforts, expressing during our conversation — which took place before Reed's announcement — his desire for a coalition of bar owners, musicians and DJs, tourism officials, state and local legislators and local activists to come together to make Broadway a place that truly is for everyone. With Reed's hospitality initiative beginning in earnest, perhaps there is a seat at the table for Pentecost, whose passion for creating connection through music runs deep.
"Broadway is this magical place," he says. "It should be a magical place for everybody. And I know that it's not, and that it's going to take a long time before we get there. But by not addressing these issues, by constantly sweeping them under the rug — that's a large part of going backwards."