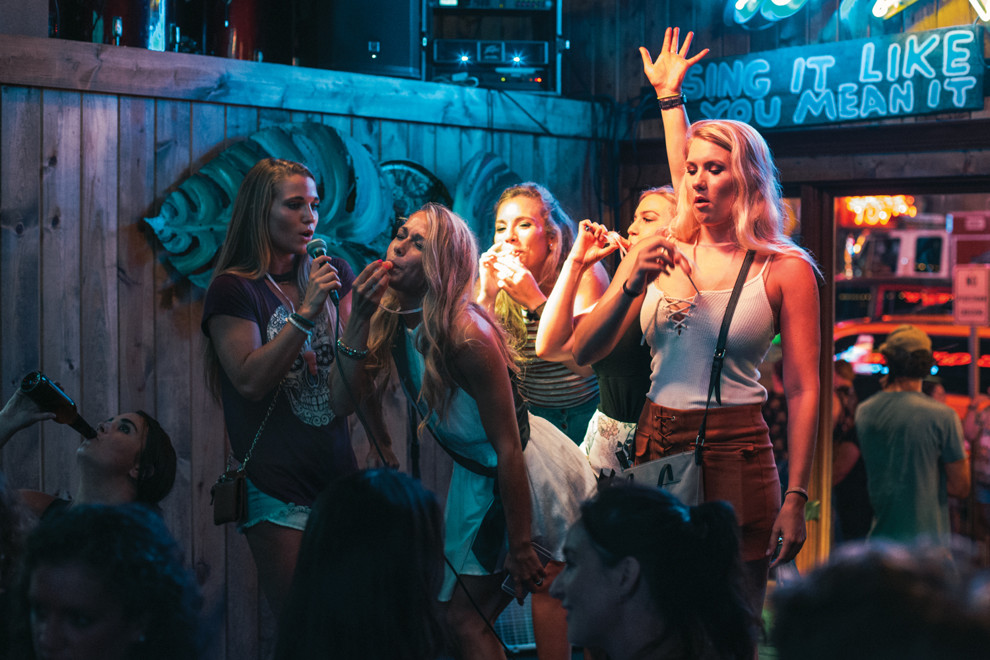 On a Friday night at WannaB's Karaoke Bar on Lower Broadway, a blond bride-to-be named Nicole — white dress, black sash — dances onstage, flanked by a crew of girls shouting along to the end of "Fergalicious." 
To the D to the E to the L-I-C-I-O-U-S. 
To the D to the E to the L-I-C-I-O-U-S. 
Amid scattered applause, Nicole grabs the penis-shaped whistle hanging around her neck, brings it to her mouth — throwing her head one direction and her hips the other as she does — and blows it. Almost instantly a shrill chorus of whistles rises from the crowd. Turns out there are three other bachelorette parties in the bar, and a number of the women are equipped with these pink, plastic, disturbingly detailed phallic instruments. It's like one car alarm setting off a dozen others. Soon, hands in the air, they let out a "woooo!" and are out the door.
Outside, asked what Fergie's 2006 hit means to them, Nicole and her fellow Kansans are all talking in unison. They were in sixth grade when it came out. They rocked out to it then, so they rocked out to it now.
Why'd they come to Nashville? 
"Because. It's. Bachelorette. Central!"
These are the girls you've heard of — the girls you've literally heard. These are the Woo Girls, and they are everywhere, even on a suffocating July night like this one. 
In less than two hours of observation on Lower Broadway, I count 33 clearly identifiable bachelorette parties. They're from all over the country. Two parties are from Kansas City, two are from Ohio, and there's even one from San Francisco. The true number of such parties on the street is almost certainly higher than that; not every pack of young women hittin' the honky-tonks is so obviously decked out and coordinated. The serious ones can generally be seen in one of two types of ensembles. Some opt for custom-made T-shirts — "Last Bash in Nash" or "Getting Shitty in Music City." Others are a little fancier, with the squad wearing black dresses and the bride-to-be clad in white, with a sash reading "Bride to Be" or "Future Mrs. So and So." On this night there's even a party whose trappings are Harry Potter-themed.
To walk into Honky Tonk Central up the street is to crash one big bachelorette party. There are three of them just on the first floor of the three-level tourist trap. Morgan Frazier, a singer who performed under the tutelage of Blake Shelton and Pharrell on Season 9 of NBC's The Voice, is onstage shouting them out. She points to one group on the VIP balcony that floats above the bar — and can be rented by bachelorettes for $75 per person — and calls out to the girl in white. 
"You said you wanted '90s rock?" 
Her band's lead guitarist launches into the indelible opening riff of Lit's "My Own Worst Enemy," and soon the bachelorette is leaning over the railing, pumping a fist as if she's throwing the lyrics at the stage.
Can we forget about the things I said when I was drunk? 
Minutes later, Frazier has invited another bachelorette onstage to sing with her. The girl's name is Abby, and when she leaves the stage, she is hyped. 
"We fucking love Nashville!" she says when asked why she chose our fair town as her party destination. She's explaining that the group has a reservation on the Nashville Party Barge the next day, when one of her friends decides this interview is over, stepping between Abby and the reporter's recorder. Maybe that's best. 
To longtime Nashvillians, these citizens of Broadway are strange visitors who represent a bizarre and relatively new phenomenon. But on a night like this, from Fifth Avenue down to the Cumberland River, it's their town.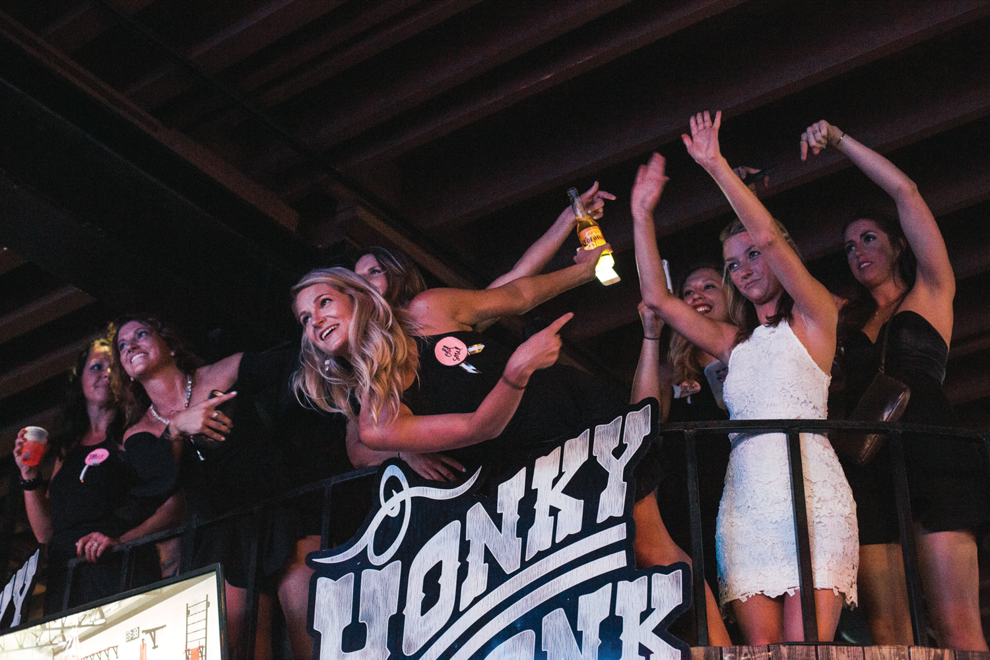 Think of the bachelorette-party industry — and it is an industry — like a remora that attaches itself to a growing whale, depending on the huge mammal for survival. The boom years have benefited a number of commercial enterprises — coffee shops, craft breweries, mural artists — and Nashville's success as a "bach destination" (pronounced "batch") is one such outcome. But now the little remora is big enough to swim around and eat on its own. If you're not careful, it will bite you.
In recent years, Nashville has earned automatic inclusion on the sorts of internet lists that funnel bachelorettes to town. In 2015, Travel + Leisure named Nashville the No. 1 spot for a "girlfriend getaway," and Glamour included it on a list of the nation's Hottest Bachelorette Party Destinations. Earlier this year, Nashville was ranked the No. 3 Best Bachelorette Party Location by something called Betches.com.
It is an overwhelmingly white phenomenon, which is not all that surprising. Nashville's political and cultural power structure has historically been white, and after all, so has country music. 
It's not quite right to call the arrival of our new bachelorette overlords an organic development, but at the same time it is not a creation of the city's official tourism infrastructure. When the Scene requests an interview with Nashville Convention & Visitors Corp.'s president, Butch Spyridon, he is unavailable but sends a response through CVC spokesperson Bonna Johnson. 
 "The city's popularity with them speaks to Nashville's strength as a destination," Johnson says, relaying Spyridon's sentiments. "We've never done anything to attract bachelorette parties, but we would never apologize for groups that want to travel here."
If you detect a defensive posture in that statement, that tells you something about local attitudes toward the surge in bachelorettes and a general assumption that the topic has negative connotations. 
So how did this all happen? The answer, generally, is a cocktail of contributing factors that tasted good going down for businesses and party-minded entrepreneurs, but now has some locals feeling a hangover. Among those factors: the boom years on this side of the 2010 flood that positioned Nashville as the hot new thing — think GQ's "Nowville" feature in July 2012, or the (in)famous January 2013 article in The New York Times that birthed the "It City" moniker — years that saw Nashville, or a version of it, take center stage in a prime-time TV drama; the explosion of short-term rentals through Airbnb and others, which has made a group trip to Nashville relatively affordable; and the cottage industry that has sprung up to cater to the constant flow of bachelorettes coming through the city, creating ample opportunities for Instagram-able memories and making the whole notion of Nashville as a bachelorette destination a self-perpetuating reality.
But those factors alone wouldn't necessarily guarantee that a city will end up with hundreds of 20-something girls descending upon it for "Nashlorette" weekends. To figure out how that happened, it's worth taking a ground-level look at what's changed on Lower Broadway, a living ecosystem of sorts to which various creatures adapt. 
"My mom happily reflects on the downtown Nashville of her youth," says Freddie O'Connell, a Metro Council member who was raised in Nashville, and whose district includes Lower Broadway. "She grew up in Dickson, and when they would come into town, downtown was streetcars, department stores. It was the expansive, post-industrial town square. And then that went away, and it kind of became a commercial district purely where after 5 p.m. on any given day of the week, there wasn't anything. And that was the Nashville of my youth. If you came downtown after 5 p.m. you probably weren't supposed to be there."
Following the Grand Ole Opry's departure from the Ryman Auditorium the decade before, Broadway in the '80s was marked by peep shows, adult bookstores and nondescript bars. What is now Robert's Western World was a liquor store then.
But toward the end of O'Connell's high school years, through the mid- to late '90s, things started to change. Kids started cruising Second Avenue, to the point that the city posted "No Cruising" signs on the street. A transformational moment came in 1996, when Bridgestone Arena, then known as the Nashville Arena, opened its doors. 
Until then, Lower Broadway was not fully embraced by the surrounding infrastructure. Because of its architectural orientation, the old Nashville Convention Center was said to "turn its back on Broadway." It didn't engage the downtown strip. But the arena, with its large entrance plaza opening up toward the honky-tonk district, did just that, and made the center of Nashville a destination for many more people. In the years that followed, new honky-tonks, boot stores and Western-themed karaoke bars began to pop up — the makings of a never-ending block party. 
Nashville's rising prominence, the popularity (and proximity) of the Tennessee Titans and the Nashville Predators, and the ubiquity of country music didn't hurt, either.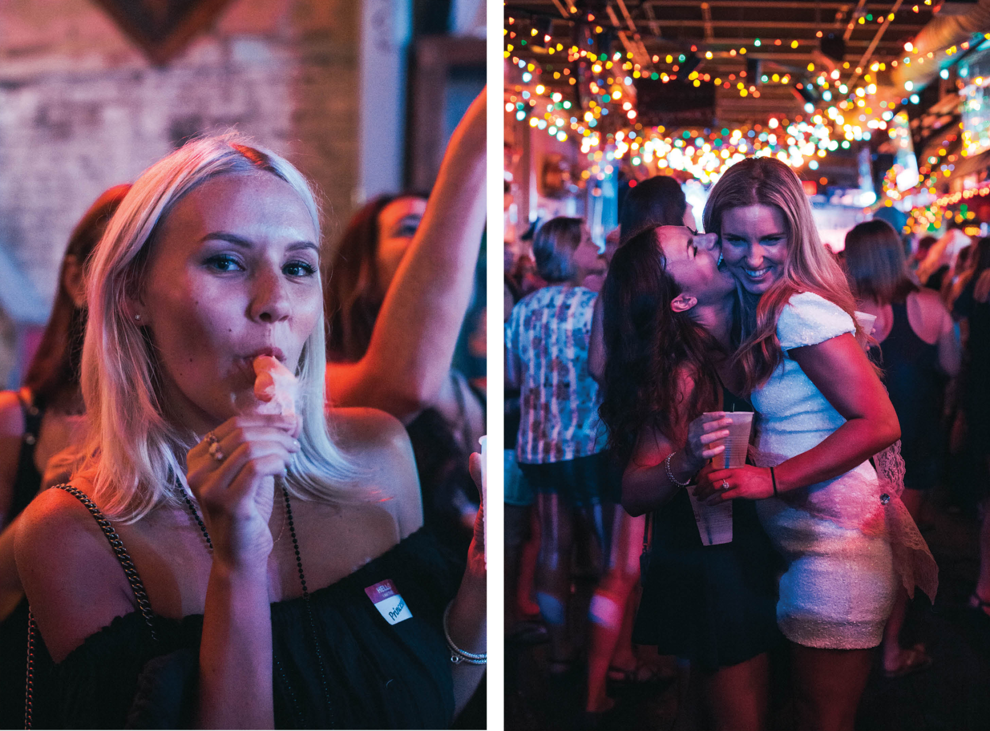 One could theorize about any number of moments when Nashville took a turn toward becoming "Bachville." But one event in particular stands out to O'Connell, something he seems to lament. In 1992, the legendary letterpress print shop Hatch Show Print moved from its Fourth Avenue South location, where it'd been since 1925, to make way for the AT&T tower, and reopened on Lower Broadway. For more than 20 years, visitors could walk into that cavernous, ink-stained space and find someone making the kind of concert prints that made the shop famous. For O'Connell, it was a landmark with a true, authentic connection to Nashville's past. And then in 2013, it left Lower Broadway for a slick new location attached to the Country Music Hall of Fame — good news, in that the shop survives to this day. But it was also an illustrative change in the ecosystem of Lower Broadway. 
Today, 316 Broadway is home to Tin Roof, a honky-tonk-styled bar like all the others. On a recent weekend night, while the band takes a break, three separate bachelorette parties bob along to Ed Sheeran's "Shape of You" blasting through the speakers. 
I'm in love with your body
Oh—I—oh—I—oh—I—oh—I
One group, gathered around Morgan — the one in white — is from Cleveland. They came to Nashville, they say, because it's "better than Vegas." 
They say they'll be taking a pole-dancing class the next day. And they have the penis whistles too. 
"Couple [the departure of Hatch Show Print] with the arrival of Honky Tonk Central," O'Connell says. "It's almost like, to drop a physical manifestation of a reality show about honky-tonking on Broadway."
The three-level tower of tipsy on the corner of Fourth Avenue and Broadway opened in 2012, and it's true: It doesn't just seem on-the-nose — it's a punch in the nose. It is a honky-tonk called Honky Tonk. And the Epcot-ification of the Broadway scene is only intensified by the opening earlier this year of FGL House, a multilevel establishment from Florida Georgia Line, the duo who found a lucrative career making vaguely country-adjacent noises behind lyrics about partyin', truck beds, beer and bikinis. The place features massive portraits of each band member and joins other celebrity-branded downtown bars from the likes of Dierks Bentley — not to mention Blake Shelton, who plans to open a $20 million palace. 
If affiliation with country music is one of Nashville's major appeals, consider the sort of mainstream country music Nashville is affiliated with, and ask yourself, Are the penis whistles really surprising?
There's also reason to suspect another tourism factor is at play: Nashville is perceived — rightly or wrongly, for better or worse — as a safe place to get blind drunk in public. 
(There is a whole other story to be written about how much this presumption of safety may be racialized — connected to Nashville's perception as a white town.)
Chase Humphrey, a hot dog vendor with more than a decade's worth of experience working on Lower Broadway, put it like this when he spoke to the Scene for a 2015 article on the sausage-slinging scene: "Back in the day, people would come here to really listen to the music. Now people just come to just get wasted."

Not all of those bachelorettes are staying downtown, of course. There isn't yet a party bus that offers beds for the night — we'll have to wait on that one. In October, as reported by The Tennessean, average hotel rates in Nashville, at least temporarily, surpassed those in New York and Boston. Bachelorette parties on a budget are tapping into a thriving network of houses available for rent through companies like Airbnb. Whereas some hotels blocks from Broadway will set you back $400 for a single room, a party of eight (with a little planning) can find an Airbnb in East Nashville to accommodate the whole party for less than that. 
But it's worth noting that many Airbnb hosts prohibit parties — and some even single out bachelor and bachelorette parties.
"No bachelor parties, no bachelorette parties," reads one description of a house listed on Airbnb in East Nashville. "No rowdiness. If you're looking for a property to stay in where you have the intention of consuming large amounts of alcohol, there are other properties in town that are a better fit for your time in Nashville."
Indeed there are, although hosts are keenly aware of the line they might be walking with their neighbors. The Scene reached out to hosts who specifically court bachelorette parties in their descriptions. One host responded to say that they'd had positive experiences with bachelorette parties and maintain good relationships with their neighbors, but they declined to speak on the record.
"There are those in Nashville that are looking for hosts to attack," wrote the host. "So I must protect myself by staying off the radar."
Another host agrees to talk on the condition of anonymity, hoping to avoid attracting the attention of people pushing for tighter regulation of short-term rentals. Asked about her specific rental description, she laughs. 
"It's every weekend," she says. "I wasn't planning to do that, but that's what was happening, so I switched up my description, because I was like, 'This is the main group that I'm getting.' "
She insists her neighbors don't have a problem with what goes on at her property, but not everyone is thrilled about having what can amount to a sorority house — or frat house, as the case may be — on the other side of the fence. 
O'Connell has lived in his house in the Salemtown neighborhood for 10 years, on a street that is entirely zoned residential. He and his wife have a 6-year-old daughter and a newborn baby — facts that were no doubt going through his mind two weeks ago, when he says he was woken around 3 a.m. by a group of girls moving their party to the back porch next door. 
"We've had the doorbell rung at that hour, multiple times, from people too drunk to know which house they're supposed to be at," he says. 
The Metro Council's attempts at settling on regulations for short-term rentals have repeatedly stalled, and the council recently postponed that effort until later this year. Describe the situation as complicated, and O'Connell will stop you right there. He doesn't believe it's really that complicated at all.
"If you throw anywhere from eight to 20 bachelorettes into what was a residential house, I don't think that's a great thing for livability and maybe not even for Nashville being a destination city," he says. "I simply don't think these things belong in residential neighborhoods, period."
For now, whether they belong is a hypothetical question. They're here. But even if short-term rentals aid and abet the bachelorettes, they're not the only thing that's bringing them to Nashville. On that question, the aforementioned host — the one who adjusted her description to target the only customers she was seeing — has a theory. 
"My theory has always been Robbie Goldsmith," she says.
Goldsmith, an entrepreneur, launched Bachelorette Nashville in 2013 as a sort of concierge service for bachelorette parties. Since then, the company has grown, changed its name to Bach Weekend and expanded to three cities. 
Says the host, "I just think that when someone goes out and is marketing on the internet, 'Nashville and bachelorettes,' and is putting a ton of effective marketing out there, suddenly when you're Googling or whatever, that's what comes up."
Goldsmith was unable to meet with the Scene (due to a recent death in his family), but he responded to an email about "how Nashville became the bachelorette capital of the known universe" like this:
"While Vegas is still no doubt the capital, we definitely seem to be a close second! Although I'm not sure how long that will last."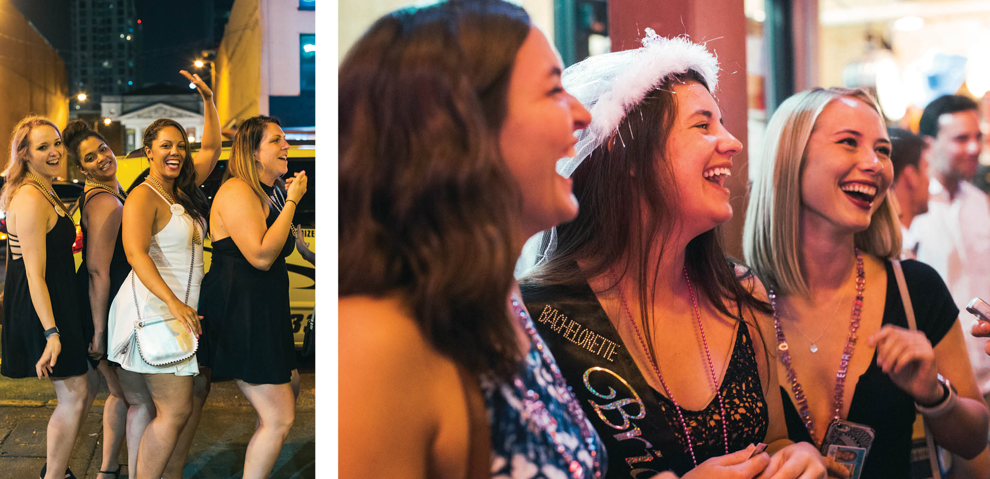 On a recent Tuesday afternoon, the Bach Weekend offices on Third Avenue South are busy, with four women working at desks just inside the door, and John Mayer playing in the background. Chief operating officer Rachal Smith apologizes for the chaos — it's an event weekend, she says. 
Aren't they all event weekends at a business like Bach Weekend?
Not like this. After trying the concierge model, the company changed its approach to one that was less tedious and more scalable and reproducible in other cities. Modeled after the cruise industry, the company sells package weekends to groups and provides them with an itinerary and private downtown parties with other groups. It's essentially Bachelorette-ageddon. 
Bach Weekend books 15 to 20 groups of either bachelors or bachelorettes for the same weekend "that we combine together into one massive group of baches," says Smith.
"I equate it to camp, almost," adds Rosa Castano, director of sales.
Smith and Castano are as enthusiastic about Nashville's burgeoning bach scene as you'd imagine. They speak about it as a positive development, but even so, they seem completely aware of the sillier side of the business. They cite one ongoing serious romantic relationship that began during one of their mega-bach weekends, not to mention many more ... let's call them short-term relationships. A big part of Nashville's rise as a "bach destination," they say, is the casual nature of the NashVegas strip.
Many elements of Las Vegas have become velvet-roped and exclusive, whereas Nashville offers five blocks of bars with live music and no cover (even if the beers are getting a bit more expensive these days).
"Nashville is such a novelty, and a lot of people don't know what to expect," Castano says. "I get people from the Chicago area or even California, and they're like, 'Well, we want to have a place that has bottle service,' and I'm like, 'Cool, here's a beer bottle.' "
Bach Weekend arranged 11 mega-bach weekends last year and 11 this year. Next year, there are 18 on the calendar. A map in the lobby has pins on it showing the far-flung locations that different groups have traveled from, including Toronto and Alaska.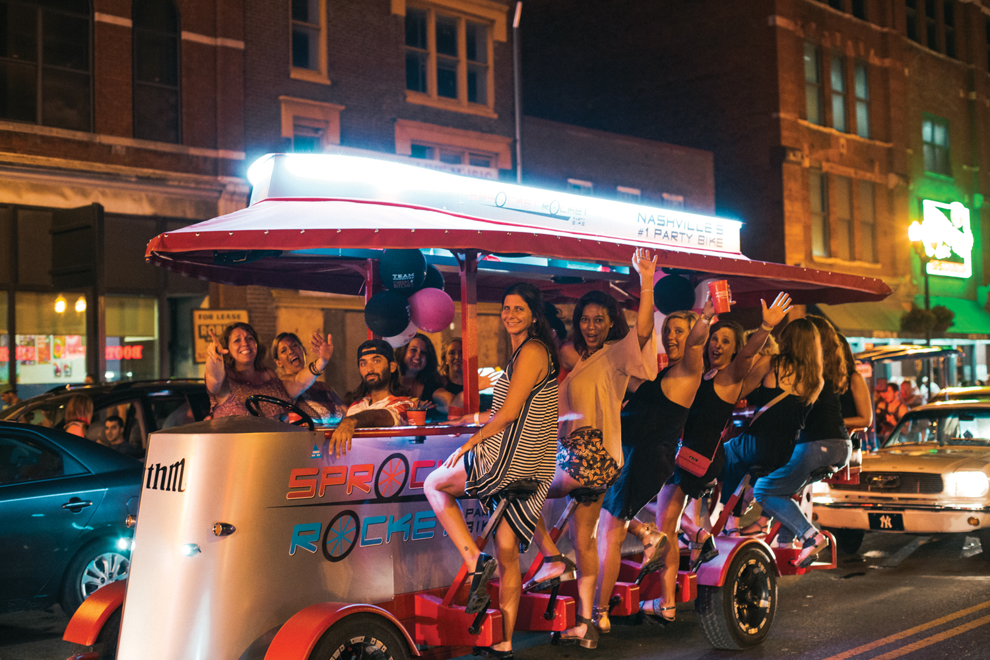 Companies like Bach Weekend have only boosted the market for companies like Pedal Tavern Nashville, which opened in 2010 and now has 10 pedal vehicles on the street, which are booked up for months in advance. General manager Angie Gleason tells the Scene that Sundays are now as busy as Saturdays for tavern rides — evidence, she says, that groups are staying in town a little longer.
The bachelorette boom has helped make so-called "transportainment" a growth industry as well. Consider the ever-growing list of transportation options available to ferry parties up and down the downtown streets, plying them with alcohol and Top 40 hits. There are the pedal taverns, of course, which are available from several different companies now but all offer the same basic experience: a group ride on a multi-seat bar/bike, fueled by beer and the opportunity to spend a few hours as a slowly moving public spectacle. There are tractors, massive John Deere ones, that pull wagons with bartenders and DJs on them. There's a thing called the Party Porch, which is half-bus, half-porch. And there's the Party Barge — basically a pickup truck with an extra-long bed retrofitted to look and feel like a boat. 
On a weekend night on Lower Broadway, these rolling ragers pass each other like shit-faced ships in the night. One group hooting at the other, the other hollering back, pedestrians on the sidewalk gawking at all of them. 
Waiting in line outside a bar, one bachelorette party from Ohio is just starting their weekend. They came to Nashville because they'd heard it's a good place to party, and their goal, says one bridesmaid-to-be, is to get the bride-to-be "to where she doesn't remember her name." As of 10:45 p.m., that name is Emily. Congratulations, Emily. 
Much ado has been made over the emergence of New Nashville in recent years — Husk over T.G.I. Fridays, Crema over Starbucks, Jason Isbell over Toby Keith. This is something different, though. If that was an evolution, this seems like a mutation. 
This is the new New Nashville. 
Wooo.