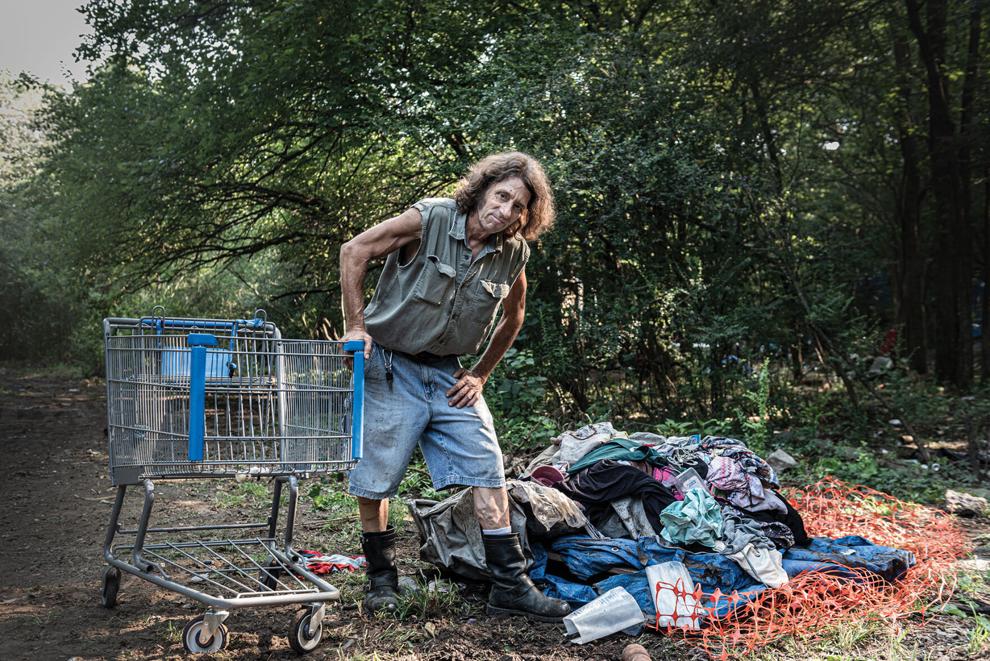 Construction vehicles zip through Brookmeade Park, hauling trash and brush to dumpsters near the greenway's entrance. The vehicles avoid tents while volunteers and Metro employees in orange vests line up along the trails to let them pass. Some of the people who live in those tents help out too. The homeless encampment at Brookmeade, off Charlotte Pike in West Nashville, has been around for at least a decade. But it's grown in the past five years, and the locals who live nearby are frustrated. Residents packed a July meeting at the West Police Precinct to voice complaints about the encampment. Advocates who work with people experiencing homelessness also attended, countering calls for the camp's closure with a simple question: "Where are they going to go?"
Chris Scott doesn't live at Brookmeade, but he thinks the camp could stick around with the right resources. He likes the idea of bringing in huts similar to those used at one homeless community in Eugene, Ore. Scott is energetic and seems to be everywhere during the cleanup effort — it's easy to see why people called him "Captain" back when he was homeless and living in the now-defunct Fort Negley camp.
"I saw Brookmeade on TV, and it touched my heart and I had to go out for myself," Scott tells the Scene in a phone interview. So one Saturday he started cleaning up the camp, clearing trash and shopping carts. Scott hopes to lead by example, and says residents of the camp started pitching in. He's also called up the city, trying to get regular trash pickup at Brookmeade. "It's overwhelming, but they need somebody with a big mouth — a real asshole like me from New York."
Lisa, an older woman who lives at Brookmeade, watches the volunteers and vehicles from a camping chair and says she's glad to see the cleanup. She's been homeless for about five years, and at the camp for two or three, and is hoping to get into housing.
Nearby, a man named Jesse rakes garbage into a pile for a construction vehicle to clean up. He's been in and out of the camp over the past three years, and an injury from a car wreck has left him unable to work. He's hoping for housing too — living in the camp "sucks," he says.
Metro officials say their ultimate goal is to get the campers into housing; no plans for clearings or arrests. The challenge for the city and its partners, however, is actually finding available units.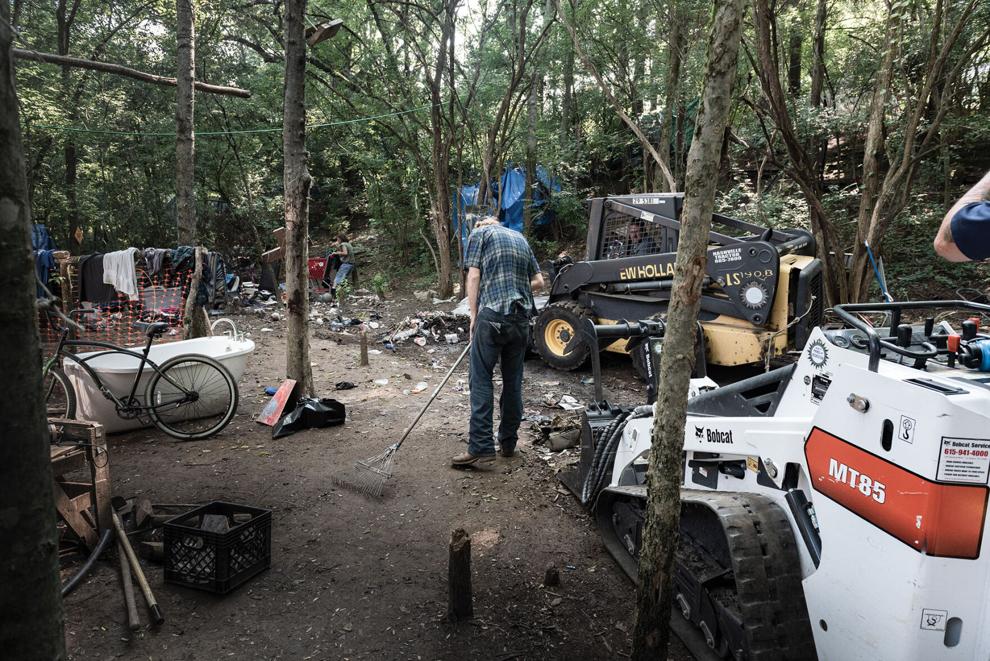 ---
Plenty of research indicates that housing vouchers reduce homelessness, both for families and individuals. Judy Tackett, head of Metro's Homeless Impact Division, says the city has plenty of vouchers, including hundreds provided by federal pandemic relief packages. The tricky part is finding landlords who will accept them — NewsChannel 5 reported in August that 200 Nashvillians are approved for housing vouchers, but can't find a unit anywhere. This has led to the creation of the Low Barrier Housing Collective, a collaboration between Metro and community partners to incentivize landlords to take vouchers.
"I'm not asking people to be patient," says Tackett. "I'm asking people to redirect their energy and help us right now to find landlords that take Section 8 vouchers."
The city has still managed to house people over the past year, and touts success with its rapid rehousing program. Metro set a goal to get 400 families and individuals into homes by December and has already surpassed that number. The rapid rehousing program offers a one-year lease, sometimes in a motel room. Tackett says someone can also transition from that lease to a Section 8 voucher or a supportive program before the lease is up. She says setting "challenging goals" and meeting them creates momentum and shows that these services are actually working. "Is it as quick as we want it to [be in order to] serve everybody? No, but we need to stay the course."
In August, Metro also launched mobile housing navigation centers. These centers will be temporary indoor spaces, like churches, located away from the cluster of outreach services in downtown Nashville. (The first two are in West Nashville and Madison.) The goal is to help people find housing within an average of 90 days, and they're "mobile" because their locations will change and rotate.
Navigation centers have been used in San Francisco since 2015. That city's housing record is a bit disputed — many "successful exits" are people who were given bus tickets out of town to reunite with family, and only 15 percent received permanent housing. (Tackett says Nashville will look at San Francisco's approach of "family reunification" as well.) But navigation centers are very popular with San Franciscans, and officials have also produced data showing crime dropped in the locations around most of the centers. They're low-barrier, meaning couples, people with pets, and even folks under the influence of drugs or alcohol can gain access — populations that often avoid traditional shelters.
Lindsey Krinks is a co-founder of Open Table Nashville, a nonprofit that serves local unhoused and low-income communities. She calls the mobile navigation centers "creative" and hopes they work, but there are other options she'd still like to see considered. For example, cities in California have bought motels and converted them to affordable housing. (Tackett says she's looking at those cases too.) Krinks stresses the need to build more affordable units, especially for people at the lowest incomes. She's also worried that without more affordable housing, poor people who have vouchers will just compete against those who don't.
"The affordable housing crisis in Nashville is like a game of musical chairs where the chairs are units [that] are constantly being removed through gentrification," says Krinks. "We need to get more chairs in the game, which is developing more affordable housing."
A recent report from the city warns that Nashville has a shortage of affordable housing that will only worsen without action. And nationally, there's a sense of urgency: After a U.S. Supreme Court decision ended the eviction moratorium, activists around the country are bracing for mass displacement and a possible rise in homelessness. Aspen Institute reports that 15 million households could be affected by the end of the moratorium. Meanwhile, the number of people living outdoors increased during the pandemic, with many avoiding congregate shelters. 
Advocates agree the best way to end homelessness is providing more housing — even if they disagree on what to do for folks stuck on waiting lists. 
---
The path of trails winding through trees, overpass columns and tents isn't exactly labyrinthine, but it could be easy to get lost without a guide. Walking through Old Tent City, India Pungarcher stops and chats with a couple of the folks and exchanges friendly waves with others. Pungarcher is an outreach worker with Open Table, and she's familiar with many of the camps in town. Old Tent City — located beneath I-24, near the Cumberland River — is active in the early afternoon, with some residents grilling food and others chatting alongside the trails. Some folks keep their distance. It's not always a safe place — there have been cases of theft, violence and active drug use in the area.
On a short hill not far from the Cumberland sits a tarped structure and a few tents. David Allan Craig is proud of the setup, which stays bone-dry during a brief rainshower, and he likes showing off the kitchen he put together. He's chatting with Andrew Low on a Thursday afternoon, smoking cigarettes and drinking beer, and they're excited that Pungarcher stopped to visit.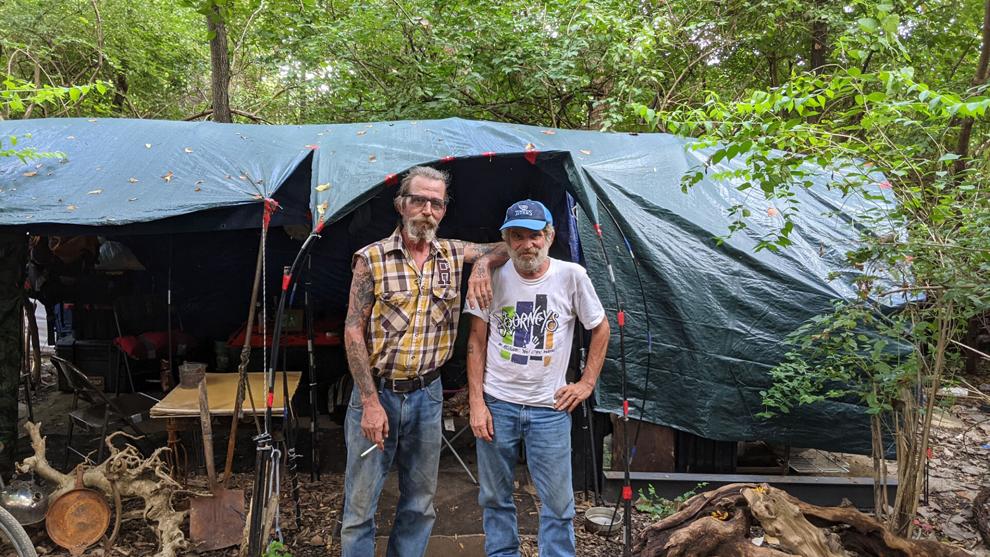 Craig and Low met at Room In The Inn's winter shelter and became fast friends. Craig had only been homeless a few months, while Low has been unhoused off and on since 1989. Pungarcher says the two men, both in their late 50s, helped build Nashville — recent jobs include construction work at Fifth + Broadway. But physical labor is getting harder on them, and housing isn't coming any sooner.
Pungarcher asks them what they think about plans to develop the land near Old Tent City — a project called Wharf Park, which would displace the estimated 150 to 200 people who camp there. Low says that if he and Craig get pushed out by the project, they'll likely just go to another camp. But even options like encampments are starting to get scarce.
"I can understand progress," says Low. "I just think they'd be throwing a lot of money away down here because it's gonna take millions to make this suitable for a park." For example, the city would need to address the flooding that occurs in the area. Low believes it'll take a couple of years for any project to get done, and he hopes he's housed by then. But with poor credit, weekly earnings of $450 and no history of leasing an apartment, it's tough for him to navigate the system. He says the campsite has helped him have the stability to go to work everyday — he doesn't have to worry about returning to a shelter in time to get a bed.
Over the past year, Pungarcher has identified 11 camps that have either closed or are at risk of closing in coming months. In the spring, the city ordered the camp located underneath the Jefferson Street Bridge in Germantown to close down on June 1. The camp's been around for years with dozens of members. When the closure date came, only a few people remained at the camp — the number fluctuated somewhere between five and 12. Metro attributed the reduced numbers at the camp to aggressive housing and rapid rehousing strategies performed in collaboration with the Salvation Army.
Those who remained at the Jefferson Street Bridge site worried police would enforce the closure — the Scene visited the camp a few times during June and July, responding to concerns about removal. But officials maintained that no displacement was planned. Later, Metro workers, service providers and volunteers cleaned garbage out of the camp, but people were allowed to remain in place. Even so, several individuals left, uncertain about what to do next. Some moved to Old Tent City. Most were on a list for housing, but skeptical about if and when they would actually be placed in homes.
"We're gonna load up and find another campsite, and hopefully they don't run us away from there," Terry Warren, a camp resident, said in July. 
At a June press conference decrying the impending closure of the Jefferson Street Bridge camp, outreach workers said shutting the site down would hamper their efforts to help people. What's more, it would cause people to lose touch with friends. Chris Scott's voice breaks when reminiscing about folks from Fort Negley. He says that encampment was an example of a camp that worked for its residents, with rules and a sense of community. The story of the camp is told in the film Saint Cloud Hill, including the dramatic last day when bulldozers dismantled it. While some residents found housing, some didn't, and Scott says most of them went their separate ways.
Camp closures can be expensive. A 2017 study from the National Law Center on Homelessness and Poverty called "Tent City, USA," found Honolulu spent $15,000 a week on campsite sweeps. Los Angeles spent $87 million per year on law enforcement responses to homelessness and just $13 million for housing and services. Even measures like fences can cost thousands of dollars. 
Open Table has called for sanctioned camps — for sites like Old Tent City and the Jefferson Street Bridge encampment to be recognized and protected by the city. The practice is controversial, but there are some examples in the U.S. Denver's sanctioned camp program was met with skepticism, but has since grown from two sites to three. Vancouver, Wash., followed suit and sanctioned campsites earlier this year. Dignity Village has been operating in Portland, Ore., since 2000, and the city is currently looking to set up six "safe rest"  villages.
A 2019 study about encampments from the U.S. Department of Housing and Urban Development notes there is limited research on the effectiveness of sanctioned camps and encampment clearings. But the available evidence suggests that clearing encampments without providing any resources to displaced residents may reduce the likelihood that they seek shelter or other services. 
Conversely, the study found some "promising practices" developing in cities that cleared camps while providing support to displaced residents, like low-barrier shelters — but access to housing is still needed in order to keep people from returning to camps. The study also says "limited evidence suggests that sanctioned encampments help to reduce homelessness," but stresses that such camps are an interim solution.
While Open Table advocates don't deny that encampments can be rough, they stress that people need places to go when housing isn't available. "We can't just keep playing this Whac-A-Mole game of closing a camp because you don't like what it looks like, or you don't like some of the things that are a result of living in poverty and being in survival mode every single day," says Pungarcher.
But Judy Tackett is "adamantly opposed" to sanctioned encampments, especially when the city has so many housing vouchers. However, she says she wouldn't necessarily oppose private entities hosting such camps, depending on how it's done.
The closest thing to a sanctioned camp in Nashville is at Green Street Church, which hosts a microhome community and also allows guests to set up tents. There are rarely more than 20 people there at a time, and drugs and alcohol are not permitted. Pastor Caleb Pickering says the camp came together over time, somewhat unintentionally, after the church allowed one member of the congregation to set up a tent. They soon allowed more people to gather, and while they initially butted heads with neighboring businesses and Metro, the community has become a fairly stable place for people to stay and rest — it even now has showers and bathrooms. Pickering says it may help that the location is somewhat isolated; there aren't houses nearby, and a tall fence offers privacy for the campers and microhome residents.
Rebecca Lowe started the Reclaim Brookmeade group to pressure Metro to do something about the Brookmeade Park camp. As the group's name implies, members want the encampment out of the greenway — but, Lowe says, only if the camp residents get placed in housing or another dignified option.
Still, Reclaim Brookmeade members are very vocal about their concerns, especially safety. The city's greenway website even advises against visiting Brookmeade due to the camp. Lowe herself calls for police to do something about drug dealing and violence in the area, and says the "good people" at the camp are in the minority. She also says crime and incidents like visible drug use and indecent exposure hurt the local businesses near the park. Lowe is unimpressed with Metro's efforts — if 20 people leave the park via mobile navigation centers, another 20 will move in, she says. 
Lowe wants the city to consider converting an unused hospital or empty park to a transitional space. She says she met with one of Mayor John Cooper's staffers but the idea wasn't well received. Lowe believes a campsite with amenities could come together in just 10 days, but she doesn't think Brookmeade would be suitable for such a community — the park is too small, she says, and it was designed for public use, not shelter.
Lowe says hundreds of people have joined her mailing list, but she works most closely with 10 individuals. None of them have any experience working with the homeless, she says, though some have done work around addiction. But she says she's been eager to learn about local homelessness, and adds that she's in communication with a man who used to camp underneath the Jefferson Street Bridge, dubbing him her adviser. Lowe says she and her neighbors feel neglected, and that the city wouldn't let a camp stay in, for instance, Centennial Park. But enforcement isn't currently on the table.
"The ultimate goal is to arrange for housing, and we are working with our Metro partners … to achieve a humane and sustainable resolution," says the Metro Nashville Police Department via a spokesperson. "We understand that these issues have been with us for many years. They did not occur overnight and will take time to resolve."
---
Ending homelessness isn't a pipe dream, though it would be very, very difficult to accomplish. Only five cities in the U.S. have achieved a "functional zero" of homelessness — a definition established by the nonprofit Community Solutions wherein the chronically homeless population is fewer than three people, or less than 0.1 percent of the homeless population at the previous point-in-time count. (About 12 communities have ended veteran homelessness.) One common tool in fighting homelessness is the "by-name" list, which provides real-time information on who needs housing help. Davidson County has one, and it's a key component of Metro's coordinated access entry system, which helps the city identify who is homeless and what services they need the most. A medical respite option is now included in the system, following the opening of a microhome community in July called The Village at Glencliff.
The community offers unhoused people recently released from the hospital a place to recover, so that they don't have to immediately return to the streets. It's located at Glencliff United Methodist Church and is an offshoot of Open Table — it's also a nonprofit run by Ingrid McIntyre, an Open Table co-founder. The microhome community faced some legal battles before its ribbon-cutting, including a lawsuit filed by neighbors that went all the way to the Tennessee Supreme Court, which dismissed the case. The Village at Glencliff is now ready to accept guests into 12 microhomes. (Eventually 24 will be available.)
McIntyre says the community was inspired by a need to make a noticeable difference, and while Open Table couldn't develop a huge building to house people, it could set up something for some of the city's most vulnerable people. "Maybe 98 people won't die on the streets this year because they will have gotten into this medical respite place," she says. More than 100 people who were homeless or had a history of homelessness died in 2020.
Residents will need referrals to join the microhome community, and the coordinated system helps check for availability. Likewise, The Village at Glencliff can coordinate with other service providers to help guests get into the appropriate programs or types of housing they need once they recover.
For McIntyre, she hopes The Village at Glencliff can help correct what she identifies as a broken system, and help create something more equitable.
"All of the folks we serve have somehow been systematically oppressed," she says. "And we really need to not only continue thinking of these solutions in this kind of way, but we also need to think about, systemically, how can we do a better job?"