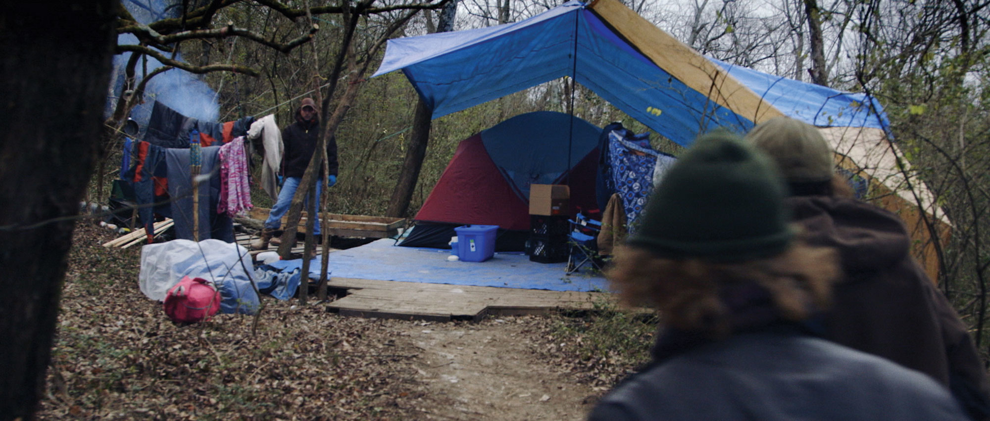 Watching a documentary about your own city can be unsettling — particularly if you're acquainted with any of the subjects of the film. Saint Cloud Hill, from directors Jace Freeman and Sean Clark, documents the final days before a homeless encampment at Nashville's Fort Negley was shut down in 2016. If you lived here as the events were unfolding, you'll likely recall that, after a monthslong fight, bulldozers came in, and the whole area was razed. 
Saint Cloud Hill largely focuses on "Captain" Chris Scott Feiselman, a complicated man with a fiery temper along with a compassionate streak. Because I know Chris personally — I used to edit his work for local street paper The Contributor — I thought I might have a tough time with whatever narrative the directors focused on. But the film, which is showing at the Belcourt on May 28 and playing as part of a documentary series called Reel South on NPT on May 30, showed me a different side of Chris — a side that gave me sense of his empathy. Throughout Saint Cloud Hill, Chris is shown doing everything he can to make the area around Fort Negley, where at one point roughly 50 people experiencing homelessness lived, look presentable. He hopes his efforts will keep the city from dismantling his and his friends' homes.
He builds decks in the woods from pallets, and he and his friends mulch the walkways. They clean up trash. He's friendly to police when they show up to give him a citation. My favorite part is when Chris tells the police they're welcome, and an African American man at the camp says no, actually, the cops are not at all welcome.
The film is shot beautifully — Freeman and Clark used only a two-person crew, and their interaction with their subjects isn't noticeable. The use of sound draws you into the action: the quiet, calm voice of homelessness advocate Lindsey Krinks; the buzz of Chris' chainsaw, which he's using to cut up pallets for the decks; a radio playing A Prairie Home Companion; Chris' voice, whether he's screaming or laughing or ranting or some combination of the three.
The film gives us a close look at several of our city's biggest problems: gentrification, affordable housing, homelessness. In the span of 80 minutes, the film documents the entire process of breaking up the camp — as well as the hopes, dreams and lives damaged. It might make you feel powerless, but that feels intentional. We've already lived through it, and nobody could stop it.