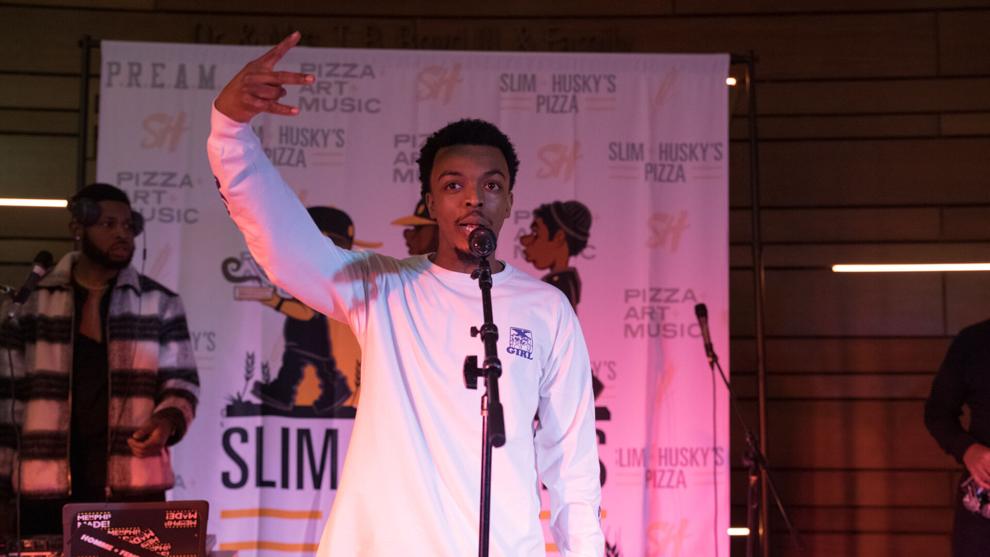 The National Museum of African American Music opened its doors in downtown's Fifth + Broadway development just more than one year ago. Though there was a ribbon-cutting ceremony prior to the museum welcoming the general public, the pandemic derailed plans for a grand opening gala that hasn't been rescheduled. Friday's early-evening festivities in the museum's rotunda may not have been a direct replacement, but with movers and shakers from the Nashville hip-hop scene on the bill, North Nashville pizzaiolos Slim & Husky's covering provisions and a well-dressed crowd filling the room, it felt pretty close.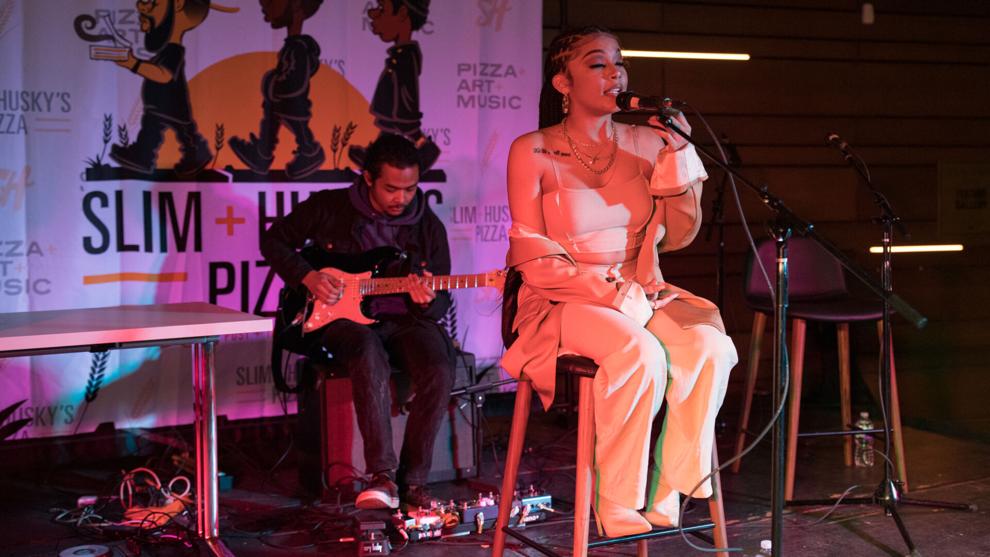 The five-act lineup inaugurated a three-part concert series, called Slim & Husky's Unplugged, in which NMAAM and S&H are partnering up to highlight contemporary local Black musicians on the first Fridays of February, March and April. As early arrivals filed in, a pair of crooners warmed the stage with familiar tunes. Acoustic guitar-slinger William Davenport ended his short set with a cover of Blackstreet's summer '96 standard "No Diggity," while Yours Truly Jai lent her graceful soprano to renditions of tunes by Jill Scott among others.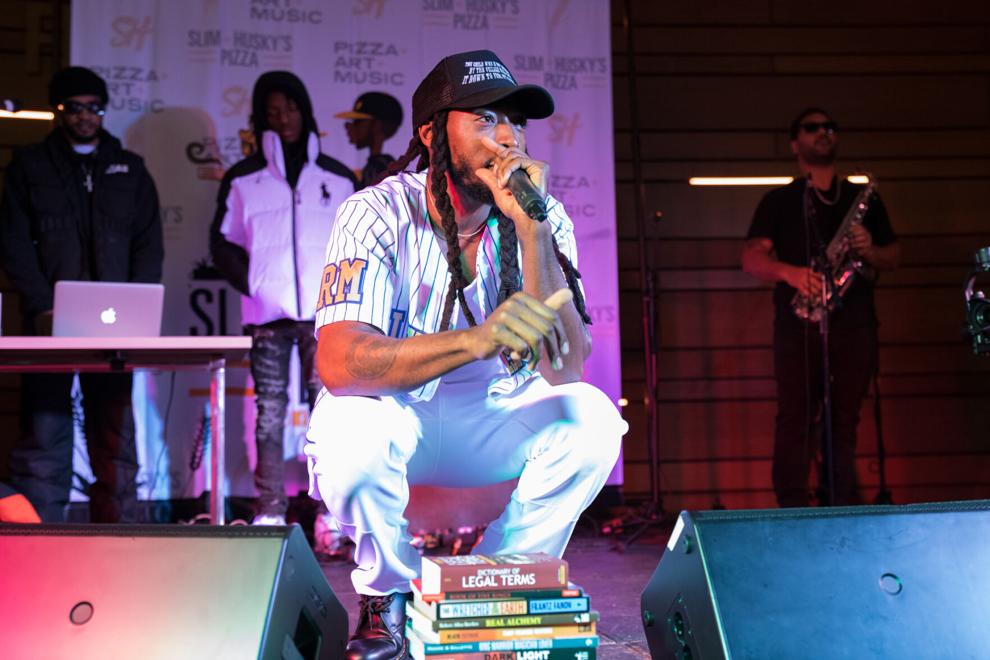 My introduction to Reaux Marquez, at a backyard set at Exit/In in June, spoke to the Bordeaux rapper's perseverance. That night, a leg injury relegated Marquez to a stool but didn't keep him from giving it his all. Now fully recovered, decked out in a custom pinstriped black-and-gold jersey with baseball pants to match, the 26-year-old looked ready to take the field as a ringer for the Vanderbilt Commodores. At the top of the set, Marquez directed the crowd's attention to a stack of a dozen books he'd brought onstage in recognition of Black History Month, extending an open invitation to peruse and discuss post-show. Titles included Black Power: The Politics of Liberation by Charles V. Hamilton and Kwame Ture, Huey P. Newton's autobiography Revolutionary Suicide and the more recent Black Fatigue by Mary-Frances Winters.
Marquez's LP No Roads (which the Scene recognized as Best Album in our 2021 Best of Nashville issue) goes from a spark to an inferno in just a couple tracks, and his set Friday echoed that. It started modestly enough before The BlackSon — a charter member of the Black City crew, which Marquez has worked with — hopped onstage for a vocal sparring session. Brian Brown, the evening's headliner, quickly followed suit, trading verses with Marquez. The two circled one another in a playfully menacing stare-down — only to smile and bear-hug as soon as the music stopped.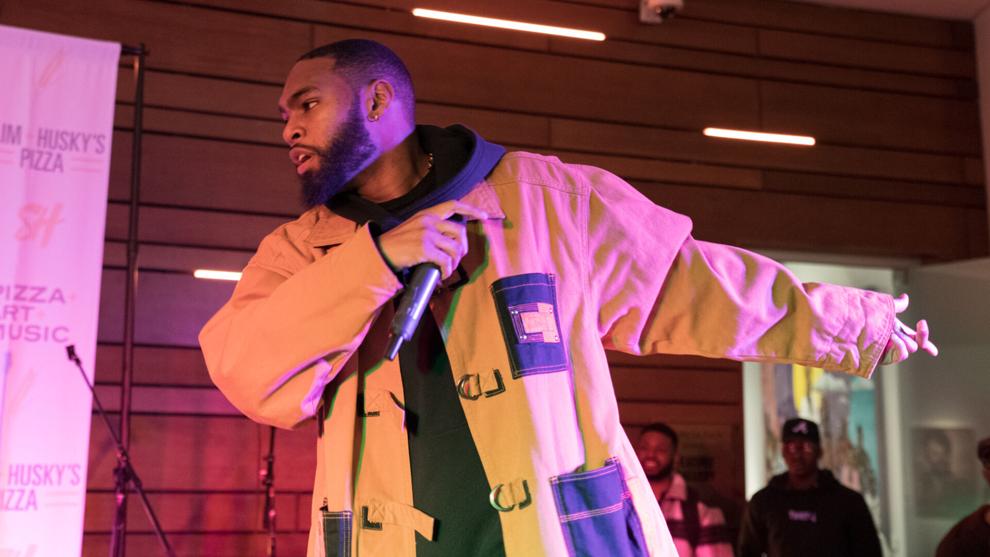 Penultimate act Bryant Taylorr didn't just take the stage — he stormed it, bouncing around as if his shoes had built-in springs and not even breaking a sweat despite rocking a heavy, golden-brown Carhartt jacket and pants in a room with the heat cranked. Each of the night's performers earned high marks for charisma and technical proficiency, but the 27-year-old, Antioch-raised boy-band alum dominated the melody and confidence categories. The ecstatic audience reaction to the melancholic "Fan," set-closing "Pretty Women" — which concluded with a passionate, a cappella call-and-response — and other sultry, soulful material from Taylorr's 2020 EP Rare made a convincing case that he won't be a well-kept local secret much longer.
Taylorr was a tough act to follow, but Brown delivered when he returned to the mic, slight frame draped in a Creamsicle-orange U.T. hoodie as if to erase any doubt about his Volunteer State bona fides. Brown's effortless-sounding flow and penchant for loose, jazzy backing tracks lure in the casual listener, who then gets treated to the intricacy of his quick-witted, tightly written bars. The pandemic deprived Brown's 2020 full-length Journey of a proper album cycle, but half the room had the chorus to its weary yet hopeful highlight "Runnin' " committed to memory regardless. The presence of saxophonist Austin Willé, meanwhile — clad in all black and sporting shades, he drifted on and off the stage throughout the night, but played on nearly every one of Brown's songs — gave the affair one more touch of class.
Before Brown went on, fellow Scene freelancer Lance Conzett and I remarked how we'd only seen these acts either too many hours before the sun went down — Taylorr at The Groove on Record Store Day, or the aforementioned Marquez Exit/In gig — or so late at night that the crowd was unlikely to remember specifics (as with Brown at Spewfest 2019). Though most have performed at least a few local gigs at more normal showtimes, it was a treat to catch everyone absolutely in their element at NMAAM. The gig was an outstanding showcase for some of Music City's top-tier Black talent. And it put an exclamation point on the item in the Scene's Feb. 3 cover story outlining things Nashville needs that points out how the city needs Black-owned ticketed venues to get diverse communities participating in that part of the music business, too.
Slim & Husky's Unplugged at National Museum of African American Music, 2/4/2022
With Brian Brown, Reaux Marquez, Yours Truly Jai, Bryant Taylorr and William Davenport