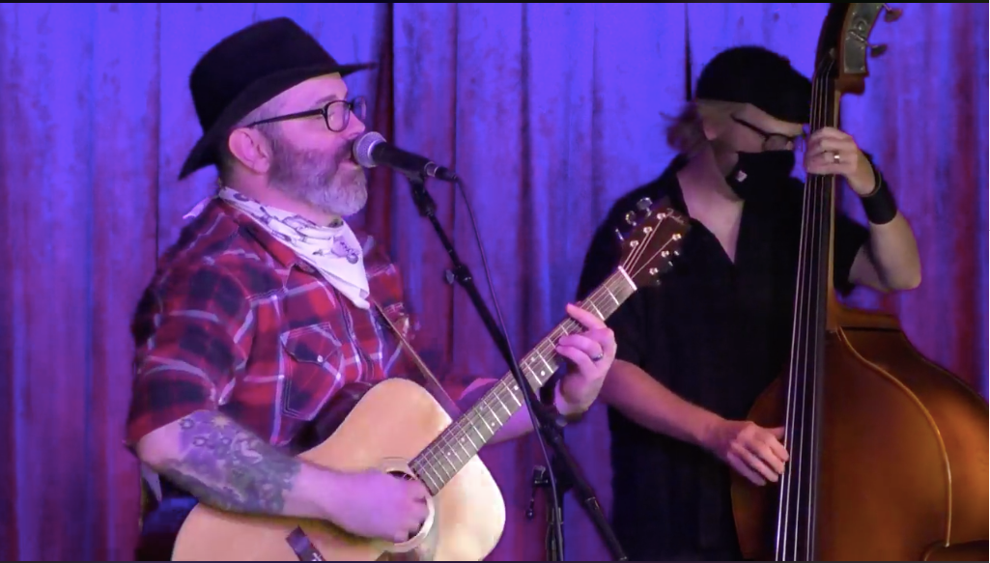 On Wednesday night, beloved East Side venue The 5 Spot fired up its recently beefed-up livestream rig to showcase the stylings of longtime Nashvillian Afton Wolfe. The virtual show, performed to an empty house and streamed via Facebook, served as the release party for the seasoned songwriter and musician's debut solo EP Petronius' Last Meal, which came out on digital outlets and as a limited-run 10-inch this week via TwangriLa Records.
The beauty of The 5 Spot in pre-pandemic times was that you could wander in on any given night and find someone delightful on stage, whether you've heard of them or not, without spending much on the cover. While it felt strange to not have to push through a crowd of friends and strangers to take advantage of the beer deals and get a better spot near the stage, the show captured the room's serendipitous energy with help from the venue's sharp new multi-camera setup.
Wolfe, on acoustic guitar, and his band, which included Patrick Stevens on electric guitar, Daniel Seymour on stand-up bass and Seth Fox on wind instruments, took the stage in socially distanced fashion wearing bandanna face masks. Their opening number was "Notes Written on Basil," which is based on Dave Eggers' short story "Notes for a Story of a Man Who Will Not Die Alone," a piece that contemplates the ethics of death. Wolfe has participated in various other musical projects and groups around the South over the past two decades, but Petronius' Last Meal is his first attempt at writing for himself and honing in on his own particular solo sound. By the end of the tune, it was clear the sound he's developed is Tom Waits (smattering of improvisational jazz included) meets Delta blues. Wolfe's Southern Mississippi roots were clear, but his beatnik storytelling lyricism was the star of the show.
The group moved along to a klezmer-tinged rendition of Mike West's "Mrs. Ernst's Piano," a parable about race relations in the South that felt perfectly timely. The group ran through songs like "Slingshots," where Wolfe accented his gravelly, growling singing with howls for the most Waits-like moments of the set. "We're gonna slow down a little bit," said Wolfe, before playing a pensive, romantic number that hasn't been released yet. That was followed by "Wait on Me," which ends the EP on a positive note, in both sound and sentiment. Wolfe & Co. closed the set with "So Long Sweet Lime," an ominous, steady-paced ballad, accented with swirls of flute from Fox.
The set was understated, and the livestream format almost fit the scenario better than if Wolfe had to sing over a talkative audience. He managed to capture excellently the overarching anxiety of our current strife and play out scenarios that you could almost step into — a reminder of musicians' enduring spirit under adverse conditions and the point of making music in the first place.