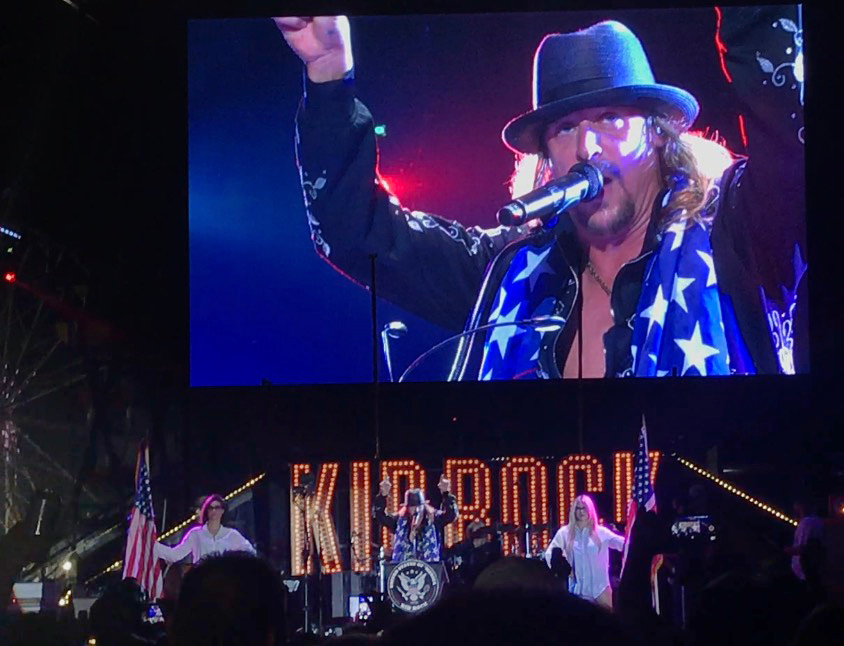 Over the weekend, I attended the second day of Kid Rock's third annual Fish Fry at the Carl Black Chevy Woods Amphitheater at Fontanel, and I wrote it up for our friends over at Rolling Stone Country. (I am recovering just fine, thanks to all of you who have inquired.) As you'll see from my coverage, there were a couple of mentions of the Oct. 1 shooting at the Route 91 Harvest festival in Las Vegas, as well as "Kid Rock for U.S. Senate" merch, images of the flag and the troops, pyro, corn hole and more. Folks were mostly cordial — one woman called me an "angel" for letting her cut me in line, and another called me the "best man in the world" for simply giving her a book of matches. People drank, smoked weed, chanted "U.S.A.!" here and there. I found a discarded Kentucky Mega Millions lotto ticket in a porta-potty. There was a guy in a shirt that said "Vagina" in font made to look like the Coca-Cola logo; people took pictures with him.
At the top of Rock's headlining set — after a fireworks-peppered, blowout rendition of his tune "Greatest Show on Earth" — the "Bawitdaba" singer leaned hard into that aforementioned "Kid Rock for U.S. Senate" bit of his. He delivered what I referred to in my coverage as a "a profanity-laden five-minute tirade — a meandering poem, if you want to call it that," during which he talked about subsidized health care, redistribution of wealth, deadbeat dads, kneeling during the national anthem, LGBT rights, Jesus Christ and grabbing his genitals while standing on the desk in the Oval Office. Then he launched into "You Never Met a Motherfucker Quite Like Me" from 2001's Cocky. 
Anyhow, I recorded all of Rock's faux stump speech and later transcribed it. If you want to know what kind of platform the guy is standing on, have a look below.
It seems the government wants to give everybody health care, but wants us all to pay. Well, to be very frank, I really don't have a problem with that. But that's because God has blessed me, and made my pockets fat. But a redistribution of wealth seems more like their plan, and I don't believe that you should save, sacrifice and do things by the book, and then have to take care of some deadbeat, milking-the-system, lazy-ass motherfucking man.

Now, the issue of single parents struggling — an issue close to my heart. Well, read my lips: We should not reward those who cannot even take care of themselves, but keep having kid after fucking kid. Of course we should help them out. I don't want to come off as insensitive, or sound like a jerk. But let's help them out with child care, job training and find them a place to go to work. And you deadbeat dads who refuse to be a man, who refuse to be there for your sons and raise them up to be good men? You no-good, derelict, sperm-donor wannabes? I say lock all you assholes up and throw away the fucking key.

And if you wanna take a knee, or sit during our "Star Spangled Banner," call me a racist 'cause I'm not PC, and think you have to remind me that black lives matter. Nazis, bigots and now again the KKK? I say fuck all you assholes, stay the hell away.

And why these days is everything so damn gay. I mean, gay rights this, and transgender that. I say the hell with it. Let them get married if they want, 'cause we've got way bigger problems to worry about than all that. But things shouldn't be this complicated, and no, you don't get to choose — because whatever you have between your legs should determine the bathroom that you use. Pretty simple.

Now, let me talk about it. It's no secret we're divided, and we all should take some blame. We should be ashamed because we all seem scared to call him by his name. So please, almighty Jesus, if you're looking down tonight, please guide us with your wisdom and give us strength to fight. To fight the tyrant evils that lurk here and abroad, and remind us all we are still just one nation under God.

Now if "Kid Rock for Senate" has got some folks in disarray, wait till they hear "Kid Rock for President of the U.S.A." 'Cause wouldn't it be a sight to see? President Kid Rock in Washington, D.C.? Standing on the desk in the Oval Office like a G? Holding my dick, ready to address the whole country? I'll look 'em all square in the eyes, live on TV, and I'll simply tell them, "You've never met a motherfucker quite like me."