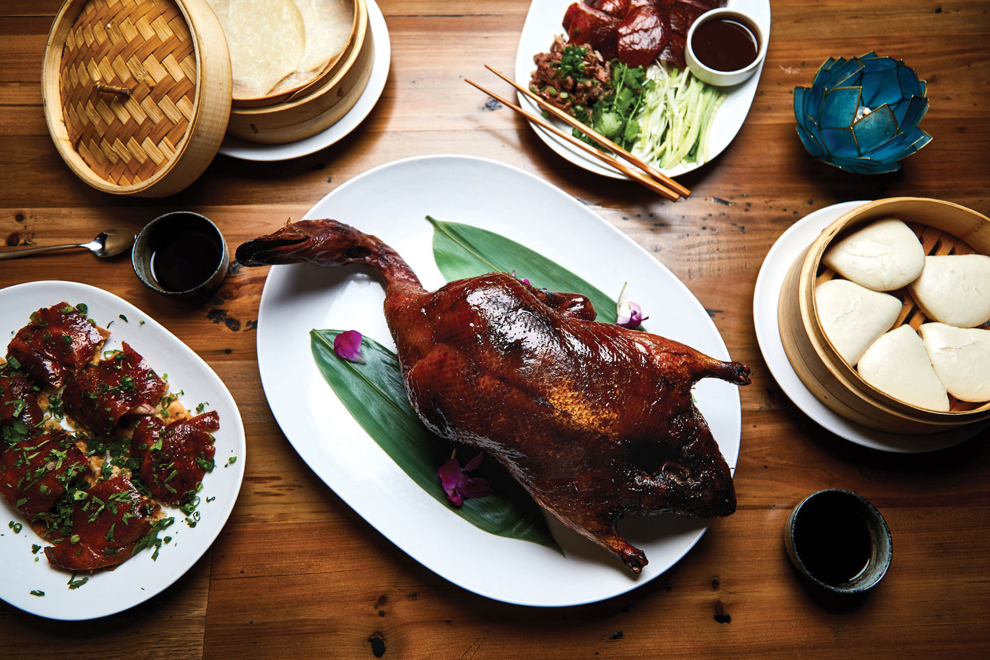 The Chinese food scene in Nashville is weak. Everybody knows it. If you don't believe me, believe all the chefs who answered "Chinese" in the Scene's recent food-industry survey when asked, "What kind of food is Nashville missing?" But for restaurants like Tánsuŏ, the second dining spot in Maneet Chauhan's growing Gulch empire, the hope that Tánsuŏ might finally be the conventional Chinese restaurant of our collective dreams causes problems. And I should know — I was one of those problems.
My first time at Tánsuŏ, I was ready for the full fortune-cookie experience. Outfitted in my stretchiest pants, I was going to stuff myself silly on fancy fried rice and leave with an MSG buzz and a bunch of to-go boxes. Three trips later, I can tell you that's not what Tánsuŏ is; it was never trying to be, no matter how much we expected it. And that's on us, diners and critics. We projected years of wanting good, casual Chinese food onto a restaurant that's doing something different — and, in many ways, more interesting — than that. So how do we reset? We eat.
First things first: dumplings. I would give my good eye (the right one) for an authentic dumpling, and Tánsuŏ's lamb version is spectacular. Delicate, stretchy packages of lamb, cumin, scallion and soy are deeply spiced, brothy and better than their pork counterparts. I lost some of the precious liquid due to steamer stickage, but the ones I got unpunctured were an earthy, meaty, slurpable delight. 
Next up was tofu, which I never eat — I know, vegans, I am the worst. "Mapo" means "old woman whose face is pockmarked," and I'm grateful I waited to Google that until after dinner, because I devoured every bite. The tofu is simmered with chilies, pork, black beans and Sichuan peppercorns, which are actually a kind of coriander that will set your mouth a-tingle. The pork gives it a good chew, and the spices add a lemony, fiery finish. In the future, I'd order this toward the end of the meal, not before, as every third bite is taste-bud napalm and can deaden the palate. 
To drink, there are no wrong answers. At dim sum brunch on Sundays (the best time to go, for my money), the Rising Phoenix — a bloody mary with ginger, oyster sauce and Sriracha — is a briny wakeup call. The Shanghai Shandy is dangerously drinkable: a saison, lemonade and ginger beer mix that's fizzy and fruity. I also like the Beijing: vodka, kiwi, Chinese plum, dragon fruit, lime and cava. It's sparkly, acidic and just sneaky enough.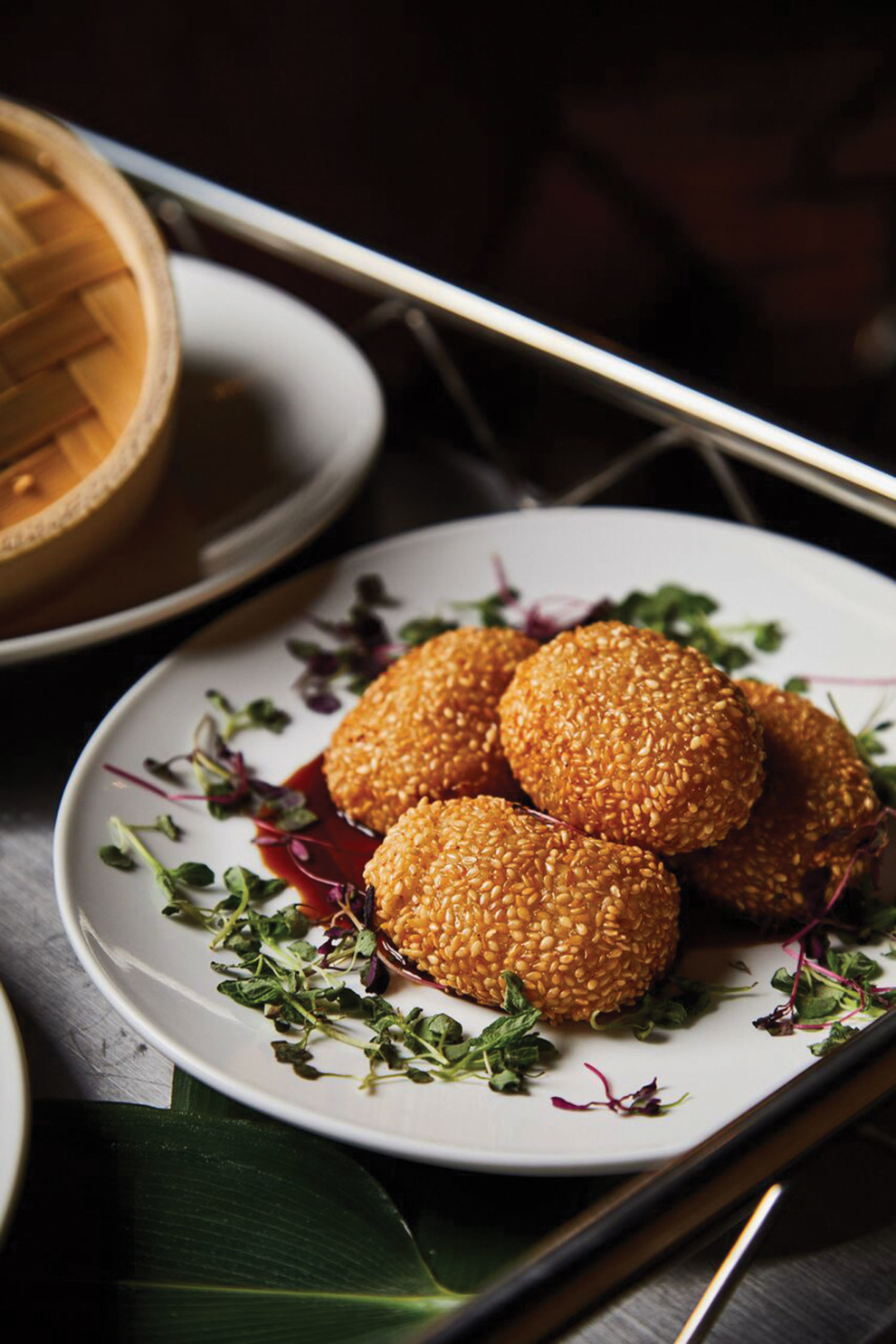 The littleneck clams confirmed a weird theory I've been working on: Nashville's clam game is impeccable as of late. Between the vermouth version at Nicky's Coal Fired, the jerk-spiced ones at Little Octopus and these at Tánsuŏ — a tangy mix of Chinese wine and fermented black beans — it's bivalve time in Tennessee, and I am here for it. Next I tried the firecracker wontons: mini egg rolls filled with braised short rib and a chili-soy sauce. I dug them hard and wanted more sauce. (I like a sloppy dunk.) The sesame golden eggs, however, came swimming in it, and these things — rice dough stuffed with shiitakes and tofu, fried like funnel cakes and sprinkled with sesame seeds — are delightfully nuts. Remember in Elf when Buddy eats a cotton ball, and it's weird and wrong, but he's so happy that you kind of want to eat one, too? That's what these did to my face. 
And that reaction is indicative of what executive chef Chris Cheung does best: contemporary Chinese that is playful yet refined. Having cooked under heavy hitters like Jean-Georges Vongerichten and Masaharu Morimoto, Cheung's spit-and-polish is to be expected. But he did grow up in New York's Chinatown and has cooked in fishing villages outside Shanghai. The tradition is there, but it can be hard to spot inside Tánsuŏ's slick, lanterned space. And about that: The decor is striking, but the place can feel cavernous, which I don't love. Is that because I diagnosed myself with seasonal affective disorder in '93 via Northern Exposure? Perhaps. Mama needs some natural light.
ANYWAY. The veggie dumplings were good, but I'd save that stomach space, and the same goes for the chicken wings. The Sichuan vegetables, on the other hand, I'll order every time: stir-fried snow peas, beef-braised carrots and other veggies that keep their snap despite hot-pot-style saucing. The veggie chow mein is full of yummy, crunchy things (baby corn, water chestnuts), ultra thin noodles and fresh bamboo, which is a treat. But the chow mein, like the fried rice, needed more seasoning. Sauce is crucial for me in Asian cuisine (I'd live on soy and gochujang if my doctor weren't so judgmental), and I wanted more on half the dishes. I know some aren't meant to be saucy, but the menu might work better if it were divided into "wet" and "dry" like barbecue, so you could make sure to order both. However, if you, like me, are unafraid of doing weird shit with food in public, mix your tofu with your chow mein and thank me later.
On my last trip, I pulled the rip cord: Peking duck. It takes 48 hours and $65 to get that thing paraded through the dining room to your table, and it's every bit the upscale Chili's-fajita scenario you might imagine. It comes three ways: diced breast, crisped on pancakes and sliced with skin. The pancakes were a touch greasy, and the skin not quite shatteringly crisp, but the meat was excellent — juicy, salty, rich — and the buns and crepes were springy backdrops for the glorious fat. I will admit: When the bird was brought to the table post-carving, I did wonder, "Is this the whole thing?" I've picked a duck carcass or two (what lady hasn't?), and I bet I could've found some more meat. It was damn good, but carve that sucker tableside!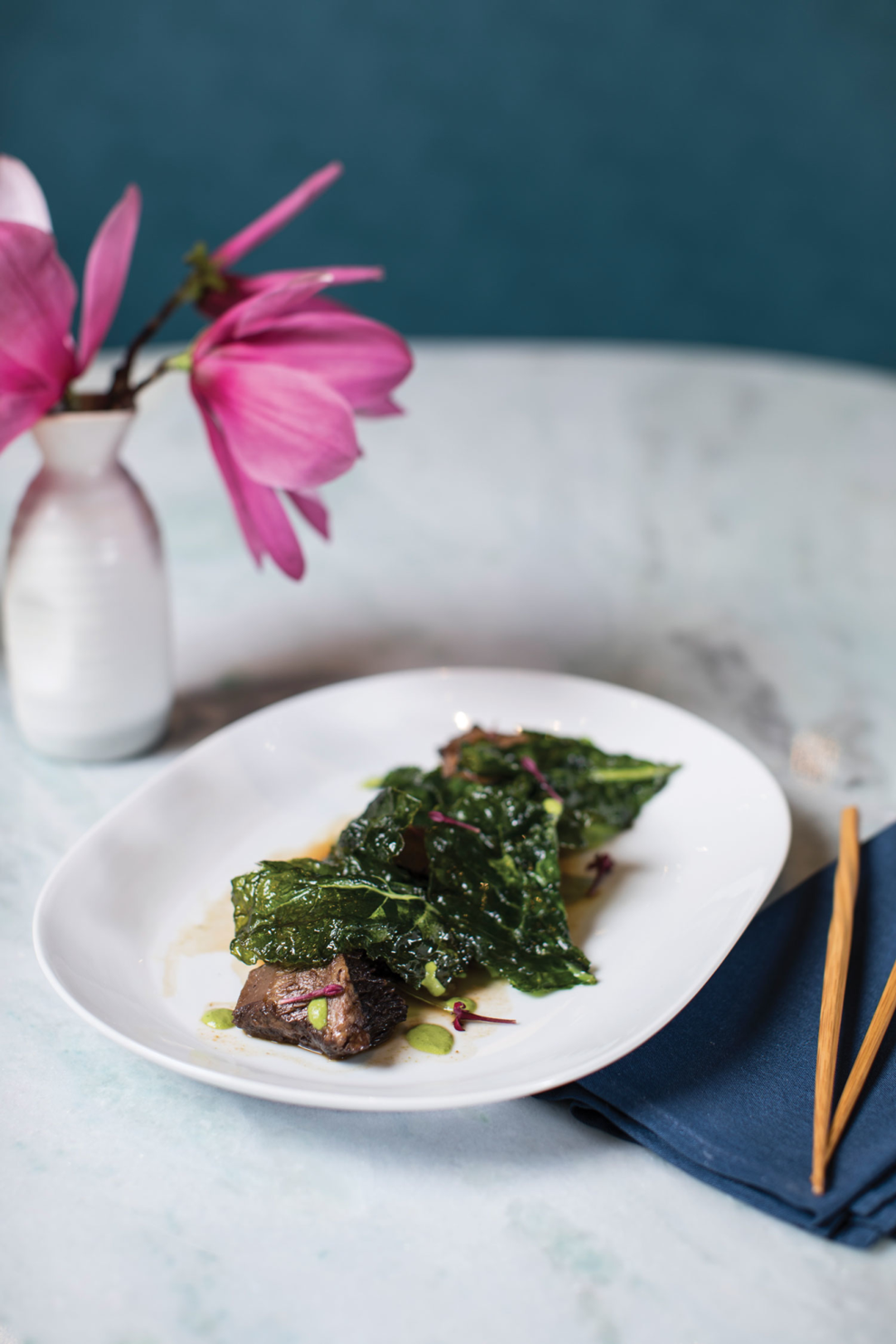 The beef gai lan is billed as Tánsuŏ's "beef and broccoli" — tender short rib shellacked with rich, dark oyster sauce, plated on bright-green broccoli puree, topped with fried leaves. It's lovely and tasty, but having servers explain it as "beef and broccoli" sets the wrong expectation and does a disservice to what it actually is: a great short rib dish. For dessert, the lychee custard tart was perfect: tangy fruit, flaky crust, silky coconut custard. I don't do sweet things, but berry pastry is my jam, and Tánsuŏ nails it. 
So is Tánsuŏ the great Chinese food Nashville's been waiting for? Not exactly, but also, enough with that question. I don't walk into Rolf & Daughters expecting a score of spaghetti in red sauce, so why are we doing that sort of thing to Tánsuŏ? Their name literally means "to explore" in Cantonese, and I wish they'd lean into that — get weird, go local and ditch generic-sounding names like "Chinatown Chow Mein." Their food is good, and that's what's going to keep open-minded, adventurous Nashvillians coming back.
Email arts@nashvillescene.com