Like many of us, Shannon Largen was facing a professional crossroads in 2020. She had worked for the Nashville Convention & Visitors Corp for 16 years, training folks and also starting and running the Music City Greeter program.
"I love Nashville, love hospitality and telling people about my favorite city," Largen says. She assumed she would return to her job at the NCVC, having been laid off in 2020 when tourism dipped. But the longer the pandemic continued, the more Largen started thinking about what she wanted to do next.
She called Karen-Lee Ryan, founder and then-owner of food-tour company Walk Eat Nashville, about becoming a tour guide. Largen had taken three Walk Eat tours over the years and knew Ryan from their hospitality work. They had similar philosophies about showing both visitors and locals a more well-rounded Nashville than some more tourist-centric offerings. Both love food, chefs and telling the story of how Nashville's food scene has blossomed in recent years.
At the time, Walk Eat Nashville was on hiatus. The combination of the March 2020 tornado — which shuttered several participating restaurants on the East Nashville tour route — and the pandemic put things on pause for more than a year-and-a-half. Largen also learned that Ryan was considering selling the company. Though she remains one of Nashville's biggest cheerleaders and still visits regularly to support her favorite chefs, Ryan had moved to Tulsa, Okla. Largen and Ryan's phone call turned into an opportunity.
Largen is now owner and CEO (i.e., chief eating officer) of Walk Eat Nashville, the company Ryan launched in 2014. (Fun fact: The Scene was on the scene when Ryan led her first tour more than seven years ago.)
Each walking tour takes about three hours, with five tasting stops lasting about 20 minutes per stop. They are designed as small group experiences, with no more than 12 people in a group and the average being around six. Each tour is led by a hospitality professional or a journalist, and they are unscripted. While each tour has certain highlights and themes to include, each guide brings their own experience and interests to their guests. (Full disclosure, many Scene writers have led tours for Walk Eat Nashville in past years, including Chris Chamberlain, Jennifer Justus and me.)
Largen, who was raised by a single mother on a budget, credits her grandfather for igniting her passion in food. "He took us to nice restaurants and out on vacation," she says. At one point as an adult, she had a job that required her to travel 45 weeks a year, which further opened her eyes to the world of eating out. Later she married into a family of restaurateurs.
She's relaunching the homegrown food tours, building on Ryan's foundation of focusing on locally owned kitchens, and giving tour-goers the opportunity to meet the people behind the dishes. You won't find a hot chicken stop on any of the tour lineups — Largen feels that folks already know about the dish and are likely to seek it out on their own. Many guides do tell the story of hot chicken, however, when talking about Nashville's culinary history.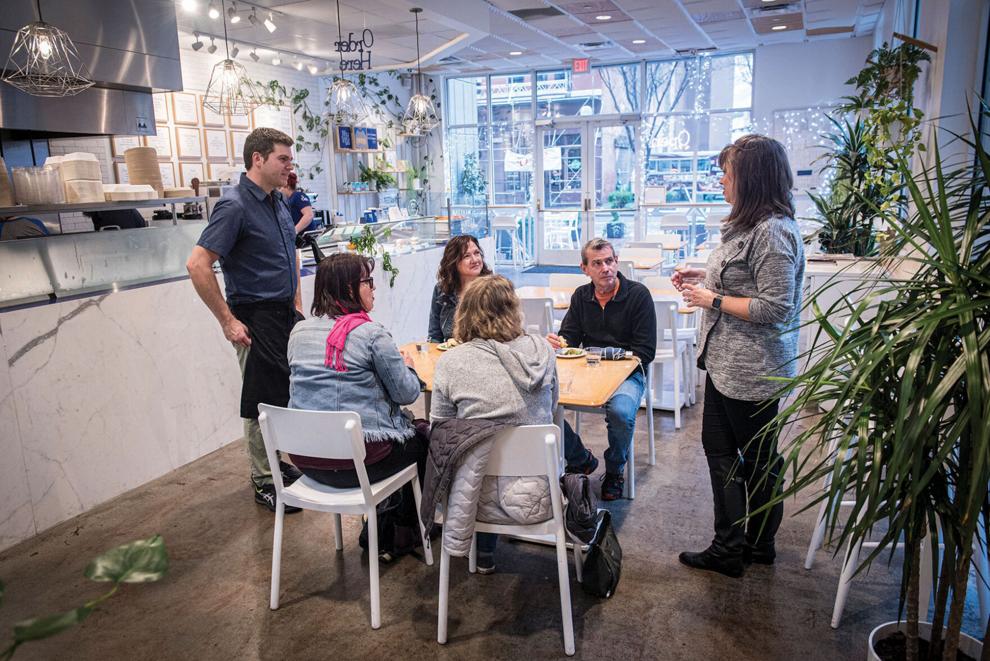 At The Farm House, which has been on the downtown food route for years, tour-goers come by during lunch, before the dinner-only restaurant is officially open. That gives Trey Cioccia, The Farm House's chef and owner, a chance to talk at length to diners, telling them about his food and his hometown. He estimates about 90 percent come back for a full meal at the restaurant after being introduced on a tour.
"One of my goals with the CVC was to introduce people to the neighborhoods," Largen says. "Nashville has so much to offer. Broadway is part of that, but we want them to explore all of what we have." Tours cost $85, plus tax and fees, and walk through all sorts of weather (although not through dangerous conditions).
Historically the tours have attracted both locals and visitors. For locals in particular, it can be a good way to learn about all the new restaurants and changes that have taken place over the past two years. "As locals, too, we often do not play in our own backyards," Largen says.
Bryan Lee Weaver, executive chef and partner at Butcher & Bee, has been surprised by the number of locals who have been introduced to the restaurant while on a Walk Eat Nashville tour. In the early days of the restaurant, he says, it was helpful having a full, engaged table of tour-goers visible in the window at lunch. Diners sample the mezze part of the Butcher & Bee menu — and yes, that includes the popular whipped feta.
While Largen has largely stuck with Ryan's formula for success, there are new stops on the tours. Downtown now has Assembly Food Hall, and both Steam Boys and Slim & Husky's are stops at Fifth + Broadway. One of East Nashville's routes now includes chef Sean Brock's Joyland.
Goo Goo Chocolate Co. has been through an overhaul of its own since it last hosted a tour, and Walk Eat Nashville tour-goers got to be among the first folks back in the interactive remodeled space. "We love having Walk Eat Nashville come through Goo Goo Chocolate Co. as part of their tours, and they do such an incredible job of giving the guests on their tour a culinary snapshot of Nashville," says Beth Sachan, vice president of sales and marketing for the century-old candy brand. "There is so much history to our story that the tour guides are able to share in such a fun and engaging way that often turns their guests into Goo Goo enthusiasts."
For the locally beloved Ryan — who was an editor at The Tennessean before starting Walk Eat — selling the business she built from the ground up was difficult. But it was made less so by finding a buyer who shares her sensibilities about Nashville. Seeing that restaurants and guides want to continue with Largen at the helm has been "the most heartwarming part," Ryan says. "It has been amazing to see the business in her extremely capable hands, and I'm so happy to see it rejuvenated. It has made the transition seamless."
Ryan will stay on in an advisory role for the next six months, a safety net for which Largen says she is grateful.
Pre-pandemic, Walk Eat offered multiple tours in East Nashville, downtown and Midtown. For now, the Midtown routes are on hold. Book tours online at walkeatnashville.com in advance. Currently public tours take place Thursdays, Fridays and Saturdays. Private tours are available.