If you've ever done a tasting menu for a Big Night Out, the following scenario may sound familiar. You do your research, find a sweet deal — $125 per person — and snag the last two seats. You get a sitter. You get an Uber. And you have a blast. The only downside? That blast shows up on your bill. Once you add the tax, tip and wine-soaked upgrades (plus that round of shots you bought the staff on your way out) you've tripled your costs. Of course, restaurants deserve every damn dime — especially right now, and especially when they're putting every cook at risk for carpal tunnel making 300 agnolotti. But having one of these seismic shifts in your bank account can leave you feeling hesitant when it comes to booking "an experience" instead of a meal again.
Well, fear not. Today, we blast-proof your next Big Night Out by breaking down Nashville's best tasting menus. Search by your pain point — price, length, day — until you find a tasting menu that's just right for you. We even found a couple where black stretch pants are welcome. 
Note: We originally included a dietary restrictions column, but after speaking with several chefs, most agreed they'll do their best to work around any allergies or restrictions (even if their website says they can't or won't). Our advice: Make your reservation as far in advance as possible, and follow it up with a phone call, email or DM to ensure your message was received.
Audrey
Sean Brock's newest restaurant is named for his grandmother Audrey, whom he credits for teaching him to love local ingredients and regional cuisine. He calls it his "most personal project to date," and that feels true. The space is warm, welcoming, chicly appointed with Appalachian art and flooded with light. In short, it's a vibe — a calm, approachable yet edifying one that's distinctly different from everything else on this list.
Best bit: The $60 wine pairing is accessible for all palates. Sommeliers enthusiastically explain what you're tasting without making you feel like a moron for not already knowing about the biodynamic process used to make La Collina's Lunaris Secco (which is, in non-oenophile terms, a totally dope upgrade from prosecco).  
Best bites: 
The Border Springs lamb trio with Bordeaux-Blanc sauce is worth every penny of its $97 price tag. (And remember: It comes with six other plates.)
The otorro (fatty tuna) with sorghum glaze was rich, savory bliss. It was also an add-on, so pad your budget and plan for a couple à la carte items.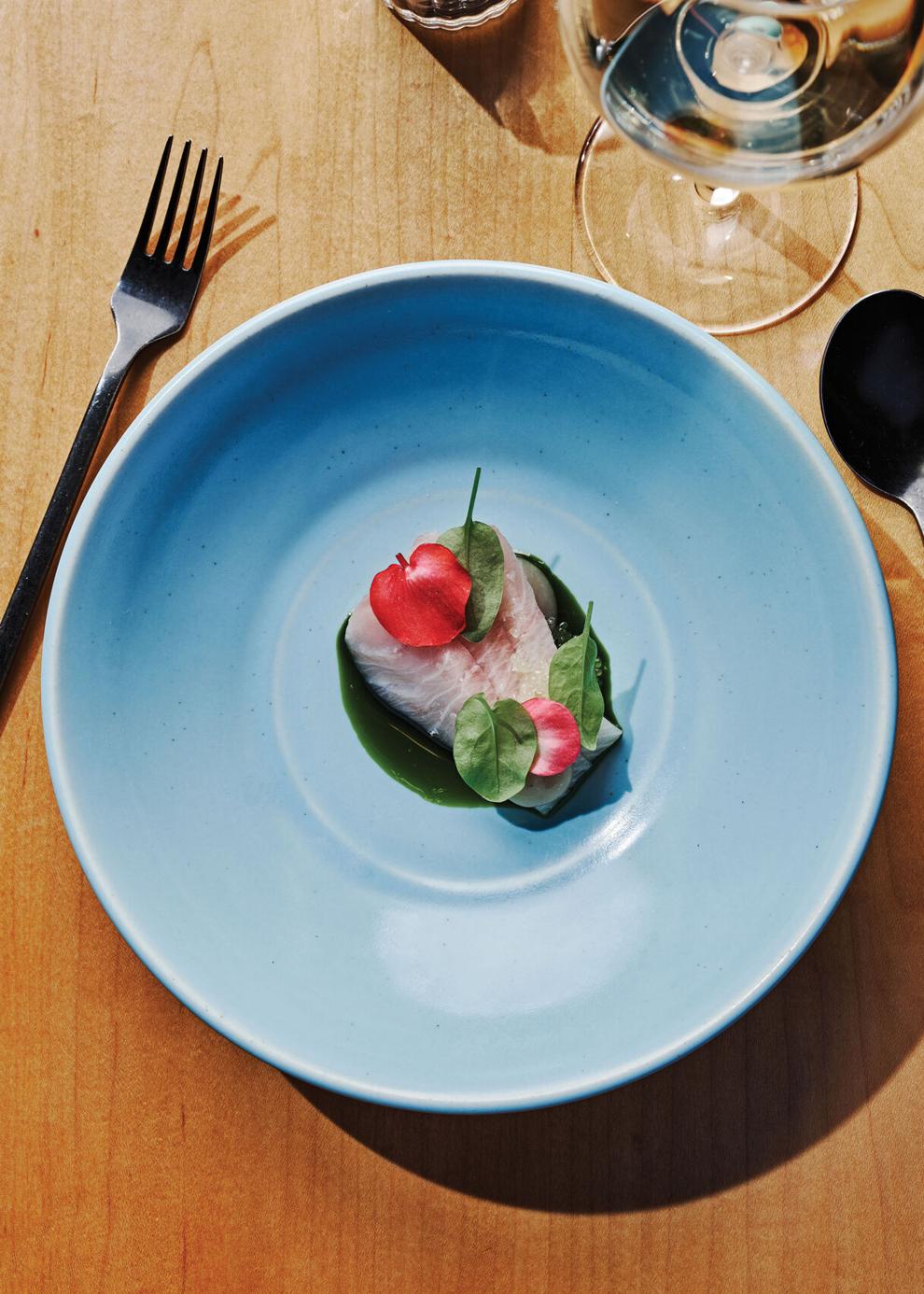 Bastion
If someone is looking for an inventive, impeccable meal, I send them one of three places: Locust, Peninsula or Bastion. Bastion has long been the standard when it comes to being laid-back yet forward-thinking. Steve Cavendish said it best in the Scene's 2016 review, which is still accurate: "Bastion feels like [chef Josh] Habiger's most self-assured work yet. There's the technique and ideas of his Catbird Seat years without the formality, and the comfortable vibe of Pinewood Social without the need to hew to Americana influences."
To paraphrase Cavendish: Bastion is not just good or great — it is essential. 
Bottom line: If you're stepping into tasting menus for the first time, start at Bastion.
Hot tips: 
If you know your party's too precious for tasting-menu portions, book The Feast. It's part tasting menu, part greatest hits, all served family-style for four to six people. Habiger also tells me it's about to come with a new choose-your-own-adventure grid (like the one they launched the food menu with), but for wine instead of food. 
You can also BYOB for a reasonable $25 corkage fee per bottle. As far as I know, Bastion is the only tasting menu in town where you can brown-bag booze.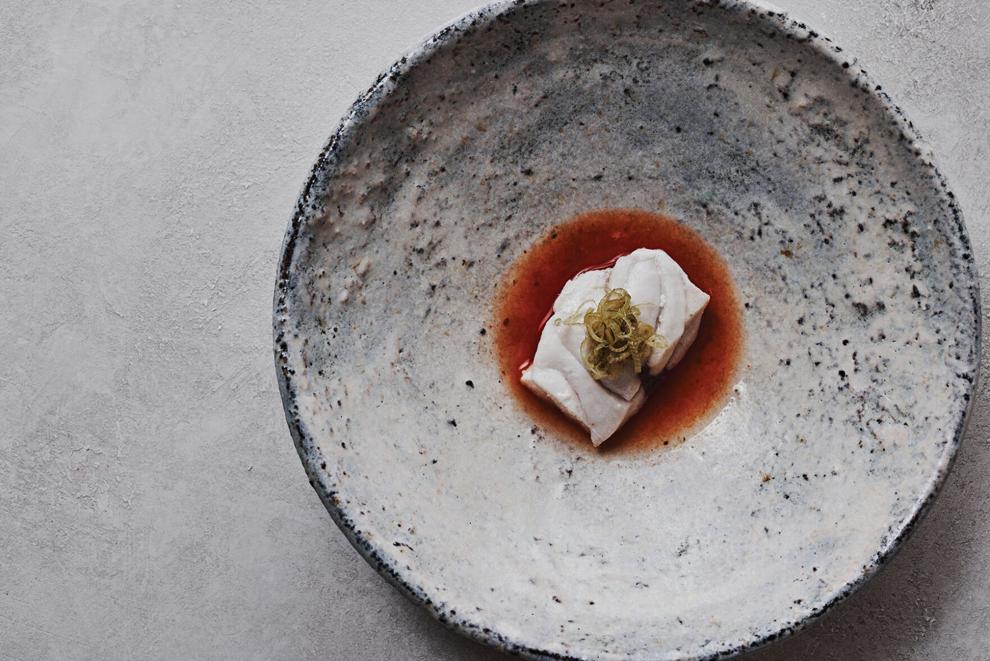 The Catbird Seat
The Catbird Seat is to tasting menus what Prince's is to hot chicken. They were the first to offer a world-class tasting menu in Nashville back in 2011, and in many ways, they'll always be the best. The sleek, avant-garde restaurant/lab changes chefs every few years, but it's always helmed by someone who's cooked in the best restaurants in the world. (See: the aforementioned Habiger as well as Trevor Moran, now of Locust.) 
Like those who came before him, chef Brian Baxter serves a 10- to 18-course menu that is highly technique-driven. Think mind-bending stuff like salty and smoky swordfish sushi — the fish is cured and shaved like country ham — as well as the hay-smoked mussels in sauce poulette with cured egg yolk. If you've ever done a tasting menu in Chicago, New York or Paris — or if you've ever wanted to — The Catbird Seat is that, but right here at home. 
Seat yourself: One of the best things about The Catbird Seat — the square bar and open kitchen let you interact with the chefs and sommeliers in rare, fascinating ways. If you're going for the first time, go as a party of two or ask to be seated at the bar. Four-person parties are sometimes seated at the chef's table on the side, which sounds like an upgrade, but isn't as much fun.
The Chef & I
Chris and Erica Rains bill their restaurant as "a little bit gourmet and a little bit rock 'n' roll," so if foie gras and fish eggs aren't for you, try The Chef & I. My Scene colleague Chris Chamberlain has eaten there since back when they were serving people out of their Lenox Village catering kitchen. Chris says: "The chef's bar was where they dreamed up dishes every night from their leftover ingredients from catering gigs. … It's  a lot more interactive than most chef's tables where the chefs are more focused on the dishes than the customers (not that there's anything wrong with that in some places). It can get a little boisterous, and even downright rowdy — not that there's anything wrong with that either! It's best for a visitor seeking out a novel Nashville experience, or a local looking for a fun night out more than a revelatory culinary experience."
Moving on up(town): After several years in the Gulch, The Chef & I recently moved to the space in the bottom of the Adelicia in Midtown (formerly Le Sel, Music City Tippler, etc.). Their soft opening was June 1-2. 
The Continental
If you have to go to Lower Broadway these days, The Continental is the only place where swanky still beats out sloppy. As Sean Brock's tribute to the grand hotel dining of yesteryear, the Grand Hyatt restaurant is a sumptuous escape to another time — green velvet sofas, gilded fixtures, smartly dressed servers pushing carts of prime rib to carve tableside.
Choose wisely: The Continental recently shifted to include both tasting and à la carte menus.
If you're there mostly for the vibe, opt for the tasting menu. 
If you want to taste the best dishes, build your own. See: The paragon of prime rib ($54) and pâté en croûte ($18). Then look back at the Scene's full review from November for a cheat sheet. 
If you play your courses right, a build-your-own tasting menu can be cheaper — if you steel yourself against upgrades like imperial golden Russian osetra caviar, which is a cool $175 per ounce.
Hot tip: If you only have an hour, hit The Vesper Club. While it's physically just part of the restaurant, it actually also has a little tasting menu, pairing five small martinis with caviar bites. It'll run you $129 with tax and tip, after which you should try to score a seat at the other bar and order the bonkers burger, made from prime-rib trimmings and topped with foie gras mayonnaise.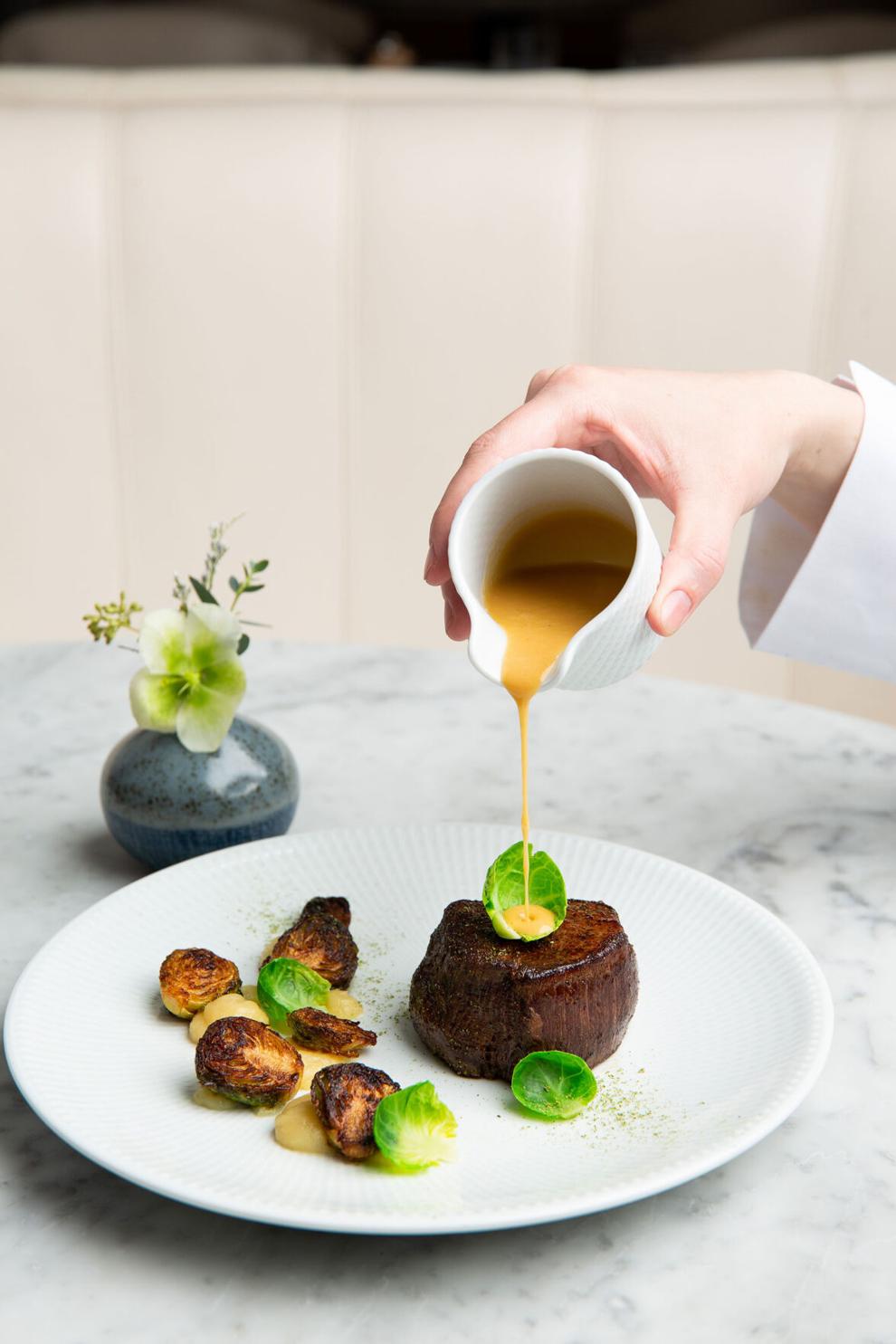 Drusie & Darr
Speaking of downtown havens of civility, there's also Drusie & Darr inside the Hermitage Hotel. Conceived by renowned French chef Jean-Georges Vongerichten, D&D is the only place on this list where the menu was created by a chef with two Michelin stars. (Yolan's chef has one.) Those stars mean you're going to get flawless food and flawless service, every time. The food is elevated yet still easily engaging. The same is true of the redesigned Capitol Grille space: It's immaculate but still inviting, and the staff is a big part of that.
Best bites:
Since Vongerichten works equally well with French, American and Asian flavors, you get the best of all worlds. (See: Crispy Sushi, made with sea trout, chipotle emulsion, soy glaze, mint.)
The tasting menu is reasonable at $138 for five courses. One course, however, is Vongerichten's signature egg toast. It comes covered in caviar and costs $62 à la carte, so you're actually getting a deal.
Best bits:
D&D is one of two places on this list where the executive chef is female. (So, hooray! But also, WTF, Nashville?) Kelsi Armijo runs their kitchen.
Half the table can do the tasting menu while half orders à la carte.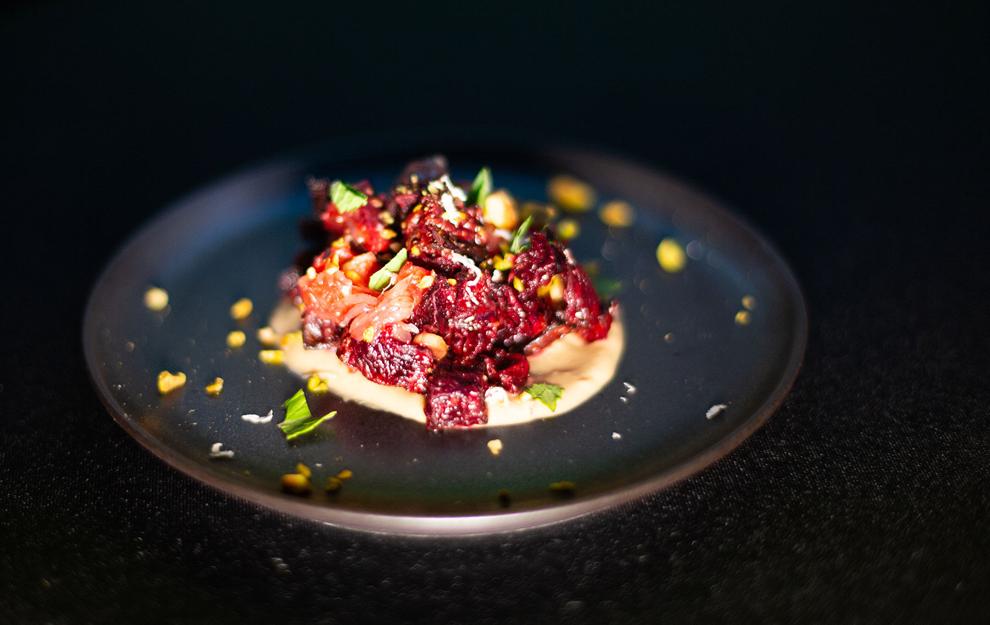 Nightscape
Nightscape bills itself as a "multisensory immersive experience," not a tasting menu, and that's apt. While the current Italian Villa concept (it'll change every few months) includes a six-course meal from James Beard nominee Zane Dearien of Pastaria, the food is solid but secondary.
Housed in the former home of music venue 12th & Porter, the main event is a video-projection journey through a big old Italian house that gave me big Beauty and the Beast/The Gilded Age vibes at its high points. At its low, well, the system crashed for a few courses, so we ate agnolotti in the dark. But the staff dealt with it well, offering everyone a complimentary round of drinks. 
Bottom lines: 
Glitch aside, the projection was cool. Overall, the feel was Dinner Lab meets networking event meets Your Mom's Book Club: Night on the Town edition. If you like the meet-your-neighbors aspect of Mangia Nashville, you'll like this. 
Price-wise, $167 feels steep compared to other menus on this list, but again, that price is for the experience. But skip the $67 wine pairing — anyone who considers ​​La Marca prosecco anything more than a mimosa ingredient is out of their depth.
Do not drive. I repeat: Do not drive. All the parking options nearby are infuriatingly expensive.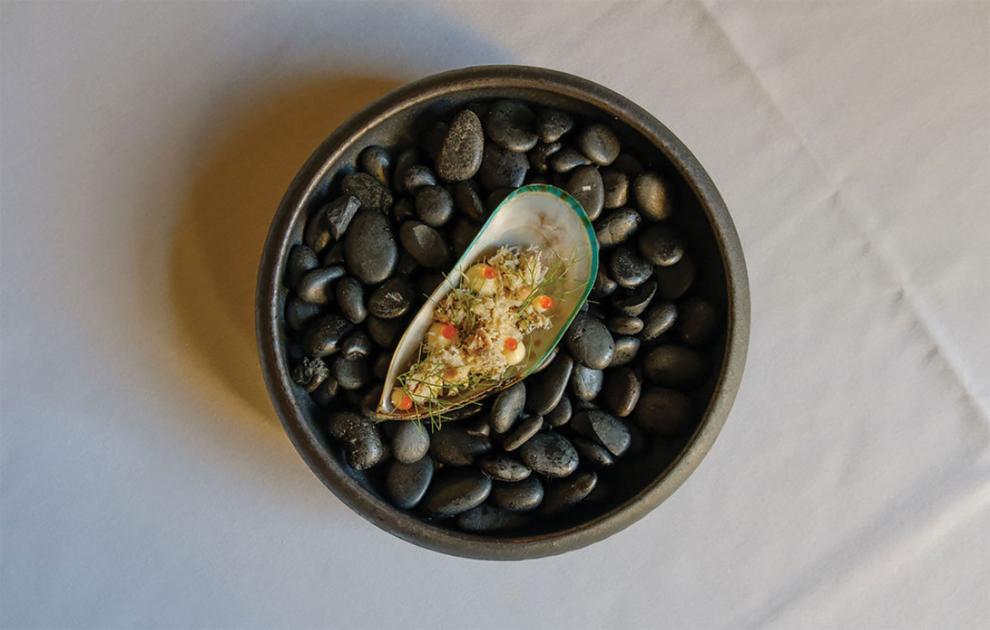 The Rabbit Hole
Kristin Beringson is one of those chefs who consistently makes fun, tasty food but somehow flies under the radar. She shouldn't. At The Rabbit Hole at Henley, she gets to use all her experience (Ellington's Midway Bar & Grill, the gone-too-soon Green Pheasant) to turn out a 14-course tasting menu that's whimsical and modern but made with local Tennessee ingredients. 
Best bits:
The Rabbit Hole puts diners inside the kitchen (literally), serving just two to four people per night at their kitchen table. Since they're open just nine nights per month, if you're looking for that exclusive VIP feel, The Rabbit Hole has it.
This is one place where you absolutely opt in on the pairing. For just $85, you get a mix of cocktails, wines, sherries and after-dinner drinks — and not one glass of La Marca.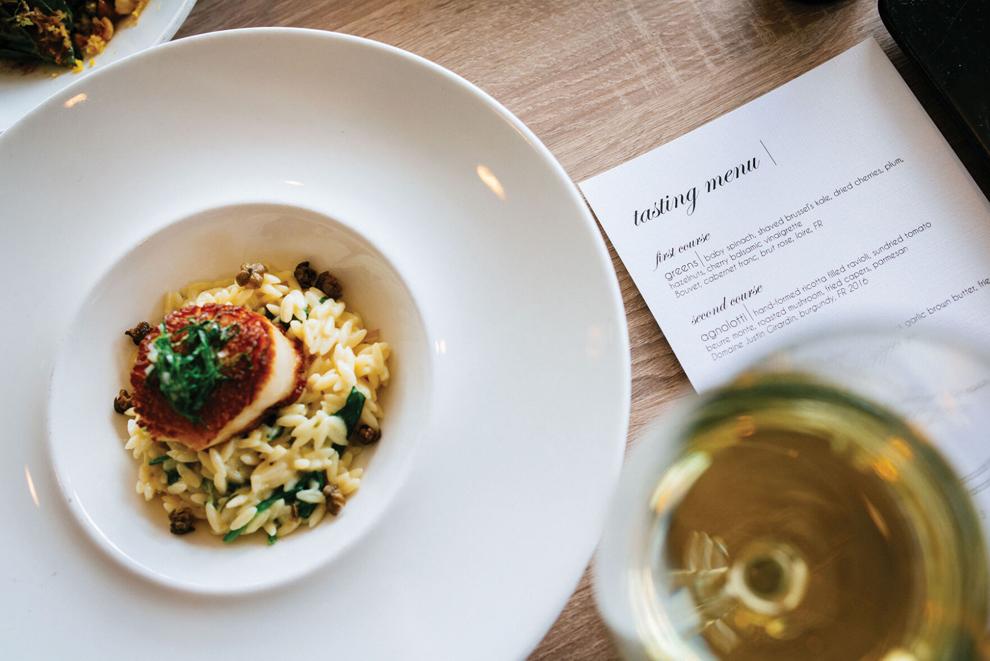 Sinema
Last summer, the Scene's Margaret Littman included Sinema on her list of places where locals don't eat but should. She was right — I haven't been to Sinema in years. But her description reminded me why I should go back: "Housed in an old movie theater, projecting old movies on the wall, offering bathrooms that are Instagram catnip, boasting a healthy cocktail selection (more than 150 options) and having a setup that serves big groups well, Sinema has a reputation for being a party place. Maybe even a bachelorette-party place. The Bottomless Brunch — with free-flowing mimosas and a bloody mary bar — has cemented that reputation. But locals are allowed to have fun too, and Sinema is a place to do it. Menu items include fresh seasonal salads, meats from Porter Road Butcher and of course, cocktails with names that nod to the Golden Age of Cinema."
Bottom lines:
At $97 with tax and tip, Sinema's tasting menu — which includes their signature scallops and agnolotti — would make for an above-average work dinner. 
The next time you're in the doghouse, sell your partner on keeping you around with Sinema's Make It Special Package. For just $25, they'll supply a small bouquet, extra candles, sparkling wine toast and a handwritten note. (Yes, you have to give them the copy for the note. Don't be lazy.)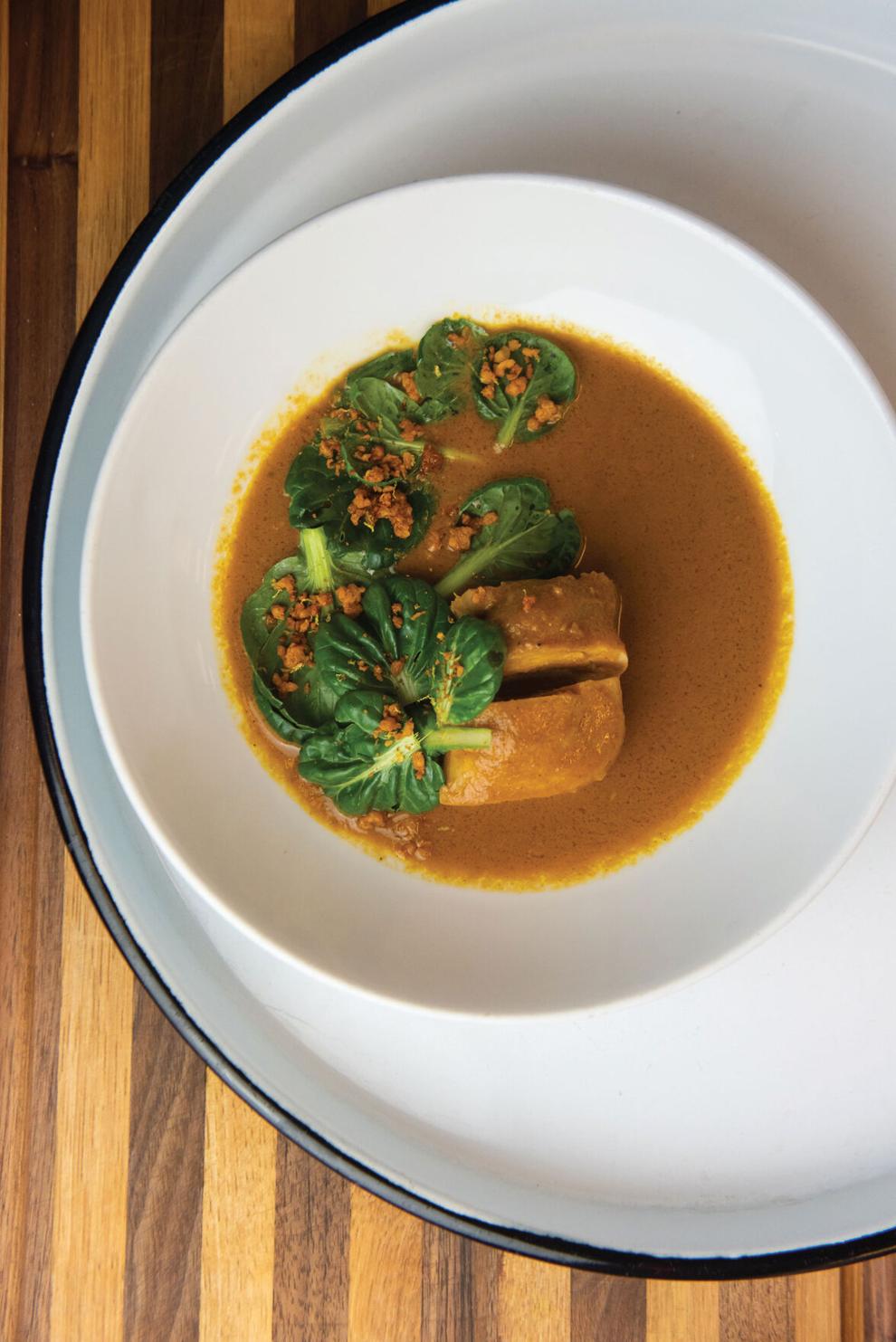 Tailor
There are two kinds of diners in Nashville: people who are obsessed with Tailor and people who haven't been yet. Vivek Surti makes self-described South Asian American cuisine, and last year, the Scene named Tailor's Indian-spice-driven, high-end yet homey food the Best Decision-Free Dining Experience in town. This year, I plan to ride hard for its pav bhaji: a spicy vegetable gravy served with soft dinner rolls that's my favorite bite of the year so far. 
If you don't know Tailor, our own Dana Kopp Franklin explains: "[Surti] was born in Manchester, Tenn., but his parents are from the state of Gujarat in India. Surti explains that authentic Indian cuisine is found in private homes, not restaurants, and can't easily be found in the U.S. market. … Indian food — which is multifarious, hailing from 29 states and many more cities, villages and family traditions — is one of the world's great cuisines, but sorely underappreciated." 
On the move: Tailor is currently readying its first permanent location on Taylor Street in Germantown. Follow them on Instagram (@tailornashville) to find out when they're back in business. I look forward to seeing how quickly Tailor on Taylor, which is a restaurant and not a tailor, breaks Google.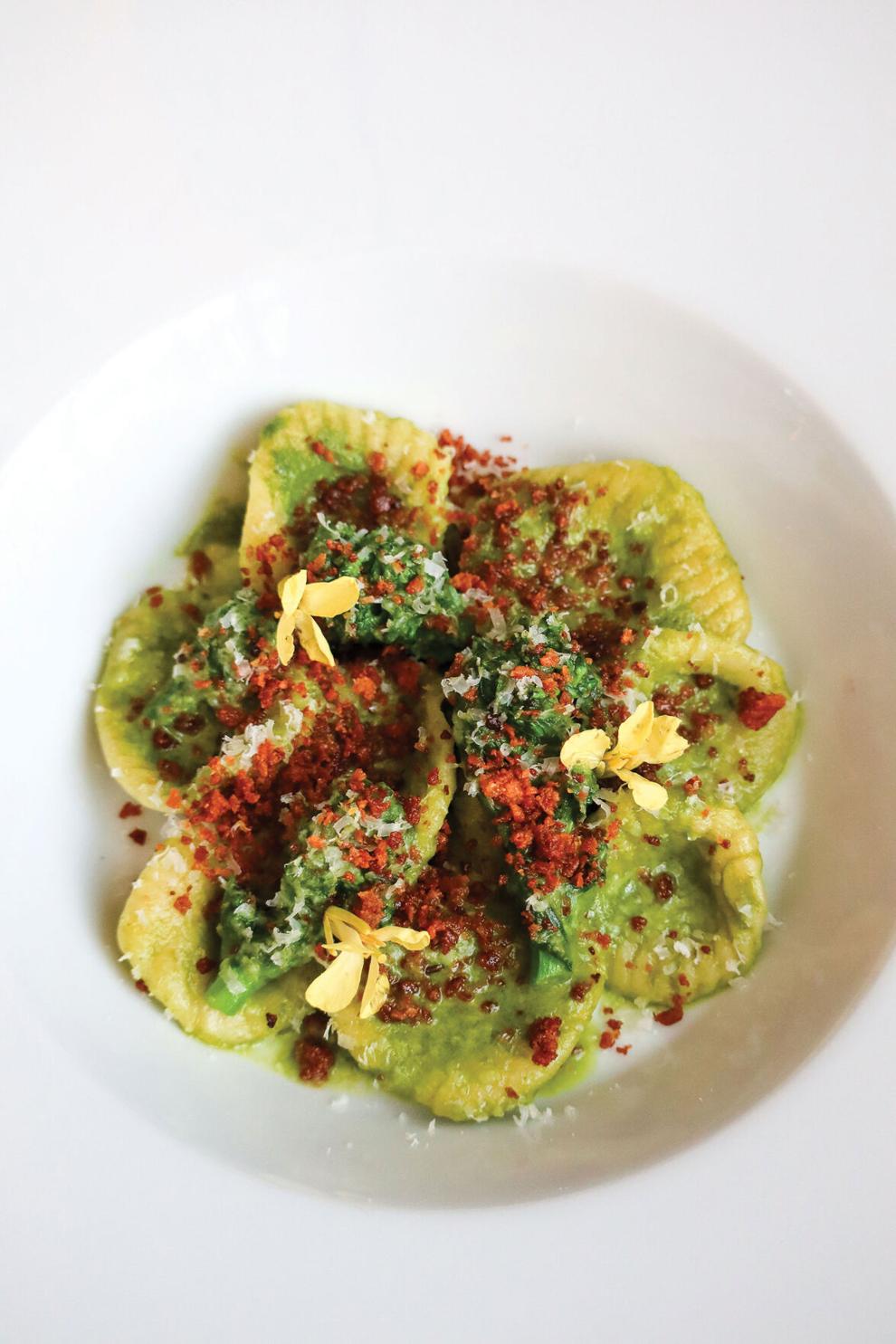 Yolan
The second Michelin-starred chef on this list is Tony Mantuano, who's as gregarious as he is talented. I first had a tasting menu by him at the tragically now-shuttered Spiaggia in Chicago (he left in 2019, before it closed, to move here), and it was revelatory. While the Yolan version falls just shy of Spiaggia perfection for me, dishes like his signature cacio e pepe are more than worth the price of admission. Plus, Yolan is the only place in town offering a full vegetarian tasting menu. 
Nitpicking: 
For me, eating at Yolan feels like eating in a hotel lobby. An exquisite hotel lobby! But a lobby nonetheless. Request a table in a side room for a more intimate experience. 
I still think about their silly, overwrought chocolate dessert. If you've ever seen Top Chef and heard them yell at someone for cramming every technique onto one plate, you get the gist.
Bottom line: The fact that Nashville diners can now get two tasting menus from Michelin-starred chefs — each for less than $175 with tax and tip — is an embarrassment of riches. Cash in.