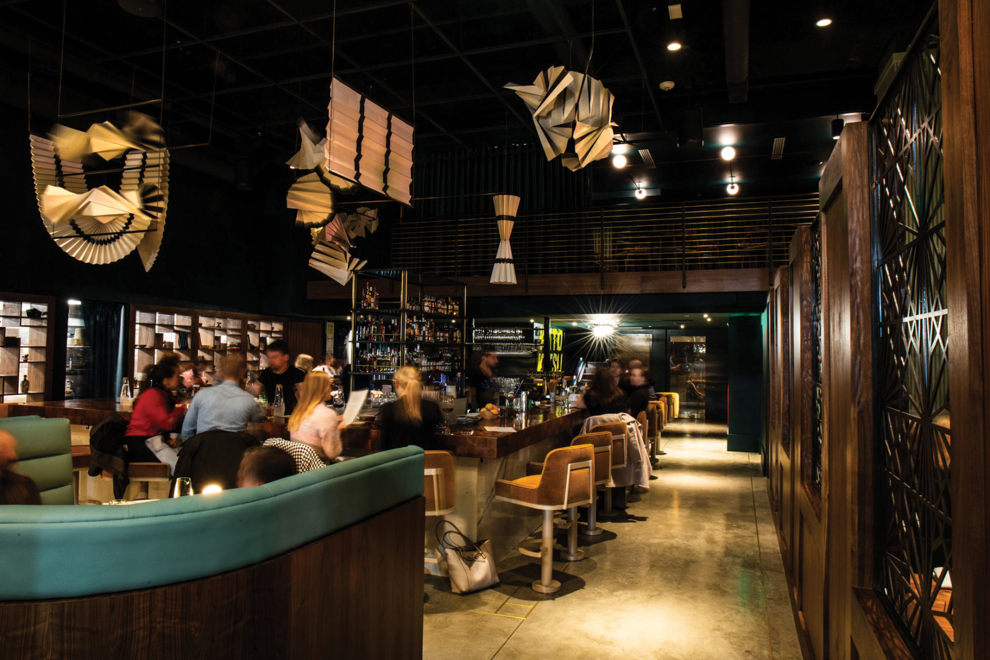 You can track Nashville's massive boom in different ways. You can count the construction cranes, or monitor the latest building permits and the unceasing flow of announcements of new mixed-use developments across the city. Or you can follow the food.
I've written in this space about the transformation of the Gulch, which went from a dull industrial area to a buzzing canyon of residences, commerce — and restaurants — in just a few years. But it hardly stops there. Scarcely a block in the city's core has gone untouched in the fervor of development. Growth has also been explosive in neighborhoods like East Nashville and Germantown. And very often restaurants signal an area's transformation.
Down in SoBro, in a previously undistinguished block of First Avenue between Molloy and Demonbreun, The Green Pheasant opened in November. It's in the ground floor of the new 222 2nd building, which features a 25-story tower. The Green Pheasant and another new restaurant on the block, Liberty Common, share the building's First Avenue frontage, just yards from Ascend Amphitheater (which opened in 2015) and the Cumberland River (which has been around a bit longer).
Both are high-profile new projects from well-known Nashville restaurant teams. Liberty Common is the slightly more recent arrival; it opened at the end of December from Terry Raley, the force behind Butchertown Hall. The Green Pheasant, meanwhile, hails from Seed Hospitality, the folks behind East Nashville's Two Ten Jack, which styled itself as an izakaya (a Japanese-style pub) before most people in our city had ever heard of such a thing.
Two Ten Jack was a hit, and the team targeted downtown for its splashy new concept. The Green Pheasant's kitchen leadership is impressive: co-chefs Jess Benefield and Trey Burnette, along with chef de cuisine Kristin Beringson. All three have done great work at various restaurants over the years, and Beringson's accomplishments include being a winner on Food Network's Chopped.
I'm not sure who contributed what to the menu, but after visiting, I can tell you it's a knockout. The concept of the cuisine, as outlined by the restaurant, is to "maintain the same approachability as with Two Ten Jack's neighborhood izakaya-style pub food, but with a greater focus on more refined dishes and techniques, while combining local and Southern flavors with traditional Asian ingredients sourced from Japan." That seems like a tall (or at least ambitious) order, and it means that ingredients come from both local farms and purveyors in Japan. As is common with restaurants these days, the menu offers shareable plates of various sizes. The slate is structured as a top-to-bottom gradation, from smallest dishes to most hearty.
That means you can duck in for a quick snack and a drink — The Green Pheasant bar offers an extraordinary variety of sake and shochu, plus spirits (including Japanese whiskeys), creative cocktails and a tightly curated list of wine and beer. But you can also visit The Green Pheasant for a bigger meal or a full-blown special-occasion dinner, depending on how you work the menu.
I've visited The Green Pheasant only for dinner, but the lunch and happy-hour menus look enticing. (I want to check out lunch there soon, especially since downtown Nashville is still pretty short on elevated culinary spots that serve a midday meal.) A few forays at dinner have been enough to convince me that The Green Pheasant, like its colorful namesake — the iridescent national bird of Japan — is sleek, captivating, even downright gorgeous.
On my first visit, the very first dish my companions and I ordered was the wedge salad, a take on the familiar salad served at old-school hibachi restaurants — but kicked up a generous notch. The iceberg lettuce is served on a skewer, topped with a zingy ginger-carrot dressing, crunchy fried onions, golden sesame seeds and myoga, little bulbs that are also known as Japanese ginger. It was amazing to experience a boring old menu standby adapted into something intensely flavorful.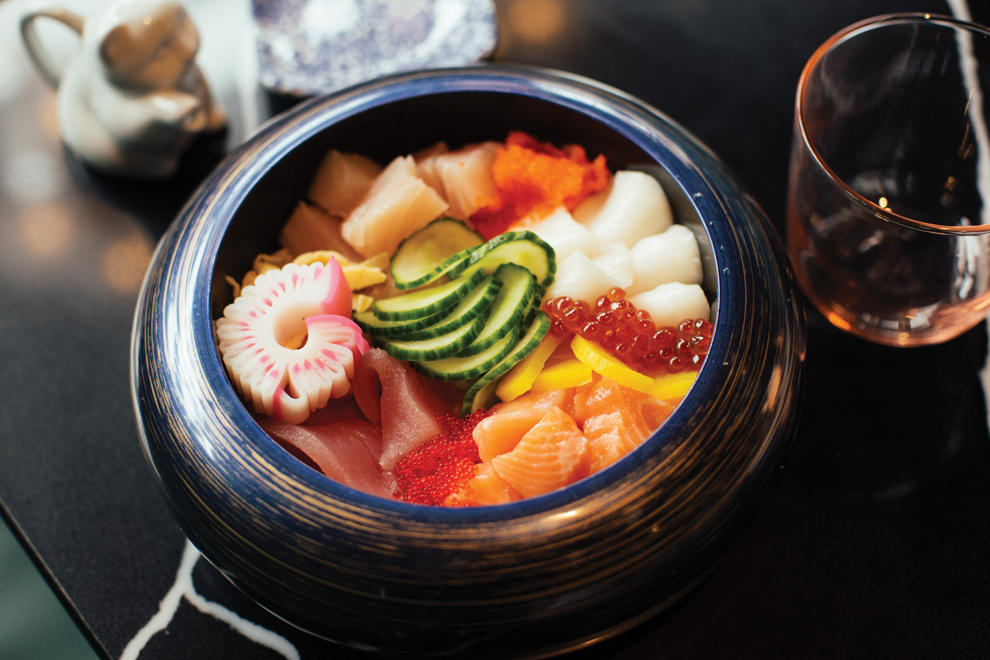 I'm a big fan of chirashi — or as Americans often describe it, a sushi bowl — which features a bowl of sushi rice topped with raw fish and other ingredients. The Green Pheasant's version is beautiful, topped with an array of gemlike fresh fish (salmon, walu and tuna on our visit), salmon roe, pickles and the adorable pink-rimmed fish cake known as kamaboko. The flavors were just as pure and bright as the bowl's pretty appearance promised.
On another visit, I embraced squid karaage, which in another cuisine would be called fried calamari. The karaage batter was light and perfectly fried, not a bit greasy. While the familiar Italian-American version of calamari comes with marinara sauce, these delectable squid rings were accompanied by a compote of cherry tomatoes with shio koji, a culture from fermented rice that's an iconic seasoning in Japanese food. Also on the plate were fresh cherry tomatoes and a chunk of lemon for spritzing. (I'm told the menu's karaage option may soon be changing from squid to oysters, which also sounds good.)
Like a lot of people, I'm trying to save beef for special occasions, and I figured dinner at The Green Pheasant qualified. The menu offers two versions of wagyu, ultra-premium beef, either American or Japanese. I picked the U.S. version, a 6-ounce steak from Mishima Reserve. It was marvelous, clean-tasting and rich, and billed as healthier because the cows have well-marbled meat with a fat content that isn't as saturated as in beef from standard U.S. cows. The Green Pheasant serves the steak seared and sliced, with five little nuggets of condiment on the plate: freshly cracked pepper, sea salt, kanzuri (Japanese red chili paste), grated daikon radish and fresh wasabi (also from Japan).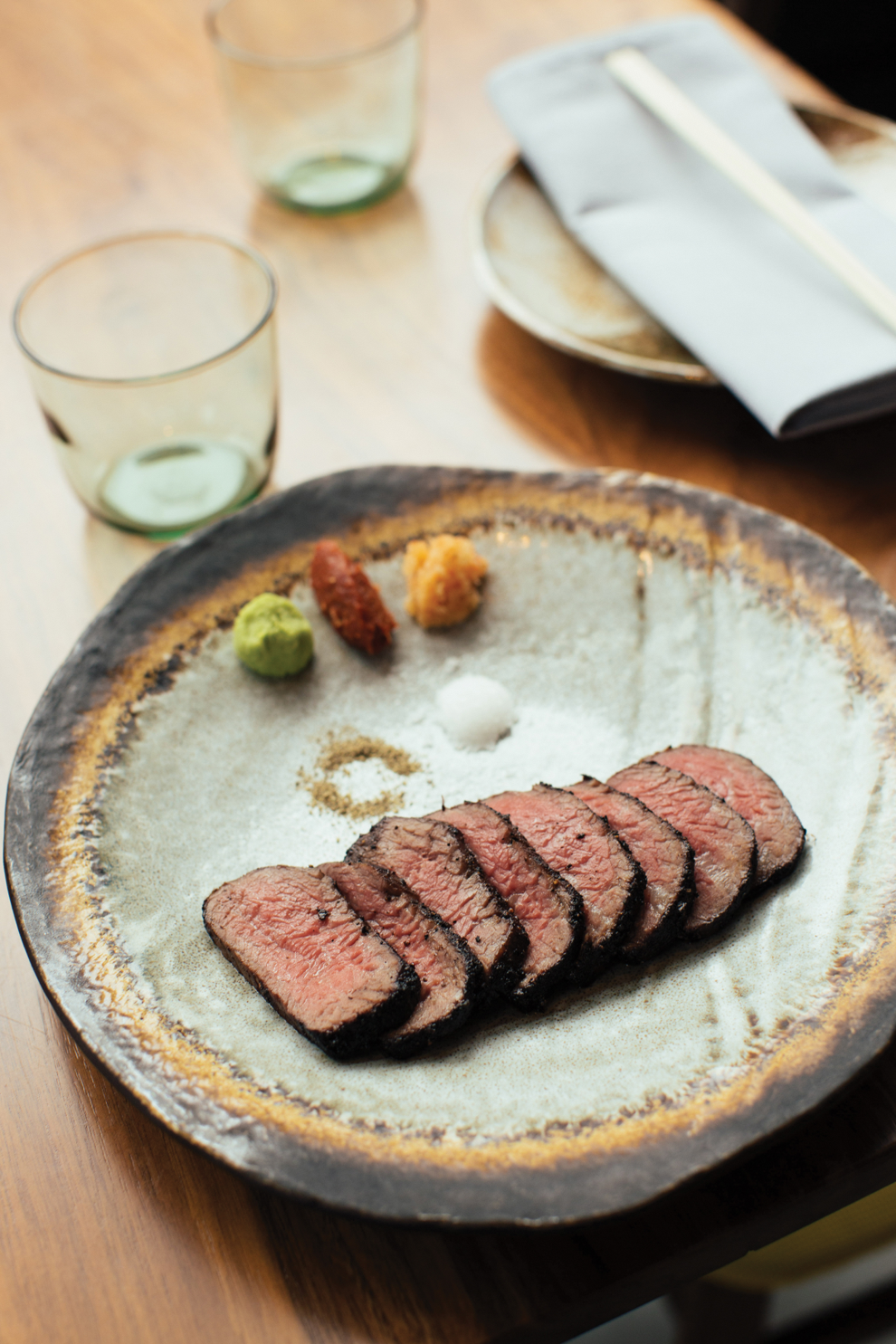 The beef was insanely delicious on its own, but it was fun to experiment with cranking up the flavors using the seasonings. The plate wasn't cheap ($40 for a 6-ounce steak), but it was definitely worth it for a special splurge. (The Japanese version of wagyu is $26 per ounce with a 4-ounce minimum, so that's a super splurge for another day.)
Service on our visits was good; the staff was friendly and very knowledgeable about the food. As is common these days, the courses came out whenever they were ready, and arrived at a steady and appropriate clip. But on our visit on a busy Saturday night, there was a bit of a lag with beverages. A glass of wine — the first thing I ordered — didn't show up until after food started arriving at the table. It wasn't a terrible glitch, and may be a symptom of the painful shortage of staff that Nashville restaurants are dealing with due to the surge in new establishments.
The Green Pheasant's dining room is striking, with large origami-inspired sculptures hanging overhead and seating options that include plush velvet booths. It had a luxe but somewhat bohemian vibe, and it felt far more exotic than what I recall on the featureless riverfront block of Nashville's past ... oh, like three years ago. The restaurant validates self-parking for a discount, but we took Lyft downtown and back for convenience. 
On that lively Saturday night, the driver taking us home found that Demonbreun was blocked off by police cars (some kind of rolling traffic abatement), so she had to swing down Second to Lower Broadway and back around to First. This tiny detour to Broadway was a brief but sudden plunge into the wellstream of raucous tourism. At the base of Broad, the sight of Acme Feed & Seed, now a thriving nightspot, reminded me of the days not so long ago when actual farm supplies were sold there. The detour also offered a glimpse of the Market Street Apartments — a downtown redevelopment project dating to the very beginning of the downtown boom in the late 1980s, and now slated for demolition to clear the way for a 40-story high-rise.
Soon we were back to flying down the streets of the city, passing hotels and commercial towers under construction, as the landscape of Nashville continues to evolve.