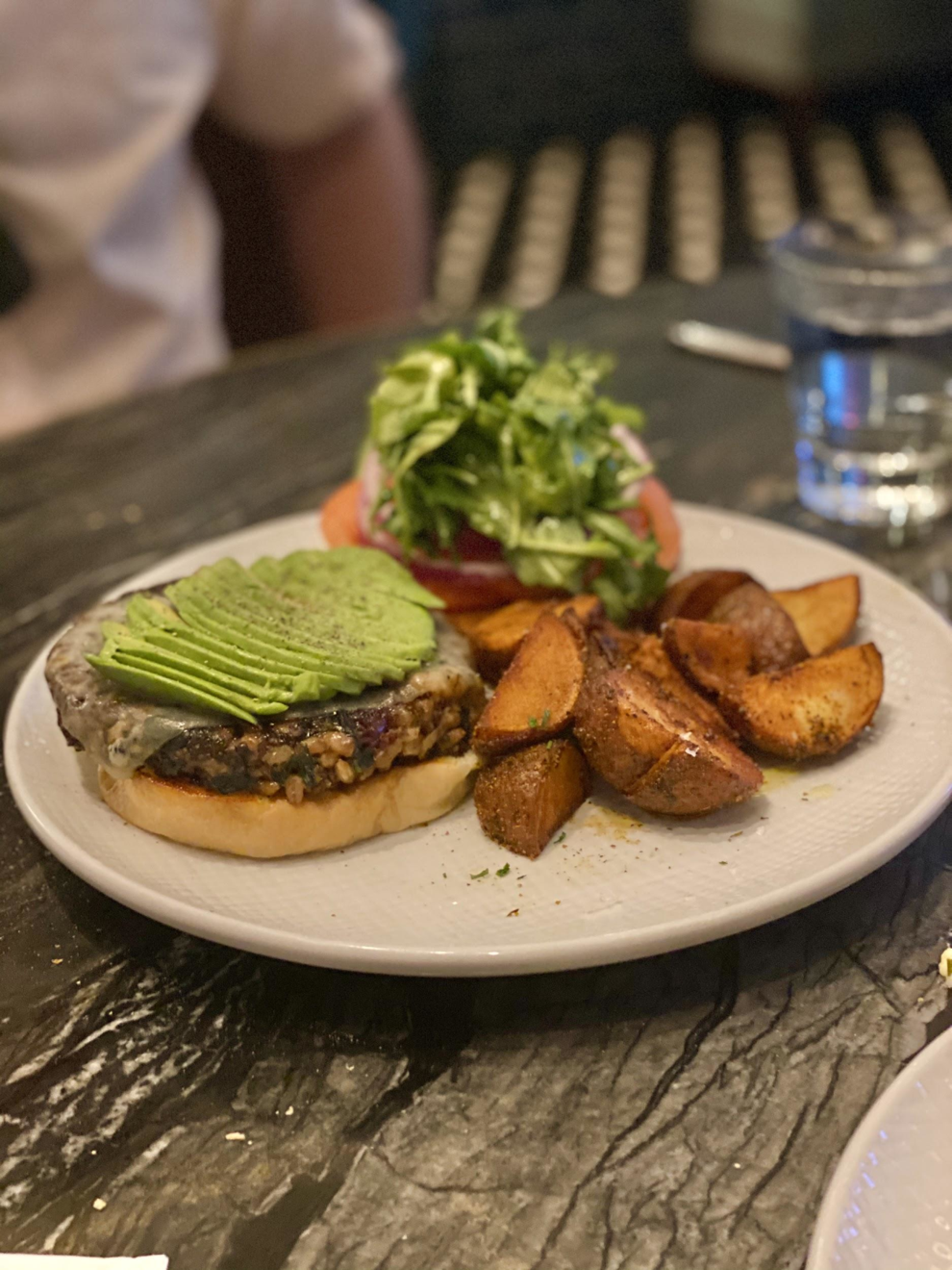 Much of the restaurant industry has had to rapidly change its business model due to COVID-19, and we're highlighting the Nashville places that are attempting to stay open. We will give you a critic's pick for a restaurant and a dish, as well as a running list of restaurants still open that you can support. Today: Stateside Kitchen.
A new enemy walks among us, and its name is Maskless Chad. If you've been out during phase 2.2.0, you know this dude. Maskless Chad sighs loudly and rolls his eyes when asked to put on a mask. Maskless Chad fidgets with the mask you give him the entire walk to his table without ever fully putting it on. Maskless Chad protests that he, like, doesn't even have a mask, bro, because that's his God-given right! (It is not.)
To all the restaurant owners, managers, bartenders and servers patiently handling Maskless Chad, thank you. The last thing you need right now is a defiant moron putting your life and livelihood at risk because it's the only way he can feel powerful. On behalf of sane Nashville, let me say: We see you, and we appreciate you. 
Lisa at Stateside Kitchen in the downtown Dream Hotel is one such professional. We ate there last week, and I watched her handle multiple Maskless Chads with grace and aplomb (including one who was bellowing about falling off a mechanical bull the night before, which I feel like ... should not be a thing we're allowed to do right now.) To be clear, the Dream is doing an excellent job following safety protocol and asking guests to do the same. But even they cannot prevent every fidgety Maskless Chad.
We dined in, and it was lovely. Stateside's open, airy vibe feels safe and distant, with enough bustle and movement that you don't feel the half-emptiness. However, if you've reached your Maskless Chad quota for the month, they will gladly bring you your takeout curbside. Here's what we ordered.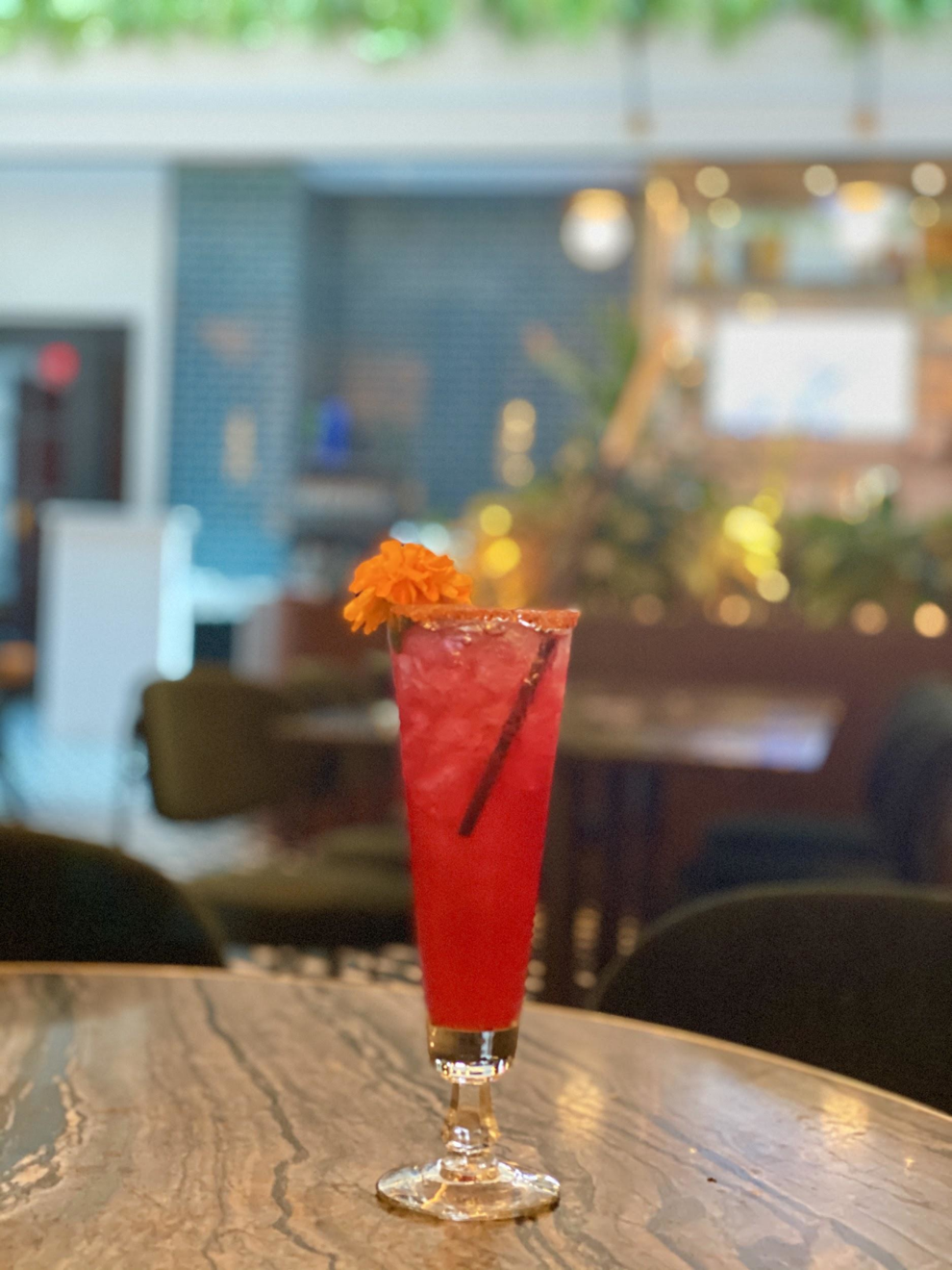 Pua Ahi: Fire Flower
This tequila-forward cocktail pairs Patron Anejo with peach, hibiscus syrup and citrus to deliver a tart, sweet, powerful punch. A chili salt rim hits margarita notes and is a perfect complement to the drink's sweetness. It's $16, but it is stout, so you get your money's worth. Plus, it's gorgeous.
Warm crab dip
Super lump crab meat is tossed in a three-cheese sauce and dusted with Old Bay and paprika. Thin slices of toasted baguette are the perfect vessel for scooping up the big hunks of crab meat, which are left whole as they must be in any respectable crab dip. Bonus: During the 4-7 p.m. "Golden Hour," you can snag this $16 starter for $10.
Stateside Roll
One great thing about Stateside is that they offer a small but solid sushi menu, so there are a few healthier options. The Stateside Roll is made with ahi tuna and avocado wrapped in rice and salmon, and it's topped with microgreens and tomato vinaigrette. It's light, fresh respite from the sweaty July outside.
Veggie burger
Full disclosure: veggie burgers are not my thing. This one piqued my interest because it's made with gruyere, almonds and cranberries, which I figured had to be awesome or awful. It was actually somewhere in between, and it was a tasty, interesting experiment. Once I ditched half of the bun, I found the right balance with bites of sliced avocado and a sun-dried tomato aioli that gave it the necessary richness. But the side of crispy, garlic-butter Brabant potatoes — aka Louisiana Fries — stole the show for me.
Hot chicken sandwich
On the other end of the spectrum there's this hot chicken behemoth. Crispy, juicy chicken breast is doused in creamy blue cheese sauce and topped with dill pickles. The hot, crunchy chicken spills out over the sides of the fresh brioche bun. It's a spicy, sloppy, satisfying dream — ideal hangover food. Just ask Chad.
Order Stateside Kitchen
Call 615-622-0600 to order takeout.
---
Below is a list of Nashville restaurants (with links) remaining open for takeout and delivery during the COVID-19 shutdown. While some may have had existing relationships with delivery providers, most of this list are offering the service for the first time. Most offer curbside pickup, but check when you order. As this list is a moving target, please leave any changes, suggestions or omissions in the comments.
Places with takeout or delivery as of Monday, July 13
12South Taproom (Postmates)
312 Pizza Co. (Grubhub)
51st Deli (Uber Eats, Grubhub, Postmates)
51st North Taproom (11 a.m.-8 p.m., Thursday-Sunday)
Adele's/The 404 Kitchen (Friday-Sunday)
Arnold's Country Kitchen (Most delivery services)
B1281 (Uber Eats)
Barista Parlor (Postmates)
Barr's Music City Soul Food (Uber Eats, Tuesday-Sunday)
Big Bad Breakfast (DoorDash, Uber Eats)
Biscuit Kitchen by Loveless Cafe
Black Dynasty via Bar Sovereign
The Bluebird Cafe (Grubhub)
BoomBozz West (DoorDash)
Brightside Bakery (Ordering open at 3 p.m. Tues.-Sat. for next-day pickup Wed.-Sun.)
Burger Joint (Uber Eats, Grubhub)
Caffé Nonna (Uber Eats, Postmates)
Carniceria y Taqueria Don Juan
Central BBQ (DoorDash, Postmates)
Cinco de Mayo (9 locations)
Char (Postmates)
Cilantro Mexican Grill (Eighth Avenue location)
City Winery (Grubhub, Uber Eats)
Corner Pub (DoorDash)
Cupcake Collection (Sunday-Friday)
Doll's Family Cafe (Postmates, DoorDash)
Double Dogs (Uber Eats, Grubhub, Postmates)
Eastern Peak (Uber Eats, Grubhub)
Ed's Fish House (Thursday-Saturday)
Ellington's Mid Way Bar & Grill
Far East (Postmates)
Farm Burger (DoorDash)
Fat Kat Slim's (Uber Eats, Grubhub)
Fido (ChowNow)
Five Points Pizza (Postmates)
Folk (Postmates)
Frothy Monkey (Postmates, Uber Eats)
Ghot Wingz (Tuesday-Saturday)
Green Chile (Friday-Sunday)
Hattie B's (Uber Eats)
HoneyFire Barbeque Co. (Grubhub, DoorDash)
Hugh Baby's (DoorDash)
Hunters Station (The Grilled Cheeserie, Vui's Kitchen, Hugh Baby's, Tacos Aurora, Citizen Market)
IT'Z A Philly Thing (Wednesday-Sunday)
Jack's Bar-B-Q (Trinity Lane location only)
Jamaicaway (DoorDash, Grubhub, Postmates)
Jonathan's (Grubhub)
Josephine (Postmates)
Korea House
Lafayette Soup Company (Richland Park Farmer's Market)
Las Palmas (DoorDash)
Local Distro (Tuesday-Saturday)
McDougal's (Hillsboro Village only)
Miss Saigon (All delivery services)
M.L. Rose Craft Beer & Burgers (Postmates)
Moto (Uber Eats)
Nicky's Coal Fired (Postmates)
North Italia (DoorDash)
Nectar Urban Cantina (Grubhub, Uber Eats, Postmates)
Nomzilla! Sushi Et Cetera (Uber Eats, Postmates)
Pancho & Lefty's (Uber Eats, DoorDash)
The Party Line (Julia Sullivan's catering service through Strategic Hospitality)
Party Fowl (Uber Eats)
PDK Southern Kitchen and Pantry
Pinewood Social (Postmates, Grubhub, Uber Eats)
Pork Belly Cafe (Uber Eats, Grubhub, Postmates)
Prince's Hot Chicken (Nolensville Road)
Proper Bagel (Takeout & delivery only)
Red Bicycle (Postmates)
Red Perch Monday-Friday, 11 a.m.-2 p.m.
Red Phone Booth (DoorDash, Grubhub, Postmates)
Riddim N Spice (Postmates,DoorDash)
Rolf and Daughters (Postmates)
Rosemary & Beauty Queen (Postmates, Uber Eats)
Rosepepper Cantina (Postmates)
Saint Anejo (Uber Eats)
San Antonio Taco Co. (DoorDash)
Seafood Sensation (DoorDash)
Shugga Hi Bakery & Cafe (Friday-Saturday; Uber Eats) 
Slim & Husky's (DoorDash)
Southside Grill (DoorDash)
StrikeOut Wingz (Grubhub)
Subculture Urban Cuisine & Cafe (Uber Eats, Grubhub, DoorDash, Postmates)
Sushi Circle
Sweet 16th (Tuesday-Saturday, 8 a.m.-1 p.m.)
Tacos y Mariscos Lindo Mexico
Taj (Uber Eats)
TailGate Brewery (Postmates)
The Tasty Wheel (Postmates, Grubhub, DoorDash)
Taziki's (Postmates, Grubhub)
TennFold (Grubhub, Postmates)
TKO (Postmates)
Tower Market and Deli (Grubhub, Postmates, DoorDash, Bite Squad)
Union Teller (Uber Eats, DoorDash, Grubhub)
Vege-licious Cafe (Tuesday-Saturday; Chow Now)
Virago (Uber Eats)
Von Elrod's Beer Hall & Kitchen 
VN Pho & Deli
Walden (Postmates)
The Wild Cow (Postmates, DoorDash and Chow Now)
Wildman Smoothies, Soups & Salads
'Za Wood Fired Pizza (Grubhub)