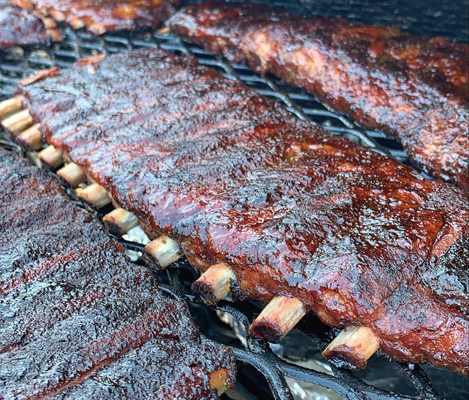 Much of the restaurant industry has had to rapidly change its business model due to COVID-19, and we're trying to highlight the Nashville places that are attempting to stay open. We will give you a critic's pick for a restaurant and a dish, as well as a running list of restaurants still open that you can support. Today: The 404 Kitchen.
Ahh, smell that? It smells like phase two again to me, which means that carryout may once more become at least a slightly more important part of your dining regimen as some establishments have to shutter again until we get an upgrade and others will have to reduce the capacity of their dining rooms back to 50 percent.
But wait, I smell something else. Is that hickory smoke wafting out of the upper level at The 404 Kitchen? Why yes, it is! While you may think you had your fill of barbecue over the Fourth, this is a development that might whet your appetite for smoked meats all over again. In the second installment of 404's Staycation Dinner Series, chef Matt Bolus has joined forces with noted Raleigh, N.C., pitmaster Jake Wood of the eagerly anticipated Lawrence BBQ to put together a classic dine-in or carryout barbecue picnic that will be available through July 25. Bolus is quite talented himself when it comes to working with a smoker, and if you've ever tried his tri-tip, you know he knows his way around a Big Green Egg.
If you plan to enjoy the feast in the restaurant, it's a set-price dinner of $48 per person with a minimum of two diners, or if you prefer to take it home, the fare is $120 for enough meat and fixin's to feed 2-3 hungry people. For carryout, preorders are required, but you can order up to 3 p.m. for same-day service by emailing events@the404nashville.com and providing the following info:
First and last name

Phone number

Car make and color

Number of guests (increments of two)

Choose one starter from menu

Choose one meal from the smoker

Choose additional beverages + cocktails from menu, if preferred

Select day and time preference:
Pre-orders are to be picked in front of The 404 Kitchen between 4:30 and 8:30 p.m. A team member will be there to greet you and place your order into your car.
Take a gander at this remarkable array of options, from the menu provided:
American BBQ Staycation Menu

STARTERS

(choose one)

Smoked Party Wings. Leroy's White Sauce. Fresh Herbs.

Pimento Boursin Cheese. Smoked Garlic Jam. Crispy Smokebox Belly Bits. Deep Fried Captains Wafers.

Heirloom Tomato + Stone Fruit Salad. Smoked Beet Farmers Cheese. Sunflower Seeds. Sorghum Vinaigrette.

MEALS FROM THE SMOKER

(choose one)

The Spread: 1/2 lb Texas Style Brisket. 1/2 lb Pulled Pork. 1/2 lb Sliced Turkey.

Granny's Table: 1/2 Smoked-Fried Bird (Apricot Jezebel Sauce). 1/2 lb Sticky Spare Ribs. 1/2 lb Pulled Pork

SIDES

(all included)

Deviled Egg Potato Salad

Broccoli-Sugar Snap Pea Caesar

Three Cheese Mac

FIXINS

(all included)

Old School Tangy Slaw

Pickle Variety

Sauce Variety

White Bread

BRE'S SOUTHERN TREAT OF THE DAY

(choose one)

Granny Helen's Peach Cobbler

Woodhouse's Peanut Butter DreamCream. Shaved Chocolate.

BEVERAGES

Topo Chico $2

COCKTAILS

($35 per pint)

Pitmaster | four roses | hoodoo chicory | blueberries | peach & peychaud's bitters | laphroaig float

The Barbacoa Italiano  | exotico tequila | aperol | sweet vermouth | touch of sea salt | angostura bitters | orange
If you were to happen to take advantage of this deal tonight, you could also avail yourself of another amazing development at The 404 Kitchen, the launch of a new "Whiskey Wednesdays" promotion in the restaurant and ground-level Gertie's Bar. Bolus has put together the most impressive whiskey collection of any bar or restaurant in the city, and starting tonight, he's offering the entire list of whiskeys at half-price for the entire evening on Wednesdays. This includes many special barrel picks that simply are not available anywhere else on the planet, so the chance to sample them at bargain prices means you could perhaps compare pours of the same whiskey that was aged in different parts of the same rickhouse or multiple vintages of a rare bourbon. The bar staff at Gertie's would be happy to help you put together your own flight, or if you happen to catch Bolus outside of the kitchen, he's always glad to offer advice!
There's nothing wrong with placing your carryout feast order for 6:00 and taking a rideshare to bust down the doors at Gertie's when they open at 4:00 for a little whiskey exploration. Just be sure to write your address on your arm so that your driver can figure out where to deposit you and your bounty of barbecue after your return home.
#CarryOutandCarryOn
---
Below is a list of Nashville restaurants (with links) remaining open for takeout and delivery during the COVID-19 shutdown. While some may have had existing relationships with delivery providers, most of this list are offering the service for the first time. Most offer curbside pickup, but check when you order. As this list is a moving target, please leave any changes, suggestions or omissions in the comments.
Places with takeout or delivery as of Wednesday, July 7
12South Taproom (Postmates)
312 Pizza Co. (Grubhub)
51st Deli (Uber Eats, Grubhub, Postmates)
51st North Taproom (11 a.m.-8 p.m., Thursday-Sunday)
Adele's/The 404 Kitchen (Friday-Sunday)
Arnold's Country Kitchen (Most delivery services)
B1281 (Uber Eats)
Barista Parlor (Postmates)
Barr's Music City Soul Food (Uber Eats, Tuesday-Sunday)
Big Bad Breakfast (DoorDash, Uber Eats)
Biscuit Kitchen by Loveless Cafe
Black Dynasty via Bar Sovereign
The Bluebird Cafe (Grubhub)
BoomBozz West (DoorDash)
Brightside Bakery (Ordering open at 3 p.m .Tues-Sat for next-day pickup Wed-Sun)
Burger Joint (Uber Eats, Grubhub)
Caffé Nonna (Uber Eats, Postmates)
Carniceria y Taqueria Don Juan
Central BBQ (DoorDash, Postmates)
Cinco de Mayo (9 locations)
Char (Postmates)
Cilantro Mexican Grill (Eighth Avenue location)
City Winery (Grubhub, Uber Eats)
Corner Pub (DoorDash)
Cupcake Collection (Sunday-Friday)
Doll's Family Cafe (Postmates, DoorDash)
Double Dogs (Uber Eats, Grubhub, Postmates)
Eastern Peak (Uber Eats, Grubhub)
Ed's Fish House (Thursday-Saturday)
Ellington's Mid Way Bar & Grill
Far East (Postmates)
Farm Burger (DoorDash)
Fat Kat Slim's (Uber Eats, Grubhub)
Fido (ChowNow)
Five Points Pizza (Postmates)
Folk (Postmates)
Frothy Monkey (Postmates, Uber Eats)
Ghot Wingz (Tuesday-Saturday)
Green Chile (Friday-Sunday)
Hattie B's (Uber Eats)
HoneyFire Barbeque Co. (Grubhub, DoorDash)
Hugh Baby's (DoorDash)
Hunters Station (The Grilled Cheeserie, Vui's Kitchen, Hugh Baby's, Tacos Aurora, Citizen Market)
IT'Z A Philly Thing (Wednesday-Sunday)
Jack's Bar-B-Q (Trinity Lane location only)
Jamaicaway (DoorDash, Grubhub, Postmates)
Jonathan's (Grubhub)
Josephine (Postmates)
Korea House
Lafayette Soup Company (Richland Park Farmer's Market)
Las Palmas (DoorDash)
Local Distro (Tuesday-Saturday)
McDougal's (Hillsboro Village only)
Miss Saigon (all delivery services)
M.L. Rose Craft Beer & Burgers (Postmates)
Moto (Uber Eats)
Nicky's Coal Fired (Postmates)
North Italia (DoorDash)
Nectar Urban Cantina (Grubhub, Uber Eats, Postmates)
Nomzilla! Sushi Et Cetera (Uber Eats, Postmates)
Pancho & Lefty's (Uber Eats, DoorDash)
The Party Line (Julia Sullivan's catering service through Strategic Hospitality)
Party Fowl (Uber Eats)
PDK Southern Kitchen and Pantry
Pinewood Social (Postmates, Grubhub, Uber Eats)
Pork Belly Cafe (Uber Eats, Grubhub, Postmates)
Prince's Hot Chicken (Nolensville Road)
Proper Bagel (takeout and delivery only)
Red Bicycle (Postmates)
Red Perch Monday-Friday, 11 a.m.-2 p.m.
Red Phone Booth (DoorDash, Grubhub, Postmates)
Riddim N Spice (Postmates,DoorDash)
Rolf and Daughters (Postmates)
Rosemary & Beauty Queen (Postmates, Uber Eats)
Rosepepper Cantina (Postmates)
Saint Anejo (Uber Eats)
San Antonio Taco Co. (DoorDash)
Seafood Sensation (DoorDash)
Shugga Hi Bakery & Cafe (Friday-Saturday; Uber Eats) 
Slim & Husky's (DoorDash)
Southside Grill (DoorDash)
StrikeOut Wingz (Grubhub)
Subculture Urban Cuisine & Cafe (Uber Eats, Grubhub, DoorDash, Postmates)
Sushi Circle
Sweet 16th (Tuesday-Saturday, 8 a.m.-1 p.m.)
Tacos y Mariscos Lindo Mexico
Taj (Uber Eats)
TailGate Brewery (Postmates)
The Tasty Wheel (Postmates, Grubhub, DoorDash)
Taziki's (Postmates, Grubhub)
TennFold (Grubhub, Postmates)
TKO (Postmates)
Tower Market and Deli (Grubhub, Postmates, DoorDash, Bite Squad)
Union Teller (Uber Eats, DoorDash, Grubhub)
Vege-licious Cafe (Tuesday-Saturday; Chow Now)
Virago (Uber Eats)
Von Elrod's Beer Hall & Kitchen 
VN Pho & Deli
Walden (Postmates)
The Wild Cow (Postmates, DoorDash and Chow Now)
Wildman Smoothies, Soups & Salads
'Za Wood Fired Pizza (Grubhub)