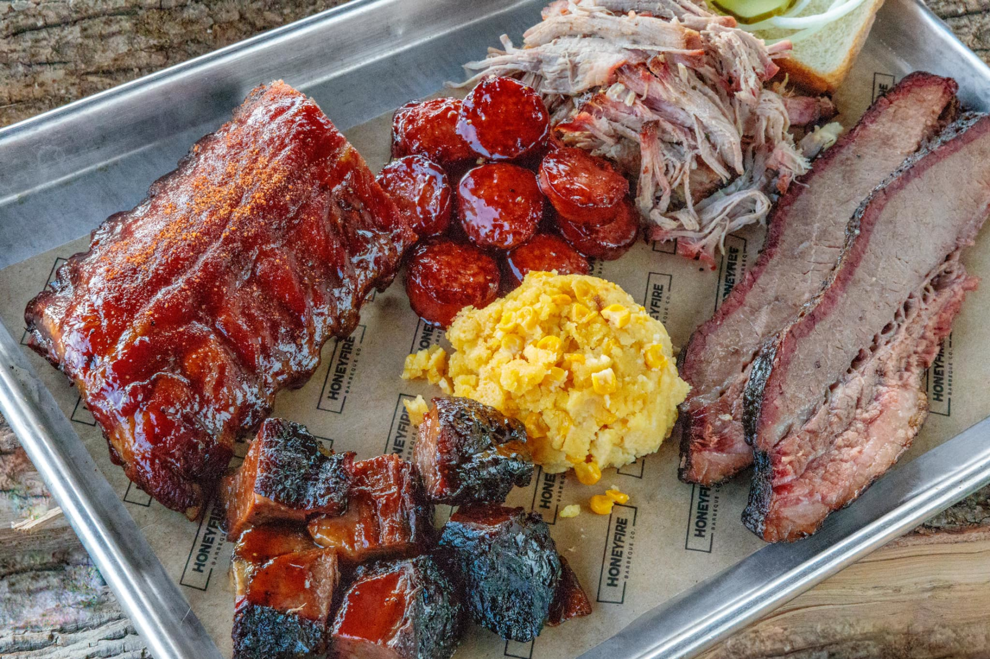 Much of the restaurant industry has had to rapidly change its business model due to COVID-19, and we're highlighting the Nashville places that are attempting to stay open. We will give you a critic's pick for a restaurant and a dish, as well as a running list of restaurants still open that you can support. Today: HoneyFire BBQ
Bellevue was once a bit of a restaurant desert, but the situation has definitely improved of late, particularly when it comes to barbecue. That's thanks to the addition of HoneyFire BBQ. Owner/pitmaster Shane Nasby operates an attractive restaurant in One Bellevue Place in a modern space that is certainly different from most barbecue joints. This is by design, as Nasby wants his spot to be a destination for families — although BBQ purists will also find something to like on his inventive menu.
In these socially distant times, HoneyFire offers an admirable option for those willing to dine in, thanks to expansive patio areas with well-spaced tables. For carryout, Nasby has dedicated a special entry at the back corner of the patio to facilitate easy pickup.
The family-friendly menu offers some really decadent options that are sure to be crowd-pleasers in most families. In fact, you could make a pretty darned good (albeit not necessarily good-for-you) meal out of just selections from the apps and shareables section of the menu. Smoked wings are sourced from Springer Mountain Farms, my particular chicken of choice, and then tossed in a sticky, sweet barbecue sauce or Alabama white sauce, or dusted with Nasby's addictive honey dry rub. Other excellent choices include fried egg rolls stuffed with babyback rib meat, a hickory-smoked brisket poutine dish and a simple sausage-and-cheese plate made from a fine example of "hot gut" sausages glazed in HoneyFire sauce plus blocks of cheddar and a sleeve of Ritz crackers. Sure it's lowbrow and contraindicated for the hypertensive set, but damned if it isn't delicious!
Perhaps HoneyFire's most famous starter is the dish that Nasby has demoed on local television midday shows, and the one that seems to be in permanent rotation — his Honey Hot Block. It couldn't be more basic: a half-pound block of cream cheese covered in habanero-infused honey and topped with candied bacon. Yes, you need some.
For family-size carryout options, HoneyFire sells bulk smoked meats to go, with choices ranging from pulled pork shoulder to smoked chicken to brisket or that memorable smoked sausage. Family packs are also available with those same choices of protein accompanied by appropriately sized side dishes. Power moves among those side dishes include a creamy white queso macaroni, which is basically green chile cheese dip with some noodles added. (Not that there's anything wrong with that.) HoneyFire's bourbon baked beans are admirable for their inclusion of several different varieties of legumes instead of just kidneys. Hoosier corn pudding is a regional treat that Nasby insisted on including in his menu, and it was a fine choice. 
All the items I've listed travel very well or reheat easily, which is why I didn't suggest HoneyFire's French fries — those are best enjoyed fresh from the fryer. Don't sleep on dessert either, as HoneyFire's signature peanut butter banana pudding is even better than their surprising key lime pie.
Now that I think of it, maybe I'd better walk the next time I visit so I can burn off some of those delicious, delicious calories.
---
Below is a list of Nashville restaurants (with links) remaining open for takeout and delivery during the COVID-19 shutdown. While some may have had existing relationships with delivery providers, most of this list are offering the service for the first time. Most offer curbside pickup, but check when you order. As this list is a moving target, please leave any changes, suggestions or omissions in the comments.
Places with takeout or delivery as of Wednesday, Sept. 9
12South Taproom (Postmates)
312 Pizza Co. (Grubhub)
51st Deli (Uber Eats, Grubhub, Postmates)
51st North Taproom (11 a.m.-8 p.m., Thursday-Sunday)
615 Deli (DoorDash. Grubhub, Postmates, Uber Eats)
Adele's/The 404 Kitchen (Friday-Sunday)
Arnold's Country Kitchen (Most delivery services)
B1281 (Uber Eats)
Barista Parlor (Postmates)
Barr's Music City Soul Food (Uber Eats, Tuesday-Sunday)
Big Bad Breakfast (DoorDash, Uber Eats)
Biscuit Kitchen by Loveless Cafe
Black Dynasty via Bar Sovereign
The Bluebird Cafe (Grubhub)
BoomBozz West (DoorDash)
Brightside Bakery (Ordering open at 3 p.m. Tues.-Sat. for next-day pickup Wed.-Sun.)
Burger Joint (Uber Eats, Grubhub)
Caffé Nonna (Uber Eats, Postmates)
Carniceria y Taqueria Don Juan
Central BBQ (DoorDash, Postmates)
Cinco de Mayo (9 locations)
Char (Postmates)
Cilantro Mexican Grill (Eighth Avenue location)
City Winery (Grubhub, Uber Eats)
Corner Pub (DoorDash)
Cupcake Collection (Sunday-Friday)
Doll's Family Cafe (Postmates, DoorDash)
Double Dogs (Uber Eats, Grubhub, Postmates)
Eastern Peak (Uber Eats, Grubhub)
Ed's Fish House (Thursday-Saturday)
Ellington's Mid Way Bar & Grill
Far East (Postmates)
Farm Burger (DoorDash)
Fat Kat Slim's (Uber Eats, Grubhub)
Fido (ChowNow)
Five Points Pizza (Postmates)
Folk (Postmates)
Frothy Monkey (Postmates, Uber Eats)
Ghot Wingz (Tuesday-Saturday)
Green Chile (Friday-Sunday)
Hattie B's (Uber Eats)
HoneyFire Barbeque Co. (Grubhub, DoorDash)
Hugh Baby's (DoorDash)
Hunters Station (The Grilled Cheeserie, Vui's Kitchen, Hugh Baby's, Tacos Aurora, Citizen Market)
IT'Z A Philly Thing (Wednesday-Sunday)
Jack's Bar-B-Q (Trinity Lane location only)
Jamaicaway (DoorDash, Grubhub, Postmates)
Jonathan's (Grubhub)
Josephine (Postmates)
Korea House
Lafayette Soup Company (Richland Park Farmer's Market)
Las Palmas (DoorDash)
Local Distro (Tuesday-Saturday)
McDougal's (Hillsboro Village only)
Miss Saigon (All delivery services)
M.L. Rose Craft Beer & Burgers (Postmates)
Moto (Uber Eats)
Nicky's Coal Fired (Postmates)
North Italia (DoorDash)
Nectar Urban Cantina (Grubhub, Uber Eats, Postmates)
Nomzilla! Sushi Et Cetera (Uber Eats, Postmates)
Pancho & Lefty's (Uber Eats, DoorDash)
The Party Line (Julia Sullivan's catering service through Strategic Hospitality)
Party Fowl (Uber Eats)
PDK Southern Kitchen and Pantry
Pinewood Social (Postmates, Grubhub, Uber Eats)
Pork Belly Cafe (Uber Eats, Grubhub, Postmates)
Prince's Hot Chicken (Nolensville Road)
Proper Bagel (Takeout & delivery only)
Red Bicycle (Postmates)
Red Phone Booth (DoorDash, Grubhub, Postmates)
Riddim N Spice (Postmates,DoorDash)
Rolf and Daughters (Postmates)
Rosemary & Beauty Queen (Postmates, Uber Eats)
Rosepepper Cantina (Postmates)
Saint Anejo (Uber Eats)
San Antonio Taco Co. (DoorDash)
Seafood Sensation (DoorDash)
Shugga Hi Bakery & Cafe (Friday-Saturday; Uber Eats) 
Slim & Husky's (DoorDash)
Southside Grill (DoorDash)
StrikeOut Wingz (Grubhub)
Subculture Urban Cuisine & Cafe (Uber Eats, Grubhub, DoorDash, Postmates)
Sushi Circle
Sweet 16th (Tuesday-Saturday, 8 a.m.-1 p.m.)
Tacos y Mariscos Lindo Mexico
Taj (Uber Eats)
TailGate Brewery (Postmates)
The Tasty Wheel (Postmates, Grubhub, DoorDash)
Taqueria Andrea and La Mini Michoacana
Taziki's (Postmates, Grubhub)
TennFold (Grubhub, Postmates)
TKO (Postmates)
Tower Market and Deli (Grubhub, Postmates, DoorDash, Bite Squad)
Vege-licious Cafe (Tuesday-Saturday; Chow Now)
Virago (Uber Eats)
Von Elrod's Beer Hall & Kitchen 
VN Pho & Deli
Walden (Postmates)
The Wild Cow (Postmates, DoorDash and Chow Now)
Wildman Smoothies, Soups & Salads
'Za Wood Fired Pizza (Grubhub)