Here's my solution for a lesser-discussed aspect of climate catastrophe as well as the carb crisis. We all know that rising ocean temperatures and increased acidification are very bad across the board. Well, the one thing that positively thrives in those situations is jellyfish. And since periodically someone raises the issue that jellyfish may strangle what's left of the seas of life if humanity doesn't do it first (there was a Discovery Channel program about this almost 16 years ago, not to mention Kiyoshi Kurosawa's Bright Future), I propose that someone should find a way to use jellyfish and jellyfish-related products as a substitute for the most delicious type of carbs. Look at all the keto products you see in grocery stores. Now imagine a carb substitute that helps keep the seas from dying. That, dear readers, is where I am at, and I sincerely hope you're keeping your shit together.
Here are some recommendations for things to stream. As always, look back at past issues of the Scene for more.
It has, by this point, become clichéd to say that something made you laugh and made you cry. Bo Burnham's staggering achievement of a solitary comedy special made in COVID isolation did both of those things, but it also made me do so many other emotions. It's a remarkable work of art — deeply personal and yet relatable to almost anyone who's been trying to make sense of the chaos around us. Also, the songs are great (personal faves: "That Funny Feeling," "White Woman's Instagram" and "Problematic"). It's a front-runner for the best thing I've seen all year (the perverse cinephile in me wonders how it would play in a theater — the lighting and composition is peerless), and I recommend it without hesitation to anyone who wants to feel alive and soak in some serious empathy. It's gonna mess with you, but you need that sometimes. 
Cruella in theaters and on Disney+
Should a kids' film be more than two hours long? No. But is this a kids' film? Sort of. But that designation is not because it's being put out by Disney. Rather, this is a movie for kids who are not impressed with traditional anything. My friend and colleague Alonso Duralde called Cruella "a Disney spin on Derek Jarman's Jubilee for gay 8-year-olds," and he's profoundly correct. This film is about outfits, and choosing your own family, and hoisting the corrupt rich on their own petard, and letting your imagination set you on all sorts of unexpected paths — as well as not letting romance get in the way of a good time.
Emma Stone has a blast in the part of the legendary de Vil, here presented very differently than in previous appearances, establishing a different kind of origin story for the icon of polytonic hair and chaotic driving. Because it's 2021, she doesn't smoke. And while she's sometimes dismissive of her henchfriends Jasper and Horace (Joel Fry and Paul Walter Hauser, the latter with an English accent that actually works), she's not abusive toward them. And as for making dalmatians into a coat — well, this Cruella loves dogs, and history gets written by the victor. Sort of.
This isn't quite the revelation that 2014's Maleficent was, but it's entertaining and exquisitely designed. There's a central half-hour that's just a fashion war between Cruella and her boss/nemesis The Baroness (Emma Thompson) that delivers everything you could want, including a garbage-truck dress reveal that I guarantee someone is going to be tragically maimed by when trying to riff on it in the next season of Drag Race.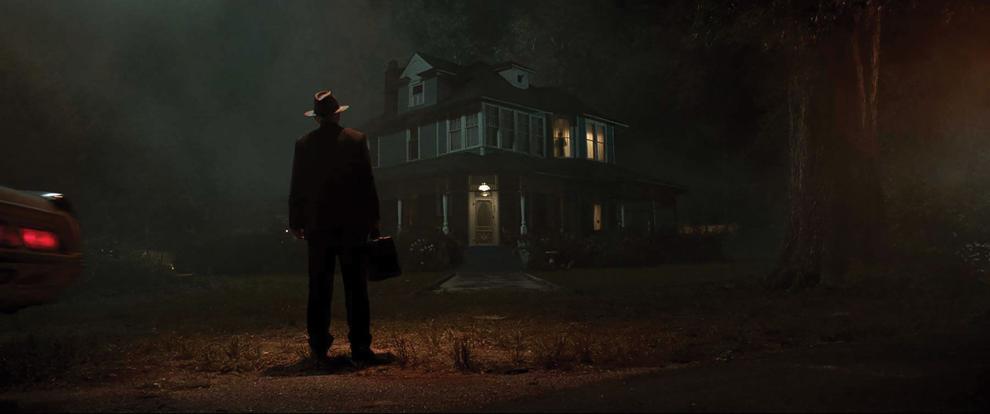 The Conjuring: The Devil Made Me Do It in theaters and on HBO Max
This one is not as rewarding as the first two films in the series, not as disappointing as the Conjuring Universe's various and sundry spinoffs (notable exceptions: Annabelle: Creation and its follow-up, which only works if you love haunted sleepover movies), but an effective R-rated faith-based horror epic queasily built on yet another actual court case. And don't kid yourself — the Conjuring films are doing a better job than most of those inspirational movies with the grab bag of fading icons and assorted MAGA darlings at strengthening faith, and simultaneously reaching a much wider, larger and more diverse audience.
In The Conjuring: The Devil Made Me Do It, fictionalized Lorraine and Ed Warren (Vera Farmiga and Patrick Wilson, bringing reliable, relatable charm and sincerity) get tangled up in a surprisingly complex chain of events springing from a demonic possession, like you do. The particular possession at the heart of this film is tied to a curse and is surprisingly sweaty as far as being cohesive, so it's best not to lean in too far. The opening sequence depicts the exorcism of an 8-year-old boy, and it's a bit too much but also very effective. Jump scares abound, as expected, and there are some effective (if occasionally fatphobic) moments throughout. Plus Annabelle is there, in the background, radiating gingham evil.
But James Wan, who directed the first two films (and the Hayes brothers, who wrote them), is sorely missed. There's not really anyone else in the modern genre-cinema game who makes a point of mapping physical space for the viewer so that every subsequent scene is exponentially more effective. Director Michael Chaves, who did The Curse of La Llorona, directed this one, and he's good with the cast (including John Noble of Fringe as well as Mitchell Hoog from the new Saved by the Bell as young Patrick Wilson) and the vibe. But it's just not the same.
Eugenie Bondurant turns up as a mysterious occultist, and she's the big find. She has an Alice Krige demeanor and a stride like a stop-motion puppet. She is terrifying, and I expect we'll see her in horror cinema for as long as society holds out.