A wise philosopher once said, "It's sooooo haaaaarrdd to say goooooodbyyeeeee to yesterdaaaaaay," but it's obvious that young sage could not predict the advent of reality TV, which would, indeed, make it easy to say goodbye to yesterday. That's right, folks, we've made it to the finale of Bachelor in Paradise, but ABC won't let us go without one last excruciating three-hour episode. Let's dive in.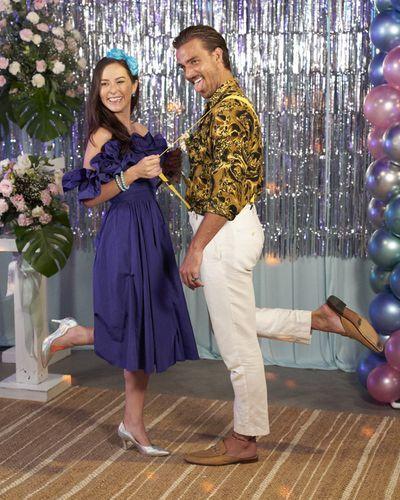 The finale kicks off with the saddest prom ever, which feels accurate. At the end of my prom, I felt bored and ready to get the hell out of dodge and that is also how I feel about the end of Bachelor in Paradise. Abigail exits the bathroom in tears — been there, girl — and Noah is waiting for her and wanting to chat. To recap if you care (and honestly, you're reading this so obviously you care a little bit even if you don't want to admit it): Noah told Abigail he was falling in love with her yesterday, she didn't respond in the moment but was prepared to tell him AT PROM that she was falling in love with him, but before she had a chance, Noah delivered the ultimately Bachelor burn and told her she wasn't his "person." One viewing party attendee contends that it should be illegal to dump someone while they're in costume. Another viewing party attendee — who is a full-time employee of the Nashville Scene but shall remain nameless to protect his identity — contends that it's totally fine, but I suspect he's only saying this because he once dumped someone while in costume.
Noah decides to leave Paradise immediately, and honestly I blame no one for fleeing from the prom. Abigail is also going to leave but not before crying with all of her friends first. Fair. I also support crying with all your girlfriends before leaving the prom. As long as you leave the prom in an irrational emotional state, I support you.
The next day, the gang heads to the beach for a cocktail party and a rose ceremony. The men have the roses, which means two women will be going home. Everyone is having Big Thoughts about what the future holds. Joe tells us there are three options — live together, get engaged or break up. I feel like just dating and being normal is also an option, but what do I know? I'm just a woman who has been in a happy and healthy relationship for nearly two decades. Wells Adams shows up in a hot pink blouse and more chest hair on display than I care to comment on, and he drops a huge bomb on everyone: there will be no cocktail party! Oh no! What will these people who have been hanging out every minute of the day for 24 hours a day possibly do without a cocktail party to sort through their feelings?!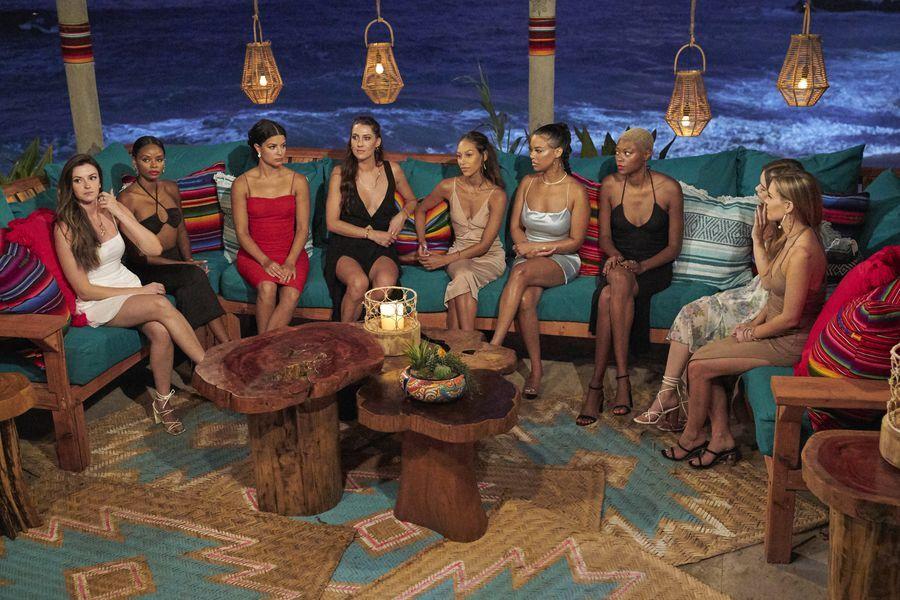 Roses go to Serena (Joe), Maurissa (Riley), Mari (Kenny), Becca (Thomas), Anna (James), Tia (Aaron) and Mykenna (Ed). That means Chelsea and Natasha are going home.
The next morning, Wells gathers the remaining seven couples in the "Rose Palapa" for a Very Special Talk. He brings out Caelynn and Dean, two people who met on this show and are still in love after two years of living a privileged influencer lifestyle of traveling the world for free. If they can withstand absolutely no hardships and trials and still be in love, so can you! They encourage everyone to have a Very Serious Talk about their relationships, so it's time for two hours of DTRs.
Kenny, a 40-year-old who recognizes that death is imminent, is worried that his 25-year-old girlfriend Mari might not be ready for marriage, but she's not a regular 20-something, she's a cool 20-something and therefore she is ready to tie the knot. Kenny, a man who has already slept with Mari multiple times this season, just wants to make sure she is emotionally able to handle the Fantasy Suite because we all know that having sex in a room with rose petals is a very serious commitment.
Thomas tells Becca that he's very happy, but Becca says it feels too good to be true and therefore she must end it. I am not a fan of Thomas, but I am confused by this logic. Becca feels like she saw part of Thomas, but not all of Thomas, and in his defense, the best place to see alllll of Thomas is in the fantasy suite, but Becca says no to that. She has been through this process two times — and engaged twice — but she's not sure if it works. Hate to break it to ya, Becca, but if you have 18 broken engagements and you're trying to figure out why, you might consider starting with the woman in the mirror.
Ed tells Mykenna he feels like there's a spark, but Mykenna tells him repeatedly that they should end things. Ed seems shocked for a guy who had to spend an hour convincing her to go on a date with him two days ago. He tries relentlessly to get her to keep dating him but after about the tenth "no" from Mykenna, he finally accepts his fate and leaves Paradise. Meanwhile, James — the brobot who hasn't had a single girl interested all season — sits down with Anna, who tells him she'd like to see where things could go, and James dumps her! The nerve! James quickly retreats to his true love — Aaron — and they decide to bounce together, but not before Aaron quickly dumps Tia in the hallway. May these douchebags live happily ever after.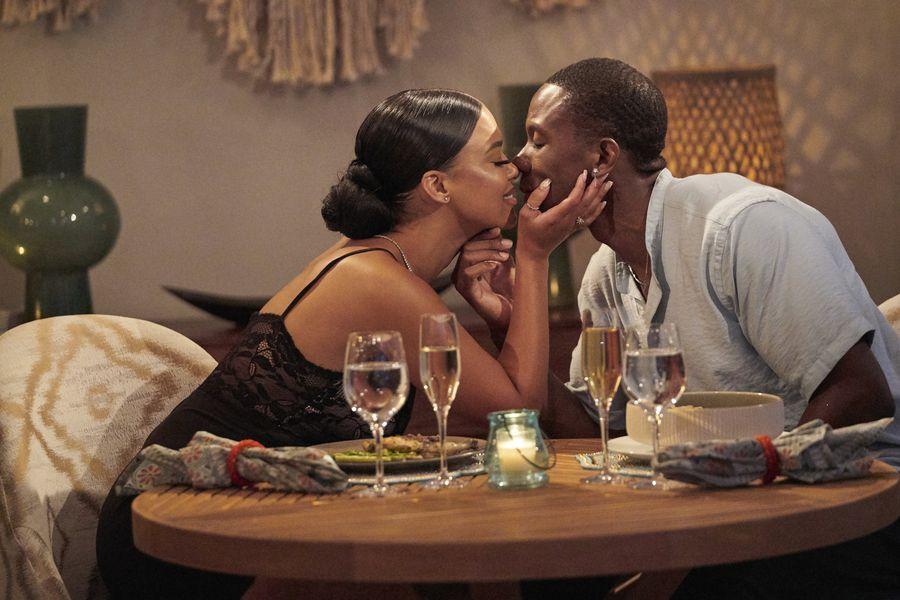 Maurissa tells Riley she wants to go to the fantasy suites, and Riley gives a long, dramatic, melancholic speech to say that he … also wants to go to the fantasy suites. There's absolutely no pretense of drama with Grocery Store Joe and Serena, who immediately agree on wanting to go to the fantasy suites and confess their love to each other.
Serena and Joe, Mari and Kenny, and Maurissa and Riley go on their final dates and use the time to confess their love for each other. They go to their various rooms/beds/hot tubs before kicking the cameramen out. The next morning, we see them perfectly polished and wrapped in fluffy white down comforters talking yet again about their deep love for each other. But will these men propose? How can the women know? It's not like they just had eight camera-free hours to discuss it.
It's engagement time and Mari and Kenny are the first couple to come together at the rose podium. Mari is completely convinced that Kenny is the love of her life, despite the fact that they've known each other for a few weeks and he slept with/dated at least two other women in that time. Kenny says he doesn't know if he felt love at first sight when he met her, but it was definitely "something" — possibly some bad shellfish from that roadside stand — but whatever, he wants to marry her. He says no other couple has been tested as much as them, and I don't know if he means COVID tests or STD tests or what, but great. Kenny asks Mari to marry him and she says yes. What do you guys think — three months tops?
Next up is Maurissa and Riley. Maurissa confesses that she's been in love with Riley since day one, and Riley tells her that she gives him goosebumps and butterflies. He tells her he knows he's in love for her and then there's a long dramatic pause before he gets down on one knee. You faked me out, Riley. I've gotta hand it to you. They get engaged and we're two for two.
Joe and Serena are the last ones up. Joe takes his place at the rose podium, preparing for his proposal to Serena, when his ex Kendall shows up. Wow, dick move. She tells him that she didn't want to leave the beach without telling him that she's over him and excited for him and Serena. It is very uncool to surprise your ex moments before he's about to propose to someone else. Go taxidermy a dead deer and leave Joe alone, Kendall! When Serena shows up, she confesses her love. Joe tells her about Kendall's surprise visit and then proceeds to tell her that he's crazy about everything about her. He proposes, she says yes and all three couples drink Champagne on the beach.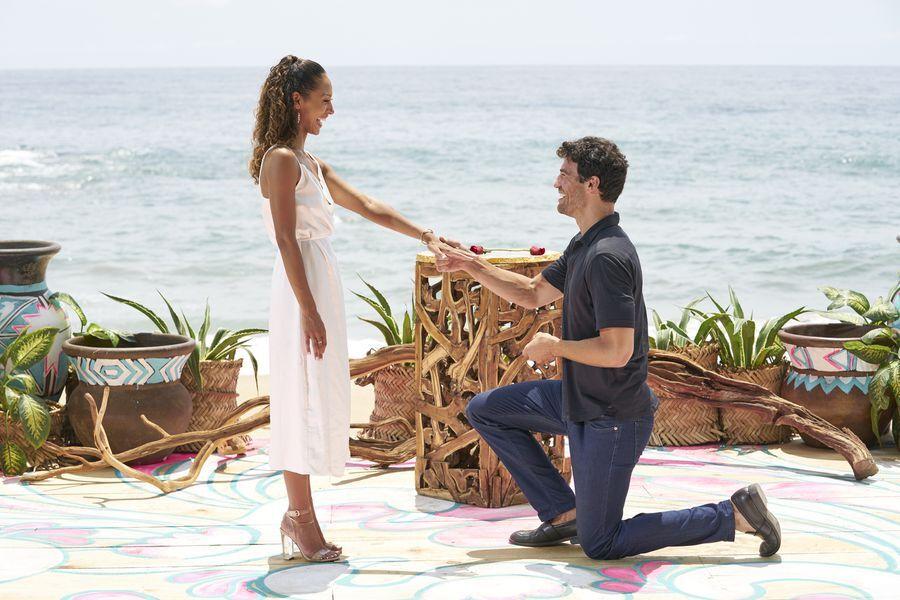 That's a wrap on this season of Bachelor in Paradise. We did it, guys! We wasted hours of our lives on this trash show and these trash people that will be completely erased from our minds tomorrow. Ain't life grand?
By the Numbers
Viewing Party Guests: 7 (4 women, 3 men)
Drinks Consumed: 24
Layers in Our Finale Cake: 11
Layers to These Contestants: 0