At a Q&A last month at the Belcourt, Jason Isbell said there are two kinds of music documentaries: the kind the musician is OK with, and the kind that doesn't suck. Thankfully, Jason Isbell: Running With Our Eyes Closed definitely doesn't suck.
The new documentary, which debuts this week on HBO, follows the acclaimed singer-songwriter through the making of his 2020 record Reunions. While most of the "action" does take place in the studio — Nashville's famed RCA Studio A, that is — with Isbell bouncing ideas off his band The 400 Unit and producer Dave Cobb looking like he walked straight out of a 1970s Wrangler catalog, this music documentary really isn't about the music. Interviews from Isbell's manager Traci Thomas, his former Drive-By Truckers bandmate Patterson Hood and his parents frame the story of how he became who he is today, but the story goes far beyond that. Just minutes into the film, it becomes clear that contrary to its marketing, this is not a making-of documentary. It's a film about a marriage.
Isbell and his wife, fellow musician Amanda Shires, clearly have a strong connection. They've known each other for nearly two decades, first becoming friends during Isbell's Drive-By Truckers days. Early in the couple's relationship, Shires became the reason Isbell decided to get sober after years of serious addiction and substance abuse. The two share the same sense of humor — their dry delivery creeps up on you — and willingness to speak uncomfortable truths.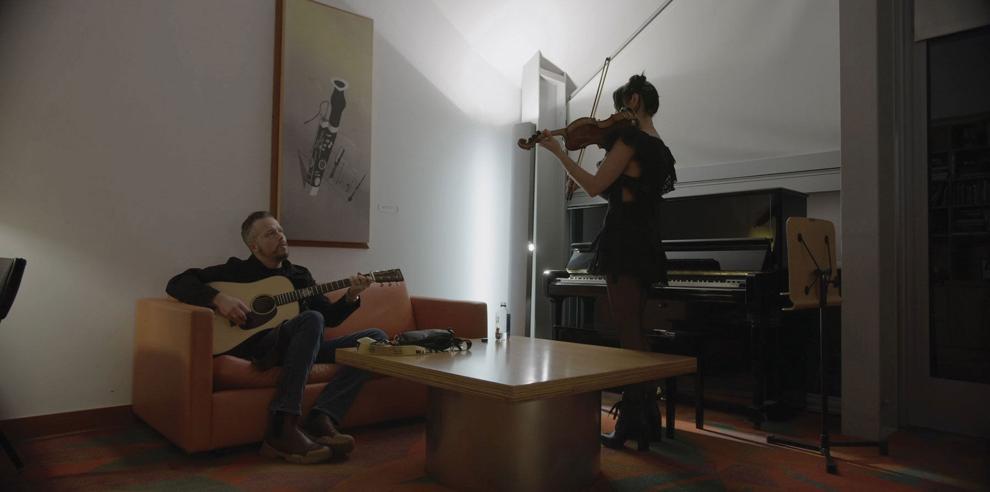 If the Scene were asked for a single adjective to include with the Running With Our Eyes Closed press materials, I might just say "uncomfortable" — but that's not to say the film isn't good. The painful tension between Isbell and Shires is the core of the story; it begins with a trivial argument about prepositions and quickly expands into a communication breakdown, all in clear view of the audience. Where the documentary succeeds most is in its treatment of this trauma. Director Sam Jones shows us that Isbell's past — before and since meeting Amanda Shires — runs parallel to his present. The decision to tell Isbell's story in a nonlinear way might be just the thing that saves it from, as Isbell put it, sucking. 
The film's true revelation is that accountability brings about healing in the end. Near the conclusion, Isbell muses, "I know I wasn't going to hurt anybody from my perspective, but there were other perspectives." The invitation to examine Isbell's story and compare it to your own drives home Running With Our Eyes Closed, leaving the viewer to grapple with their own life.