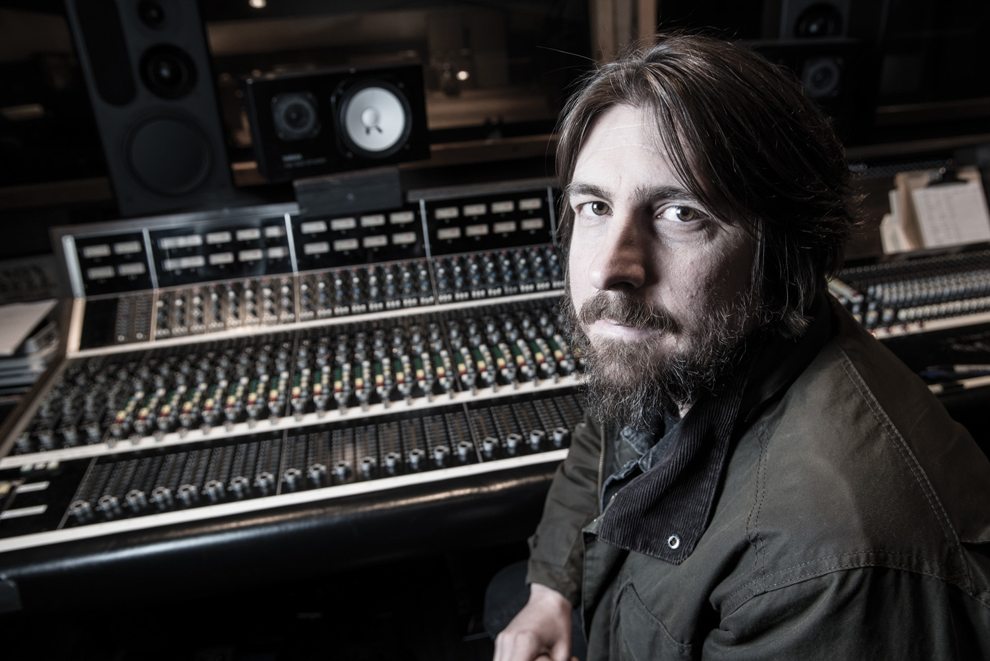 Dave Cobb returned from last month's Grammy Awards ceremony with two more gilded doorstops to add to his growing collection. The trophies — for the champion producer's work on Chris Stapleton's From A Room: Volume 1, which won for Best Country Album, and Jason Isbell and the 400 Unit's The Nashville Sound, which took home Best Americana Album — will likely take their places next to Cobb's two other Grammys. Those, which he landed for previous work with Stapleton and Isbell, are currently on a mantle in the control room of his studio, Low Country Sound, where he produced both records.
Most Nashvillians know the building as RCA Studio A. It's the hallowed tracking room where Chet Atkins recorded the country legends of RCA's golden era, where Dolly Parton cut "Jolene," and where the lush backing tracks for Elvis Presley's gospel records were laid down. (The King cut his vocals next door in Studio B.) Many around the world know Studio A as the place that in 2014 inspired a grassroots preservation movement, after it was set for demolition to make way for condos. That was before Leiper's Fork philanthropist, historian and real estate mogul Aubrey Preston joined the preservation movement and intervened with an 11th-hour $5.6 million dollar bid to save the building.
Cobb spoke to the Scene five days before the Grammys, sinking into a plush chair in the corner of the 5,000-square-foot open studio, which he took over in early 2016 from previous tenant Ben Folds. Cobb recalls how Isbell went for a walk around the block after wrapping sessions for his latest record, and returned with the album's title: The Nashville Sound. It's a bold statement, to be sure. But it's one befitting a bold movement that saved Studio A, a local landmark that has defined Nashville's sound in multiple eras, and one that's having one helluva third act making modern Music City history.
"I think that reference is about encapsulating a time right now," Cobb tells the Scene, "and kind of the community that we're trying to have and develop and hang out [in], and make sure that people know we all care about good music and good records, and classic records and honesty in record-making."
The fight to save Studio A was a tale of two competing narratives. One was spun by the families of Owen Bradley and Chet Atkins, the visionary producers who built 30 Music Square West (the building that houses Studio A) some 50 years earlier. The Atkins-Bradley camp claimed that the former RCA Nashville headquarters' glory days (which included Eddy Arnold's 1965 recording of "Make the World Go Away" and Waylon Jennings' 1973 outlaw-country-defining LP Honky Tonk Heroes) had ended decades before they struck a $4.1 million deal to sell it to a Brentwood developer who had plans to raze the building. The other perspective was offered by Folds — who had been the building's primary tenant for 12 years, operating Studio A under the name Ben's Studio and later Grand Victor Sound —  who posted a passionate open letter on Facebook in summer 2014, pleading with his landlords to take the building off the auction block. 
"While we Nashvillians can feel proud about the overall economic progress and prosperity we're enjoying," Folds wrote in his plea, "we know it's not always so kind to historical spaces, or to the legacy and foundation upon which that prosperity was built."
With that, a showdown ensued that made international news. On one side was a growing chorus of preservationists who'd watched a host of Music Row's historic studios fall to the wrecking ball as developers bulldozed Music City's past to build its future. They were hell-bent on a William Wallace-worthy crusade to defend Studio A. On the other side were Music Row property owners, who worried that the movement would keep them from selling the dirt on which their relatives and ancestors had built Nashville's status as country music capital of the world. In an open-letter response to Folds and his supporters, issued to the Metro City Council and leaked to the press, Harold Bradley — Owen Bradley's surviving brother and a legendary session guitarist and Country Music Hall of Famer — offered a different take on the history of Studio A.
"The architecture of the Nashville sound was never of brick and mortar," Bradley argued. "Music City isn't about making a perfect room, or hanging just the right baffling. Turns out, the architecture of Nashville's evolving sound is a synergy of creative energy. That's still here, and it has nothing to do with this building."
But as it turns out, Nashville's evolving sound has had a lot to do with that building during the three years since Preston stepped in. He was later joined in his efforts by partners and fellow philanthropists Chuck Elcan, a Nashville health care executive, and Mike Curb, a musician-turned-politician-turned-music-mogul. Sharon Corbitt-House and Mike Kopp, members of Folds' management team, as well as songwriter Trey Bruce also played key roles in the preservation effort.
"I don't think anybody could have projected or expected what's happened and what is happening in real time here," Preston tells the Scene. "Usually when you're preserving things, you're preserving a place, or an artifact that tells a story from the past. … I have not yet seen anything where you have a site and a building that has such a powerful past, present and future. … It's like pushing the reset button on history every day and making new history."
While the fight to save the building raged through the fall of 2014, Stapleton and Cobb were holed up inside Studio A, making Stapleton's 2015 solo debut Traveller. The album — a  double-platinum-selling Grammy and CMA Award winner  — represented a paradigm shift in returning substance to country music. Had the building been torn down, Traveller would have been the final album cut within the same four walls where Jerry Reed jammed out on "Amos Moses." In 1995, during the period when Warren Peterson operated the room as Javelina Recording Studios, Shania Twain cut overdubs there for her breakthrough debut album The Woman in Me. 
Kacey Musgraves' Grammy-nominated 2015 LP Pageant Material was the first album recorded in the studio after it was saved. Since taking over, Cobb has produced albums by the likes of Amanda Shires, Anderson East and Brandi Carlile in Studio A. He also produced a forthcoming LP from John Prine, set for release this spring. In 2018, it's arguably the most relevant recording studio on Music Row.
In an ironic twist, Studio A's unlikely third act never would've happened if the Atkins/Bradley camp hadn't tried to sell the building. In 2016, Stapleton told the Scene that fate brought him to Studio A. Sound Emporium — the studio where he'd intended to track Traveller — was booked. So he settled on Studio A, a decision inspired by reports he'd read of the studio's impending demolition.
"It was like, 'We should go record in there just to say that we did, because it's not going to be around anymore,' " Stapleton recalled. "I like [places] that have ghosts in the walls. … I like feeling the air in the room between [musicians] and the interaction with the guys, without walls between us. Those kinds of things are important to me."
Cobb likens Studio A to an American Abbey Road. He explains how the gymnasium-sized studio — the only one still standing of three designed by renowned acoustician John E. Volkmann specifically for recording large ensembles — was instrumental in Chet Atkins' crafting of the countrypolitan Nashville sound. The single room has space for choirs, orchestras, string sections and a live band. Says Cobb: "They realized that if you soften the country music a little bit, and you pop it out, and add the choirs and the strings and the big lush arrangements you were hearing on Frank Sinatra and Nat King Cole records, that you could sell a bunch of records. That happened here."
"We just bonded with the place," Cobb recalls of the Traveller sessions, where he captured Stapleton and his band live, with vocals bleeding onto the drum tracks and pedal steel teardrops falling over the organ swells. "I mean Traveller, there's just so much of the room on that album."
In 2016, Stapleton told the Scene he "wouldn't want to go anywhere else" to record his follow-up to Traveller — and he meant it. He recorded 2017's two-volume From A Room: Vols. 1 & 2 at Studio A. The two volumes were released separately, and each debuted at No. 2 on the Billboard 200 albums chart. In December, both A Room LPs, along with the still-moving-mega-units Traveller, occupied three of the top five spots on the Billboard Hot Country Albums chart, making Stapleton the first country singer since Garth Brooks to accomplish such a feat — as well as elevating him to the status of top-selling country act of 2017.  
The publicity from the saving of Studio A helped make 30 Music Square West a hotspot for Music Row office tenants. "They're officing in a museum," Preston says, as he gives the Scene a guided tour of the non-studio side of the building. Its hallways are now lined with covers of albums cut in Studio A and rare, recently unearthed photos capturing the likes of Johnny Cash, Marty Stuart, Dolly Parton, Charley Pride and Roy Orbison sharing candid moments in the building.
Preston, Elcan and Curb renovated the building at a cost of more than $500,000. Preston occupies an office where Music Row titans like Chet Atkins, Jerry Bradley and Joe Galante once wheeled and dealed. Currently, the building is at full capacity, renting to tenants like Miranda Lambert, whose writing studio is across the hall from Preston, and legendary R&B songwriter and guitarist Steve Cropper, who occupies the building's smaller Studio C. Trad-country cult hero Jamey Johnson is there, as well as mastering engineer John Baldwin, who moved his operation from his home studio into a space that's been a mastering room since the 1960s.
"It's mind-bending," says Baldwin. "I've always been obsessed with this building, and when I heard that there was a room open, I was so excited to look into it." Baldwin notes that he sometimes finds himself remastering albums that were recorded in Studio A, classics like the 1969 Lee Hazlewood/Ann-Margret duets record The Cowboy and the Lady.
"There's definitely music in the hallways," says Cobb. "You can run into some crazy situations because there's a great community here. You never know who's going to happen on somebody else and write together and play on a record."
Preston set out to preserve a piece of history and ended up becoming a part of current history on Music Row. But despite the success of Studio A, the return on his, Elcan and Curb's investment is of intrinsic — not monetary — value, something he calls a "triple-bottom-line project." 
"Even with full occupancy," says Preston, "this is not a project that you would do because of the financial bottom line. But the social bottom line and the environmental bottom line and the generational bottom line are so strong that it makes this a very successful project for myself and my partners."
Email music@nashvillescene.com