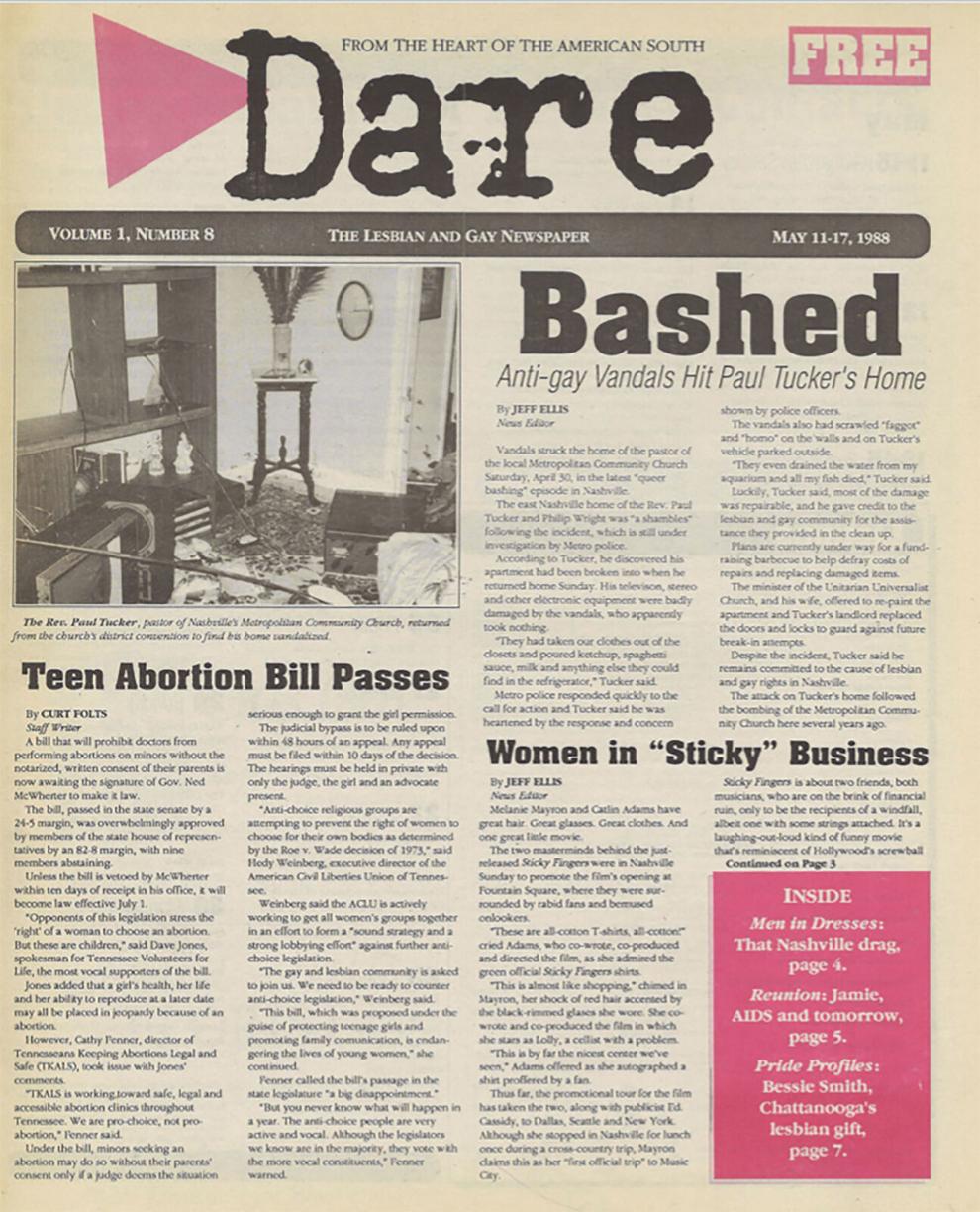 According to the types of people who would know, Dare (later renamed Query after a settlement with anti-drug group D.A.R.E.) was the first of its kind in Nashville.
It was a plucky newspaper, largely produced by two founders — business and romantic partners Stuart Bivin and Jeff Ellis — starting in the spring of 1988. More importantly, it gave voice to a Nashville and Tennessee LGBTQ community that until then didn't have much in terms of media representation.
"When we started, there really was nothing," Ellis says. (Bivin died in 1997.) "We went to cover an event after the first issue had come out, and we walked into this lecture hall at Vanderbilt and … it makes me emotional to talk about it … we walked into this lecture hall and everyone in that room was holding a copy of the paper looking at it. It was amazing."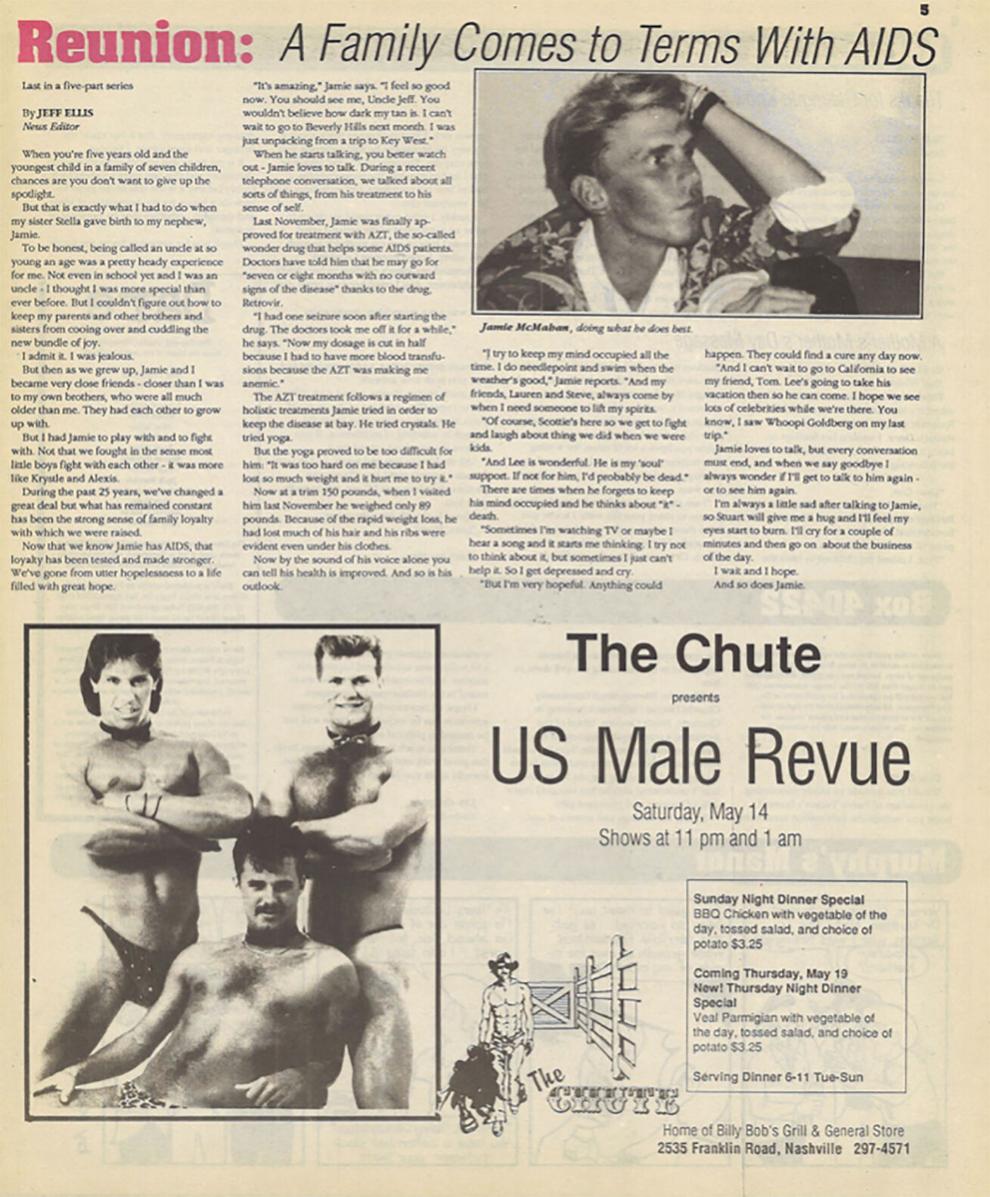 This was not an easy endeavor for Bivin, Ellis and the others who helped them out. After the first issue came out, their printer in Nashville refused to print the second, so they turned to the Lebanon Democrat, which printed the paper for about a decade despite pushback in the community.
There was the D.A.R.E. lawsuit too. Though Bivin was worried it would spell the end of their upstart effort, it ended up being a boon, as a gay assistant at the anti-drug organization tipped them off that D.A.R.E. would offer to buy the name, and they should hold out for more. That early cash helped the soon-to-be-renamed Query move into a real office.
There were also violent threats, and not just from the KKK and anti-LGBTQ bigots, though those were regular. In a time when Nashville was less accepting of LGBTQ people, some in that community did not like that the paper used people's real names in news stories — but Ellis said he couldn't run a newspaper without using people's names.
"It's not really pleasant for someone to threaten to kill you, but if they were really serious about it, I think they would've done it without any warning," Ellis says with a laugh. "It meant we were doing something that ultimately would prove to be important."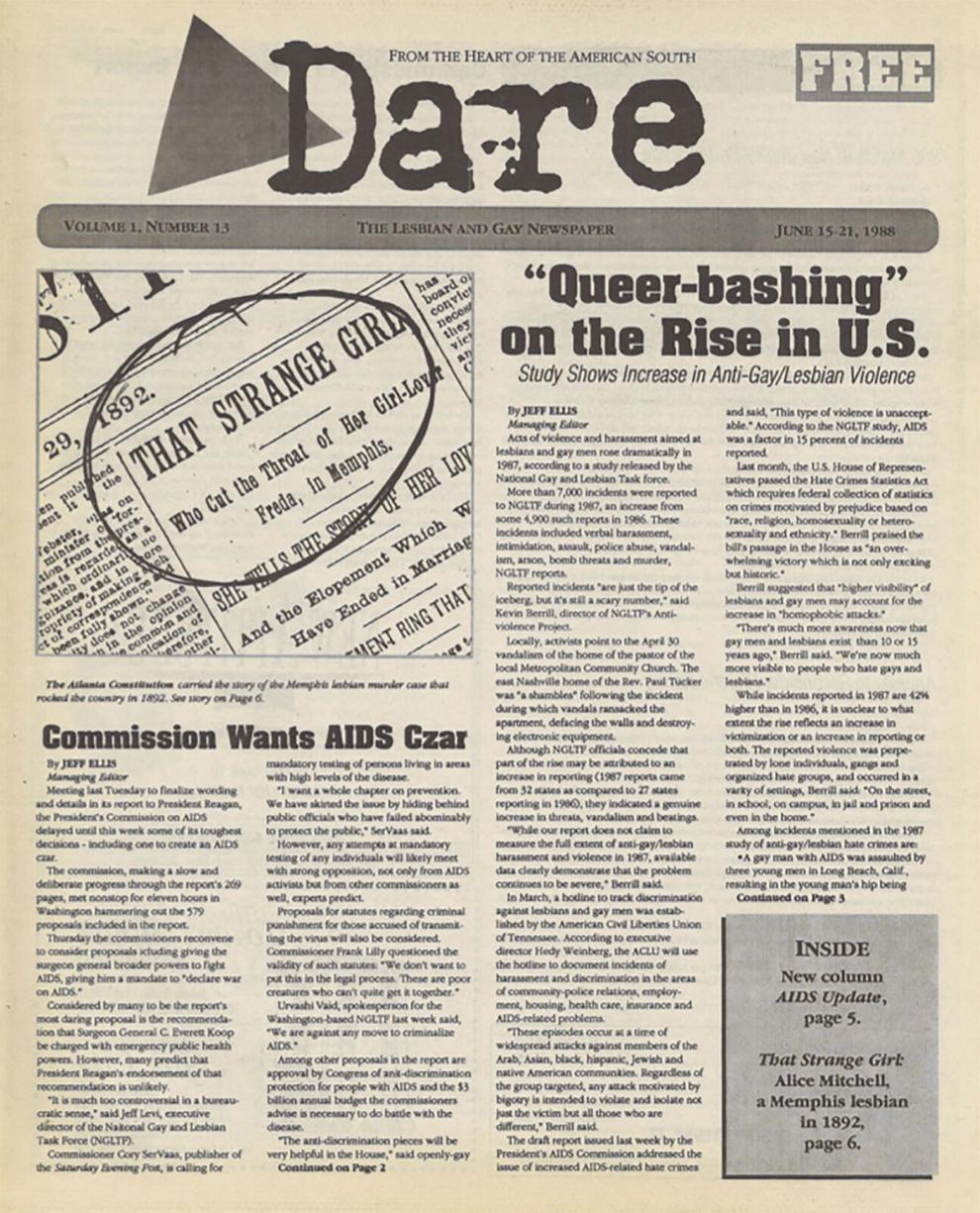 The run of the paper, which ended in the mid-2000s, overlapped with a dark time, especially for gay men. Both front-page stories from the inaugural 1988 issue were about the AIDS crisis, and Ellis would eventually grow tired of writing about so much death and sadness.
"At one point I felt like I can't write anymore about AIDS," he says. "I've written so much. It was so hard."
There was also an increase in anti-LGBTQ violence, across the country and in Nashville. The violence was detailed on the front page, including Ellis' reporting on a string of murders of gay men, but also in cheeky ads for self-defense classes targeted at gay men.
The paper's pages are a crucial link to an important but often-overlooked period of Nashville's history. Until recently, old issues of Query and other pre-internet Nashville LGBTQ publications were either lost or confined to dusty archives. Query's own archives were lost to flooding years ago. Vanderbilt University and other institutions have some of the papers on file, but they can only be accessed in person.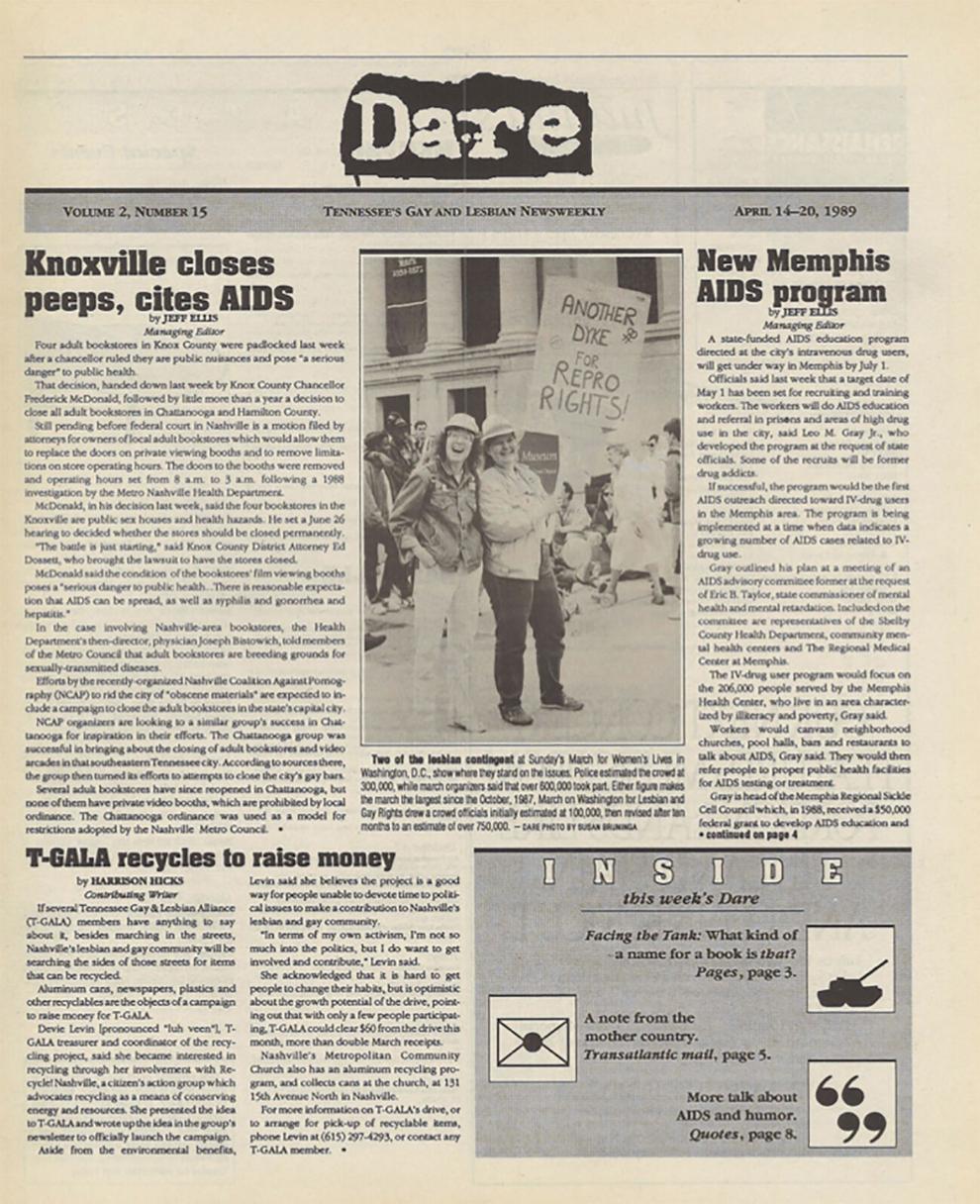 But in August, the Albert Gore Research Center at Middle Tennessee State University digitized and posted online about three years' worth of Query, in addition to a few other publications. The center is working on collecting and digitizing more. Anyone can now access at least some of Ellis' reporting on AIDS and violent crimes against gay men, colorful classified sections from the late 1980s and early 1990s, and chatty gossip columns that paint a picture of a vibrant part of Nashville's history.
"It's not like The Tennessean was really writing stories about the queer community, so where would you get your news if you were a Nashville gay person?" says Sarah Calise, an archivist at the Gore center who digitized the newspapers. "You had nowhere to turn to."
Being somewhere to turn to for Nashville LGBTQ people, especially young ones, was the part of running the paper that brought the most meaning to Ellis. As public figures in the still-somewhat-underground community, Ellis and other representatives of the paper became something like spokespeople for the Nashville gay community. He remembers covering events in Chattanooga and Knoxville, where no local LGBTQ people would agree to be interviewed by TV crews, so he stepped in.
Later in the paper's run, Ellis was interviewed for a TV news series on "the gay '90s." Shortly after the series ran, he noticed a young woman following him at a local mall, so he approached her.
"I want to thank you, because you've proven to me that I'm not the only one out there," he remembers her saying.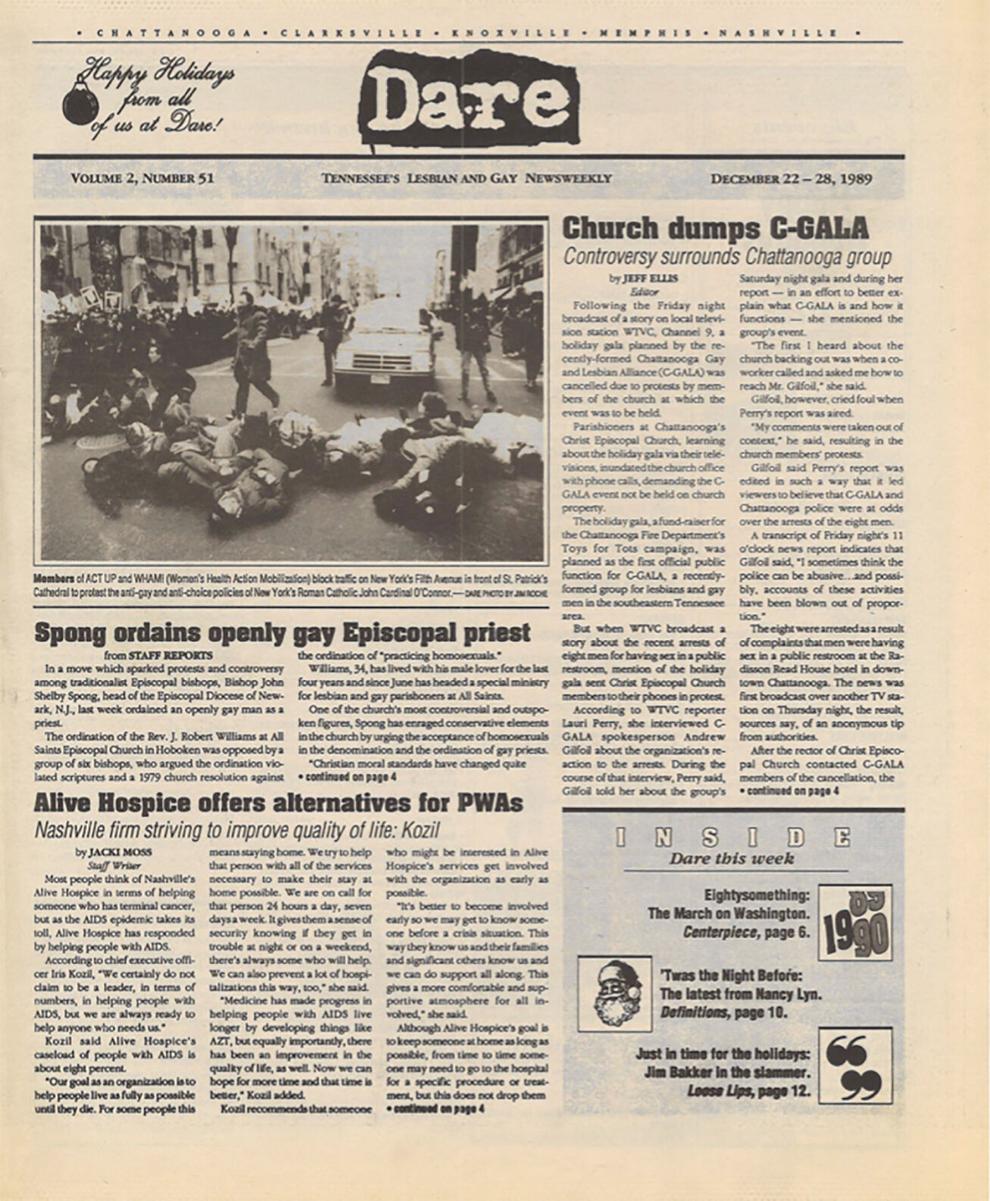 "We were trying to give a voice to the people who could not have one," Ellis says. " 'I knew I had a community because I read your newspaper.' That's tremendously gratifying, and it was also a big responsibility."
And he's especially grateful that Calise and the Gore center are publishing the paper online.
"The thing that has really made me proud … this sounds so fucking corny … is that it's giving a whole new generation a chance to see what we did 30 years ago."