Once a month, reporter and resident historian J.R. Lind will pick an area in the city to examine while accompanied by a photographer. With his column Walk a Mile, he'll walk a one-mile stretch of that area, exploring the neighborhood's history and character, its developments, its current homes and businesses, and what makes it a unique part of Nashville. If you have a suggestion for a future Walk a Mile, email editor@nashvillescene.com.
---
The Route: From 15th Avenue, follow Cass Street southwest, then left on 18th Avenue North and right on Clarksville Pike. Turn right on 24th Avenue North and then right on McKinney. Cross 18th to Cecilia Avenue, and then turn right on 15th to return to the beginning.
Cranes: 1
Abandoned scooters: 0
---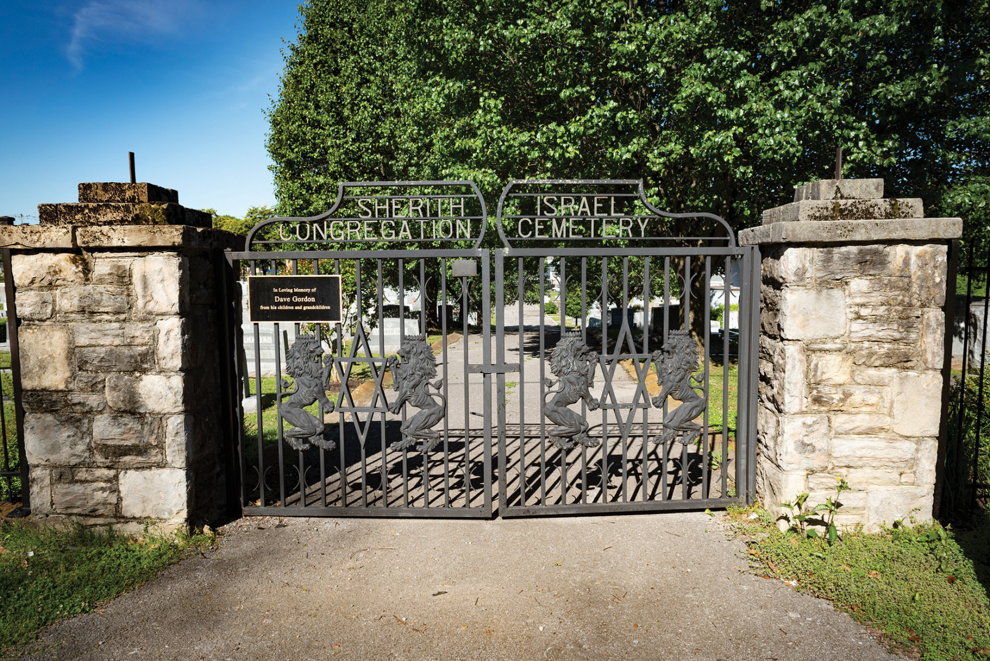 Cass Street divides what seems like a pair of cemeteries.
Walking west, that of The Temple — a Reform Jewish congregation — is to the left. On the right is burial ground for Sherith Israel and the West End Synagogue, the Orthodox and Conservative congregations sharing a space. (Per Metro's property records, there's actually a fourth tract — the trustees of the Hungarian Beneficial Association technically own the southeast corner of the shared cemetery.) It's almost certainly just coincidence the more liberal strain of Judaism is on the left with the more conservative traditions on the right, but it seems serendipitous, at least.
A mix of cinder-block and clapboard homes — and of course infixed new-builds muttered around — overlooks the cemeteries and their tall and spreading magnolias and oaks. The markers on The Temple side are more elaborate; those in the Sherith/West End ground are more traditional, though the latter's ancient trees are joined by seedlings. Both cemeteries are pleasant and park-like, in the spirit of the age — the late 19th century — they were first set aside for the mitzvah for burial.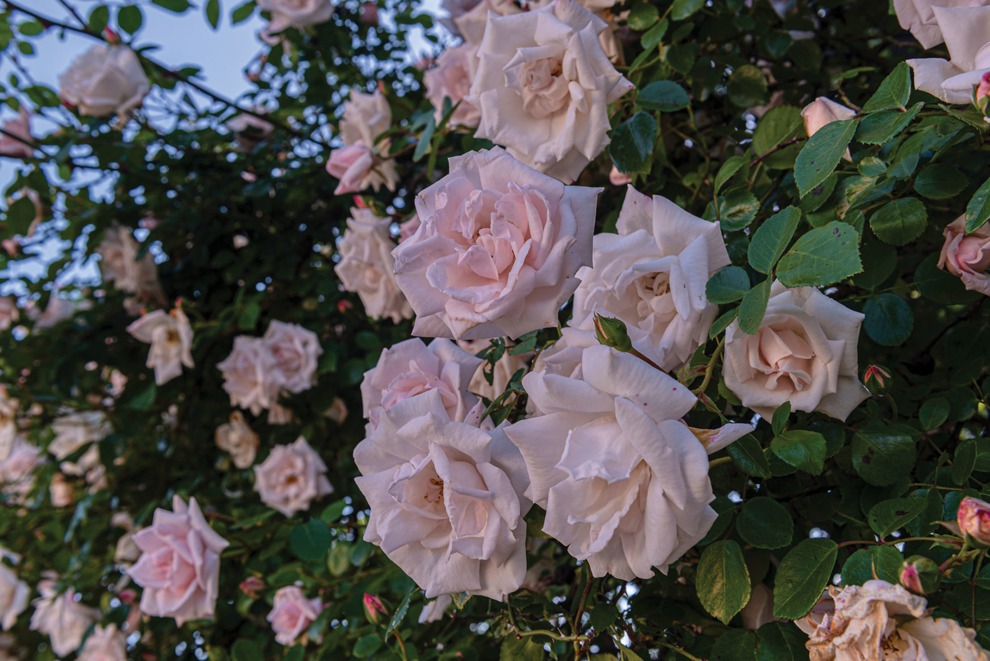 Turning on 18th Avenue North, sprays of feral roses tumble over the wrought-iron fence in a series of ambrosial cataracts. As gardeners know, left to their own devices, roses will stretch and spread into tentacled bushes barely resembling the delicate bouquets of the florist.
Nashville's road planners showed shocking disdain for perpendicular intersections in this part of town, the avenues intersecting the streets obtusely and acutely, the grid abandoned for its Dada cousin. This arrangement gave rise to necessarily architecturally interesting floor plans for the businesses along Clarksville Pike here: triangles, yes, but also higher-order non-quadrilateral polyhedrons, featuring equally interesting paint schemes. Lucky's, a place for custom wheels and various other automotive upgrades, is greener than the eyes of Iago's mocking monster. Pastel pinks and blues and not-quite-neon yellow frame windows elsewhere. A pontoon boat waits incongruously in a side yard left perfectly sized for the vessel by yet another sloping street. A billboard urges the late Head Honcho and Lil' Ham to RIP, though the familiar abbreviation in this case means "Ride in Paradise."
Much of this area was once owned by the publishing arm of the Seventh Day Adventists, including the large commercial and office space at 23rd and Clarksville Pike, now called Doss' Corner and home of the eponymous barber shop. For decades that land and the building, constructed in 1910, were owned (technically) by the incumbent Roman Catholic Bishop of Nashville, having been willed to the diocese by the heirs of the Baltz family. 
Walter Colson's body-shop empire spans both sides of Clarksville Pike just northwest of 23rd, but for a small corner left for Royalty Eats — a pair of food trucks sharing the space, which includes what looks like a perfectly pleasant covered patio on a concrete pad.
An abandoned pay-phone stand and two stone pillars (one tagged with the mark "TRUE GODZ") welcome the walker to Buena Vista Heights as 24th Avenue North climbs steadily up and north from Clarksville Pike. The sidewalks are of a certain age but mostly well-cared-for and wide, and trees offer shade from the tight front yards. Older homes — including an expansive 1920 four-square — eventually give way to the blinding white brick of new construction, with more new homes going up on lots left empty by the bulldozer and wrecking ball. Gentrification — or "redevelopment," to use a less charged term — is happening block by block, or even more tightly, in this part of town, the bigger new homes (not quite skinny enough to carry that damned sobriquet) casting shadows literal and metaphorical on the stubborn old houses nearby.
On McKinney, there's a regular rhythm to it: new, old, new, old, new, old. The older homes almost invariably bear some form of "No Parking" signage, be it something somewhat official-looking or, in one case, black spray paint on the yard's front wall. 
Across from St. Matthew African Methodist Episcopal Church, with its ship-hull roof, a pair of stone entrance markers are now in a backyard, but they mark a path to something that's disappeared, just as the stairs from the sidewalk farther up McKinney lead to a home that's no longer there. As McKinney moves east, the chug of construction equipment continues and the charm of whichever older homes remained farther back disappears.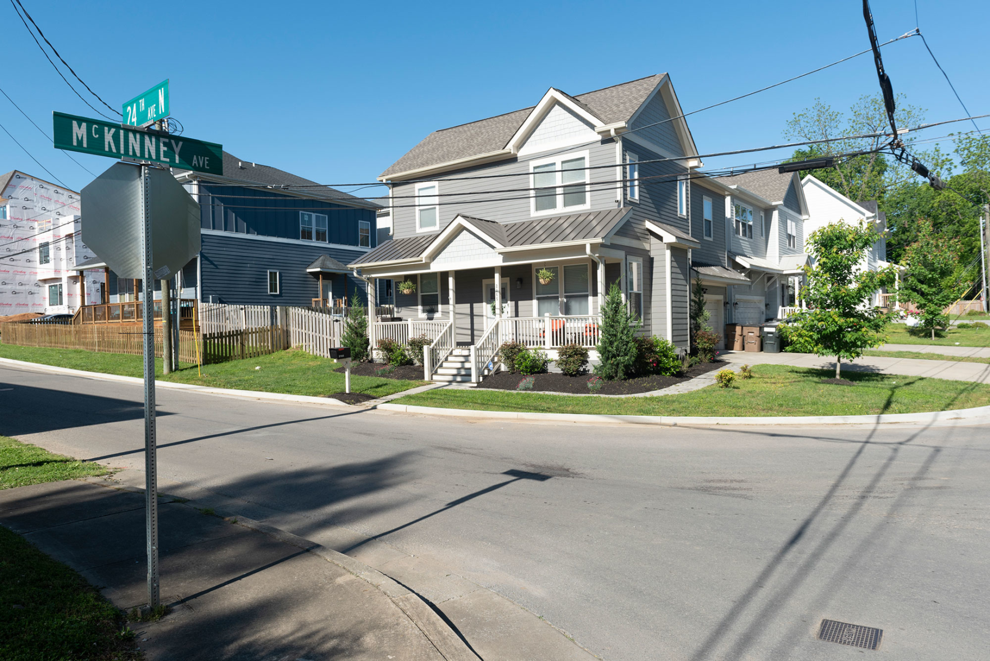 Springing up on the hillsides are houses that wouldn't be out of place in any middle-class subdivision in any ring-county suburb. McKinney stubs out at 18th, and moving eastward requires just a little jag across the catty-corner to Cecilia Avenue. Church & Son, serving the neighborhood since 1951, welcomes one to "The Bottom" (and now we here?) at the corner of Cecilia and 15th and proudly proclaims itself "Home of the World-Famous Gus Burger," named for Gus Church himself. It's apparent why the Churches declared this area The Bottom — with the Cumberland River slicing Davidson County in half and its many tributaries making for home, there are plenty of places around that call themselves some kind of bottom — as 15th Avenue North sits up, almost as if it's crossing a levee for some unseen watercourse. The second floor of a modest and small apartment block next to Church & Son is at street level, the ground sloping sharply into the shared courtyard.
The burnished-copper-colored brick of 15th Avenue Church of Christ contrasts with its shimmering midnight-black asphalt parking lot, which slopes down (naturally) to an expansive church yard. It's quiet on this sunny spring Friday, but it's easy to imagine the chattering voices of a post-service lunch echoing back up the hill.
Those voices might make their way to the quiet stillness of the cemeteries next door, the rocks on the gravestones — a Jewish tradition of remembrance that signifies the permanence of memory while also allowing visitors to participate in the mitzvah of burial — as quiet and still as the morning, a sharp contrast to the change occurring to the neighborhood to the northwest.