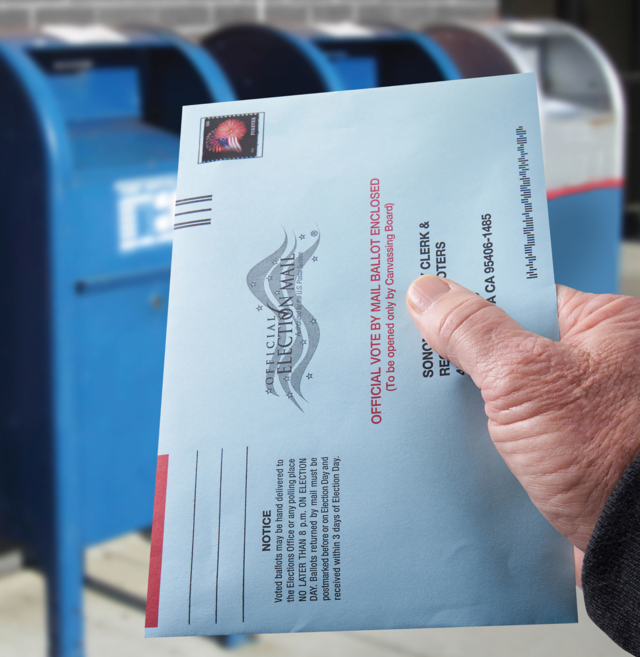 The Centers for Disease Control's guidance for elected officials seems obvious now that we've all taken a crash course in life during a pandemic: "Encourage voters to use voting methods that minimize direct contact with other people and reduce crowd size at polling stations."
There are a number of ways one can imagine accomplishing this goal — expanding early voting and adding polling locations, for instance. But the most significant step officials can take toward minimizing a voter's direct contact with other people is by literally allowing them to vote without making direct contact with other people. It's called vote-by-mail. 
Twenty-eight states and Washington, D.C., already allow any voter to request a ballot by mail without explanation. Five states, including both Republican and Democratic strongholds, conduct virtually all-mail elections. And the vote-by-mail option is growing in popularity among voters who have access to it. Research by MIT's Election Data and Science Lab shows Americans have been increasingly voting by mail over the past 20 years. In 2016, nearly a quarter of all ballots were cast by mail. 
Tennessee is one of 17 states where voters can request an absentee ballot if they fit into one of a variety of approved categories. These include voters who are members of the military and/or live outside the country, as well as those who will be outside their county of registration during the voting period. The option is also available to citizens who are age 60 or older.  
At his daily COVID-19 briefing on March 24, Gov. Bill Lee was asked about plans for upcoming elections in Tennessee and whether he had a position on bringing universal vote-by-mail to the state. He deferred to Secretary of State Tre Hargett.
"First and foremost, we are concerned with the safety of our elections officials and voters, and we want Tennesseans to be able to safely cast their vote," says Hargett's spokesperson, Julia Bruck, in a written statement. She adds that plans for how to pull off an election in the current environment "are evolving not only by the day but by the hour as we learn more about the epidemic and its effects."
She also highlights concerns about changing Tennessee's system too quickly. 
"Tennesseans are in the habit of voting in person," Bruck says. "Evidence of this is shown by how currently over 30% of Tennessee registered voters are 60 [and] older and are eligible to vote absentee by mail. However, less than 2% of all voters cast an absentee ballot in the typical election (2.5% during the 2016 Presidential election). In conversations with Washington (a vote-by-mail state) they have shared that unless you are currently voting 60% absentee, a conversion for all voters to vote-by-mail period needs to be about five years. [Washington Secretary of State Kim Wyman] shared that 'trying to flip the switch by November would be a heavy lift and could have catastrophic results.' "
There's no doubt that significantly increasing the number of mail ballots the state has to handle will bring new logistical challenges. But can they really be said to outweigh the public health risks of forcing people to gather at cramped polling precincts in the fall, when experts worry there could be another wave of coronavirus outbreaks?
Even if we weren't in the middle of a devastating pandemic, making it easier for more people to vote is the right thing to do. 
President Donald Trump has recently been devoting some of his daily ramblings to demagoguing on this issue, saying that vote-by-mail is rife with fraud and that it hurts Republicans. (No, really, he tweeted that last part explicitly.) 
While the possibility for fraud obviously exists, states that rely heavily on mail voting have not had widespread problems. And while Republicans have tried to use voting restrictions to their electoral favor, it's not at all clear that shifting our elections away from in-person voting would hurt the GOP. In fact, there's some data suggesting just the opposite from states where vote-by-mail is available to all voters. That shouldn't matter anyway, but there it is. 
What's clear now is that Tennessee should do everything it can to, as the CDC says, "encourage voters to use voting methods that minimize direct contact with other people and reduce crowd size at polling stations." Expand early voting, increase polling locations, and give every voter the option to mail it in.