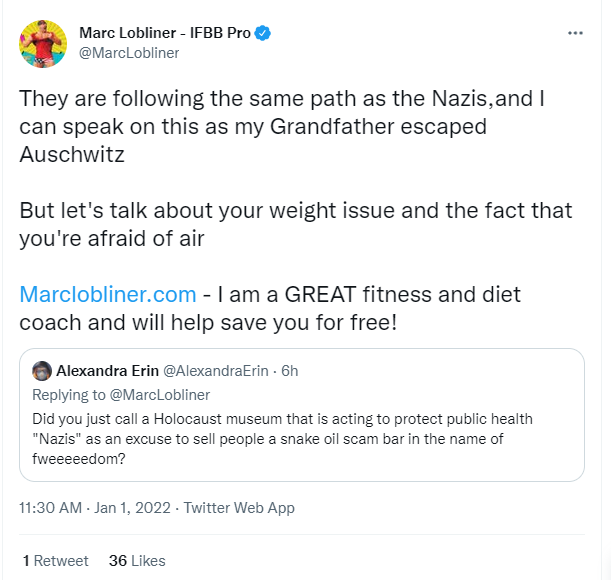 On Saturday afternoon, Brentwood fitness expert Marc Lobliner decided to ring in the new year by accusing multiple Jewish people and the Auschwitz museum of being the real Nazis, because they objected to him calling the Illinois Holocaust Museum a bunch of Nazis. (He has since deleted the tweet, but you can see a screenshot of it above.) Lobliner, who has repeatedly said that vaccine mandates are "Nazi-like," has quite the résumé. According to his website, he's the chief marketing officer at TigerFitness.com, runs a supplement company, is a professional body builder, and could be your life coach. According to LinkedIn, he's a strength and conditioning coach at Ravenwood High School. Shoot, remember when we were all supposed to be so jealous of Williamson County Schools? Now once you dodge the random angry people handing out racist flyers, you have to worry that some guy who thinks Joe Rogan is an "American Hero" and is "not against drug use in competition" is teaching your kids how to get stronger. Whew, how times have changed.
You may wonder who made Marc Lobliner the arbiter of who is a Nazi and who is not. Fortunately, along with spending the day calling everyone Nazis, he also explained, "They are following the same path as the Nazis, and I can speak on this as my Grandfather escaped Auschwitz."
Holy shit! As the kids say, huge if true! Seriously, according to the Auschwitz Memorial and Museum, there were only 196 successful escapes from the death camp. Hell, only 146 Jewish men even tried. And the grandson of one of them had ended up in our backyard? Dang. I looked to see if he's spoken to the Jewish Community Center about his family's history, but I couldn't find anything. I searched for any previous speaking engagements during Holocaust Remembrance observations. Nothing.
Still, if a Holocaust survivor who escaped a death camp lived in the United States, you'd think he would have told his story to someone before he died. But I didn't find any newspaper articles about escapees who lived here in the U.S. who seemed plausible for a relative of Lobliner.
Here's the thing — there were only certain people in Auschwitz. Jews (obviously), Russian prisoners of war, and people who lived in Poland. Most of the Jews in Auschwitz were Polish.
Lobliner doesn't share a lot of information about his mom, except that she was a drug addict, but if it was her father who escaped from Auschwitz, he needed to do so between 1940, when it opened, and 1944, when Germans emptied it ahead of the arrival of the Russians. I have tracked down the woman I believe to be Lobliner's mother, but I'm not sharing her name because she clearly does not need any more drama. But she was born in 1949. Meaning, if her father is the escapee, there was a relatively narrow window of time when he could have made his escape, come to the United States, gotten married and fathered a kid. Considering that it was impossible to immigrate from Nazi-controlled territory to the U.S. after 1941, we'd also have to build in time for a hell of an escape to Allied territory. If he came right after the war, he'd be one of a little more than 100,000 Jewish people. I just want to reiterate how unique this person would be — a Jewish person, mostly likely German or Polish, who escaped from Auschwitz and who arrived in the United States before 1949.
If such a person exists, it seems like the Auschwitz Memorial and Museum could pretty quickly identify him.
OK, but what if it wasn't his mom's dad? Lobliner posted an Instagram remembrance of his dad and revealed he was named Harry and gave enough information that I could figure out the year he died. With that in hand, I tracked down his grandfather, Isadore Lobliner, who — though he came from a large family of Polish Jews — came from a large family of Polish Jews who immigrated to the United States around 1906. Isadore did serve in World War II, but I couldn't find any records of him being a prisoner of war. Considering that so many of the World War II military records were destroyed in a fire, this may not mean anything. But again, a scrappy kid from Pennsylvania is captured by the Nazis, and then escapes? This would be all over the newspapers. But again, nothing.
People say all kinds of shit on Twitter, and families tell stories. But now Lobliner might get on Chase Geiser's podcast, One American, to tell the story of his grandfather's escape.
Maybe it's true and the Lobliner family was just the most humble bunch of folks in the world until Marc came along to buck the mold and brag about his pecs. But Marc picked a fight with the Auschwitz Memorial and Museum — called them Nazis, in fact, as part of the self-described "grift."
If he's not 100 percent sure his story's true, he ought not to repeat it, because he's made enemies of the people who can prove it one way or another.