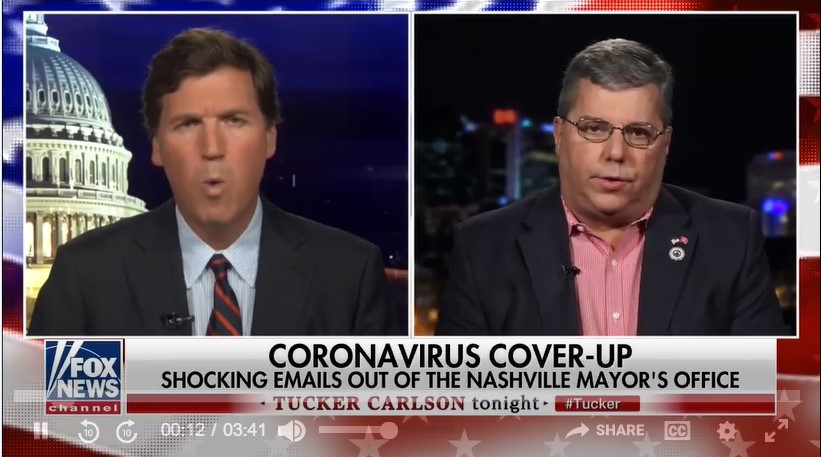 What a shitshow. Conservative Metro Councilmember At-Large Steve Glover appeared on Tucker Carlson's White Power Hour on Thursday evening to spread misinformation about Nashville's response to COVID-19.
The gist of Glover's chat with Fox News' favorite fascist was based on an erroneous report from Fox 17 Wednesday claiming Metro was trying to hide the low number of coronavirus cases that could be traced back to Broadway bars. In the story, Glover — the only named source — accuses Mayor John Cooper of orchestrating a cover-up.
"What's in it for [Cooper] when the population of Nashville suffers?" asked Carlson, who recently defended the white teenager who shot protesters in Kenosha, Wisc., last month.
"All you gotta do is speculate on this," said Glover, who clumsily transitioned into how many tourist dollars are spent downtown. "We don't have a city problem here in Nashville, we have a lack of leadership problem. … We're destroying the downtown area, literally."
The Fox 17 report was full of misleading information, taking emails between Tennessee Lookout's Nate Rau (mistakenly credited as a reporter with The Tennessean, his former employer) and public health officials out of context to make it appear as though the city didn't want people to know that very few cases cases could be traced back to Lower Broadway.
However, these "disturbing revelations" — to quote the TV news-scandal-speak of the segment — were already reported out by Rau a month ago. Rau stressed on Twitter that he received the data he was asking for, with Metro telling him the amount was "more than 80 cases." (This of course did not stop Carlson from asking why Cooper would hide that information.)
Mayor John Cooper's office also released screenshots of emails that showed health officials discussing how to best release the data to the Lookout. The exchange notes that HIPAA laws require the city to be careful when releasing low numbers from specific sites because it could make people easier to identify. On top of that, contact tracing can't completely nail down when and where someone got infected — it's better at identifying and tracking clusters, and can't account for tourists who could potentially come to town, get infected and leave without reporting their trip to Music City to any health officials. (Or conversely, come into town and spread the virus themselves.)
According to the Centers for Disease Control and Prevention, bars and restaurants are still considered to pose a significant risk when it comes to spreading coronavirus.
Ultimately, the Fox 17 story seems to be less about transparency and more about Glover's unyielding attempts to give downtown bar owners the maskless slice of tourists they desire. Glover, who infamously (and accidentally) livestreamed himself pooping, also used the news as an excuse to attack the proposed 34 percent property tax hike, though of course he had proposed a tax increase of his own last year.
Glover repeated his calls to reopen the economy on Carlson's show.
Carlson, whose xenophobic rhetoric has been mimicked by murderous bigots like the El Paso shooter, insisted at the top of his show that "stupid and dishonest" mayors like Cooper are lying about COVID-19. He also railed against business shutdowns — a move one team of economists says may have saved up to 2.7 million lives in the U.S.
Glover said Cooper has a "heavy-handed" approach and "substitutes his wisdom for those who are in the health department." The council member also added that an organization called A Smarter Nashville — which seems concerned with critiquing pandemic closure and mitigation measures — gave him data that he says contradicts the city's numbers.
"Why not impeach him?" asked Carlson, referencing the extremely discredited Fox report.
"I don't know the exact legal answer to that," replied Glover, later saying, "We're working on it."
At a Wednesday morning press briefing, after the Fox 17 debacle, Cooper noted that Nashville's initial closure of bars was in part driven by recommendations from the White House — a protocol that was widely adopted. That said, Cooper also announced that bars and limited restaurants would be able to operate at 50 percent capacity starting Friday, and that a very limited number of fans could attend Titans games.
Update, Sept. 19: Fox 17 has retracted and deleted the article. We await retractions and apologies from Glover, Carlson, Sen. Marsha Blackburn and their ilk.