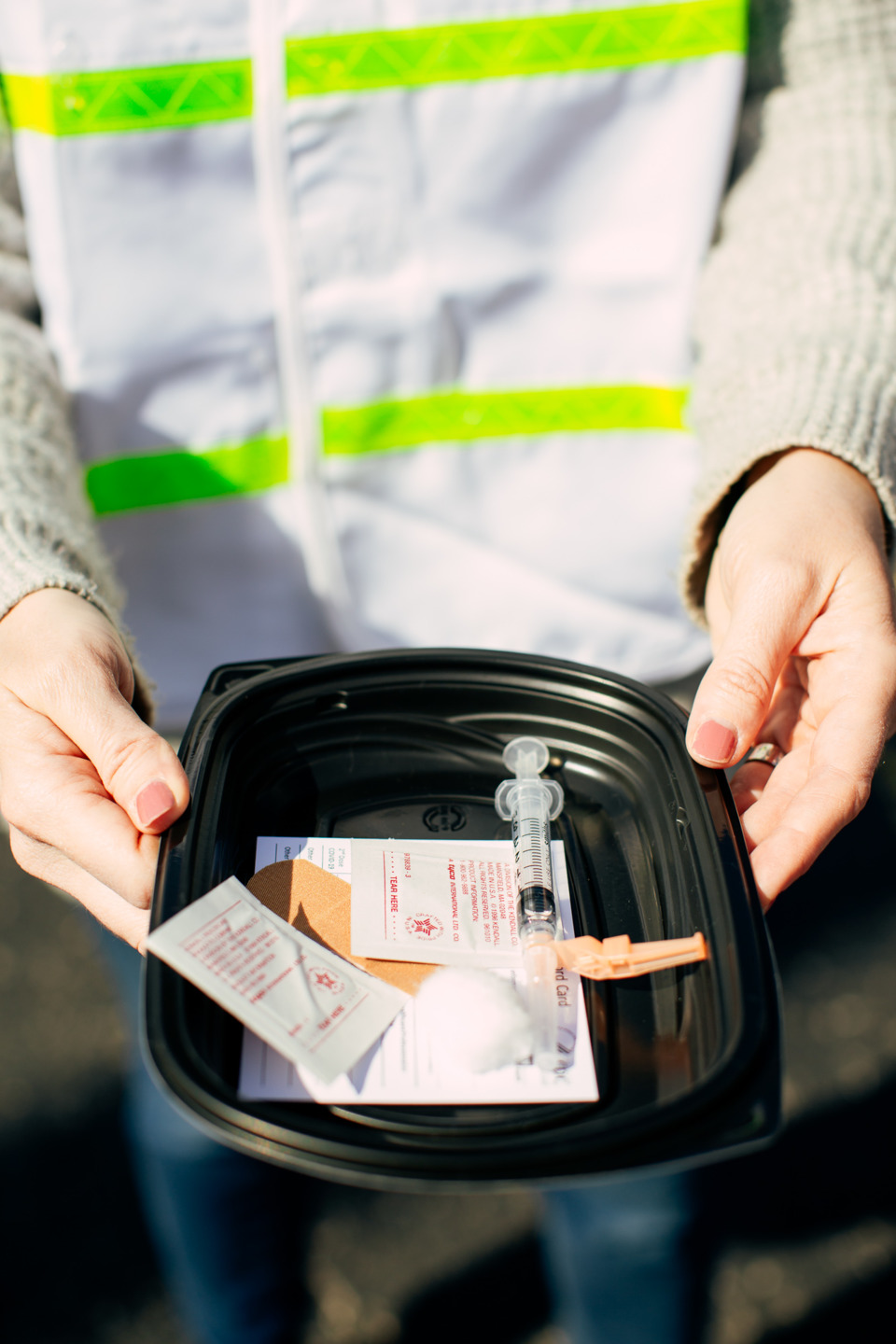 For a week, an East Nashville woman has been confined to a local hospital room, unable to leave her bed because of blood clots that have swelled her legs and blurred her vision. The source of those clots, doctors say, is the Johnson & Johnson COVID-19 vaccine — making her one of a handful women in the U.S. to experience extreme side effects out of more than 7 million shots administered.
At the woman's request, following a backlash on social media when she first made her condition public, the Scene granted her anonymity.
The clots in her brain are in her veins, she says, meaning she's at a lower risk for a stroke, but the pressure on her sinuses leaves her in extreme pain. Still, she tells the Scene she wants to make one thing very clear: Everyone should get vaccinated against the coronavirus.
"I think vaccines are incredibly important and life-saving," she says. "I want to be clear that my case is extraordinarily rare and is still being researched. A very talented team of doctors is working to determine what made me more susceptible to this reaction, and I'm confident that we'll have answers soon, and a more definitive list of folks for whom the J&J vaccine is safe. I would urge folks who have access to other vaccines to get them and be confident that they're doing a safe and important thing."
More than 7 million Americans have received the Johnson & Johnson vaccine, according to The New York Times, with another 10 million doses in the pipeline to states. The vaccine has been popular because of its one-shot regimen, which is more efficient to administer than the two-shot versions by Pfizer and Moderna. Following guidance from the Centers for Disease Control, states began halting the J&J vaccine's use on Tuesday. Of the six women who experienced side effects, one died and one remains in critical condition. 
"We are recommending a pause in the use of this vaccine out of an abundance of caution," reads a joint statement from Dr. Peter Marks of the Food and Drug Administration and Dr. Anne Schuchat, the principal deputy director of the CDC. "Right now, these adverse events appear to be extremely rare."
Our source says that prior to her March 19 vaccination at a Nashville hospital, she was perfectly healthy. An avid fitness enthusiast in her late 20s, she teaches spin classes in her spare time. The vaccine provoked a typical reaction, including a fever and chills, about 14 hours after it was administered. But six days later, things began to change: eye pain combined with intense throbbing in her head; unexplained bruises began to appear; her legs became swollen and weak.
A trip to the emergency room turned up little in her lab work, and she was discharged. But by April 6, she was placed in the intensive care unit. This time, a heparin-induced thrombocytopenia antibody — referred to as a HIT — appeared in her blood work. (HITs found in some patients caused European countries to temporarily pause use of the Astrazeneca vaccine, but as with the Johnson & Johnson version, those incidences have been extremely rare.) Within a day, doctors were able to conclude that she was experiencing a reaction to the vaccine.
"My doctors, nurses and techs have been incredible," she says "They've taken a scary and mysterious syndrome and made sense of it quickly while keeping me informed and calm."
With COVID precautions relaxed, she's been able to see a limited number of visitors, including her dad, who came in from New York. Still, this is the longest period of time the very active fitness instructor has been this still in years. What does she want to do first when she's released?
"Hug my dog and tell him he's perfect. And wash my hair."