The extended Metro universe joined councilmembers Thursday morning at the under-construction James Lawson High School in Bellevue for Mayor John Cooper's final State of Metro address. Three months after Cooper announced that he wouldn't seek reelection, Nashville's fix-it mayor declared victory on a turbulent four years.
"These past few years have been a golden age of fixing government," Cooper told the crowd early in the speech. Since his time as a councilmember, the mayor has worked hard to associate himself with economic bedrock. He took the opportunity to rattle off metrics that reflect the city's fiscal stability and job growth, specifically vaunting increases in staffing and pay among Metro employees. 
"We have fully recovered from crisis," said Cooper later on. 
The council approved the mayor's $2.1 billion deal for a new, domed Titans stadium on the East Bank just two days ago, following 18 months of negotiations headed by the mayor's office. "We took on the billion-dollar liability facing taxpayers from the old Titans lease, and turned it into an opportunity," said Cooper in his address. "We have a smart growth plan for the East Bank that saves the city billions of dollars and gets — not gives — hugely valuable land back to the city."
Today marks a year since Cooper addressed the city from the Global Mall, a pricey real estate gamble with Vanderbilt University Medical Center that hasn't panned out. 
Speakers, including the mayor, focused on recent lightning rods of civic identity. Faith leaders and officials nodded to expelled-and-reinstated state Rep. Justin Jones, whose district stretches from East Nashville to Antioch. Nashville Youth Poet Laureate Lochlan Cook spoke about trans identity and gun violence in a stirring spoken-word performance. Cooper took every opportunity to commend the city's emergency response infrastructure to loud applause — police have been a point of pride for city boosters since MNPD's swift response during last month's mass shooting at Covenant.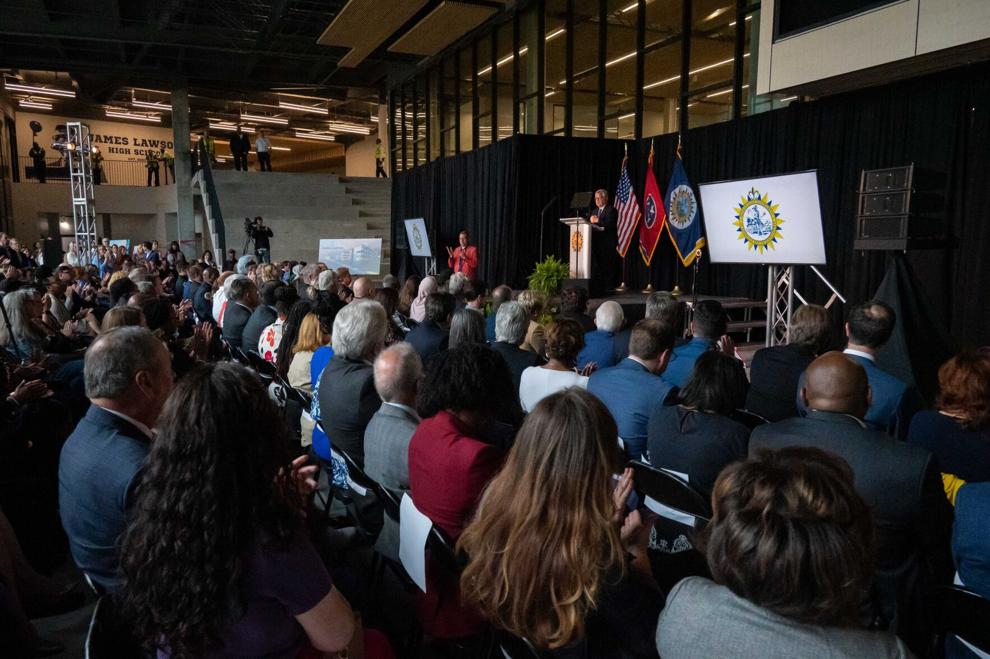 Wrapping up his remarks, Cooper thanked officials and the audience. Serving Nashville has been an honor, he said, capping a speech that landed like a victory lap for the mayor who campaigned on getting Nashville back on the right track.
According to a recent Vanderbilt poll, most people think the city's priorities have been upside-down. More and more think the city's on the wrong track, critical of flashy downtown items like the stadium that many believe have come at the expense of education, housing and transportation.
Cooper, meanwhile, is halfway out the door. Press got 100 words on Metro's environmental sustainability photo contest last month but no release for today's ready-made PR spectacle — a sign that, five months from transition, the administration has started to disintegrate. Comms staffers are already jumping ship, with Brandon Marshall moving to Houston and TJ Ducklo eyeing a possible return to the Biden campaign team.
Cooper is more than ready to leave the job for someone else, judging by a noticeably breezier demeanor and rumors from City Hall. He took Thursday to paint a legacy for himself based on responsible government stewardship, steady progress and general economic growth. Now he will watch a growing pack of wannabe successors fight over the city's less savory pieces before inheriting them in the fall.
Correction: This report previously noted that Mayor Cooper did not address funding for a new Titans stadium during the State of Metro address. This is incorrect, and we regret the error.