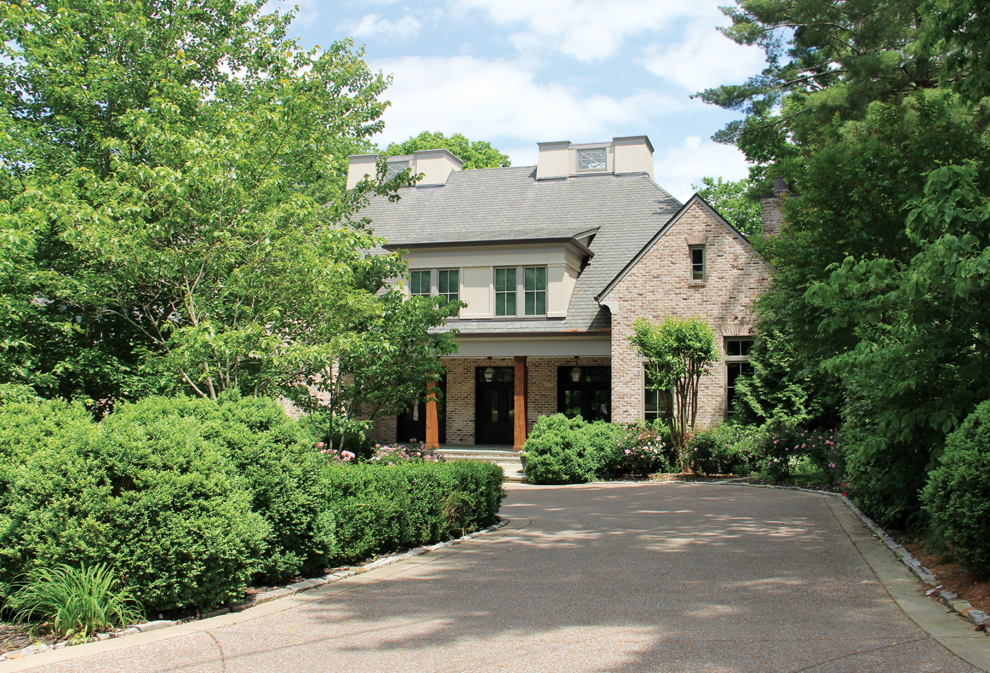 This month's list of high-end home sales includes some curious names in the "Buyer" spot. There's an LLC that's a misspelled name of a town and one that's a misnumbered address, and one purchaser used two LLCs — both strings of letters — to buy a home in Belle Meade.
There are some geographic wonders too — two homes have Brentwood addresses but are actually in Davidson County, despite their mail coming out Williamson County. And there's one strange-shaped lot.
Among the buyers and sellers: a former tennis pro, a famed New York architect moving home, and for some reason, a Miami strip mall.
1. 4255 Old Hillsboro Road, Franklin
Buyer: Leapers Fork LLC 
Sale price: $3.1 million
Seller: Foxhedge Farms LLC
Seller and buyer's agents: Ron Jones and Michael Elsner, Parks
Though the home itself (built circa 1900) is relatively paltry by Headline Homes standards — clocking in at 2,000 square feet — it centers 127 acres in Leiper's Fork (not Leapers Fork, as the Miami-based buyer erroneously spelled the Williamson County village) and has 525 feet of Old Hillsboro Road frontage. Plus, the home, once owned by Nashville legend of the horse set Calvin Houghland, was renovated in 2013, and the property includes a horse barn.
The purchasing LLC is affiliated with Park Street Management from Miami, the mailing address of which is a strip of businesses including a dry cleaner, a yoga studio and a tanning salon. So the listing's promise that the lot is zoned commercial likely hints at its future.
2. 9250 Carrisbrook Lane, Brentwood
Buyer: Unknown
Sale price: $3.05 million
Sellers: Kevin and Mary Beth McNamara
Sellers' agents: Nathan Matwijec and Catherine McNamara, Zeitlin/Sotheby's International
Buyer's agent: Gregg Mangiafico, Keller Williams 
Annandale's "premier lot" with Annandale's "finest pool house" comes in at No. 2 this month. And yes, that pool house does seem nice: At more than 1,100 square feet, it could be an in-law suite or a studio or a workout space, or really anything the buyers want, since they're the ones who paid more than $3 million.
The main house checks in at nearly 7,500 square feet on its own and includes his-and-hers offices, a craft room, a billiards room and a theater.
Kevin McNamara is a longtime Nashville business fixture, serving as HealthSpring's chief financial officer until his retirement a decade ago. He now runs McNamara Family Venture, which provides "venture and growth capital to companies operating in the healthcare industry."
3. 340 White Swans Crossing, 37215
Buyers: Michael G. and Diane Cooke
Sale price: $2.95 million
Sellers: Timothy A. and Toni E. Carlton
Sellers' agent: Laura Baugh, Worth
Buyers' agent: Christy Reed, Fridrich & Clark
On a lot shaped like the flag of Nepal is this 9,625-square-foot home that's inside Davidson County, but has a Brentwood address due to the peccadillos of the postal service. 
The six-bedroom European-style villa is on two acres in the gated Cambridge Downs subdivision and includes access to a pond stocked not only with fish, but also canoes.
4. 4727 Post Road, 37205
Buyer: Post Road Trust; Michael Sontag, trustee
Sale price: $2.9 million
Sellers: William J. Granberry Jr. and Eli Dingess
Sellers' agent: Jamie Granbery, Pilkerton Realtors, and David Dingess, Keller Williams
Buyer's agent: Danny R. Anderson, Parks
Michael Sontag, trustee to the stars, fronts the purchase of this 46-year-old home, allegedly on the market for the first time.
If the five private acres aren't enough to provide the necessary peace and quiet, the home's courtyard is itself secluded, presumably from the rest of the house, though the listing doesn't flesh out that particular detail. The house includes a grand staircase, 10-foot ceilings and a trio of marble fireplaces.
5. 3918 Dorcas Drive, 37215
Buyer: 3918 Dorcas Drive Trust; William T. Chapman IV, trustee
Sale price: $2,891,500
Sellers: Scott D. McWilliams and Sandra L. Martin
Sellers' agent: Christie Wilson, The Wilson Group
Buyer's agent: Jody Hull, Bainbridge Realty Group
Frankly, it's unusual for a Headline Homes entry to market as nakedly to families with kids as did the listing for this 11-year-old, 9,800-square-foot home, which says the Green Hills house is "perfect for a family where you want your kids to have their FUN space and for you to have your own FUN space." And if the inside isn't enough fun space, there's a spa and pool out back and the perfect "man space" in the basement.
6. 5206 Granny White Pike, 37220
Buyers: Marc-Olivier and Carolyn Baron
Sale price: $2.8 million
Sellers: Jessica and Frank M. Rogers V
Sellers' agent: Karen Morgan, Karen Morgan Realty
Buyers' agents: Trudy Byrd and Rita Starling Puryear, Fridrich & Clark
Country songwriter and producer Frank M. Rogers V and his wife are the sellers of this 41-year-old home variously described in its listing as "swoon-worthy," "idyllic," "comfortably elegant with an 'old money' feel" and anthropormichally as an "entertaining diva." All those descriptors add up to a home with stone fireplaces, a wine cellar and a heated saltwater pool with an outdoor kitchen alongside it.
Marc-Olivier Baron is, among other things, a former professional tennis player whose career-high ranking as a singles player was 926 back in 2001 (he did reach 729 as a doubles player five years prior).
7. 132 Woodward Hills Place, Brentwood
Buyers: Joanne Mackaye Trust; Julie Boos, trustee
Sale price: $2.55 million
Seller: Jane Duncan Tarkington QTIP Marital Trust
Seller's agent: Janet T. Jones, Worth Properties
Buyer's agent: Grace O'Neal Clayton, Neal Clayton Realtors
Another line-straddler that's in Davidson County with a Brentwood address, this home has four stories, four covered porches and also three generators in its nearly 12,000 square feet.
Beyond those sort-of-peculiar details, the home has all the standard luxury-residence add-ons: library, media room, billiard room, full baths with every bedroom, saltwater pool and hot tub.
8. 407 West Brookfield Ave., Belle Meade
Buyers: WCGRB LLC and WCGGC LLC
Sale price: $2.355 million
Sellers: Darrin and Melanie Yappen
Sellers' agent: Beth Molteni, Fridrich & Clark
Buyers' agent: Steve G. Fridrich, Fridrich & Clark
This is one of the more bizarre buying combos we've seen, as two Delaware-registered LLCs with mailing addresses in Manhattan's tony Carnegie Hills Tower apartment complex go on record as the purchasers of this 30-year-old Belle Meade home. 
Renovated in 2016 and described as "delightful," the home has a master bath with heated floors and towel rack (it is unclear from the listing if the towel rack is heated or if it's just worth noting the rack by its mere existence).
9. (Tie) 5400 Stanford Drive, Forest Hills
Buyers: William T. Meyer and Kerstin Sund-Meyer
Sale price: $2.35 million
Seller: Cynthia N. Spengler
Seller's agents: Richard B. French and Timothy King, French King Fine Properties 
Buyers' agent: Barbara Moutenot, Village
Built in 1937 on a ridgetop in Forest Hills, this Edwin Keeble-designed home is walled in stone, as is the hallmark of the famed Nashville architect. Expansive renovations modernized the 80-year-old home, plus there's a gunite pool and arbor out back, completing the feel of a "retreat in the hills of North Carolina."
Will Meyer is a Tennessee-born architect who is a principal in the famed New York firm Meyer Davis.
9. (Tie) 828 Belle Meade Blvd., Belle Meade
Buyers: Jeffrey C. and Meghan M. Owen
Sale price: $2.35 million
Sellers: Scott and Karen McKean
Sellers' agents: Betty Finucane and Elaine Finucane, Fridrich & Clark
Buyers' agent: Sissy Rogers, Pilkerton
At the heart of The Boulevard is this 15-year-old home with two sets of staircases, two fireplaces and three true garages (no indication of how many false garages there are).
9. (Tie) 609 Belle Meade Blvd., Belle Meade
Buyer: 607 BMB LLC
Sale price: $2.35 million
Sellers: J. Gil and Karen M. Fuqua
Sellers' agents: Allen DeCuyper and Leah London, Parks
Buyer's agent: Tristan Kinsley, Keller Williams
It's curious that the purchaser of 609 Belle Meade Blvd. used an allusion to 607 Belle Meade Blvd. to name the LLC, but someone who pays $2 million-plus for a home can name their front company anything they want (see last month's issue and the Chanandler Bong Trust).
The home in question was built in 1923 and includes both "historic detailing" and "modern updates."