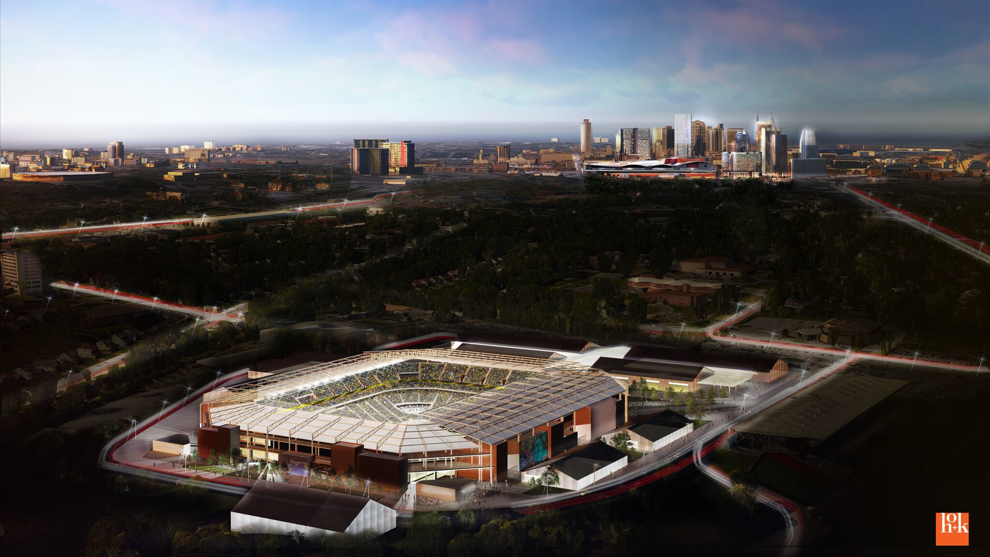 Sensing that they need to move quickly, Major League Soccer boosters rolled out a stadium proposal at the Metro Council chambers last night.
MLS2Nashville bid chair Will Alexander and managing partner John Ingram brought a first look at a 30,000-seat stadium to the council, laying the groundwork for a request for some Metro money to put a facility on the city's fairgrounds.
The outline of the plan has the support of Mayor Megan Barry's administration, and Metro chief operating officer Rich Riebeling was there to answer questions about the city's participation, which he deliberately termed "private-public," with an emphasis on the word "private."
But there was a third prominent stadium supporter on the dais: Vanderbilt vice chancellor for athletics David Williams. The presence of a member of the administration raised the real possibility of the university's participation in a new stadium and potentially moving the football team's home games there.
"I envision this dual-purpose stadium," Ingram says, noting that the specs are good for both soccer and NCAA football. The design was long on look and feel and short on details, except to note the north end of the stadium would be open. and the stands, which would be covered by a roof but not enclosed, would be more vertical "and intimidating."
"We want to have the best possible fan experience in mind," Ingram says.
The bid group plans to have a concrete proposal in front of the council within 30-45 days for deliberation and a vote by late October or early November. Why the need for such speed? Because if Nashville's going to win a bid, it better be in 2017. 
MLS laid out an expansion process last year to take the league from 24 to 28 teams, with two bids awarded this year and two more next. Sacramento is considered a mortal lock for one of the two 2017 bids and has already begun clearing a stadium site to begin construction. MLS owners will vote on two bids in December.
The speed is necessitated by a number of larger bids stumbling with their stadium projects: St. Louis voters tabled a city-built field; San Diego pushed a referendum on a replacement for Qualcomm Field to 2018; Detroit's bid, led by Cleveland Cavaliers owner Dan Gilbert, is mired in a slow-moving land swap for a piece of downtown real estate; Phoenix doesn't quite have all of the pieces in place yet. That leaves an opening for Nashville, which already has ownership and market questions answered, but needs to show it is ready to build a stadium.
In 12 months time, any one of those cities would likely be a better candidate than Nashville because of market size. The biggest motivation for MLS expansion is to have a lineup set before 2022, when the league's TV contract is up. While Nashville's demographics may be attractive — and MLS officials certainly perked up at the enthusiasm generated by the Predators' Stanley Cup run — it's hard to argue against the sheer size of a Detroit or a Phoenix or a San Diego.
During a question-and-answer period, one council member asked why the team couldn't play in the Titans' stadium. In looking for an average crowd of 22,000-30,000, MLS teams have eschewed cavernous NFL structures in favor of venues that place fans closer to the field — and don't have empty upper decks.
Both Riebeling and the team avoided questions about cost for now. A good guess would be between $150 million and $200 million — Orlando's new stadium had a final price tag of $160 million — but a lot of that will depend on Vanderbilt.
Ingram and a representative of architecture firm HOK say that a target size of 30,000 would increase to between 33,000 and 35,000 if Vanderbilt were also using the facility (the SEC minimum capacity is 30,000). A new stadium provides several pluses for Vanderbilt, including increased revenue opportunities from luxury boxes and signage as well as an upgraded fan experience over the relatively decrepit Vanderbilt Stadium. But it would also meet resistance from some fans and alumni for being located two miles down Wedgewood Avenue.
Williams told the Scene after the meeting that revenue would not be the driving factor for the university, but rather fan considerations.
Ingram and co-owner (and fellow billionaire) Mark Wilf both sit on the university's board of trust, meaning they're at a unique nexus to influence the university, although Ingram recently said he would recuse himself from voting on any Vanderbilt stadium issue because of his involvement with the MLS bid.
But if the university were to participate, it would change the dynamics considerably. Not only would it add seven or eight more dates to the calendar — good for the tax revenue expected to be captured to help pay for the bonds — but even as, say, a one-third partner in the cost of building, it would reduce substantially the amount the city might be expected to pay.
That would make it more attractive to some Metro Council members who, even without numbers in front of them, were skeptical about the city's participation. They wanted to know about what else would be happening in the stadium when teams weren't playing and how the team expected to make money beyond 17 home dates a year. And three members asked about a Deadspin piece written by a prominent critic of publicly financed stadiums.
So here's what MLS2Nashville has to do in the next 60 days: convince the city to pay for some of the stadium, get a notoriously slow-moving university on board as a partner, and win over council members who have paid for a lot of the city's shiny toys in recent years.
If that seems like a tough task, it is. But if it takes more than a couple of months to answer those questions, the bid group may find that Nashville's MLS window has closed.