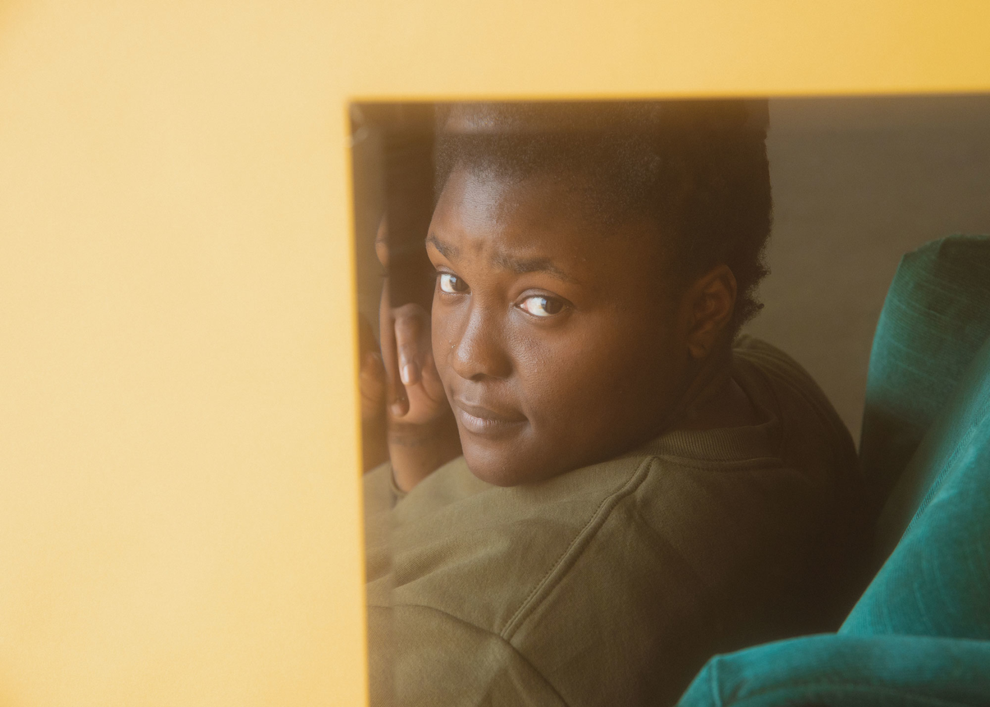 Releasing the widely praised, banger-packed full-length In Defense of My own Happiness (Vol. 1) over the summer just wasn't enough of an accomplishment for Joy Oladokun, apparently. For the past several months, the folk-pop singer-songwriter has continued to produce a steady stream of new songs from her East Nashville home studio. Each one is its own timely and eloquent response to the upheaval that has plagued us all over the past year.
In September, for those struggling with the grief and isolation brought on by the pandemic, Oladokun released the encouraging R&B tune "If You Got a Problem." It's an optimistic number about comforting and finding comfort in those around you. Think of a less cartoony version of Randy Newman's "You've Got a Friend in Me." In October, to recognize her fellow Black Americans living in fear as the country's streets churned with protests and police brutality, Oladokun shared "I See America," an incisive anthem with a stirring chorus: "When I see you / I see love / I see America / I feel your pain / I share your blood / I see America."
"Look Up," released in November, is a poignant reminder that, as the singer wrote on Instagram, "There is freedom above us and beauty within us." December brought us "Mighty Die Young," a sparkling piano ballad haunted with the inevitability of death. Song after song, with every tortuous and unpredictable turn of what we will forever remember as the Lost Year, Oladokun was there offering comfort.
"It's the Nina Simone quote, right?" Oladokun tells the Scene by phone from her Nashville home. "Like, artists are supposed to reflect the past. And if Nina had Ableton, had my laptop, had the little setup I have here, we would've been hearing from her all the time.
"And a fair record contract," Oladokun continues with a laugh. "If she had all those things we would've been hearing from her all the time. And I think the reason I am at my current state of outputting so much is just because there's a lot happening! Internally I'm doing a lot of work, and the world is changing, and fighting for change." 
The world is also starting to take notice of Oladokun. Though she's been at it for years — she signed a publishing deal with L.A.'s Prescription Songs in 2016 — Oladokun has had something of a meteoric rise in recent months. In January she announced she was chosen as one of YouTube Music's Black Voices for 2021, which earned her face a spot on a giant Times Square billboard. Her somber ballad "Breathe Again," in which her warm, sweeping vocal range is on full display, was played for millions of viewers during a January episode of the popular NBC drama This Is Us. She made her daytime and late-night TV debuts too, appearing on Today and The Tonight Show Starring Jimmy Fallon in February.
Making her new level of success even more enjoyable to watch is the fact that Oldaokun balances her talent and vulnerability with goofy humor and BFF vibes. On social media she discusses Boyz II Men jams with Jason Isbell, posts photos of her dog Joni, dunks on controversy magnet Morgan Wallen and shares selfies taken with well-rolled blunts — a hobby she has celebrated with a line of "sensitive stoner" merchandise.
Oladokun is giving us her whole self, and hoping to inspire us to be our whole selves too.
"I think sometimes we get scared that if people learn more about us they won't want to be around us," she says. "My life in its current state is proof that the opposite is true. On Vol. 2 [of In Defense of My Own Happiness, scheduled for release later this year], there's a song about my dad and what it was like to grow up with a dad that openly disliked queer people. That is vulnerable, but I also know that I am not the only person who has a dad who would say things about gay people that were awful, not realizing that their kid was gay.
"I do feel like a sense of calling and camaraderie for people who have also been through similar things or had events that evoke similar emotions of loneliness and stress," she adds. "I feel a responsibility to serve the global community in that way. I think it has been really, really beautiful."
Photographed by Nolan Knight.