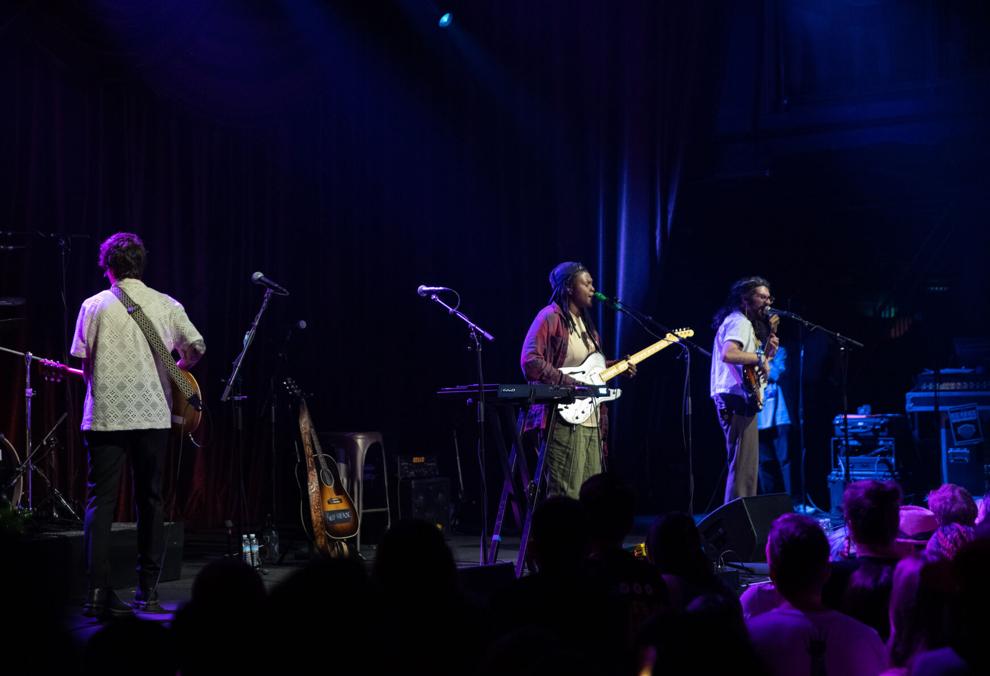 There was a little downtime during the second changeover between sets at Brooklyn Bowl Friday night. But before long, The Backstreet Boys' "I Want It That Way" came over the P.A. and songsmith Joy Oladokun's band took the stage to positively deafening cheers, ready to kick off the release party for her new LP Proof of Life. They were followed swiftly by the woman of the hour, clearly overcome with emotion.
"My therapist is here, and you're not going to believe it, but we talked about exactly this," said Oladokun, tears flowing. "I was gonna play music, but now I'm gonna cry for an hour. … As we do this night together, you'll notice there are themes in my music of moments where I don't feel listened to. The fact that this room is full of people — it's not something that 'kid me' imagined could be true." 
From roughly 10 p.m. to midnight, Oladokun and her small but superb band — shoutout to guitarist Daisy Spencer, bassist Gray Schweers and drummer and master of electronic elements Josh Scott — played original songs new and old, interspersed with a couple of covers including Elton John's "Rocketman." The cumulative effect of the songs and the discussion between them was that we were together in a kind of group therapy session; to some degree that's what gathering together for live music has always been about. If Oladokun is still a bit of an outlier in embracing it so explicitly, it's only that she's ahead of the curve.
A couple hours earlier, Mon Rovîa kicked off the show as sweaty fans trickled in from the muggy twilight outside. His gentle tunes subtly spotlight the DNA that West African folk music and Appalachian folk music share, carried on intertwined melodies fingerpicked by the singer on his ukulele and by his accompanist on acoustic guitar. The songs came across almost like lullabies, belying their intensity. He was born in Liberia in West Africa, whose capital is Monrovia, but he left with his family, fleeing civil war; one highlight of his set was "War's Coming," which he wrote at the beginning of the Russian invasion of Ukraine, reflecting on his experiences as a youngster. He ended on a hopeful note with "Big Love Ahead."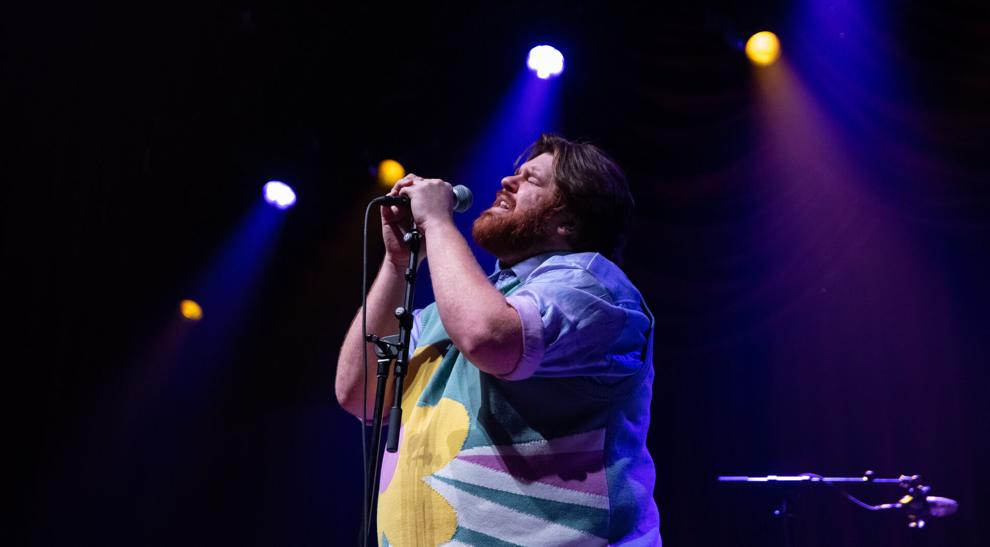 After a short break, country-singing force of nature Fancy Hagood's band played him to his mic. After an attempt at establishing himself as a pop artist, Hagood came to Nashville and turned his love of songcraft into 2021's exceptional Southern Curiosity. Both the record and Hagood & Co.'s performance on Friday represent what country can be at its best. They brought sincere storytelling about the ups and downs of living all kinds of lives — in Hagood's case, that happens to be building a life with a partner he loves as a proud gay man, which has been a hell of a lot harder to recently do thanks to our clown car of a state legislature — sung in a rich voice with a snare-tight band. Introducing the Southern Curiosity song "Good Man," Hagood talked about how much it meant to him to write a song about things he wanted and deserved. In "800 Square Feet," from a forthcoming album produced by Brothers Osborne's John Osborne, he sang about a combination of big hopes for his future with his partner and appreciation for what they have right now. If the songs Hagood played are any indication of what's on the full LP, it deserves every accolade it gets whenever it comes out.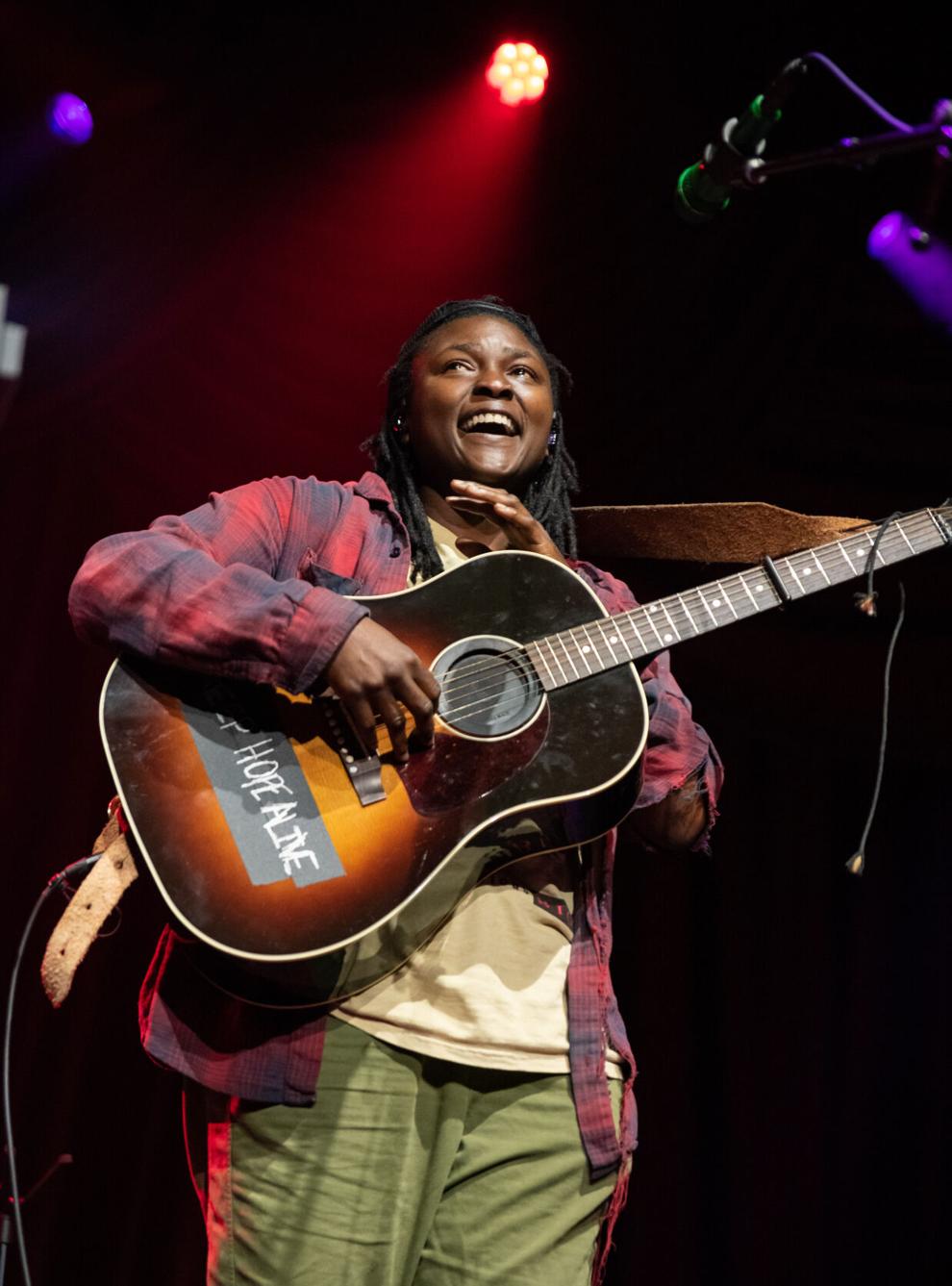 The point is made well and often that while it's critical to discuss the awful situations that marginalized people go through, it's also vital to spotlight expressions of joy from BIPOC communities, LGBTQ communities and others — pain may be an important part of people's experiences, but it doesn't define them. Oladokun's set radiated the full spectrum of trauma, healing, self-acceptance and self-care. It was a nuanced and vibrant reflection of her experience as a queer Black woman, which she illuminates so skillfully in her music, a blend of folk, pop and — to an increasing degree on her latest record — rock. 
Oladokun lives with the lingering impact of growing up in a church community that she loved, but didn't accept her as she is. Yet as she told the audience while introducing Proof of Life standout "Somebody Like Me," she and the incredible vocal group The McCrary Sisters — whose faith plays a major role in their life and work — forged a strong bond in the studio. "Taking Things for Granted," a kickass song from the new record whose sound she described onstage as "if Radiohead and The Beach Boys met," tells the story of how none of the kids she invited came to her 8th birthday party. She talked to the absolutely packed room about the thrill of writing the song during a mushroom trip ahead of a session at the famed Electric Lady Studios.
She mentioned that she had a brief issue with venue security not recognizing her during load-in prior to the show. Though the issue was resolved quickly — her name wasn't on the list, but it was of course on the marquee — it still stung, she explained, as she's been excluded, questioned or treated differently an exhausting number of times. Then, beaming at the assembled crowd, she played "Revolution." She co-wrote the song with Mike Elizondo and Ian Fitchuck, two of her songwriting heroes, about celebrating the power inherent in the things that make her different.