It's a cold, damp March Monday morning when we meet up with a middle-aged man experiencing homelessness in south Madison. The man, whom we'll call Charlie to protect his anonymity, lives in a culvert. It's actually one of two neighboring culverts — the other collecting runoff rainwater from an adjacent strip mall — and sits just a stone's throw from Gallatin Pike and its relentless traffic.
Cars idling at the nearby traffic signal would never know Charlie was there. He built his spot behind thick, gnarled shrubbery and used found materials to conceal the entrance to his shelter. Major storms over the weekend left Charlie tired and feeling unwell, a sentiment expressed by other members of Madison's unhoused population later the same day.
Eight feet tall and about three times as long, the cinder-block culvert — known to Charlie's community as "The Pit" — provides enough shelter for him to make it through the night safely. He's worked hard on building it out too, using wooden pallets, metal signs, old wire racks and a number of tarps to create a bedroom-size space. There is a spray-painted, neon-colored mural on one wall of an object resembling an old Game Boy. Charlie grins and says the artwork "came with the place." A salvaged piece of metal restaurant shelving serves as a ladder in and out of The Pit, one of several clever acts of engineering. 
There's also drug detritus littering the ground: used foil, halved plastic straws, empty baggies. Charlie is addicted to fentanyl and explains that, while smoking wastes more product, he chooses it over "banging" (injecting an opioid with a needle) because the latter poses a greater risk of overdose as well as complications from contaminated needles.
I was able to meet Charlie and the rest of the people interviewed in this piece thanks to the efforts of "Mother Hubbard," an outreach worker who asked to remain anonymous. Charlie gave Hubbard his nickname when he started making morning visits to various encampments. Others affectionately call him "Hobo Cop."
Via several months of grassroots, on-the-ground work, Hubbard earned the trust of dozens of people experiencing homelessness by continually showing up to share both his time and his resources. On our second day in the field, a man at an encampment in Hermitage thanked Hubbard for delivering naloxone the day before, saying that three doses of the nasal spray had saved a man's life just a few hours later.  
In late March, the FDA approved the first over-the-counter naloxone nasal spray, providing greater access to the life-saving drug in the midst of an epidemic that claimed 101,750 lives nationally in the year leading up to October 2022. Groups in Nashville distributing naloxone and encouraging other harm-reduction practices include Street Works, Mainline Harm Reduction and the state-established Syringe Service Programs. A March report by the Scene's Hannah Herner notes that 53,000 naloxone kits were handed out across the state in 2021.
While homelessness exists in most Nashville neighborhoods, the unhoused community in Madison is robust and growing quickly — a phenomenon that typically makes news as being a nuisance to nearby homeowners and businesses. As a Madison resident, Hubbard chose to focus his initial efforts on his own neighborhood, particularly as one encampment nearly touched his backyard. The following chronicles just a handful of the many stories from many people experiencing homelessness in Madison. 
---
The first day we visit encampments, we're told there is a "drought" in the area. In other words, the area's primary heroin and fentanyl dealers are low on product. Worse, what product they do have is far less potent than usual, meaning that a lot of folks are dope sick and experiencing symptoms of withdrawal. 
Charlie and Hubbard explain an underground economy that some unhoused folks participate in to fund their addictions and pay for basic living necessities, saying most opt for panhandling or boosting. Panhandling is, of course, the practice of asking for change and petty cash at designated spots. One panhandler, whom we'll refer to as Dan, has territory in front of a prominent grocery store.
"Sometimes it takes me four hours to make $10," says Dan. "Sometimes I make $20 or $30 in 30 minutes." He adds that the store's owner frequently calls the police on him. The inconsistent income is proving more and more difficult for Dan, as the fentanyl currently on the streets only lasts him "three or four hours," whereas product previously available could get him through 12 hours of work. Dan also works construction projects and eagerly seeks out odd jobs, which Hubbard helps him find.
Boosting, which is more lucrative but also more dangerous, involves going to big-box stores like Walmart and Target — typically at locations outside of Madison, for anonymity — and shoplifting items that are then sold to a kind of shoplifting kingpin known only by a nickname. Charlie boosted the night before we speak, but had no luck. 
Charlie notes that addicts tend to stick with others who use their substance of choice and are "racist of other people's drugs."
"I hate crackheads," he says. "Alcoholics hate heroin addicts. It's a real thing. I can definitely tell you that drunks don't like heroin addicts. But not too many people are like, 'Oh, I like the heroin addicts. They're all right.'"
That doesn't mean there isn't any intermingling between groups. Dan shares that a friend struggling with alcohol dependence died in a hit-and-run on Gallatin Pike a year earlier. Pedestrian deaths continue to rise in Nashville, with a record-setting 49 recorded in 2022. People experiencing homelessness are more likely to die in car-pedestrian accidents, and are also more likely to die from violence.
"People used to live on that porch," Dan says, pointing to the First Assembly of God building. "A couple of drunks lived out there. My buddy got hit by a car that summer and died crossing the turning lane. Someone was texting or something. He was an older guy. He was out here for years. If he hadn't died, he was going to be a vegetable. He was funny. He could do magic tricks."
A month after our initial meeting, Hubbard shares that he is with Dan at Skyline Hospital. While panhandling, Dan was viciously mauled by a loose pit bull. 
One resource that brings much of the community together is a free meal program on Mondays at Madison First Baptist Church, which sits next door to First Assembly of God. Dozens of people attend each week. This week they're waiting on plates of fresh tacos and chips, as well as coffee and dessert. Some people choose to take their meals to go, but many stay and socialize. 
At lunch, I sit next to a man in his mid-50s we'll call Hal. Another man at the table asks Hal to tell me about the "blessing" he received the day before. 
Hal was downtown when a nicely dressed man in a late-model Audi pulled up beside him and asked if he was homeless. Hal said yes, at which point the man tossed him a thick envelope and drove off. Inside was what appeared to be several thousand dollars. Hal was thrilled — that kind of money would change his life. But it was nothing more than a cruel prank. Hal soon realized the bills were counterfeit. 
"Guess it wasn't much of a blessing," he says. 
---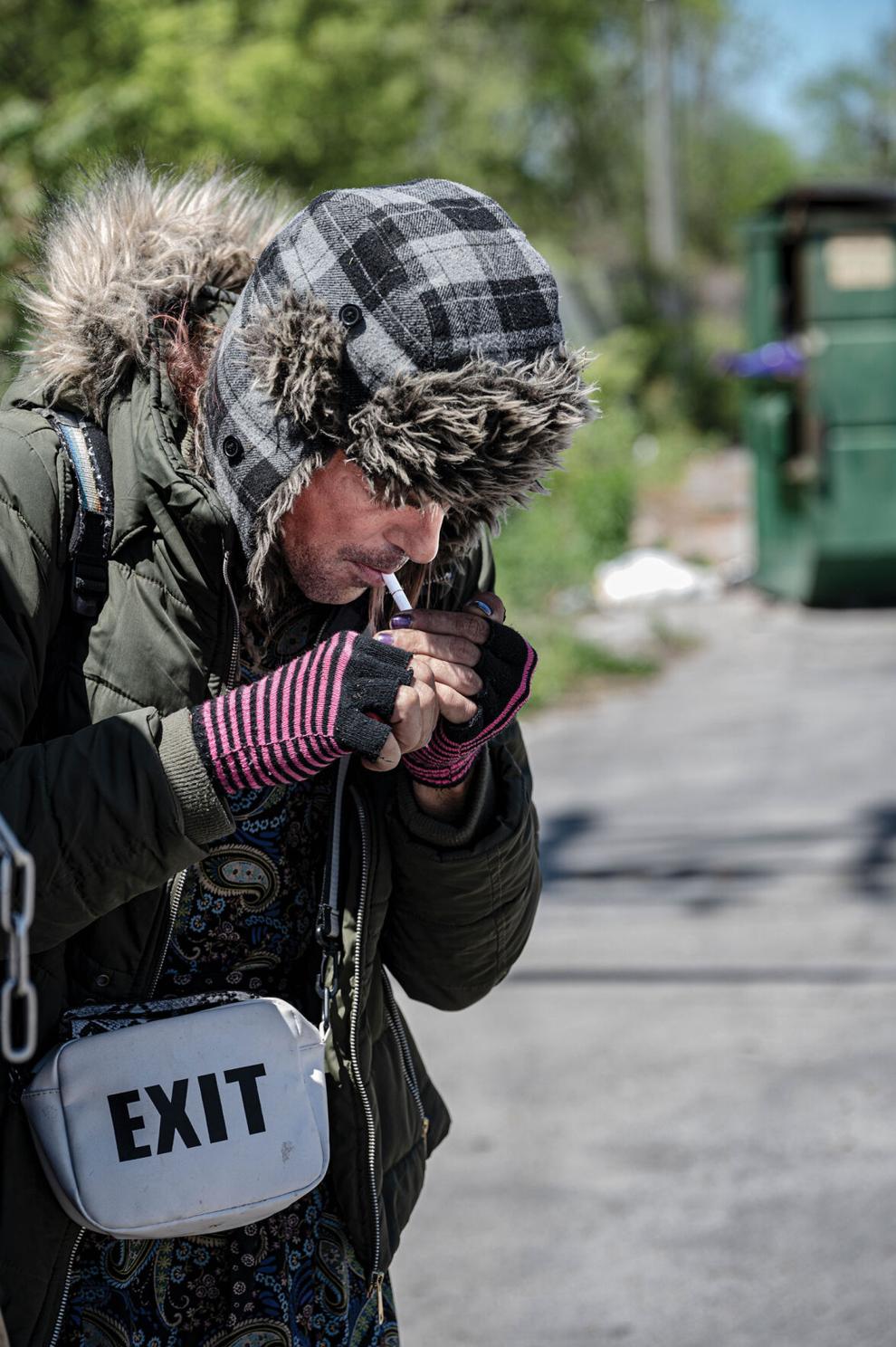 "Jack" is a 55-year-old man living at one of Madison's larger encampments, in a wooded area near Rivergate Mall. He's lived there for a year and estimates that a dozen other people call the encampment home, though he notes its population used to be closer to 100. 
Jack's shelter has makeshift seats for guests, and the decor includes geodes, antique glassware, small Lego models and assorted religious items, like a painted concrete Buddha. He also makes his own artwork, a hobby he says helps "occupy [his] days." He's midway through working on a ballpoint-pen sketch of a dragon-like creature, which he's rendered in skilled, minute detail. Signs of Jack's fentanyl addiction also dot his shelter. 
Asked how he likes living there, Jack gestures to the broader encampment. "It's a dump," he says. "Look at the place. It was already a dump when I came out here. It was 100 people living here at one point, and they destroyed the place. Two friends and I cleaned out 47 bags of trash in this area just right here. That didn't even put a dent in it."
Jack's wife currently works through an outreach program with a nearby church that provides her with housing support and a steady wage, resources made available to her after she completed a rehabilitation program. Jack is wary of such programs and opted not to participate.
"We've been separated for eight months now, but she still works there," he says. "They got her a Section 8 apartment that she lives in, but I'm not allowed to go there because I didn't complete the program. So I'm living out here."
Jack sees the city-sanctioned closure of encampments and ensuing placement of residents in temporary housing as creating more problems than it solves. For starters, he says, once temporary housing expires, most people end up right back on the street, with new encampments popping up in other spots. In Jack's experiences with temporary housing, resources like health care, child care and job training were not provided, despite strong demand among those displaced. And he believes the forced close proximity within temporary housing can create issues for residents too, particularly when it comes to substance abuse and violence.
"There was no job training, no jobs, no transitional housing [after temporary housing expired]," he says. "It's just, 'Here's a place to stay, good luck.' They dump them all together, a bunch of junkies, into an apartment complex. [I've heard about] several deaths and ODs. A baby died out there [at a transitional housing facility in North Nashville]. Then they all come back on the streets after 30 days."
While details are not confirmed at press time, Hubbard has heard through several channels that Jack's camp will be cleared and destroyed by the end of April. 
---
After wrapping up with Charlie, we visit Billy and Sara, a couple in their late 20s whose shelter is in a small wooded area behind a Mexican restaurant, hidden from view by trees and brush. Billy built their shelter, which uses tarps and metal signs for a roof and a zippered portion of an old tent as a door. Inside are a couple of rolling suitcases holding their belongings, sleeping bags and a few personal items, like a box of cereal and a camping stove. They agree to speak through the flap of their tent while they "get well," or smoke enough fentanyl to feel functional.
Before this spot, Billy and Sara spent time at the Madison Square Inn. They also lived in their car in the parking lot of the Dickerson Pike Walmart. They maintained that situation for four months before being forced to leave the property due to a 2022 law passed in Tennessee that made camping on public land a felony, which is punishable by up to six years in prison as well as the revocation of voting rights. 
After a conflict with his mother, Billy had to give up the couple's vehicle. He then lost his job as a manager at a downtown location of Jersey Mike's, as he didn't have a way of reliably getting to work for his shifts. Sara soon found herself in prison for shoplifting, and Billy struggled to hold down a job while caring for their two young children.
"I was making it," he says. "But then it's like, 'Do I take the kids to day care so I can work?' Hell, it took almost my whole paycheck to pay for day care. We want them to be at a decent day care, not just a hole in the wall. I was making $18, then $20 an hour. After I paid for their day care, I had about 100 bucks [a month] left to live on."
Billy and Sara became addicted to fentanyl after the sudden death of their third child during infancy. Both had used Suboxone and Subutex for what Sara estimates was eight years, but neither had tried heroin or fentanyl. They point to the devastating grief of losing their baby as a precipitating factor in where they are now. When I acknowledge that many people struggle to find a healthy way to cope with grief, Billy looks away and says, "Well, we didn't do it the right way." 
Bringing heroin into their lives kicked off a long string of consequences for Billy and Sara. Increasingly, their money went toward buying more heroin, as heroin is a drug that people develop a tolerance to.
"One of my friends brought it around," Sara says of the first time she used heroin. "We had just moved into a new house. For about a year I hid [using] from [Billy]. Then he found out that I was doing it, and of course, he started doing it. Then they evicted us like three days before COVID happened and put a stop on evictions."
While both Billy and Sara first used heroin as a means of escaping the world, they now smoke because they're addicted. Sara estimates they spend $30 to $40 a week on drugs but admits that the "addicts" in them would spend more money if they had it.
"We just do enough to where we can function," Sara says. "I don't know if you've ever seen anybody go through withdrawals, but you can't function."
"It's like the flu times 10," Billy adds.
Billy and Sara's story is emblematic of those of so many others — their best intentions are constantly thwarted by the logistics that so many of us take being able to manage for granted. Sara was able to find work at a laundromat in Bordeaux but was let go for being unbathed and wearing dirty clothes. She also struggled to reconcile her shift times with the hours offered by public transportation. Billy has $1,200 in EBT credit, but the debit card addressed to his mother's house never arrived. After he borrowed Hubbard's phone to request a new card, the representative on the EBT helpline hung up on him. He still does not have access to his funds. 
"No matter what you try, there's something in your way," Sara says. "I tried to go to McDonald's and get a job, and they wouldn't hire me because I have a recent theft on my record. Gas stations don't want to hire me or anything like that. It's not like this is something that we want."
"They say, 'Oh, you're homeless?'" Billy adds. "Automatically it's like, 'You're just a piece of shit. You don't count.' So, what do you do? You can't give up. You give up, and you'll die out here."
Shortly before press time, Sara entered a court-ordered rehab program to avoid prison time for her theft charge. After finishing the program, she can have the charge expunged from her record — and regain access to employment — but not before paying several hundred dollars in fees, which she does not know how she'll manage. Billy chose to enter a rehab program the same day. 

---
At a larger encampment in Hermitage in early April, residents are more wary of outsiders. Many assume us to be "body catchers" for rehab facilities, as some rehabs — for-profit facilities, in particular — employ patient brokers who earn commissions for each new patient, with those patients in turn earning insurance money for the facility. It's a system built to create "repeat customers," as one man at the camp puts it.
But a man we'll call Roland wants to talk. He explains that he's caring for his 17-year-old daughter, also an addict, and he needs to find a job to support her. He especially expresses interest in getting a job at Amazon, saying he would gladly find another place to camp to be closer to Amazon's Madison warehouse. Others chime in about the myriad warehouse and construction opportunities in Madison, with many hoping to relocate to the area. 
In response to what he's seen, Hubbard has assembled a small team of outreach workers under the name The Beat, whose mission statement is as follows:
The Beat is a Madison-based, donation-driven, grassroots collective. They are peer-to-peer outreach workers, former substance users, ex-school administrators, psychologists, doctors, therapists and local business owners. Their mission is to advocate for those suffering from the effects of the national housing crisis, the unchecked opioid epidemic and the stigmatization of mental illness. The Beat coordinates care for and partners with these neighbors. The Beat sees the true human being that lives within their affliction.
Hubbard says The Beat has already gotten 15 people, including one minor, off the street and into rehab beds in the past three months. Twelve of those people are still in treatment.
Charlie plans to enter rehab in June. Hubbard has coordinated with Charlie's family, with whom he speaks daily, to make this happen for Charlie, who hopes to join The Beat as an outreach worker when he is clean.
"I can't reach that goal now because I'm not in a good place," he says. "But one day, I will help people, and that will be my life on earth. If I should make it past this."