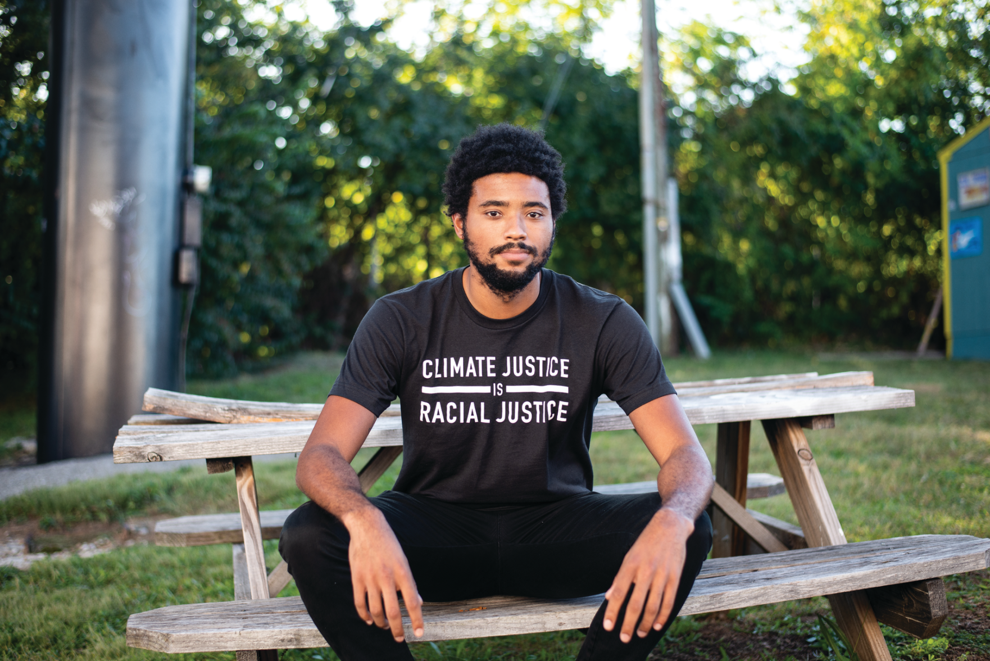 When you think about climate activists, who comes to mind? Greta Thunberg? Al Gore? A recent study by Yale University's Climate Change Communication program found that Latino and Black Americans are more likely to be alarmed or concerned about climate change than whites.  
"The environmental sector suffers from an alarming amount of whiteness," says Patrick King, the sustainability education manager of local nonprofit Urban Green Lab. "There's a perception that it's a space only for affluent white folks, when in reality, when you look at the numbers, the overwhelming majority of people who believe in climate change and believe that things have to be done around climate change are Black and brown."
This may be because Black, Latino and indigenous Americans are disproportionately impacted by environmental stressors, including here in Nashville. In 2016, a study by the group Health Impacts of Degraded Environments collected ambient and indoor air quality in and around James A. Cayce Homes in East Nashville. The team, headed by Dr. Kimberly Jackson, also conducted health interviews with residents. The results were clear: The residents of Nashville's largest public-housing complex were disproportionately sick — the area had one of the highest rates of asthma in Davidson County — and the environmental factors in these homes and backyards could be to blame. 
HIDE found that pollutants indoors — like mold, pest allergens and nitrogen dioxide — exceeded public health standards. Outside, pollution came from auto emissions on I-24, which lacks the environmental engineering that separates highways from residential neighborhoods in places like Green Hills. At the time of the study, toxic substances were being legally released into the air within two miles of Cayce Homes. HIDE also found that recycled tires used in place of mulch on the community's playgrounds were releasing toxic substances into the air. 
It's an example of environmental racism: when a group of people bears a disproportionate share of environmental consequences because of their race, and a person's ZIP code can predict their health and well-being. The answer to environmental racism is environmental justice, a movement that is described by its founder Dr. Robert Bullard as "embracing the principle that all people and communities have a right to equal protection and equal enforcement of environmental laws and regulations." 
Though the environmental justice movement started in the 1970s, it has recently gained mainstream attention. Here in Nashville, researchers like HIDE's Jackson and Tennessee State University's Dr. David Padgett have been studying it for a long time. Environmental justice goes beyond traditional ideas about conservation and preservation, says Padgett, who participated in the HIDE study of Cayce Homes.
Says Padgett, "Historically, environmental preservationists and conservationists' ideals were brought forth in response to the Industrial Revolution, which brought mass destruction upon the natural environment's ecosystems, water and resources in North America as we, in our thirst to develop as an industrialized nation, cut down every tree, mined every mountain and drained every river we could find. But in many cases, that was a human-versus-nature ideal." With the environmental justice movement, he says, the definition of "environment" has been broadened to include the people who live in the environment. "Most people would not think of the destruction of the Black community by the construction of Interstate 40 in the 1960s as an 'environmental issue' or case study, but it absolutely is. It caused mass destruction to the human environment that we're still trying to recover from." 
In an effort to bring environmental justice education to the fore, Urban Green Lab has embarked on the Nashville Environmental Justice Initiative to get the topic into our schools and communities. According to King, the objective is "to grow a culture of learning around environmental justice here in Nashville that protects our most marginalized populations in town." To do this, King says the organization will make recommendations for where environmental justice education can take place, such as in local public schools and public universities throughout the Southeast. The nonprofit also hopes to learn what locals view as socio-environmental issues in their communities, so Urban Green Lab can develop a learning module that trains residents not just in environmental principles, but in collaborative problem-solving as well. 
King cites what are known as heat islands as another key issue. Public housing projects like Cayce have more concrete and less natural ground, so they tend to be several degrees hotter than spots like the tony and lush Belle Meade. "Heat kills more folks than flooding, hurricanes and storms," King says. "It promotes worse air quality. What does that mean for communities who have been historically disinvested by the city and suffer from outstanding health issues and lack of access to health care? There are so many contributing factors, and heat only exacerbates that, specifically with the young and old." 
Padgett points to the years-long battle to stop landfill construction and expansion in the predominantly Black middle-class neighborhood of Bordeaux as another example of environmental racism. Because environmental justice considers people themselves to be part of the environment, its issues extend to transportation, food security, housing and more. What Urban Green Lab is proposing could harness the energy of Generation Z environmentalists and put it to work in their communities. But before they can make any recommendations, they have to do some research. 
Urban Green Lab found a natural partner in TSU, the historically Black university that has been deeply engaged in environmental and agricultural research for a century. Dr. Sky Georges, a professor in the TSU Department of Agricultural and Environmental Sciences, is leading three studies with grad student Devin Ross. The team will analyze environmental justice curricula in public universities in the Southeast; survey Nashville middle and high school science teachers about their attitudes regarding the subject and whether they are incorporating environmental justice into their coursework; and collect data about resident needs and concerns. 
"As an HBCU," says Georges, "I think TSU has a responsibility to lead the conversation, and oftentimes, minority-serving institutions are not invited to participate or lead. … Tennessee State University is also a land-grant university, whose mission is to better the lives of Tennesseans. In so doing, you have to not only engage but actively participate in [proposing] recommendations and solutions."
Ross hopes that the work of TSU and Urban Green Lab will extend outside the state. "Our study can potentially be a blueprint for change," says Ross, "so we have an environmental justice concept incorporated into classrooms."
King says education has to extend to various stakeholders — including government partners, private development firms and residents — and the organization is casting a wide net. Environmental justice looks different in every city, and the work being done by Urban Green Lab and TSU should give us a clearer picture of what equity, access and justice look like in our communities.