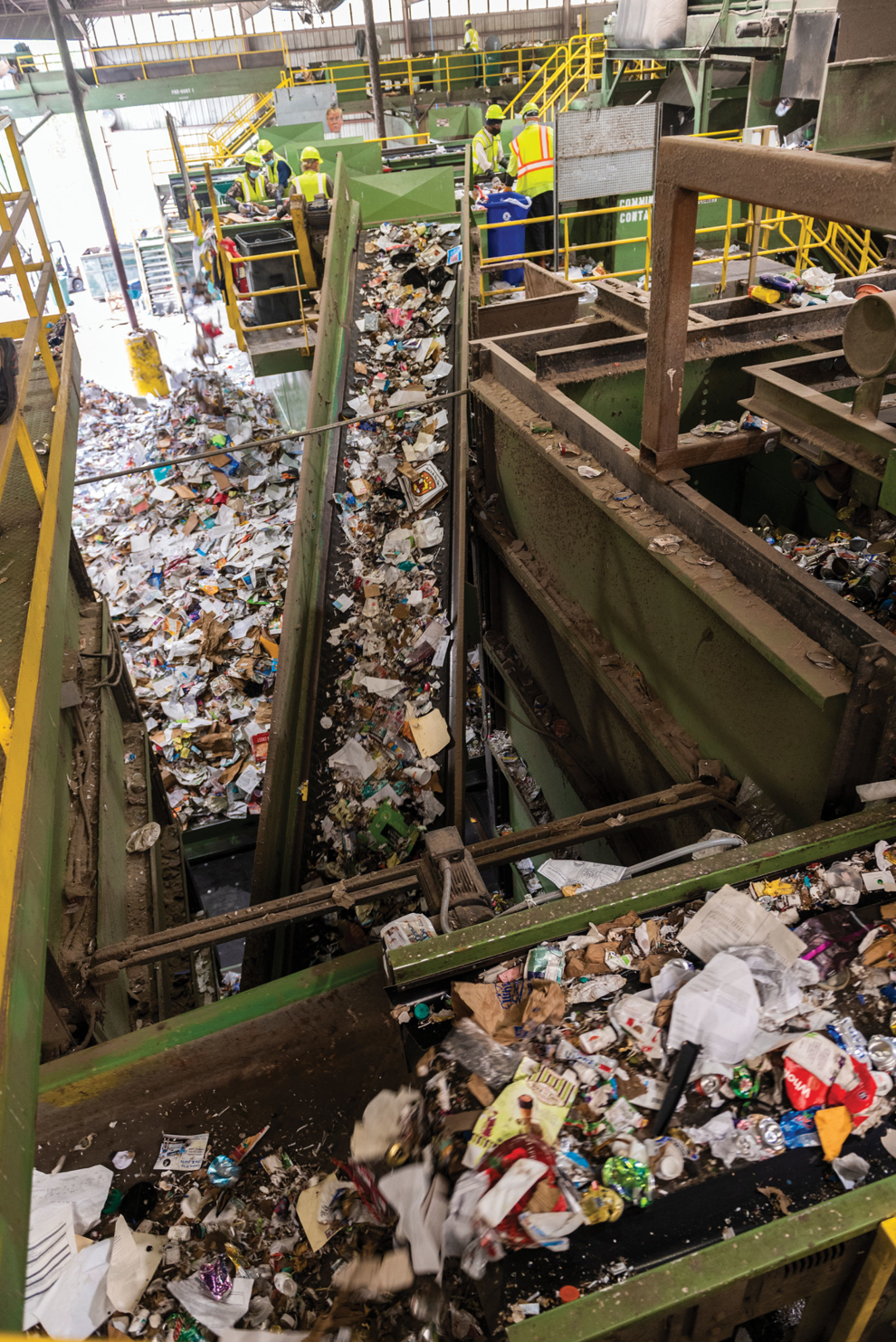 A sound not unlike rain patters incessantly at the back of the open-air building where trucks dump material at Nashville's River Hills Recycling Center. This is the largest recycling facility in Nashville, and that sound is a thunderstorm of sorts. It's a steady stream of pill bottles, drink cans, cardboard boxes and other materials hurtling through a large machine called a drum feeder, which sends the items down a conveyor belt to be sorted.
Although operations manager Dilan Vince says the drum feeder can handle about 20 tons of material per hour, not everything that ends up at the River Hills facility is recyclable. In fact, Jenn Harrman, the waste reduction program manager for Metro Public Works, says as much as 46 percent of what Nashville puts into residential recycling bins is unusable. She says that's a high contamination rate compared to other cities, but Metro is working to educate residents with new initiatives like the Waste Wizard app on the Public Works website. The app launched a few weeks ago, and Harrman says her department is constantly adding to the 300 materials residents can quickly search and learn how to recycle — or if they can be recycled at all.
At River Hills, bags of aluminum cans peek out of piles of material. While cans are recyclable and aluminum is valuable, a bag could damage equipment if it becomes wrapped around machinery, shutting down the facility until workers can cut the bag out. Those bags of cans will likely end up in a landfill. (The lesson: Make sure your recyclables are loose in your bin, not bagged.)
If Nashvillians aren't always great at recycling, how can we do it better? Harrman says aside from the app, Metro offers free online webinars to educate residents  — recent events covered topics on sustainability, from recycling to climate change. Metro's recycling website also has extensive information about what's recyclable, and drives home Harrman's "bottles, jars and jugs" mantra about the type of plastic that's recyclable. She says the recycling symbols on plastic can be confusing, but residents should remember that the numbers inside the symbols only indicate the type of plastic, not whether it can be recycled.
"If it doesn't fit that category, it's not recyclable in our program," Harrman says. "A lot of folks get frustrated because they can't recycle as much as they used to, but you were never actually recycling those items. They ended up in landfills."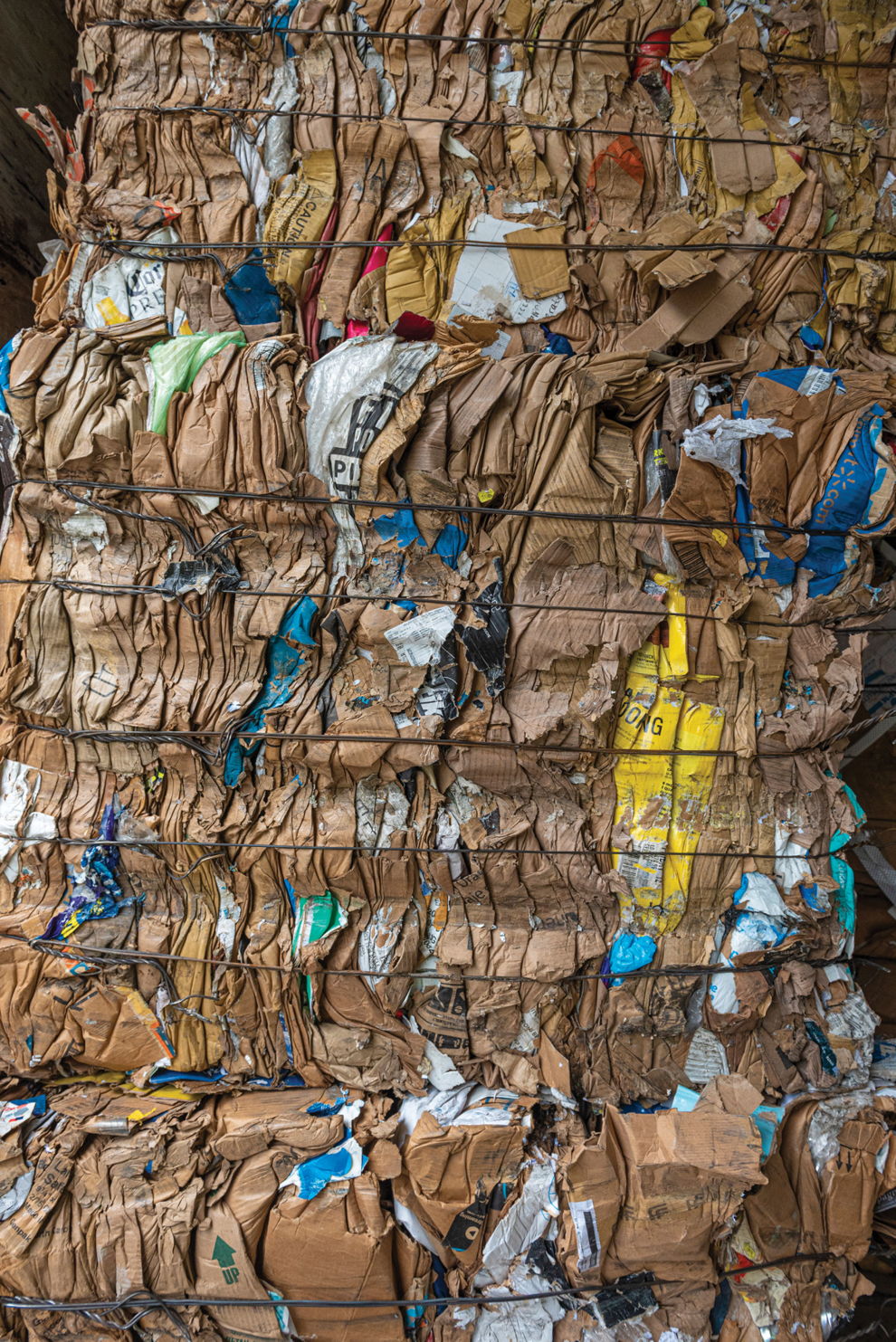 While the contamination rate is high, not all Nashville residents are confused by the process. Chris Ann Lunghino — policy and communications director for large-scale solar farm developer Silicon Ranch Corp. — could best be described as committed to recycling. Lunghino lives in an East Nashville apartment building and runs a miniature waste management system in her closet. Her building offers some recycling, but only broken-down cardboard boxes. Because Metro only collects bins from residential homes, Lunghino organizes her compost and recycling in reusable aluminum bins and carts it to a drop-off center every other week in a borrowed car. 
"Putting waste in a landfill creates a lot of greenhouse gas emissions that contribute to climate change, and also results in pollution of the surrounding soils, which extends to our water systems that affect people's health," says Lunghino.
Lunghino says she has worked with management at her building to try to implement a better recycling program, but has made little progress. She understands the challenges of pickup at apartment buildings but hopes Metro expands recycling collection to buildings and businesses. In the meantime, she lives as green a lifestyle as possible, buying organic produce and eschewing air conditioning. She says being mindful can have a big impact, and she encourages residents to focus on what they can do instead of solely blaming corporations that contribute heavily to climate change. 
Other Nashvillians do feel a little helpless, and say recycling isn't enough. Metro's website says more than half of the city's waste comes from business and industry, and couple Landon Funk and Ben Kurland say holding corporations accountable for their waste is important. 
"Individual action can feel demoralizingly insignificant when the climate crisis is happening on a global scale," Kurland says. "A handful of companies create the majority of the pollution."
Funk says Kurland has encouraged her to recycle more since the pair moved in together, and they both were surprised to hear that plastic tubs and clamshell containers — like the ones their Trader Joe's ice cream cones come in — aren't recyclable. Funk also says using pesticide-free and reusable menstrual products is an important aspect of the couple's environmentally friendly lifestyle.
Greenpeace's plastic projects leader Kate Melges echoes the couple's concern, saying plastic is one of the biggest sources of pollution, and that corporations producing single-use plastic have told consumers the responsibility for recycling starts at home.
"Corporations need to be held responsible for their waste," Melges says. "For decades they've been putting responsibility on consumers for dealing with their packaging."
Melges says she would tell Kurland not to give up, and would remind him consumers have a lot of power with their dollar. Residents can advocate locally for reusable and refillable packaging, and give their dollars to companies that provide these options. She acknowledges it can be disheartening to go shopping considering the prevalence of plastic packaging, but says we should feel empowered to tell companies we want greener products.
Voting with our dollar and buying into eco-friendly companies may become even more important in Nashville, as many of our landfills are set to fill up and close in the next few years. Todd Lawrence, executive director of nonprofit Urban Green Lab, says the organization educates residents about Metro's priorities, like the current Solid Waste Master Plan, which "will serve as a roadmap to achieving Zero Waste over the next 30 years," according to Metro's website. Lawrence says landfills filled up faster than expected with debris from the downtown bombing. Although he says future waste could be shipped to other communities, creating more emissions and increasing waste collection prices, the Solid Waste Master Plan is putting us on the right track.
As for Nashville residents like Funk and Kurland, there's more to learn about recycling every day. While both are committed to holding corporations accountable, they'll continue improving their individual efforts as well. The couple plans to start using Metro's Waste Wizard app to increase recycling efficiency in their home in The Nations. It's a learning process.
"We recycle both the box and [plastic] tray," says Kurland of the pair's ice-cream-cone packaging. But after finding out that the plastic bit isn't recyclable? "We won't recycle the tray anymore."