When Tonya Lewis started learning about hemp, she was curious about the whole plant — flower, seed and fiber. Her curiosity led her to the 2018 Southern Hemp Expo, a large hemp-centric trade show and conference that includes dozens of panels and speakers as well as a long roster of exhibitors. But she left feeling disappointed. The focus was largely on the flower and extracts that produce everything from CBD gummies to medicinal marijuana. There was little discussion about the whole plant and the industrial uses of hemp.  
As a member of the Hemp Alliance of Tennessee, Lewis is engaged in changing that. Along with the organization's president, Frederick Cawthon, Lewis wants to make Tennessee the center of the nation's hemp industry. (For the layperson: Hemp and marijuana are both forms of cannabis; hemp includes 0.3 percent or less of the intoxicating component known as THC, while marijuana contains more. The U.S. Farm Bill, passed in 2014, defines hemp as distinct from marijuana. The former is legal to grow and sell, including in Tennessee, while the latter is still a Schedule I drug according to the Controlled Substances Act.)
Lewis is the co-owner of NuSachi, a business-to-business company that extracts rosin from the plant using heat and pressure — rather than solvents — preserving the essence of the plant. NuSachi creates white-label products that other companies brand and sell. The market is competitive, and small companies like NuSachi require heavy investment to reach their potential. The Hemp Alliance of Tennessee seeks to help our state's hemp-centric operators achieve success by, in part, educating the public and lawmakers about the many uses of hemp, beyond tinctures, gummies and the host of other retail products on the market. 
The Hemp Alliance of Tennessee was founded last year, but Cawthon and others were already working in earnest in 2013 via the state chapter of the Hemp Industry Association. Now freestanding, HAT's mission has three prongs: fostering connections among people in the hemp industry across the state; educating the public and advocating for progressive hemp legislation; and providing information and resources to people in the industry.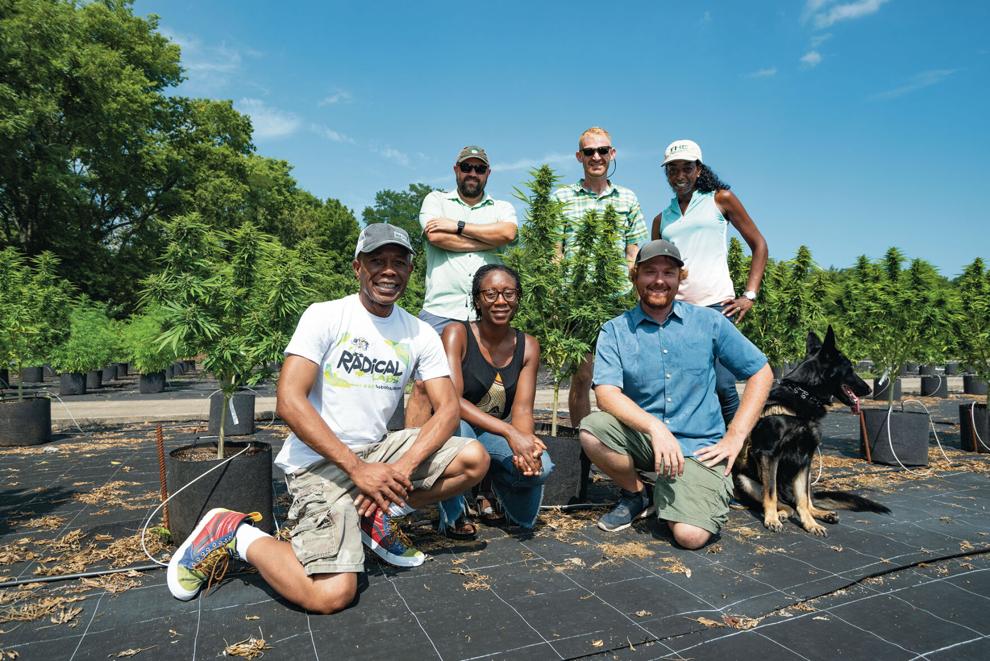 "The industry is still in its infancy and exploratory phase," says Cawthon. "Rules are changing left and right. We have a very close relationship with the Tennessee Department of Agriculture. … We have them come in periodically to tell us what's changed and what we need to know." 
The lobbying arm of HAT is called the Tennessee Growers Coalition, a political action committee that advocates for a progressive legal and regulatory framework to move the needle in our state legislature. "Our strategy coming into this fight," says Cawthon, "[was] there's been a lot of work done in the past, but it was mostly at top level — i.e., somebody writing a bill and trying to get a legislator to pass the bill. What we feel was missing was the ground game, the grassroots effort. … [Tennessee Growers Coalition] files the bills, and it's us ramping up the base to get that bill passed." 
HAT recently launched the Free the Plant campaign, hosting events across the state where the public can learn about hemp and try some products. This is an opportunity to get the public invested in legislation, and it's also an opportunity to provide what Lewis hoped she'd find at the 2019 Hemp Expo: education about industrial hemp. 
Farming hemp has the potential to be incredibly environmentally sustainable. It grows well in poor soil, requiring little fertilizer or irrigation. The plant has a negative carbon footprint — it draws carbon from the air and sequesters it in the soil. However, discarding or composting the majority of any plant is not sustainable, and Cawthon and Lewis want to see that by-product being put to good use. The woody byproduct of hemp, called shive or hurd, can be combined with lime and used to make floor tiles, insulation and other building materials. This composite is a good thermal insulator and moisture regulator. It's also fire-resistant and lightweight. Researchers are learning more about how the plant's oil can be used as biofuel. "It's 'Drill, baby, drill' versus 'Grow, baby, grow,' " says Cawthon. 
He also sees more potential for hemp in the automotive industry, especially in the Southeast and specifically in Nashville. Car manufacturers already use hemp for purposes as diverse as the upholstery and filament in car batteries. Cawthon wants to see U.S. farmers growing that hemp, instead of having automakers import it from other countries. But to do any of this, the U.S. needs to build up the infrastructure to grow and process hemp so that it can feed into existing manufacturing processes. 
If Tennessee embraces developing the infrastructure to support industrial hemp, there's another opportunity. Lewis and Cawthon both want to see the industry investing in racial equity, especially because the so-called war on drugs has disenfranchised communities of color for decades. Back at the Southern Hemp Expo, Lewis says she scanned the room and was struck by the absence of women and people of color. 
"As a woman of color in this industry," she says, "it's really hard to get involved unless you have a lot of capital to support your entry." Seeds, processing equipment and licenses can all be prohibitively expensive, she explains. "You're entering a space where there is a lot of risk," says Lewis.
Other states are slowly investing in equity. Colorado's Accelerator Program reduces fees and provides mentoring for people previously incarcerated for drug-related offenses, as well as their family members. But programs like this are slow to roll out and often entangled in legal holdups. In April, the Associated Press reported that operators in such social-equity programs get "locked up in predatory contracts" and "overmatched in a cutthroat market dominated by international companies." 
"A whole bunch of white people are becoming millionaires out in Colorado and California," says Cawthon, "when there's still people locked up in prison for doing the same thing." 
Lewis and Cawthon stress that programs must be developed with great intention toward making the industry sustainable for people of color and women. "What can we do beyond creating jobs?" Lewis asks. "How do we support people educationally? How do we support individuals who are looking for career positions in this industry? What does equity and inclusion look like beyond having a few people producing products? How do we diversify our entire supply chain to include people of color as well? There's movement slowly, but it's going to take some money — a lot of money and a lot of people willing to make some sacrifices to be intentional about creating opportunities for people."