The numbers keep coming — relentless, like a driving rain. New cases. New hospitalizations. New deaths. 
There were times in the spring and summer when we might have thought — naively, it seems now — that we were living through the worst of the coronavirus pandemic. We were not. What we are living through now is far worse. In Tennessee, record numbers of people are getting sick, being hospitalized and dying. The United States recorded 100,000 new daily cases for the first time on Nov. 4. Less than four weeks later, the country reported 200,000 new cases in a day. 
As of this writing, 368 Nashvillians have died from the virus, and 4,554 people have died statewide. Those numbers will continue to rise, as will the ambient grief that has marked most of this year. 
In a way, a pandemic puts us all on the front lines. We face the threat, to varying degrees, whenever we leave our home, and even when we stay inside it. By its very nature, it is — or at least can be — all around us at all times. We reduce the risks where we can, but we cannot eliminate them. 
Still, some among us have spent the better part of this year going directly toward the risk, taking the fight to the virus. Doctors and nurses have tended to the people it sickens, fighting for the lives of people whose bodies are in danger of being overwhelmed. These health care workers have cared for the ill and done their best to comfort the dying who are isolated from family in their final moments. The true impact of their heroic work — just like a complete rendering of the damage this year has wrought — is difficult to measure. It is reflected not just in the lives they save but the future they preserve through every patient they care for, the comfort they bring to every scared family. They have carried an immense weight, working endless hours and enduring a seemingly endless trauma. 
And they are not alone. The same spirit can be found in those working at testing sites around the city, caring for our elders at nursing homes and laboring to develop the vaccine that will give us a chance to break this societal fever. 
The Nashvillians we honor here are a representation of many more health care workers and medical experts who have faced down a historic threat on our behalf. We look at them with awe and gratitude precisely because they are not superheroes, but simply people, our fellow Nashvillians who have done an excruciating job on our behalf. They are 2020's Nashvillians of the Year. —STEVEN HALE
---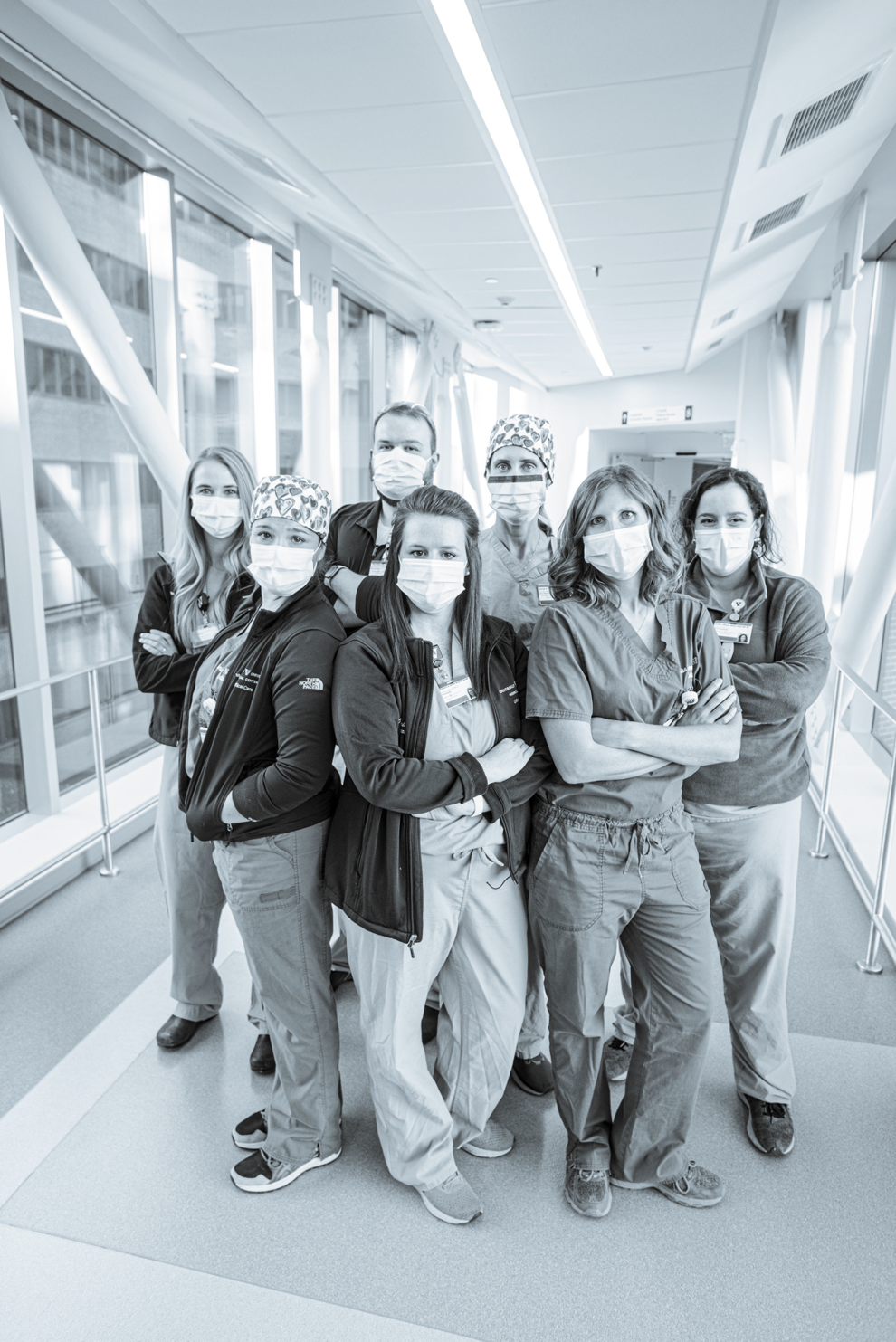 'The Chaos of It All'
Vanderbilt University Medical Center's COVID-19 ICU staff
By D. Patrick Rodgers
"I truly wish people could see what it's like in a COVID ICU every day," says acute care nurse practitioner Christy Noblit. "It's just — it's terrifying for these patients.
"It's extremely stressful for the people that are providing the care, just because of the illness of the people and the amount of resources they need to try to get them to survive this illness. And then just the chaos of it all. It's just constant noise, alarms. People can change in a minute, in the blink of an eye from this illness. You'll have somebody who's fine one second, and then the next minute you're having to rush into their room to try to restart their heart because they've had a complication."
Noblit is one of five nurse practitioners at Vanderbilt University Medical Center's COVID-19 intensive care unit who spoke with the Scene in November. Many of them have been working overtime — often six days a week with 16- or 18-hour shifts, Noblit explains — caring for patients who are gravely impacted by the virus. Some of the patients are fortunate enough to recover from their illness. Many are not.
Noblit and her colleagues paint a grim and vivid picture.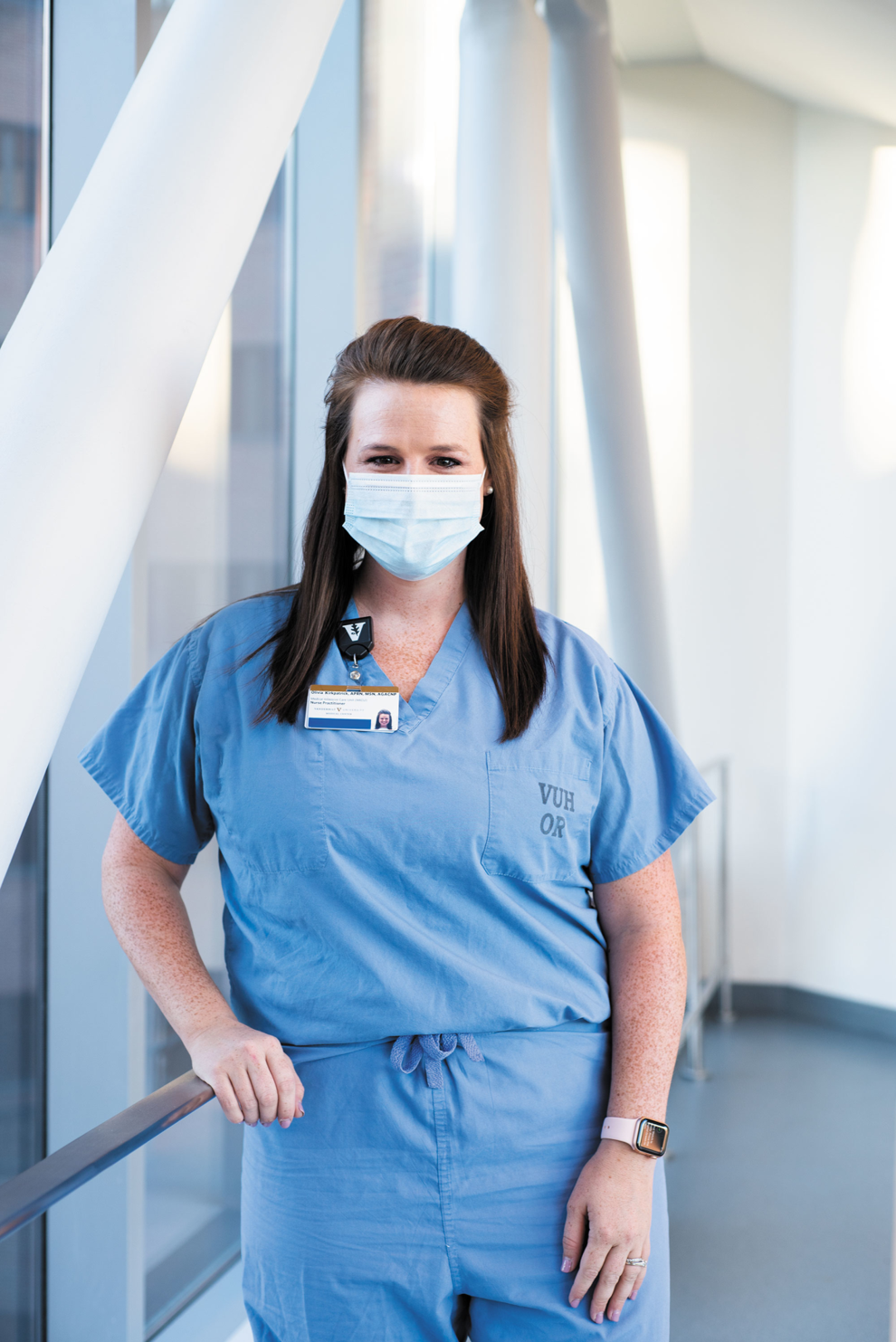 "This is probably the scaredest that we've all been throughout the pandemic, I think in the last two or three weeks," says nurse practitioner Olivia Kirkpatrick, a new mother who returned from her maternity leave in the middle of the pandemic. "Just because we know that there's no new thing that we can add to turn this around, and we are pleading with the community to help us help them at this point."
VUMC's COVID-19 ICU admits patients not only from Davidson County, but also from rural Tennessee counties as well as other states in the region.
Nurse practitioner Wren Sherrill thinks of the ICU staff as "the final fighters in this war" rather than frontline workers. "We're getting triage calls from other hospitals all over the Southeast asking us to take a COVID patient because they're full," she says. "They've called eight, nine different hospitals in the area and no one has room. And we're having to turn them down simply because we don't have capacity either. It kills me, because that's someone's loved one who can't get the care that they need simply because we don't have the resources and the capacity right now."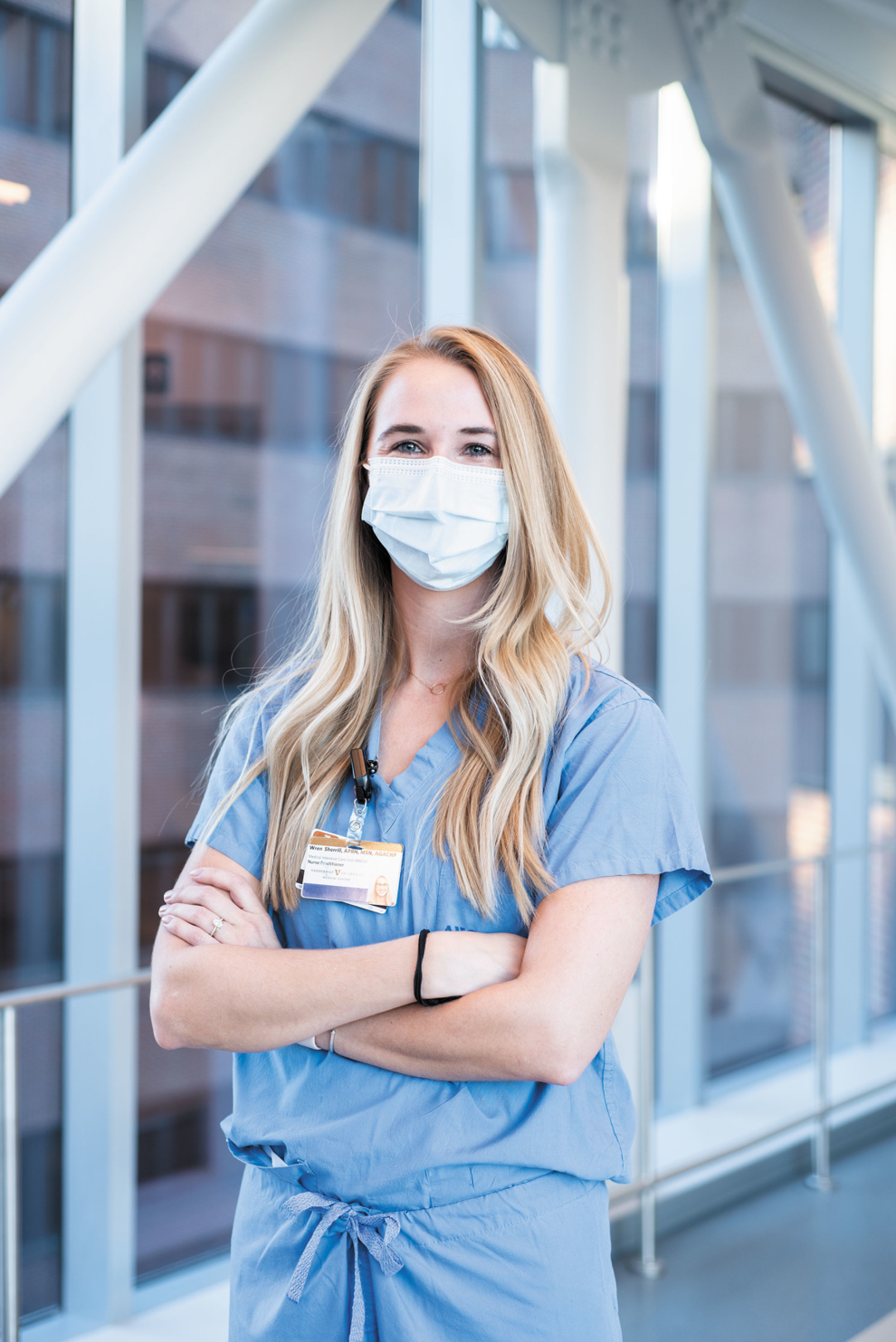 The nurses who spoke with the Scene say they have what they need in terms of personal protective equipment and other physical resources, but with their unit at nonstop full capacity, it's the health care providers themselves who are the most endangered resource.
"This is the hardest work that I've ever done in my life," says nurse practitioner Janna Landsperger, who has worked in the medical ICU at Vanderbilt for 11 years. "It is physically draining, it is emotionally draining, it is all-encompassing and sucks everything out of you. I care very, very deeply for my patients. I care very deeply for the staff that I work with. And it's just an untenable amount of stress. And the constant bad-news delivery, which we do every single day, is what's very exhausting for me."
Every day after they make their rounds, the nurses call family members of their patients — often the only point in a day when these people hear about their loved ones' status. Nurse practitioner Sarah Bloom explains that many of the patients she and her co-workers are seeing are in the 40-to-60 age range — empty-nesters and new grandparents who are still in the "prime of their life," as she sees it. "Those patients have represented a large subset of the people I'm taking care of in the ICU," she says, "and you really have this overwhelming sense that it's years of life that are being lost. That they had a lot more life to live and it's being cut short."
"It is absolutely all different ages and all different parts of our community now," says Dr. Wesley Self, an emergency physician and vice president for clinical research networks at VUMC. "There are older people who have COVID, but there are certainly young adults and middle-aged adults who are having COVID as well. I treat only adults, so I can't speak to children. But certainly, the entire spectrum of adults — from 18 years old all the way up to 100 years old, and those who have chronic medical conditions, and those who don't."
"In our ICU, it's probably close to 90 percent of the patients are on the older side — honestly, that means 55, that doesn't mean 70 — and do have comorbidities," adds Landsperger. "But it's that 10 percent — that is still a lot of people based on the volume we've seen — that has no explanation. We've had people that exercise every day, that eat healthy, are not on any prescription medications for any chronic conditions, come in with COVID and never leave the hospital."
The nurse practitioners express a deep frustration in not being able to give their patients' loved ones the answers they seek — in not knowing why some people who contract COVID-19 experience light symptoms or no symptoms at all, while others find themselves in need of drastic medical intervention. That's the vexing nature of this virus. It preys on the weak and the elderly, but also inflicts chaos at random, frequently leaving its victims with what appear to be long-term health effects.
So how can we support these workers' efforts?
"I would say give some grace to our leaders, and the scientists that are making recommendations," says Kirkpatrick. "And even if you've heard different things about a mask, it's the least you can do as a human. Make the hard decisions — don't hug someone when you see them. Your friends know you love them. … Do the things that we're asking of you, and the rest will fall in line."
---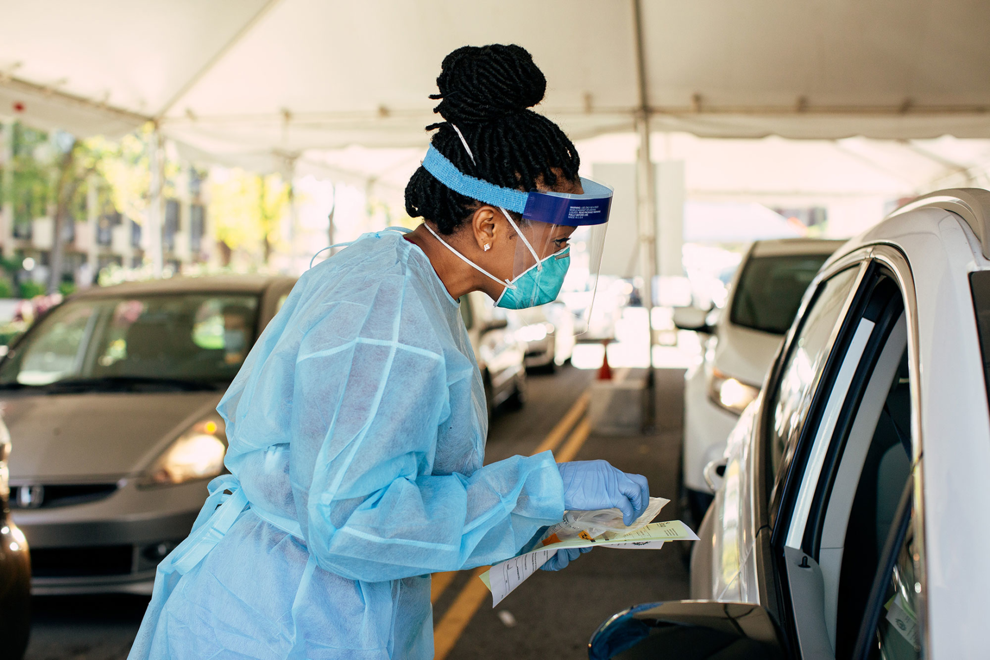 'That's What We Do'
COVID-19 test administrators from Meharry Medical College and elsewhere
By Stephen Elliott
When COVID-19 reached Nashville in March, a consortium of governments, medical schools and health care providers teamed up to establish a citywide coronavirus testing program. Dr. Julie Gray of Meharry Medical College was an obvious choice to help spearhead the logistical challenge.
It wasn't because she had so much experience with airborne diseases like the one shutting down the city — in fact, she is a dentist by training, and teaches in Meharry's School of Dentistry, where she is also assistant dean of student affairs. Rather, she was the clear choice because of her years of work overseeing an annual oral health day, during which students and staff provided free dental work to patients from around the state. The practical considerations were similar, though the two initiatives had different purposes. 
"Organizing our COVID-19 efforts is almost like having oral health day every single day," Gray says.
Like the oral health days, the drive-thru coronavirus testing relied heavily on volunteers in the early days, many of them Meharry students. Faculty and staff also joined in, especially when students returned to classes after the summer. Students from nearby universities including Belmont, Tennessee State and Fisk, as well as National Guard personnel, have also joined the effort. 
One such student is Jacqueline Ike, a registered nurse who last year was completing a master's degree at Meharry and is now a first-year medical student at the historically Black college. 
According to supervisors of the unprecedented testing effort, Ike was one of the earliest and most enthusiastic volunteers back when much less was known about the virus and fewer people were willing to confront it. Ahead of the development of a vaccine for COVID-19, mass testing remains one of the most effective ways of reducing the spread of the disease.
In the hot summer months when school was out, Ike worked nearly every day at pop-up testing sites at Meharry and Nissan Stadium, taking countless nasal swabs from Nashvillians. Wearing masks, face shields and other protective gear made standing on asphalt for several hours during the Tennessee summer harder, she recalls. 
"It got hard to breathe sometimes," she says. "You'd get lightheaded, you'd go hours without drinking water. You have to tell yourself to stop, take a break and drink some water. But you see the cars keep going so you keep going."
At first, Ike says, many of those seeking tests were older people, more vulnerable to the virus. Then, when businesses started opening up, Ike says more working-class people were seeking tests, in part because some were required to do so before returning to work. 
"Some people would come every week," she says. "They were regulars."
Then came families, and now it's pretty much everyone, as case counts and other virus metrics have ballooned. 
"People are afraid — they're still afraid," Gray says. "Some of the stories you hear from people coming to get tested truly tug on your heart."
Unprompted, Gray and Ike separately cite Meharry's motto — "worship of God through service to mankind" — as inspiration for working the long days. And even though Ike was willing to expose herself to dozens of potentially sick people each day, she rarely worried about the risk. 
"I wake up, say my prayers, ask God to protect me, and I don't really think about it," she says. "Of course you have to be conscious of it and protect yourself, change your gloves and do the proper technique, but I feel like if you're just constantly in fear you might end up doing more harm."
Now that she's in her first year of medical school, Ike has less time to work at the sites, though she expects to continue to do so, especially as she settles into school more. She doesn't know what kind of doctor she wants to be yet, though she is interested in internal medicine, primary care and emergency medicine. Her experience working at the test sites has changed at least one thing about her desired career path: Now, having seen its importance in fighting the pandemic, she wants to incorporate medical research into whatever path she chooses.  
Gray says she expects her students' experience at the testing sites to have long-lasting impacts on their careers as doctors and health care providers. The at-times "monotonous, thankless job" gives medical students and others valuable practice in the sort of empathy required of them in their careers, she says — especially when the people they encounter are thankless or eschew mask mandates designed in part to keep test takers safe. 
"That's what we do, not only as Meharrians, but also as Tennesseans," Gray says. "We are the Volunteer State after all."
---
'We've Got Plenty of Nose Swabs to Test'
Vaccine researchers at Vanderbilt University Medical Center's infectious disease unit
By J.R. Lind
Vaccination has come a long way since the stomach-churning early days when English physician Edward Jenner used pus and scabs to develop the first smallpox vaccine, experimenting on the 8-year-old son of his gardener and a local milkmaid. Those earthy days are preserved only in the word we use for the process — "vaccine" from the Latin for cow, vaca, the source of the cowpox infection that ultimately was found to protect against smallpox.
But the basic principle remains: The human body has a remarkable capacity to respond to infection, and if the infection can be controlled, the body can produce the necessary antigens to provide immunity. Some vaccines — like Jonas Salk's polio vaccine — use an inactive version of the target disease. Others use a weakened version more easily overwhelmed by the body's disease-fighters.
It often takes years, even decades, to find the right formula.
Just ask Dr. Spyros Kalams, the director of viral immunology studies at Vanderbilt University Medical Center's Infectious Disease Unit. He's been working on a vaccine for HIV for nearly 30 years. Eventually, there will be one — he's sure of it. But for now, Kalams and his team are focused on a monumental task: finding the magic bullet for COVID-19, a disease no one even knew about 14 months ago.
"I've given several talks, and I always say it won't take nearly as long for a coronavirus vaccine as it has for HIV," Kalams says. "In any case, you have 30 years to prove me wrong."
It seems a safe bet at this point. The vaccine developed by Moderna — the one the Vanderbilt team is researching — showed a 94.5 percent success rate just three months after research began, a blink of an eye in the vaccine world. Studies led by Pfizer, AstraZeneca and others around the world show similarly promising early returns. It's almost moonshot-level astounding to think about: A disease that seemed to come out of nowhere roughly a year ago and essentially shut the world down is, maybe, hopefully, in its last days.
Kalams said that's in large part due to the infrastructure the vaccine-research community already had in place. He explains that there are networks of facilities like the one at Vanderbilt that are in constant communication and collaboration about their projects. There's a flu vaccine network, an HIV vaccine network, a general catchall vaccine network and so on. And in the early summer, these networks all but dropped everything else, got together and took on the pandemic, pooling their resources and their very impressive brains.
But, of course, the first step is the hardest, and this one was almost like stepping off into the abyss.
"There's vaccines that are weakened forms of the virus," says Kalams. "Some that are killed virus. No one knows which one will work."
The Moderna vaccine, though, uses a method relatively new in the immunology world. It's called "naked RNA." RNA is the single-strand cousin of the better-known DNA, and one type of RNA — called messenger RNA or mRNA — tells cells how to build certain proteins. RNA vaccines were first studied in the mid-2000s and have been subject to intense research since. Basically, in the Moderna version, strands of COVID-19 mRNA are injected into a patient, and the immune system and all its microscopic minions see that it's not human and attack, producing the necessary antigens. (It's far more complicated than that, of course, so be thankful there are people like Kalams and his team who understand the particulars.) The Pfizer vaccine is very similar, as is the AstraZeneca version, except that in the latter, the RNA is wrapped in a chimpanzee virus.
Kalams was excited to do the testing on the RNA vaccine, in part because he and his team had been discussing trying a version for their long-term HIV study. In any case, it seems to be working. At the very least, it's effective at preventing illness. Preventing infection altogether is another matter, though Kalams is optimistic the vaccine does that too.
"We've got plenty of nose swabs to test," he says.
Of course, there's no way of knowing if the immunity lasts forever or for six months, simply because not enough time has elapsed. But Kalams says it does appear to be effective for eight weeks, at least at staving off illness. If it can also prevent infection, and even if it's for just eight weeks, that would go a long way toward ending the pandemic.
The Moderna vaccine also has one very practical advantage over the Pfizer version. The latter requires intense, near-constant refrigeration at temperatures most doctors' office fridges can't sustain. It will require very careful transport and a mind-boggling amount of dry ice. That's fine in the United States and other industrialized countries, but it isn't exactly a logistical dream elsewhere. On the other hand, the Moderna vaccine is viable for a month in standard refrigeration and for a day at room temperature, making for a far less challenging delivery system for health departments.
For now, the study continues, and Kalams says there is one little problem. Study participants are, perhaps, a little too enthusiastic, a little too invested in the research's success.
"People don't want to 'ruin' the study, they want to help so much," he says — and that means they aren't often forthcoming with any side effects. A sore arm, similar to most other vaccines, and "feeling crummy" are very common, but Kalams says that's good news really, because it means the body is producing a response. 
People's desire to be a part of the study and help to the point of deception is heartwarming in its way. But for a doctor, it's a little frustrating. Nevertheless, Kalams says the timeline laid out by White House Coronavirus Task Force head Dr. Anthony Fauci for a spring or early-summer widespread vaccination program seems completely reasonable to him — particularly if the FDA's emergency-use authorization goes forward as planned later this month, and frontline workers and at-risk populations show positive results.
And then? It's onward with the HIV study, armed with new information, a new method and a new chance at eradicating another disease.