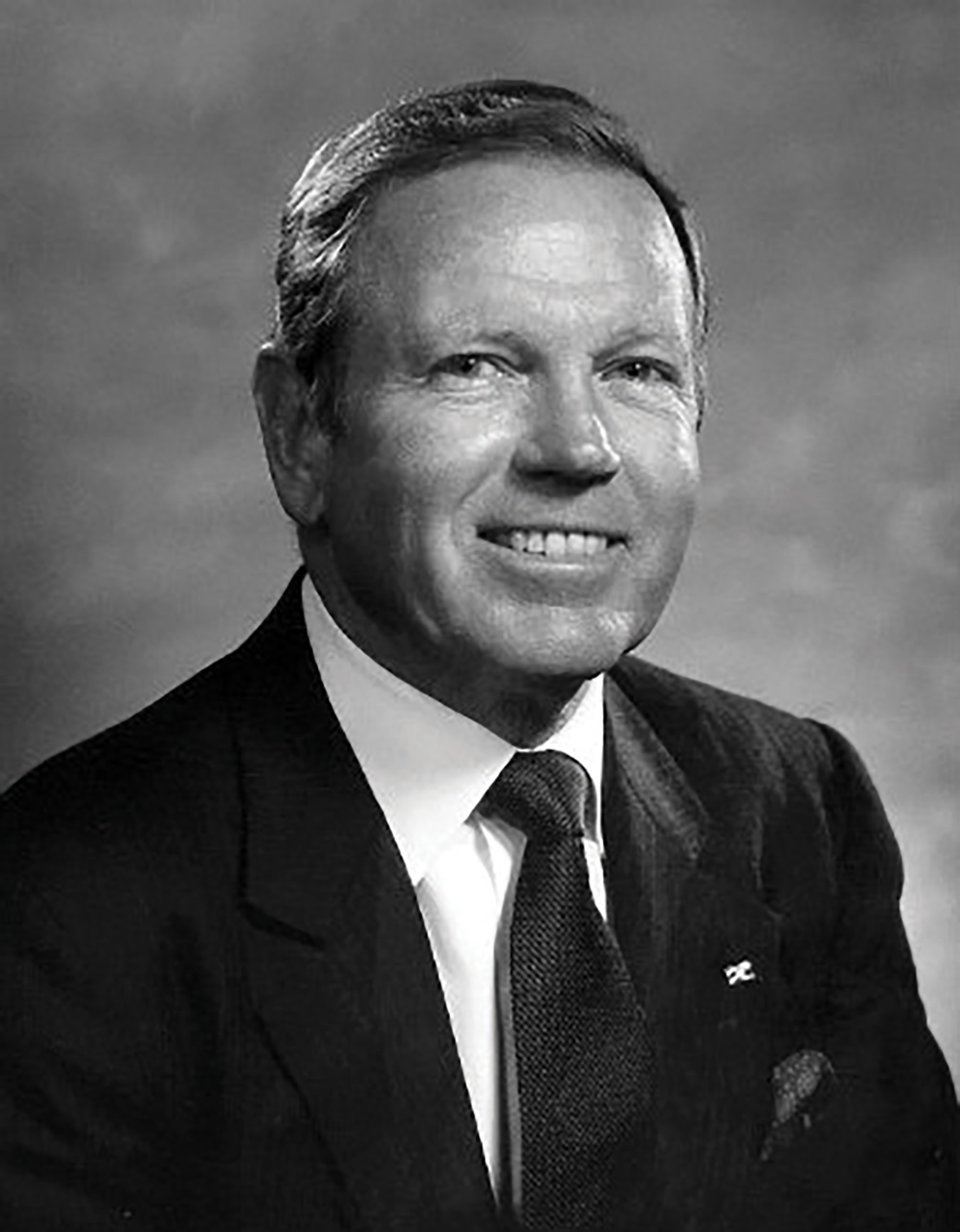 Brownlee O. Currey Jr.
Philanthropist, businessman, former Nashville Banner owner
Brownlee Currey entered the Nashville Banner newsroom en route to his office with the quick-striding yet delicate confidence of an expert tennis player sizing up a drop shot at the net. In the last days of the old-time newspaper milieu of shouted commands, strong black coffee, cigarette-smoke haze and whiskey bottles hidden deep in desk drawers, Brownlee wore dapper custom suits and invariably had a smile on his face. Smiling! And we're on deadline!
Brownlee O. Currey Jr. — who died this year at age 91, followed several months later by the passing of his beloved wife Agneta — didn't fit the mold of chairman and co-owner of an aggressive afternoon city daily. Brownlee kept a New York Stock Exchange ticker machine in his office, and he often checked the paper tape spewing from it. He came from old Nashville money and added to the family fortune, thanks in part to millions reaped from the Banner sale to Gannett and to his seemingly effortless but astute financial acumen, fostered during his time on New York's Wall Street.
"Say hello to my good friend Brownlee Currey," Burt Bacharach, the legendary songwriter, composer and man-about-town, said once as a Banner entertainment reporter conducted a telephone interview. "We were running buddies in New York back in the day."
Brownlee mainly kept himself out of the newsroom's operation, although there was extensive coverage of the Watkins College of Art and its annual student showcase — which his family started — and of his alma mater Vanderbilt's tennis program, whose indoor tennis facility bore his name. Nashville society welcomed the sight of Brownlee and Agneta at charity balls, Williamson County equestrian competitions, on many a tennis court and golf course, and near courtside of basketball games at Vanderbilt, where he was a season ticket-holder and longtime member of the Vanderbilt Board of Trust.
As a philanthropist, he helped found and support Currey Ingram Academy. A few years after the newspaper folded, his generosity helped establish the Nashville Banner Room at the Nashville Public Public Library downtown, which houses and owns the newspaper's archives.
Thank you, Brownlee Currey, for being such a gentleman and for making the noble profession of journalism, during your time in the business, just a bit more noble. —Pat Embry
Keith Blaydes
Founder of Tribe, PLAY and Suzi Wong's House of Yum
On Feb. 6, Keith Blaydes — co-owner and founder of Tribe, Play Dance Bar and Suzi Wong's House of Yum — passed away at age 57 after a long battle with stage 4 pancreatic cancer. Blaydes is survived by his husband, partner and true love of more than 30 years, Bob Riedel.
Well-known and respected within the LGBTQIA+ community, Blaydes and business partner David Taylor opened their trio of hybrid nightclub/restaurants at the 1500 corner of Church Street in 2001. Back then, Church Street was a destination affectionately referred to as the "gayborhood," a three-block corridor that became the epicenter of queer culture in Nashville for locals. Townies and ain't-from-here LGBTQIA+ travelers alike heard — many times through word-of-mouth — about this respite of businesses meant to serve them. At the neighborhood's pinnacle, you could visit OutLoud! Books and Gifts, The Café at OutLoud!, Blue Gene's, Blu Bar and Night Club and others. You could truly make a day of it, immerse yourself in experience and feel affirmed in your identity. No small thing for a someone like me — a lesbian from a rural town who didn't know anyone gay until I moved to Nashville. 
It's no secret that as the internet has evolved over the past 20 years, the role of gay bars as meeting spots for queer folks has slowly declined. Thanks to Blaydes' entrepreneurship, pioneering spirit and ability to keep his finger on the fluctuating pulse of the times, many of the most essential parts of Nashville's LGBTQIA+ community and culture have been innovated, nurtured and sustained by his businesses while others have disappeared. And because of this, our city has evolved a lot in a few short decades. In 2013, Taylor described his and Blaydes' trio of businesses in an interview as places "nice enough to bring your mama, but probably never would." One way to honor Blaydes' memory is to continue to support his legacy of businesses. Order some takeout from Suzy's. And if you don't feel comfortable showing up in person right now, when the pandemic lightens, get on down to the gayborhood and take your mama out. —Tiffany Minton
J. Clark Akers III
Businessman and conservationist 
J. Clark Akers III was an accomplished businessman — but he'll likely be best remembered for his conservation efforts as an early proponent of wetland protection and restoration.
Akers, working with the Tennessee Wildlife Federation, built the legal team that fought against the channelization of the Obion and Forked Deer rivers in West Tennessee. He won numerous awards for conservation in his career and served on TWF's board of directors. —J.R. Lind
Gary Walker
A businessman who knew and loved music
I interviewed Gary Walker once, for a 2013 piece in this paper. I was writing about Nashville record label owner Bradley "Slim" Williamson, who had recently died after a long career in the music business. Walker had moved to Nashville in 1956, and he started Chart Records in 1958 as a way to record and lease recordings to other labels. After Walker sold Chart to Williamson in 1964, the label would produce hits by the likes of Lynn Anderson and novelty country singer Jim Nesbitt, but it operated on the fringes of the business. I got the impression Walker didn't much care for any fringe operation. He was an intelligent person who saw the music business in terms of hard practicality.
Gary Ray Walker was born in Romance, Mo., on Oct. 7, 1932. He got into the music business early, penning country songs for Carl Smith and Porter Wagoner in the mid-1950s. He helped discover Memphis singer Sandy Posey, who enjoyed success in the late '60s. In 1977, Walker started The Great Escape, a Nashville music and memorabilia store that continues to operate today. 
Walker was a businessman, but he knew music, and history looks upon him with favor for his co-production of Memphis-born singer-songwriter Bob Frank's eponymous 1972 debut album. It's a brilliant 30 minutes of folk blues, but Frank sabotaged his career, and didn't record again for more than three decades. A few years ago, filmmaker Isaac Pingree interviewed Walker about Frank, who died in 2019, for his documentary Within a Few Degrees: A Little Gest of Bob Frank, released in late 2020. Walker steals the show. He describes Frank's self-implosion dispassionately, but it's clear Walker loved Frank's music and felt pained about his lack of commercial success. That's why Walker was a giant in the music business. He died July 8 in Nashville. —Edd Hurt
Kathy Smardak
Co-founder of Outback Presents, a David in an industry of Goliaths
In addition to building a family together, Kathy Smardak and her husband Michael built a mighty company in a challenging industry. In 1997, the couple co-founded the concert promotions firm Outback Concerts, now known as Outback Presents.
When trade publication Pollstar releases its annual list of the top 100 promoters worldwide, Outback appears among a contingent of independent promoters that give Live Nation and AEG Presents, the two leviathans of the industry, a run for their money. The 2019 report listed Outback as the No. 32 promoter on the globe, with more than 800,000 tickets sold. In October, Kathy Smardak died at 60, before she got a chance to see how the company she helped launch would recover from the COVID-19 pandemic, one of the worst storms the industry has ever faced. —Stephen Trageser
Samuel Howard
Businessman, health care leader, philanthropist, community luminary
The legend of Mr. Sam Howard was introduced to me by my brother upon my moving to Nashville. Our parents felt it was always important to know who the top African American business leaders were where we lived — they felt seeing these leaders would help us stay focused and realize we too could be successful. Mr. Howard owned Phoenix Communications Group, which operated one of the top radio stations in Nashville.
While I didn't meet and get to know Mr. Howard for another decade or so, I got to know about him by the various moves and decisions I saw and heard of him making — for example, when he let his top DJ go because he played what was considered an inappropriate song at a private event. He wanted to maintain a good name and integrity within his organizations. He was also able to sell his multimillion-dollar radio stations and leverage those resources into founding one of the largest TennCare provider organizations, generating nearly $200 million — significantly more than his communications company. He did this with a young leadership team that was majority African American. This showed his keen business acumen and desire to mentor and advance young people, allowing them to maximize their skills and talents.
More important than Mr. Howard's business successes were his many spiritual, family and community successes. In Mr. Howard's autobiography The Flight of the Phoenix, he acknowledges lessons from his mother, including the importance of maintaining a good name. This lesson was an important one as he and his wife of 57 years raised their two children and engaged in the many community initiatives that were strengthened because of the Howards' involvement. Organizations Mr. Howard was involved in included 100 Black Men of Middle Tennessee, a group that mentored Black male kindergarteners and committed to help fund their college educations. Thirty years after being co-founded by Mr. Howard, this organization has greatly expanded and still has the same mission. He mentored many young people who have now grown in their careers and businesses, and they carry on his legacy of serving others through mentorship and financial assistance. Those he inspired include Darrell Freeman, who has said Howard was the first millionaire he ever met — Freeman served as the second African American chair of the Nashville Chamber. Howard was the first. He also served the Urban League and Easter Seals, both locally and on their national boards. 
Sam Howard showed how a successful businessman could and should share the wealth with his community. He shared not just his financial wealth, but his time and talents as well. —Lee Molette
Michael Saint
Saint Consulting CEO
Michael Saint served as the CEO of Saint Consulting, which claims to be the world's largest and most experienced consulting firm working in land-use politics. The firm uses the local political process to help real estate developers win approval for projects — or stop approvals for competitors.
"My strategy is to be the biggest, best, most successful land-use political consultancy in the world and to gather global and large national clients in various industries that need local permitting for their new real estate projects," Saint told Venture Nashville in 2008.
In 2009, Saint co-wrote a book called NIMBY Wars offering insight from his decades of experience working on land-use conflicts. In a review in the Financial Times, correspondent Jonathan Birchall called the book a handbook for winning local land-use battles. 
Saint died suddenly on Sept. 4. He was 71. —Matt Blois
Ty Osman
Solomon Builders co-founder, philanthropist
Ty Osman was a co-founder of the Nashville-based Solomon Builders, which is perhaps best known for its construction of various animal exhibits at the Nashville Zoo. The company also built the Ramsey Solutions offices in Franklin and the American International Group offices near Brentwood. Osman died in a fishing accident on the Duck River in Hickman County on July 11.
Nashville Business Journal reported that Osman was vice chairman of Both Hands — a nonprofit that aids widows, orphans and Christian families who are adopting — and a board member of Jovenes en Camino, which runs a nine-acre campus in Honduras for boys who are orphans, homeless or rescued from abusive situations. 
Osman and his wife formed the charitable Ty2 Foundation following the death of their son, also named Ty, in 2012. In the fall of that year, a group of 400 volunteers from the foundation renovated the Hard Bargain Association's community center on Mount Hope Street in Franklin, which is now called Ty's House. The foundation also donated more than $200,000 for the renovations. —Nashville Post