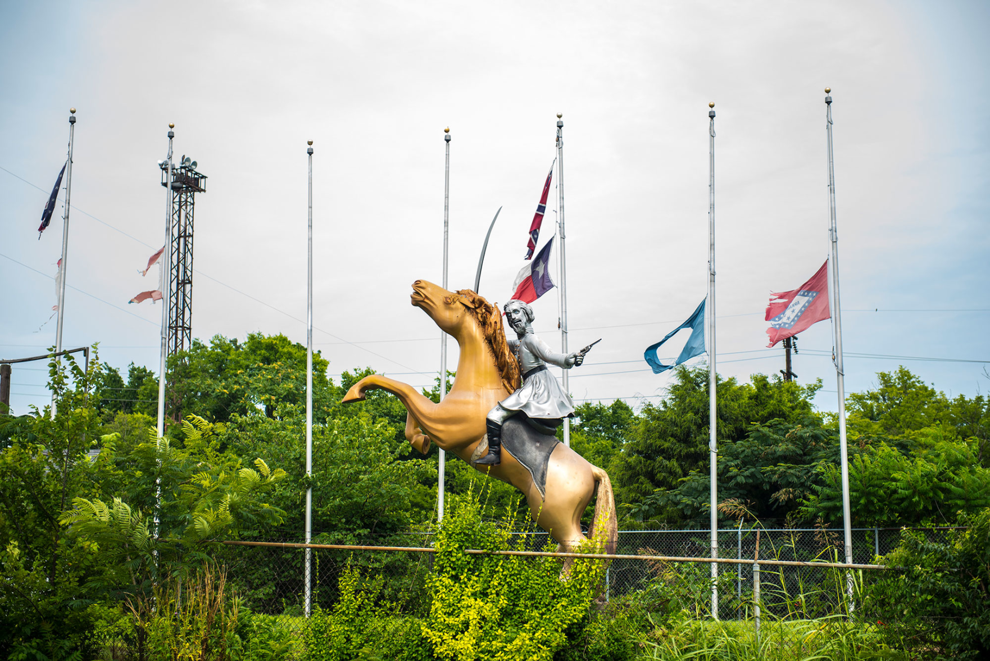 A statue of Confederate general and early KKK leader Nathan Bedford Forrest has loomed over I-65 for 23 years, an eyesore and a consistent subject of mockery in Nashville and elsewhere. During the summer, amid renewed calls for its removal, it remained. The statue — which stands on private property and has been vandalized more than once, including being splashed with pink paint a few years back — belonged to a man named Bill Dorris, who reveled in its notoriety. Dorris died in November, but the monument's future is still uncertain.
Even beyond its glorification of a traitor, enslaver and alleged war criminal, the statue — surrounded by 13 Confederate flags — has a troubling history. It was sculpted by Jack Kershaw, a lawyer who famously defended Martin Luther King Jr.'s assassin, James Earl Ray. When the work was unveiled, Kershaw said, "Somebody needs to say a good word for slavery."
Dorris conceded that the statue was far from high art. "As an artist, mediocre," he once said of Kershaw. "As a thinker, he was way ahead of a lot of people in his time." Kershaw was a notable member of several segregationist organizations and founder of the League of the South, a neo-Confederate Southern separatist group. "Jack got some materials that I use to make bathtubs with," Dorris told WPLN in 2011. "And he started with a butcher knife. That's the end result that you see out there right now."
Dorris lived next to the statue in a small property on Hogan Road. Not long after his death in the fall, Dorris made headlines for leaving his "$5 million estate" to his border collie Lulu. But while his will does designate a $5 million trust to the dog, that figure is likely exaggerated — a source close to the case, which is currently in probate court, tells the Scene that lawyers have valued his estate at closer to $500,000.
But what will happen to the statue of Forrest? For now, at least, the monument's future is unclear. While most of Dorris' assets were left to his dog, his will states that "the ice house, artisanal well, and Confederate flag display located at Hogan Road'' will be entrusted to one of two groups: Sons of Confederate Veterans in Columbia, Tenn., or the Battle of Nashville Trust. Lawyers are still deciding which organization will inherit the monument.
James Kay, president of the Battle of Nashville Trust, says he was surprised when he learned that Dorris had named the organization in his will.
"The trust had no connection with Mr. Dorris prior to his death," Kay says.
The Sons of Confederate Veterans did not respond to requests for an interview. But they do have a long history with Nathan Bedford Forrest's legacy. In 1973, the group funded and organized the creation of the Forrest bust that currently sits in the Tennessee State Capitol. Amid protests against racial injustice this summer, removal of the bust gained widespread support, with the State Capitol Commission voting to remove it in July. The SCV attempted to block the measure with a lawsuit. The Tennessee Historical Commission was set to hold a final hearing on relocation of the bust on Feb. 18, but the vote was postponed until March 9 due to inclement weather.
Angel Stansberry, a member of activist group People's Plaza, says she's seen members of the Sons of Confederate Veterans near the Capitol. According to Stansberry, they're often armed. "We've kind of faced off with them a few times," Stansberry says. "I know a few of their names just because they had me circled [in photos] on a few of their Facebook pages, actually."
The Sons of Confederate Veterans have made no statement about Dorris' statue.
Dorris saw the Forrest monument as an homage to the Confederacy, telling WPLN in 2011, "I still consider this the sixth-largest nation in the world, the Confederate States of America."
The public focus on Dorris, Stansberry says, feels revisionist. "It's all over the news that he left $5 million to this border collie," she says. "And that's really what gets like, all this attention, you know? Because Americans care more about dogs than Black people."
It's still unclear who will inherit Dorris' ghastly 25-foot-tall legacy. But if Dorris' statue goes to the Battle of Nashville Trust, that's good news for the city.
"The statue is ugly," says the trust's Kay. "It is a blight on Nashville and its citizens. It hinders our mission and what we are trying to accomplish. If the property is deeded to the trust, the statue will be removed."