There's a red brick house on the corner of 16th Avenue North and Meharry Boulevard. A blue tarp is draped over one of its walls, and it's shaded by an old tree. You could easily miss the Boyd House, despite the blue-and-white sign by the front door. Once the home of one of Nashville's most influential Black families and currently owned by Fisk University, the Boyd House was in danger of disappearing last year. But now it will have a permanent spot on Fisk's campus, thanks to an ongoing fundraising campaign and the efforts of a group of concerned citizens.
In November, preservation nonprofit Historic Nashville announced the 2020 Nashville Nine, its annual list of historic properties at risk because of "development, neglect or demolition." The Boyd House, which was in a state of disrepair, was on the list. The house, according to Historic Nashville, "stands as a monument to the triumphs, joys and sorrows that define the African American experience in Nashville. It is a sacred part of North Nashville's built environment and should not be demolished."
Dr. Learotha Williams is a Tennessee State University history professor and a member of Historic Nashville's board. Through discussions about the Nashville Nine, he learned that demolition permits had been created for the property, and his timing was fortuitous — Williams discovered on a Saturday night that demolition was scheduled for the following Monday morning.
Williams immediately created an online petition to save the home, which swiftly gained almost 4,000 signatures. The next week, Williams negotiated halting demolition. After that, discussions began about a long-term plan for the house. R.H. Boyd Publishing Corp. stepped in, creating a partnership with Fisk to restore the home and convert it to an educational space. At the end of the restorations, which are currently underway, the house will contain classrooms and a lecture hall for Fisk students.
Fisk and Boyd Publishing are currently in the process of raising $1.1 million to repair and renovate the house. For Dr. LaDonna Boyd — CEO and president of R.H. Boyd Publishing Corp. — the venture represents a continued family legacy. "This initiative represents the importance of preserving cultural markers in the Black community," says Boyd. "It is important for us to tell our own stories and narrative about entrepreneurship, education and excellence. [Original Boyd House owner] Dr. Henry Allen Boyd was my great-great-uncle, so being able to work with Fisk on this initiative also exemplifies the importance of generational legacy and truly becoming the manifestation of 'our ancestors' wildest dreams.' We are honored to have the opportunity to provide additional educational resources to Fisk students and the surrounding community."
The Boyd family is an integral part of Nashville history. The R.H. Boyd Publishing Corp. — originally called National Baptist Publishing Board — distributed reading materials to Baptist churches across America. As previously reported by the Scene's own J.R. Lind, R.H. Boyd had an influential role in Nashville politics, including a boycott of Nashville's segregated streetcar system. Boyd, alongside James Napier and Preston Taylor, created an independent transportation company to help Black laborers go to work during the 1905 protest, which provided inspiration for later civil rights boycotts.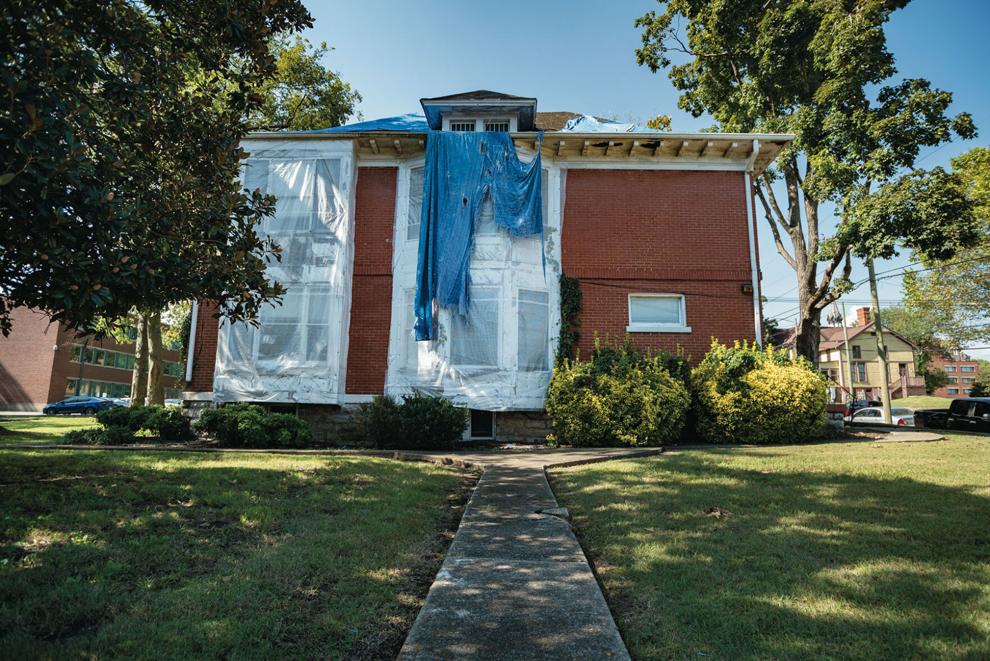 The house on Meharry Boulevard belonged to R.H Boyd's son and daughter-in-law Henry Allen and Georgia Bradford Boyd, two Black Nashvillians who profoundly shaped local politics. "They were, in my opinion, two of the most important African Americans in this city during the time that they lived," Williams says. The Boyds ran several successful businesses, and they fought for countless social and civil rights causes throughout their lifetimes. Henry Allen was head of the National Baptist Publishing Board and co-founded the Nashville Globe, a successful Black-owned newspaper. Boyd wrote a series of editorials in 1909 lobbying for a Black college in Nashville that, alongside his petitioning of the Tennessee state legislature, helped lead to the founding of Tennessee State University. He was also a Fisk trustee. Georgia Bradford Boyd was also highly involved in civic causes — she was a suffragist and a member of the Nashville Colored Women's Club, and was honored by the Metro Council in 2020 for her contributions in the fight for African-American women's voting rights.
Williams suggests that beyond the individual contributions of the Boyd family, the house represents the efforts of an entire community. "The Boyd House, for me, is a monument to African-Americans living in Nashville during Jim Crow," he says. "It's a house that was built by Black laborers: You have Black carpenters, Black bricklayers, masons — the entire community is building something for one of its most prominent members." The home was built by McKissack & McKissack, the oldest Black-owned architectural firm in America. In 1938, it was bought by Fisk University.
Williams has met older Nashvillians who remember spending time with the Boyds at the house — some seniors still talk about holidays and special events there. "The parties in that house were legendary," he says.
So why did the home come so close to demolition? Williams suggests that it's partially due to a lack of historical knowledge. Properties like the Boyd House are often unmarked and largely unpublicized. Also, Williams says, historically Black properties are often "marginalized or ignored by the city as a whole." He offers as an example First Baptist Church, Capitol Hill, which stood on Eighth Avenue North near TSU's Avon Williams campus. There are photos of John Lewis leading a march from its front doors; James Lawson was arrested by Nashville police at the church over his involvement in civil rights protests; Dr. Martin Luther King preached there. Despite all this, the building no longer exists (though First Baptist's congregation is still around, in a new building). "That place was a national landmark," Williams says. "But today, it's a parking lot. In the name of 'urban renewal,' we knocked that down."
Williams is determined to spread the word about historical sites like the Boyd House by bringing their stories to a wider, nonacademic audience. "It's incumbent upon us to tell these stories in spaces where, quite frankly, the university doesn't really prepare us to go," he says.
The preservation of Boyd House will hopefully provide an example for other historic properties throughout the city. And now, its new life can continue the Boyd family legacy. "I believe that our community has the duty to honor those that came before us that built what we have today," says LaDonna Boyd. "We also owe it to future generations to curate spaces that show the journey."