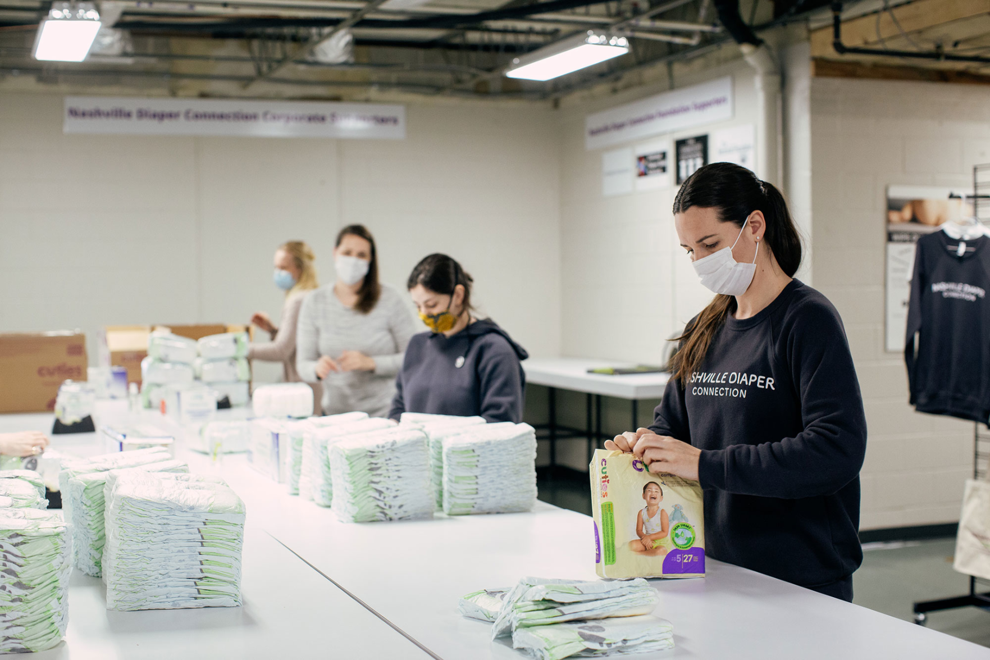 If you're a parent who received free diapers in the past year, there's a very good chance they came from Nashville Diaper Connection. In 2020, the organization — whose website features the slogan "No Child Wet Behind" — provided a total of 2 million diapers to local families, up from 860,000 in 2019. Close to 66,000 of those were given out in the first four days following the March 3 tornado. 
According to the National Diaper Bank Network, as many as one in three families reports experiencing diaper need. Diapers cost an average of $70 to $80 a month per child, nearly $1,000 a year. Nashville Diaper Connection, Nashville's only diaper bank, provides a stock of diapers for 57 distribution partners across the city. And in 2020, the need widened. 
"We've always targeted our partner agencies in areas of high need," says founder Doug Adair. "Specifically, we target ZIP codes and census tracts with over a 25 percent poverty rate. Well, all that got blown out last year. We had people [needing diapers] that had had good jobs and were making good money in the hotel business, or in the event business."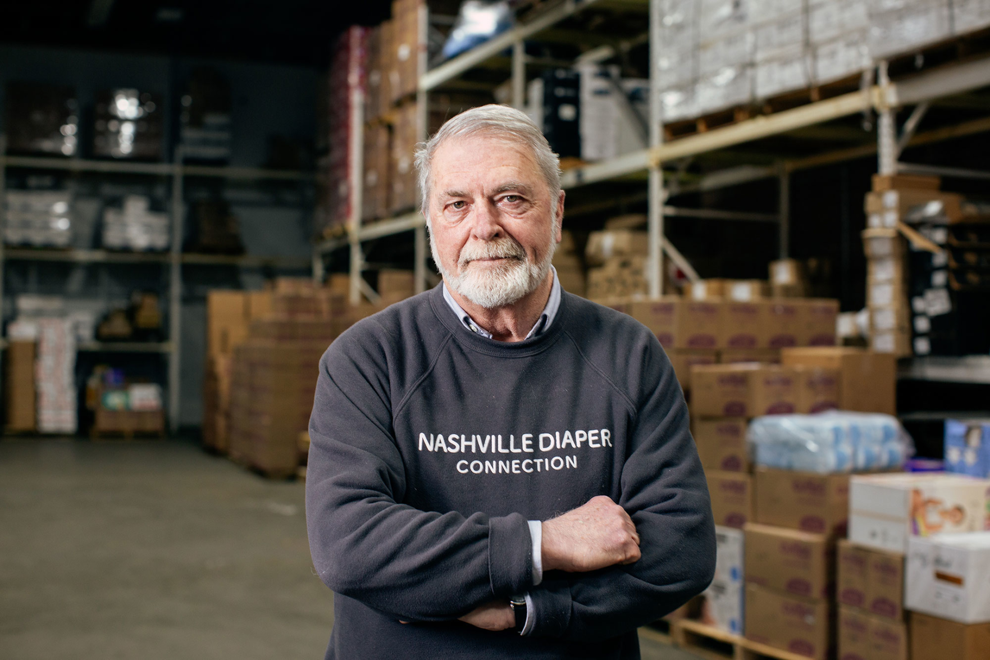 In order to reach more of these families, Nashville Diaper Connection jumped from supplying six to supplying 37 resource centers through Metro Nashville Public Schools, giving out diapers as part of the district's meal distributions. Over the course of the year, the diaper banks struggled to keep their stock up at times. Adair says because of increased need, they blew through what they thought would be a four-month inventory in less than two months, beginning in March 2020. They had to scramble to find alternatives. 
"Diapers were like toilet paper last year," says Adair. "People started hoarding, and it really screwed up the supply chain."
Nashville Diaper Connection's largest distribution partner is Legacy Mission Village, a nonprofit that serves refugees and immigrants in Nashville. In 2020, the group gave out 22,000 diapers on the first Wednesday of every month, and sometimes had people lining up as early as 4 a.m. just to get an emergency supply of 50 diapers per child.
"You can imagine if you didn't have notice, and you didn't have a savings account, diapers get really expensive," says Ellisha Williams, Legacy Mission Village's director of programs. "Folks that didn't need diapers before suddenly did need diapers. And I think food-stamp applications took at least one to two months to get approved. But even with food stamps, you can't buy diapers. So the need was just tremendous this summer."
According to Nashville Diaper Connection reps, the only reason the group has severed a partnership is if a partner is putting up too many barriers to receiving diapers. 
"Our job is to put diapers on butts, right?" says Adair. "Not to create hoops for moms to jump through. One of the things that I've learned in the last couple of years is, the one thing that a poor mom or a struggling mom has less of than money is time. If a mama needs diapers, she gets diapers."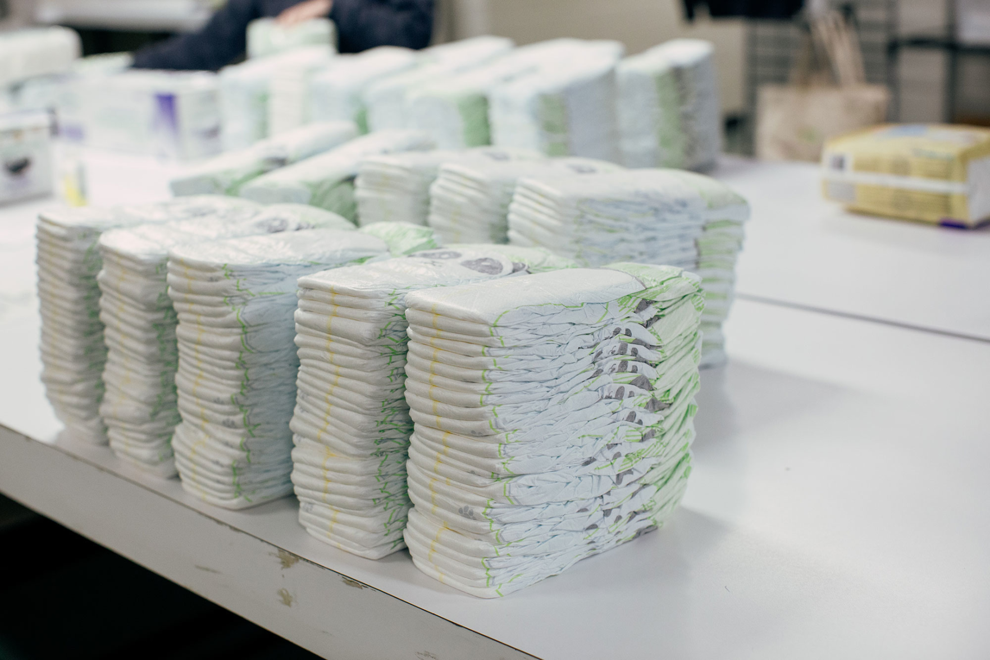 Families who receive support from the federal government's Supplemental Nutrition Assistance Program or the Special Supplemental Nutrition Program for Women, Infants and Children — or even those who have health savings accounts through their jobs — cannot use those benefits to buy diapers. Adair recently lobbied for the passage of U.S. Senate Bill 304, the End Diaper Need Act of 2021, which would appropriate funding to support diaper distribution programs nationwide. The bill also defines diapers as "medically necessary" so that families can purchase them through health savings accounts. 
The bill cites the adverse health effects on children and families who don't have the diapers they need, as well as the limited child care options available to those families. The stress of sitting too long in a wet diaper is enough to affect a baby's development, and can even qualify as what the Centers for Disease Control and Prevention calls an Adverse Childhood Experience and a form of neglect. Most day care centers also require parents to supply diapers for their child. 
The goal for the diaper bank was always to hit 5 percent of the need — that is, to provide for 5 percent of low-income families with young children in Nashville. Nashville Diaper Connection estimates that it is serving 8 percent of the need now, though the need has always greatly outpaced the supply.  
Nashville Diaper Connection was the recipient of tornado relief funds, COVID-19 relief funds, and grants to help cover the boosted supply given out in the past year. 
"I don't know what we are going to do to replace the CARES Act funding that we got," Adair says. "We'll come up with something, because babies are still peeing."
To learn more about Nashville Diaper Connection, or to sign up to volunteer with the organization, visit  nashvillediaperconnection.org.